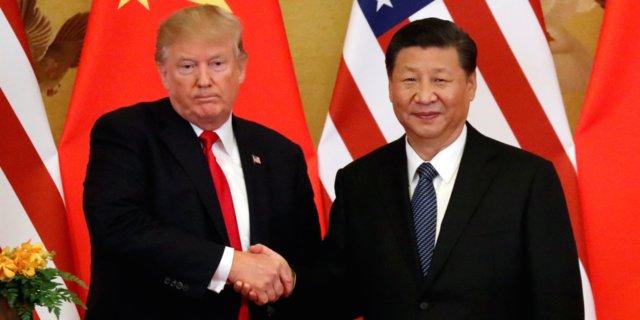 Trade war, or open for business?
The complexity surrounding U.S.-China relations is unprecedented. Since the 1950s and Mao Zedong's rise to power, China has long been considered a major player in the global economy, but untrustworthy, at best. That feeling is mutual on the Chinese side as well. As a brief aside, in 1999, NATO mistakenly bombed the Chinese embassy in Belgrade, during the war in the Balkans, and the Chinese interpreted the move as an attack against their nation, in an effort to suppress their worldwide influence. Similarly, the United States has continued to view China as a rogue: a nation that doesn't respect human rights, steals technology, and abuses its military prowess.
That could all change, however, and the transformation could come at the hands of an unusual source: President Trump's protectionist economic policy. In March, the President announced tariffs on $50 billion worth of Chinese goods in an effort to rebalance the $385 billion trade deficit. Then, not long after the U.S. Commerce Department issued a denial order against ZTE (OTCPK:ZTCOY), China's second largest telecom manufacturer, a stroke that would effectively crush ZTE and put the company out of business. Surely, these are two definitive moves by the Trump administration to help "make America great again".
But instead of flaring up a trade war, the Chinese government made a move to break the tariffs: buy $70 billion of U.S. goods over the next year, including corn, natural gas, coal, and soybeans. That could be reason enough to set aside differences between communist and democratic governments. Or, it could just be President Xi Jinping reciprocating a "personal favor" from President Trump to China when the Commerce Department announced a settlement with ZTE for $1.7 billion and contingent considerations. And oh yeah, let's not forget First Daughter Ivanka Trump's seven newly issued trademarks in China, and throw in a $500 million Chinese loan for a Trump-associated theme park in Indonesia too. Trade war, or open for business?
From an investor's perspective, these events are not just tit-for-tat you scratch my back I'll scratch yours chess moves, but a preamble to something favorable: merger arbitrage opportunities. There are two pending buyouts that come to mind: Qualcomm's (QCOM) $127.50/share cash purchase of NXP Semiconductors (NXPI), and China Oceanwide's (OTC:HHRBF) $5.43/share deal for Genworth Financial (GNW). The current QCOM/NXPI spread is about 10.8%, while the HHRBF/GNW spread is about 14.7%. Both deals involve Chinese trade intricacies - the former needs MOFCOM (Chinese Ministry of Commerce) approval, while the latter recently received the go-ahead from CFIUS. The discussion that follows will highlight each deal as an opportunity for investment assuming deal closure, and a third company - Lattice Semiconductor (LSCC) - serves as a broken merger proxy, should either the NXPI or GNW deals break.
Genworth Financial And The Privatization Of Personal Data
Genworth is in the process of being acquired by China Oceanwide for $5.43 per share in cash. At the time of announcement, the deal was expected to close in the 2nd half of 2017. Now almost 20 months later, the merger still hangs in the balance, and Genworth's survival is very much contingent on China Oceanwide providing $1.5 billion in capital to help support it after the company incurred a large write-down from its long-term care insurance business. Indeed, coupled with a low interest rate environment that hurt investment returns, long-term care is a particularly precarious portion of the insurance business right now. Few companies provide it, several of those that do are not even publicly traded, and things aren't going to get any easier as the baby boomers grow older. When the deal was first announced, investors shunned GNW, sending share prices down on day #1. At one point, GNW hit a low of $2.75, creating a near 100% spread:
One of the key aspects of merger approval was the go-ahead by CFIUS and President Trump, which up until this month was a major uncertainty. There was national security risk, in that millions of Americans holding Genworth Insurance policies might have their personal info succumb to Chinese databanks. To alleviate concerns, Genworth must employ a third-party service provider to protect client data. Now that CFIUS has given China Oceanwide and Genworth the green light, there remain a few regulatory speed bumps. Below is a summary (non-exhaustive) of the conditions to the merger as provided by the definitive proxy statement (pg. 6):
1) GNW shareholder approval
2) Regulatory approval from U.S. insurance regulators in Delaware, New York, North Carolina, South Carolina, Vermont, and Virginia
3) CFIUS approval
4) Regulatory approval from Fannie Mae and Freddie Mac, FINRA
5) Certain Canadian, Australian, and New Zealand regulators
6) Chinese regulatory approval (including MOFCOM)
7) HSR waiting period termination
So far, GNW has received (1) shareholder approval, (2) regulatory approval from South Carolina and Vermont, (3) CFIUS approval, (5) Australian approval, and (7) HSR termination. Because the deal was altered (see "acquired" hyperlink), the company has to re-file to get approvals from Virginia, Delaware, New York, and North Carolina. Considering North Carolina and Virginia previously approved the deal (before alteration), I expect the process to go smoothly from here. That leaves Canadian approval, the "ok" from New Zealand, and Chinese go-ahead. Because CFIUS was one of the biggest hurdles, the remaining obstacles appear surmountable.
NXP Semiconductor and the ZTE Rumination
Curiously, less than one week after the GNW/China Oceanwide deal was announced, Qualcomm and NXPI proclaimed their intent to merge. At the time, it was a $110/share cash merger and was expected to close by the end of 2017. The NXPI/QCOM escapade experienced more than a few distractions over the past 20 months, including a hostile bid for Qualcomm by Broadcom (NASDAQ:AVGO) and activist Elliot Management Corp. clawing at QCOM for $135/share instead of $110. By January 2018, Elliot owned 6.9% of NXPI, argued for a price increase, settled for $127.50/share, then trimmed their stake to 5.5%; don't get me wrong, there's still billions of Elliot dollars on the line, and I think they are in it for deal closure, not just the price bump.
But never mind the activism, now there's politics involved. We are at a bit of an impasse that has absolutely nothing to do with NXPI and everything to do with Presidents Trump & Jinping, Congress, and ZTE. Despite the deal by President Trump to charge ZTE up to $1.7 billion in fees for violating sanctions against Iran, four U.S. senators are not satisfied: Marco Rubio (R-Fla.), Tom Cotton (R-Ark.), Chris Van Hollen (D-Md.), and Chuck Schumer (D-N.Y). They want to amend the annual National Defense Authorization Act to restore the ban on U.S. suppliers doing business with ZTE - effectively cutting off their supply chain - and prevent ZTE and Huawei from winning any U.S. government contracts, grants, and loans. Why? Well, the politically correct answer is because lawmakers are worried about national security. But the actual correct answer involves both politics and security, as Senator Rubio lost to President Trump in the Republican Primary and Senator Schumer is the ranking Senate Minority Leader. Could it be a political ploy? Remember all of those deals with China? The ZTE "personal favor", the Trump trademarks, the $500 million theme park loan? Nothing like a little political retribution to stoke the flames; I love it when the statesmen get involved.
The recent gyrations in NPXI shares are likely tied to ZTE news, as opposed to deal closure. Qualcomm CEO Steve Mollenkopf said it himself when he exclaimed, "I was happy to see it", in reference to the Commerce Department's ZTE deal. None of the ZTE-NDAA run-around has anything to do with Qualcomm or NXPI, except that if somehow the ZTE deal goes south and Congress manages to implement harsh bans on the company, then MOFCOM may very well retaliate by denying San Diego-based Qualcomm of its pending NXPI acquisition.
So goes the life of merger arbitrage. At this moment, the market implied probability of deal closure is 47.7%, based on the pre-deal price of $100.64 and the current price of $113.45. The GNW implied probability, believe it or not, is zero. On the Friday before Genworth's deal was announced back in 2016, shares traded at $5.09. Is it really worth $4.65 right now?
Lattice Semiconductor And The Broken Relationship
Just one week after the QCOM/NXPI announcement, Lattice Semiconductor and Canyon Bridge Capital entered the fray. In November 2016, Canyon Bridge was willing to acquire LSCC for $8.30/share. At the time, the parties involved expected the transaction to close in early 2017. But, then Donald Trump was elected and now some 20 months later, the deal is off. On September 13, 2017, President Trump denied Canyon Bridge the acquisition on the grounds of…you guessed it... "the national security of the United States". Apparently, because Lattice makes programmable chips that can have military applications and Canyon Bridge (based in California) is backed by a firm called Yitai Capital, whose parent is China Venture Capital Fund, who in turn is backed by the China Reform Holdings Corporation, there's a chance that any Lattice tech with military applications could fall into the hands of the PRC government.
Of course, all this took place before the ZTE deal, before the Ivanka Trump trademarks, before the Senate NDAA amendments, and before the $500 million theme park loan. My, how the tables have turned. So what happened with Lattice? After the deal went sour, merger arbs bailed out of LSCC hard and fast, sending prices down towards $5.00, below the pre-deal price of $6.20: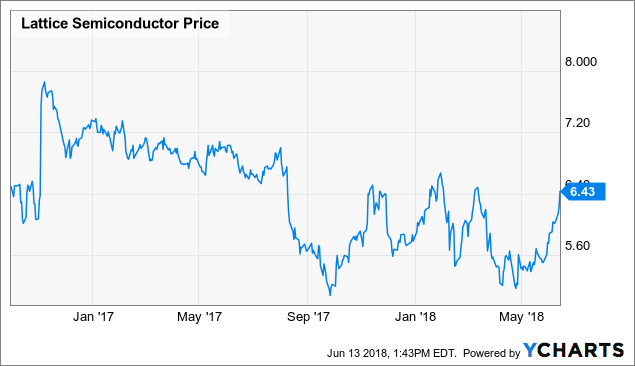 Since then, shares have rebounded, but are nowhere near the $8.30/share Canyon Bridge offer. It's worth noting that there were not less than 16 parties involved in the negotiating process, and one of those parties was willing to pay $9.00/share for LSCC but couldn't seem to round up the required financing. That said, should Lattice garner any interest from possible suitors in a round #2 sale, there could be some interesting action.
Conclusion
Since Lattice Semiconductor is already a merger-arb bust, the story serves as a fairly good proxy for not only where GNW or NXPI shares might trade to give any deal break but also as a case study where looking at the history of the merger is especially helpful. Genworth and NXP Semiconductors represent strong merger-arbitrage opportunities that have fallen under the scope of Chinese deal theory, with President Trump, President Jinping, CFIUS, MOFCOM, and the U.S. Congress right in the middle of it. While it is unfortunate that the NXPI deal is under the influence of the ZTE settlement, there could also be opportunity, related to the widespread in both GNW and NXPI, assuming deal closure. To some, the protectionist trade war between America and China rages on, but in the eyes of others, this may be the beginning of peaceful deal exchange.
Disclosure: I am/we are long GNW, NXPI.
I wrote this article myself, and it expresses my own opinions. I am not receiving compensation for it (other than from Seeking Alpha). I have no business relationship with any company whose stock is mentioned in this article.
Additional disclosure: Nothing contained in this message is an offer or solicitation to buy or sell any security/investment, and is for informational purposes only. The author does not guarantee the accuracy or completeness of the information provided in this document. All statements and expressions herein are the sole opinion of the author and are subject to change without notice. Neither the author nor any of its affiliates accepts any liability whatsoever for any direct or consequential loss howsoever arising, directly or indirectly, from any use of the information contained herein.
Editor's Note: This article covers one or more stocks trading at less than $1 per share and/or with less than a $100 million market cap. Please be aware of the risks associated with these stocks.