GlaxoSmithKline (NYSE:GSK) is one of the world's largest pharmaceutical companies. Its headquarters are in London, England. It pays a hefty dividend. Its array of products is quite diverse, including consumer healthcare products as well as new, cutting-edge medicines. In this article I will analyze whether the dividend is safe given Glaxo's potential for revenue growth (or decline).
One of Glaxo's top selling products has been Advair, but that might be about to change. Generic Advair could have been available in the U.S. from Mylan (NASDAQ:MYL) as early as this July. I believe this type of risk has kept a cap on GSK's stock price. However, as I was writing Mylan announced there would be a delay, which I will detail below. After the announcement GSK stock spiked and Mylan fell.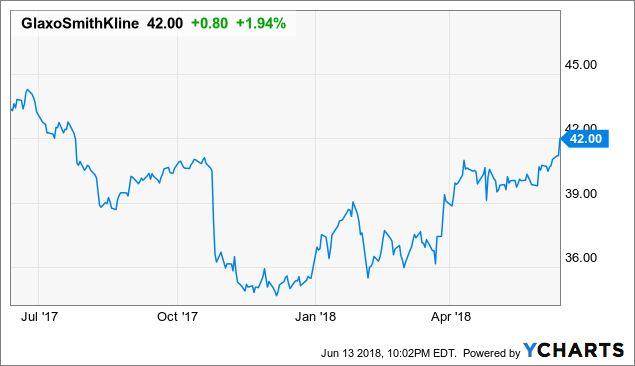 Note that each share listed on the NYSE is a depository receipt representing 2 ordinary London shares. In particular, the dividends declared in pence in the discussion are doubled for American shares.
Q1 2018 Basics
Although GSK is well-covered by Wall Street analysts, I will summarize basic data to provide context for my more particular remarks to be made later. The current exchange rate is 1.34 £ per $. I give most figures in £, with today's equivalents in $ in parenthesis.
GSK provides results in British Pounds, which serves as a reminder that American stockholders can be affected by currency fluctuations. In addition, a substantial amount of revenue is generated in dollars or Euros, which also effects results.
In Q1 2018 GSK reported sales of £7.22 billion ($9.67 billion), which was down 2% y/y on a £ basis, but up 4% y/y on a CER (currency exchange rate basis). GSK breaks down revenue by three segments, pharmaceuticals at £4.01 billion, vaccines at £1.24 billion, and consumer at £1.98 billion. Only vaccines showed growth on a £ basis, driven by Shingrix. By region, Europe showed 2% growth, but both the US and rest of world were down 4%.
Profit, however, declined substantially y/y, with only £549 million ($736 million) attributable to shareholders, down 48% from £1.05 billion year-earlier. The decline was due to higher "other" expense and a tax rate that rose to 31.4% from 21.1% year-earlier. The "other" expense " primarily reflected £416 million (Q1 2017: £70 million) of accounting charges arising from the re-measurement of the contingent consideration liabilities related to the acquisitions of the former Shionogi-ViiV Healthcare joint venture and the former Novartis Vaccines business, the value attributable to the Consumer Healthcare Joint Venture put option held by Novartis and the liabilities for the Pfizer put option and Pfizer and Shionogi preferential dividends in ViiV Healthcare." The difference was amplified by "other" income in Q1 2017 from the sale of its anesthesia business.
Excluding "other" expenses in Q1 2018 and income in Q1 2017, profit was up y/y. Adjusted after tax profit, or net income, was £1.42 billion ($1.90 billion), or 25.0 p ($0.335) per London share. That is $0.67 per NYSE share.
Consumer Healthcare Buyout
On June 1, 2018, GSK announced it had completed its buyout of the 36.5% stake Novartis (NYSE:NVS) had held in the Consumer Healthcare Joint Venture. The price was £9.3 billion, or $13 billion. GSK believes this will allow its shareholders "to capture full value of future performance." Sales and earnings in the former joint venture are growing, as are operating margins. "The transaction is expected to be accretive to adjusted earnings in 2018 and thereafter and is expected to strengthen operational cash flows."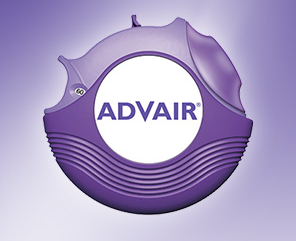 Advair Inhaler, source Advair.com
Recent Approvals and Therapies Ramping Revenue
In Q1 2018 Shingrix vaccine for shingles had sales of £110 million ($147 million), not a blockbuster yet, but it was just introduced in the U.S. in Q4 2018. That is a good sign for royalties to small cap Agenus (NASDAQ:AGEN), which provides one of the components of the vaccine. Near the end of Q1 Shingrix received regulatory approval in Europe and Japan, so look for it to ramp through 2018.
Vaccines in general were a growth area, up 7% y/y. Hepatitis vaccines were up 17% y/y, driven by strong demand and a supply shortage at a competitor. However, meningitis and flu vaccine revenue declined.
Within general pharmaceuticals the strong growth, 9% y/y, was in immunology and inflammation, but that total was only £100 million ($134 million). HIV therapies were the other area of growth, up 6% to £1.05 billion ($1.41 billion). Triumeq and Tivicay gained market share and the introduction of Juluca in Q4 2017 helped. But Epzicom and Kivexa sales declined due to new generic competition. Like Gilead (NASDAQ:GILD), GSK is not just racing the virus, it is in a race against its own patent expirations.
Respiratory product sales declined 6% y/y, led by a decline in Advair, which could accelerate if generic competitors are introduced in the US. The newer drug Ellipta grew 25% y/y. Clearly GSK will want to convert Advair users to its newer asthma drugs.
A lot more details are available, but on the whole revenue did fall y/y, despite some strong newer drugs.
Key Pipeline Assets
As might be expected, GSK has a substantial pipeline. Here I will focus on the near-term highlights.
GSK wants to remain in leader in respiratory diseases. In asthma the label was updated for Relvar Ellipta and a Phase 4 study started to test it with a Connected Inhaler System. Trelegy Ellipta received label expansion for COPD in the US in April and submitted data to expand the label in Europe in February.
HIV therapies continued development, with Phase 3 studies launched for the combination of Tivicay combined with Epivir.
Benlysta started a Phase 3 study, in combination with rituximab, for system lupus erythematosus.
The full pipeline too extensive to show, much less discuss in this article. See the GSK Pipeline.
Ruinous Competition?
Like all pharmaceutical companies that have been around long enough, GSK is in a continuous cycle of losing sales to generic competition when patents expire, offset by new drug introductions to ramp revenue. Additional competition comes from new drugs competing in the proprietary space, as with the long-running competition with Gilead Sciences (GILD) in the HIV therapy market.
Here I'll focus on Advair, since it has been one of the main concerns of investors.
Advair is a two-drug combination of a steroid and a bronchodilator used to treat asthma and COPD. It is administered with an inhaler. It was launched in the U.S. in 2001 and has been a mainstay of GSK revenue. In Q1 2018 Advair revenue was £566 million, down 25% y/y. The decline in the US was not due to generic competition, but from price declines and competition with other asthma drugs. In Europe, where it is marketed as Seretide, the decline did reflect competition with generic products, where they have been available in Germany since 2012. Worldwide sales of Advair/Seretide were £4.2 billion in 2014, so clearly generics and rival proprietary drugs have taken a toll already on GSK sales.
So even if Mylan does get FDA permission for a generic in the U.S. (decision date of June 27 has now been delayed), it is not the end of the world for GSK Advair revenue. Advair revenue was 14% of total revenue in Q1. Breo, Nucala and Ellipta, which are newer, is likely to continue to gain respiratory market share. Total respiratory revenue was £1.58 billion in Q1, down 6% y/y. Advair represented 36% of total respiratory revenue.
Competition can be ruinous, but GSK will go on despite there being a generic Advair equivalent, eventually, in the U.S. I would not be surprised if Shingrix revenue exceeds Advair revenue in 2019, noting they are not competitors, just that one is new and the other is under generic and other competitive threats.
Dividend, Cash and Debt
Cash flow from operating activities was £863 million ($1.16 billion). Net debt ended at £13.4 billion ($18.0 billion). The planned dividend for 2018 is 80 pence ($1.07), but typically 3 quarters are at 19 p and then 1 quarter at 23 p. In 2018 the 23 p dividend was paid in April.
For shares traded in America, which represent two London shares, the 2018 total dividend will be double, or $2.14 per share at the current exchange rate. That brings the dividend to 5.2% at the current price. That is a strong dividend, but it is partly dependent on exchange rates.
The company hopes to build free cash flow to a range of 1.25 to 1.50 times the dividend before resuming increasing the dividend. There had been some speculation about GSK reducing the dividend further, but that does not appear to be necessary at this time. Because of the currency translation, the U.S. dividend fluctuates from quarter to quarter, but the British dividend has been steady, excepting in April 2016, when a one-time larger dividend was paid before the current, lower level was introduced. See the GSK dividend history here.
2018 Guidance
Guidance for 2018 has been given both for the case where generic Advair competition takes place in the U.S., and where it does not. Mylan announced the FDA would not immediately approve its generic version, announced as I was writing this, so I will summarize the higher, no-generic rival guidance. However, note Mylan said the "FDA has identified minor deficiencies to be relayed in a Complete Response Letter on June 27, 2018. Because our Abbreviated New Drug Application has received a priority designation, our approval could be received prior to the standard 90-day time period following the date of our response to the Complete Response Letter." If this is a relatively short delay, it could still affect GSK's 2018 results.
Guidance is for 2018 adjusted EPS growth of 4% to 7% at constant exchange rates. Even without generic competition US Advair revenue is expected to decline around 30% for the year.
Conclusions
Most of the stocks in my current portfolio are clinical stage biotechs or have just one commercial drug so far. The risk for each stock individually is high. I also have biotechs like Amgen (NASDAQ:AMGN), Biogen (NASDAQ:BIIB), Celgene (NASDAQ:CELG) and Gilead (GILD) that have growth potential but are larger and have relatively less risk. My current portfolio generates little in the way of dividends.
I am now looking at the largest global pharmaceutical companies to shift part of my portfolio into (over time). GlaxoSmithKline has a high dividend that appears to be at little risk, as cash flow appears to be sufficient to support the debt and pay the current dividend. The company looks poised to become a growth stock again, depending on its pipeline development, the success of its consumer division, and how quickly Advair revenue declines. I rate it a buy for my purposes, though I have set no timeline for making this transition.
Disclosure: I am/we are long AGEN, GILD, BIIB, CELG, AMGN, MYL.
I wrote this article myself, and it expresses my own opinions. I am not receiving compensation for it (other than from Seeking Alpha). I have no business relationship with any company whose stock is mentioned in this article.