Introduction
Generating income is a fundamental goal of our portfolio. Unlike the chronic compounders following a regular reinvesting strategy, we actively manage our portfolio using relative valuation and options. We gave a first glimpse of our overall strategy a few months back. We then further updated the performance of our stocks in a blog post. Today, we once again take a holistic look at the market, our portfolio and how we navigate it on a daily basis, while constantly generating income.
The Big Picture
The US economy is fundamentally sound. While from a perma-bearish perspective there is always something to worry about, we find the current situation as exceptionally ideal to invest. The key issue on everyone's mind today is the Federal Reserve Balance sheet unwinding, or quantitative tightening.
We gave a detailed response to this query, explaining why the Fed balance sheet was less likely to influence the stock market than a methane storm on Titan. So far the stock market seems to agree.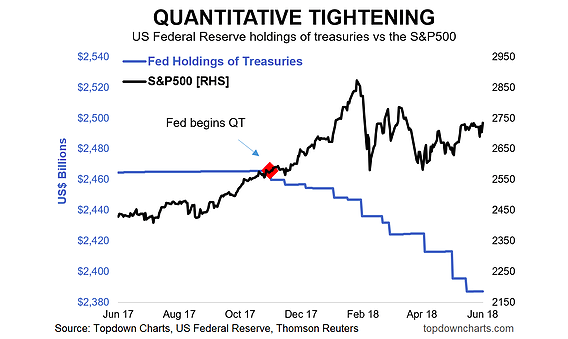 Of course, not satisfied by finding a non-doomsday scenario, the bears have focused their thoughts on both the 10-year interest rates and the stress in emerging markets. Here is the chart of the 10-year interest rates since QT began.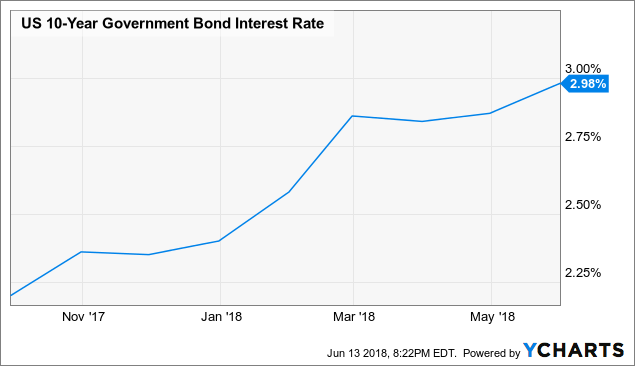 US 10-Year Government Bond Interest Rate
Ok, so that definitely looks like interest rates are moving up. Do we buy the logic?
The strongest principle that has influenced our thought process is that correlation is not causation. The second strongest is that sample size matters when throwing out blanket statements. So, to illustrate these two principles, we would like to take you to a time when the Fed created a similar increase in interest rates.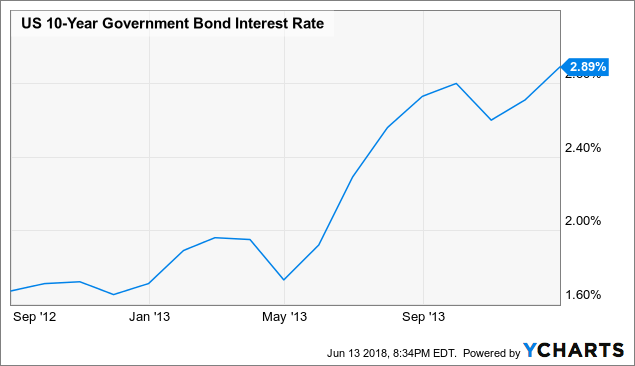 US 10-Year Government Bond Interest Rate
How did the Fed create this massive increase in rates? Surely they must have been doing QT 24/7 with only breaks on bank holidays. Actually, the period shown coincided with Quantitative Easing 2 (QE2), where Ben Bernanke and company were buying $40-85 billion a month of US Treasury bonds. Funnily, interest rates peaked right around the time the Fed decided to taper its bond purchases. By October 2014, the 10-year Treasury reached 2.3% with the Fed having stopped its bond purchases.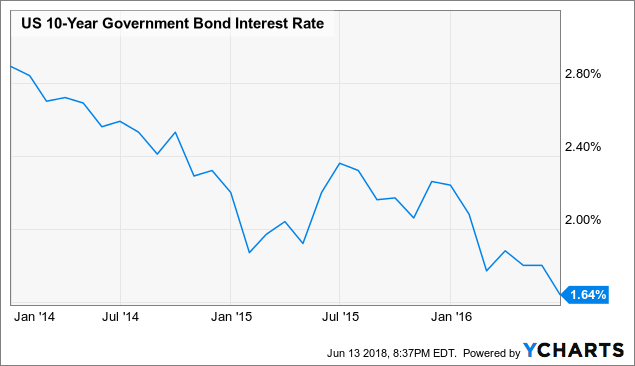 US 10-Year Government Bond Interest Rate
Interest rates dropped another 65 basis points with the Fed keeping its balance sheet unchanged.
So based on the above we have:
One sample of increasing QT and increasing interest rates.
One sample of increasing QE and increasing interest rates.
One sample of decreasing QE and decreasing interest rates.
Can you glean anything useful from that? We cannot.
Also, for those who attribute the current malaise in emerging markets to the Fed, here is the performance of the iShares MSCI Emerging Markets ETF (NYSEARCA:EEM) during the strongest phase of QE. If QT is making EEM shares fall today, wouldn't QE have done the opposite? It certainly did not.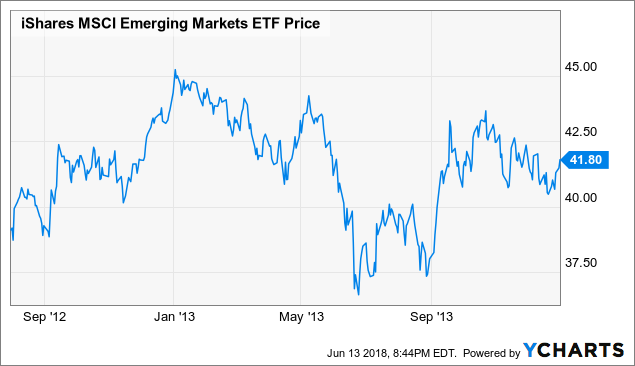 Next, shown below is something that the "correlation-causation" crowd should really love: Fed interest rate hikes and emerging market performance between 2016 and 2018.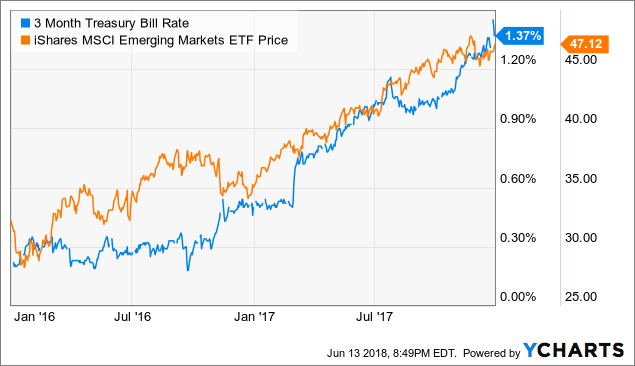 Based on that, would you like to say that interest rate hikes by the Fed cause EEM shares to go up?
Sure, we chose a time period we liked, but interest rates were being raised (or being prepped to be raised) and emerging markets were positively flying.
So have an open, skeptical mind. Question when people put forth ideas about correlation and causation. Ask how frequently this has happened, before jumping to conclusions. We are not downplaying the impact of higher interest rates. We just think the US economy is so strong that the longer-term (not necessarily the next 3 months) trajectory is still up. However, we think the huge divergence between emerging markets and the US will close at least partially with the US market going down, hence we are more heavily hedged (70%) with calls than at other times. We plan to increase short sales of key stocks that we think will be vulnerable to a downslide in the next 3 months.
Portfolio updates
1) Omega Healthcare Inc. (NYSE:OHI)
After downgrading OHI to a DUCK, we did sell the $27 puts for Jan 2020 for $5.50. Yesterday, we bought that back.

The stock has had a nice run since Q1-2018 results, and we expected this rally. At this point, we are finding better opportunities in this space, which we bought and alerted our subscribers to, so we felt no need to hang on to this one. The way we see it, OHI is now trading at over 12X our funds available for distribution (FAD), and that is just plain expensive on a relative basis.
2) Washington Prime Group (NYSE:WPG) and Pennsylvania REIT (NYSE:PEI)
While not exactly a Sell, we did sell $7.50 calls for January 2019 for $1.05 each. Total calls sold were 120% of our long position, making this a delta hedging strategy.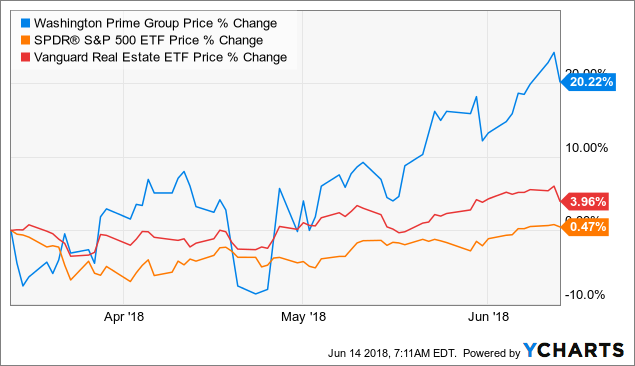 WPG had a mammoth outperformance since the March bottom, and when it reached $8.15, we were left contemplating whether we still wanted this one or wanted to sell lottery tickets. We decided on the latter.
The logic here was that both call and put premiums on this have been high, and we have been comfortable doing both. We initiated this purchase by selling the $7.50 puts, and our strategy has outperformed the common purchase. Had we purchased the stock directly, we would have been up 17%. But our defensive strategy has us up over 30% in the same time frame. That extra 13% has been milked from people who bought options from us.
Similarly, we sold calls on PEI as we felt it was getting frothy in the short term.
3) Dream Global Real Estate Investment Trust (OTC:DUNDF)
We had exited some of our position in March, as the REIT was on a tear. Dream Global REIT continued its scintillating performance, and at $15 CAD, we said goodbye and exited our position completely. To say this REIT did well for us is a giant understatement.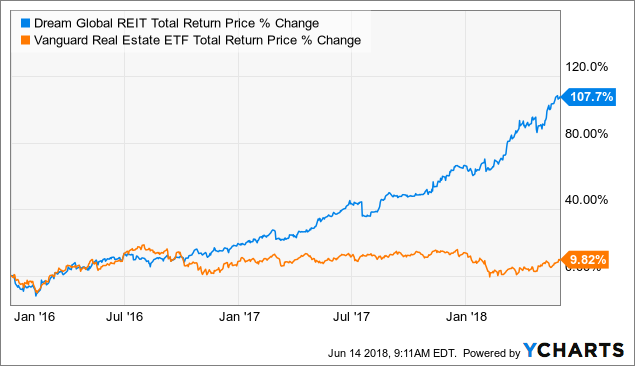 The crux of our logic was that the stock was now fairly priced, and there were more bountiful opportunities elsewhere. Dream Global should also feel more headwinds from a tightening ECB (something that has yet to happen).
4) Dream Industrial Real Estate Investment Trust (OTC:DREUF)
This was another high-flyer that we exited, as we saw the selloff in oil stocks as an opportunity to make a great trade. Dream Industrial REIT is trading above its NAV, while many Canadian oil stocks are languishing way below their fair values. We felt a sector rotation move here was warranted. We had recommended one oil stock recently, and we added two more to the mix on weakness.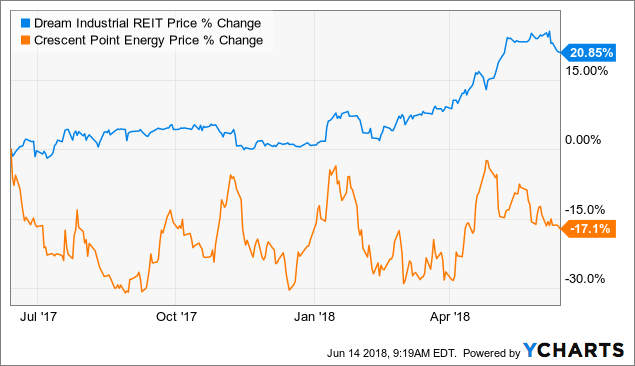 5) Landmark Infrastructure Partners Inc. (NASDAQ:LMRK)
As important as what we buy and sell is what we choose not to buy (or sell). LMRK is one we looked at very closely recently but gave it a pass. We were not thrilled with the low interest coverage, conflicts of interest and rather heavy marketing by management of its lease length. LMRK remains on our radar though for a possible buy, should conditions change.
6) Melcor Developments (OTCPK:MODVF)
We recently covered this one as the cheapest way to buy Canadian land. We deployed some proceeds from our Dream REIT sales here as well. Melcor is a long-term bet on the resurgence of Alberta, and it trades at a 67% discount to our estimate of its liquidation value. If you are an oil bull and ready to be patient, this presents a compelling long-term opportunity.
7) Uniti Group Inc. (NASDAQ:UNIT)
After being bullish on this during the worst of the sell-off last year, we hedged our long positions for a nice gain. The stock has now run so far ahead of itself that we initiated tiny short positions yesterday at $23.31. We plan on adding 5X as much, should UNIT reach $24.50 in the next few days.

We also added a ratio spread. We wanted to make this 10X as large, but our orders did not execute.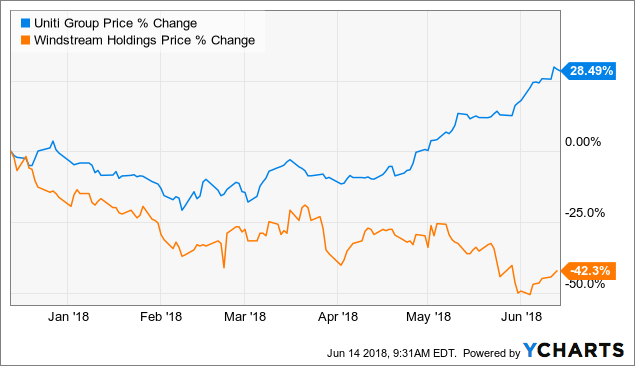 UNIT is still a Windstream (NASDAQ:WIN) story. The declining revenues at WIN regardless of improving profitability are a strong net negative for the long-term valuation, and we feel the fundamentals will reassert themselves over the next few months.
Conclusion
The market remains a volatile beast swinging from euphoria to panic, and events that happen at the same time are automatically assumed to have a cause and effect relationship. The underlying economy, however, remains strong and is significantly less volatile than the stock market itself. That differential creates opportunities in both directions and is a constant source of income enhancement for us. We look forward to selling some expensive puts as investors in the US join those in emerging markets in pushing the panic button.
For more analysis such as this, alongside real-time alerts to sell insurance (puts) to panicked investors and lottery tickets (calls) to euphoric investors, please consider a subscription to our marketplace service Wheel Of Fortune.
About "Wheel Of Fortune"
Wheel of Fortune is a leading and comprehensive marketplace service dedicated to picking the best risk-adjusted opportunities in stocks, bonds, ETFs, and CEFs. We look for securities from an income and capital appreciation standpoint and focus primarily on managing risk in trades. We use options frequently to minimize risk and enhance returns.
We invite readers to have a closer look at our investment strategy and our best current picks. For more information, click here.
Disclaimer: Please note that this is not financial advice. It may seem like it, sound like it, but surprisingly, it is not. Investors are expected to do their own due diligence and consult with a professional who knows their objectives and constraints.
If you enjoyed this article, please scroll up and click on the "Follow" button next to my name to not miss my future articles. If you did not like this article, please read it again, change your mind and then click on the "Follow" button next to my name to not miss my future articles.
Disclosure: I/we have no positions in any stocks mentioned, and no plans to initiate any positions within the next 72 hours. I wrote this article myself, and it expresses my own opinions. I am not receiving compensation for it (other than from Seeking Alpha). I have no business relationship with any company whose stock is mentioned in this article.
Additional disclosure: Long/Short and hedged positions as described within the article.
We may trade all positions at any time, including within the next three days.
Editor's Note: This article discusses one or more securities that do not trade on a major U.S. exchange. Please be aware of the risks associated with these stocks.