About this time last year, I decided to switch out of Western Asset Global High Income Fund (EHI) in my own portfolio, but kept it in my parents' portfolio. There is quite a bit of overlap between the two portfolios, but because of slightly different objectives, parameters, and different entry points available at times of purchase, some differences certainly exist.
The reason I sold EHI in my own portfolio was because 1) I had some concerns about activist investors getting involved with the fund, and 2) I wanted to pare down my high-yield bond allocation and beef up my convertibles allocation. I purchased Calamos Convertible & High Income Fund (CHY) in its place to cover both bases.
I did not do the same with my parents' portfolio because 1) I wasn't sure how much I should really be concerned about activist investors, and 2) EHI was performing quite well for them as their only high-yield bond fund so there was no other compelling reason to trade out of it.
Last month, I realized it was time to look at it again after EHI cut its distribution while also in a downhill slide. Is it still worth a place in their portfolio?
My Problem
To say that comparing funds can get tricky sometimes is an understatement. If there's something obviously wrong or another fund is obviously better, then it's a no-brainer. But that's not always the case. There are too many variables involved and it can be difficult to weigh those against each other properly to make an informed decision.
Analysis Paralysis can easily take over at those times. I am not an investment analyst, so it gets a little mind-boggling to look at all those little numbers and charts and come up with a clear direction. Sometimes my head starts spinning so fast I might start flying around the room backwards! I'm sure my fellow CEF investors can relate.
My Solution
To help circumvent this problem, I created a Fund Scoring Model to show how all the funds rank against one another according to which variables are most important for my objectives. I got the idea from one of my first articles about trying to find a utilities fund and the process I used to help me decide after other avenues failed. I took that basic idea and developed it further at the request of some of the students of my e-course Perpetual Income With Closed-End Funds. This fund evaluation model is now exclusive to students of this premium course.
Fortunately, it came in quite handy recently as I looked at alternate funds in the multisector high-yield bond fund universe. The results of my search proved interesting to me, so I thought I'd share how I arrived at a decision about what to do with EHI in my folks' portfolio.
My Procedure
To begin, I used cefdata.com to find a list of similar funds to research. This website shows its own indexes for closed-end funds, listing similar funds that make up each index. This is a great way to quickly find similar funds listed out for you. I pared the list of high-yield bond funds down to fit my criteria of paying a minimum of 7% in distributions.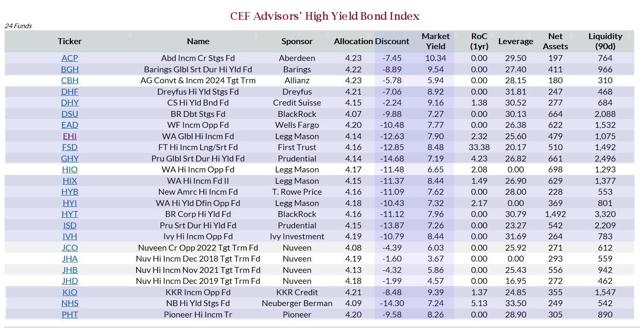 (Source: cefdata.com)
However, the list was too long for my liking, so I pared it down further by eliminating those with distribution rates lower than EHI's. Then using CEFconnect, I entered all the data for these eleven funds into the evaluation model, including how much weight I give to each criterion for this comparison given our particular investment goals.
The results made it much clearer which funds might serve as suitable substitutes for EHI, and which ones didn't even come close. I did the first comparison two weeks ago. Interestingly, EHI ranked at the top, with only one other fund that might compete for this allocation: EHI's sister fund Western Asset High Income Fund II (HIX). At that time, they tied for the top spot.

Two weeks later, I entered the data again, and this time HIX fared a little better than EHI.

(Source: Author's work)
My Conclusions
The data for the funds in question in any comparison are going to change from day to day. Duh. But the comparison itself will stay pretty much the same until something big occurs to throw a fund out of the running.
For the time being, I will have my parents hold onto EHI until there is a more compelling reason to switch. Both EHI and HIX have recently cut their distributions, putting them both onto more solid ground going forward. From a mostly passive but well-diversified income portfolio standpoint, both serve the purpose equally well. Anyone with a like-minded strategy who is thinking about a first-time purchase might go with HIX today while the numbers lean in its favor.
Because the role of the funds' allocations in the portfolio is important for my objectives, the results based on those weightings would be quite different than for an investor with a different portfolio strategy. Similarly, if you believe, for instance, that a favorable z-score is more important than I do, then your comparison would yield different results than mine. That is why I believe using a weighting scale is important to factor into the process, allowing for various investment objectives to be accounted for in any mathematical model.
Naturally, this method of analysis does not take into account non-mathematical factors, such as recent decisions by the managers and such (although there is a Bonus Points column to add or subtract points for such factors). I would be curious to know how other closed-end fund investors process all the data to come to a decision about purchasing or selling their funds. If we don't have a method of analysis, we tend to just fly by the seat of our pants. If you have a strategy that has worked well for you, please share your insights in the comments section.
Disclosure: I am/we are long CHY.
I wrote this article myself, and it expresses my own opinions. I am not receiving compensation for it (other than from Seeking Alpha). I have no business relationship with any company whose stock is mentioned in this article.