Most longer-term investors are seeking above-average investment returns with lower risk. One proven means of reducing investment risk is to assess the "quality" of your investment selections. However, there are almost as many "quality" benchmarks as there are investment styles. Some may choose a company's credit ratings, others may choose inclusion in a specific index while a few may rely on their own brand of quality criteria. My choice for decades has been the S&P Equity Quality Ranking.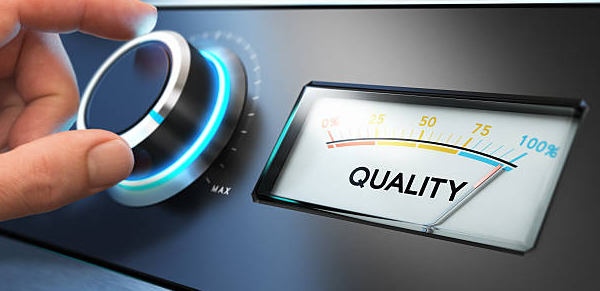 S&P has offered its Equity Quality ranking since 1956, within a grey-hair's thickness of my own ripe-old age, and is included in its individual stock reports. Within my personal fundamental analysis criteria, quality is handicapped in every review. From their white paper of 2012:
S&P Capital IQ Earnings & Dividend Quality Rank: The S&P Capital IQ's Earnings and Dividend Quality Ranking System measures the historical growth of earnings and dividends. Those companies with high growth in earnings and dividends rank higher than companies whose earnings and dividends grow more slowly or not at all. The starting point in the ranking process is a computerized scoring system based on per-share earnings and dividend records over the most recent 10-year period, a time period sufficient to measure a company's performance under varying economic conditions. The system measures growth, stability within the trendline, and cyclicality. From these, scores for earnings and dividends are determined. The system makes allowances for company size, since large companies have certain inherent advantages over smaller ones. Once computed, a final score is measured against a scoring matrix. The results are reviewed and sometimes modified, because no mechanical system can evaluate the many special considerations that could affect a company's earnings and dividend record.

S&P Capital IQ's Earnings and Dividend Ranking System has eight grades:

A+, A, and A- are above average;
B+ is average;
B, B-, and C are below average;
D signifies a company in reorganization.

An NR designation (no ranking) is given to common stocks with insufficient historical data or because the stock is not amenable to the ranking process. As a matter of policy, Standard & Poor's does not rank the stock of foreign companies, investment companies, or certain finance-oriented companies.
S&P's research claims that fundamental investment risk is lower with high quality rankings. Their white paper points to a few interesting positive characters of the top-rated companies and their management:
Management has a track record of stable and persistent earnings, high returns on equity, strong cash flows, stable and wide profit margins, and low debt levels.
Companies with high Quality Rankings appear less likely to engage in accounting manipulation. Over the 1987-2010 time frame, top-ranked companies reported significantly lower non-recurring items. Management also generate more cash income per dollar of accrual accounting income.
Earnings growth for companies with high Quality Rankings is not usually correlated with overall sector corporate earnings and credit cycles. Conversely, earnings growth for companies with low Quality Rankings is highly dependent on earnings and credit cycles.
According to the white paper, high Quality Rankings stocks might offer investors better downside protection. Using the time frame 1985 to 2011, the following graphic compares the beta performance of each Quality Ranking group against the S&P 500 in both up and down markets.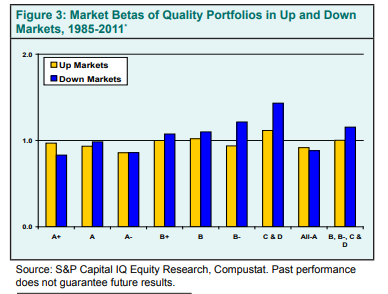 The graphic is followed by this interesting caveat:
Historically, portfolios of high Quality Ranking stocks (A+, A, and A-) have underperformed portfolios of low Quality Ranking stocks (B, B-, C and D) in bull markets, but outperformed in bear markets, with the result that until recently high-quality stocks outperformed both low-quality stocks and the S&P 500 on a long-term (1985-2005) basis. However, in the 2007-2009 bear market, high-quality financial stocks severely underperformed, resulting in overall underperformance (1985-2010) of the high-quality portfolio versus the low-quality portfolio, and about equal performance versus the S&P 500.

When the S&P 500 declines by more than 6%, the All-A portfolio outperforms the B, B-, C&D portfolio by 280 basis points. But when the S&P 500 rises by more than 6%, the All-A portfolio underperforms the B, B-, C&D portfolios by only 130 basis points.
There have been a few name changes for the Quality Ranking system over the years. The most recent involves the 2016 sale of the equity research arm of S&P, then known as the S&P Global Market Intelligence, to the independent equity research firm CFRA, or Center for Financial Research and Analysis. CFRA changed the Ranking name from S&P Capital IQ Earnings & Dividend Quality Rankings to SPGMI Quality Ranking.
It is easy to get confused with different equity "quality" rating systems. For instance, there is another S&P designation of equity quality, which evaluates different criteria. Known as the S&P Capital IQ Quality rating, it is based on a score from 1-100 on three fundamental measures: return on equity, accruals ratio, and leverage ratio.
For this rating, 81 to 100 is Very High, 61 to 80 is High, 41 to 60 is Medium, 21 to 40 is Low and 1 to 20 is Very Low. Of interest is the recent change in the Fidelity Stock Screener options from using the SPGMI Quality attribute, with its alphabetical classifications, to the S&P Capital IQ Quality attribute, with its numerical classifications.
The S&P Capital IQ Quality rating system is the basis for launch in 2014 of Invesco S&P High Quality ETF (SPHQ). SPHQ has AUM of $1.3 billion and follows the S&P 500 Quality Index as offered by S&P Dow Jones Indices LLC. The ETF is re-balanced twice a year and includes the top 100 stocks in the S&P 500. The downside to this rating system is it evaluates a substantially shorter-time frame as described in its methodology:
ROE: A company's trailing 12-month earnings per share divided by its latest book value per share (BVPS).

Accruals Ratio: The change of a company's net operating assets over the last year divided by its average net operating assets over the last two years.

Leverage Ratio: A company's latest total debt divided by its book value.
As shown, the time period analyzed by this ranking system is extremely short, as in the most recent quarterly results compared to the 10-yr history analyzed by the SPGMI Quality alphabetical ranking. For my use, the latter is preferred because of this exact reason – higher creditability due to longer time horizon evaluated. In addition, the SPGMI Quality ranking hones in on a very important aspect of long-term investment selection – earnings and dividend growth over a sufficient period to include at least one economic downturn. While past performance is no guarantee of future returns, most A companies remain in that category. But not always.
I have used the SPGMI Quality ranking as an analytical tool dating back to the mid 1990s. Unfortunately, with 30 years of computer upgrades and system crashes, I don't have easy access to my spreadsheets from that time period. However, I was able to revive a May 2008 spreadsheet of the 135 companies I actively followed back then. Included in the 2008 analysis is the SPGMI Quality Ranking, which covers management performance from 1997 to 2007, and allows for comparisons to the current ranking, which covers from 2007 to 2017.
Of these 135 stocks, 35 are no more – either from mergers or they are out of business. In addition, my All About DRIPs and DSPs book published in 2001 lists some rankings which would cover the period from 1989 to 1999. Below is a table of the current Quality Ranking, which analyzes 2007 to 2017, the 2008 Quality ranking, which covers the period 1997 to 2007 and the 2000 Quality Ranking, which reviews 1989 to 1999. The table also lists the movement between these periods in the number of Ranking slots the stock has moved. Of the 112 stocks listed, 62 declined in Ranking, 26 improved their Ranking, and 24 remained the same.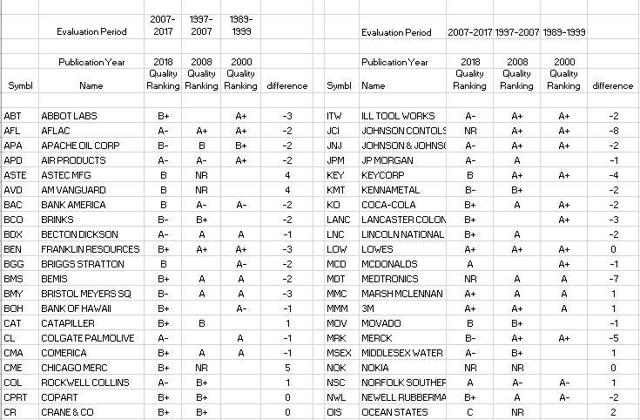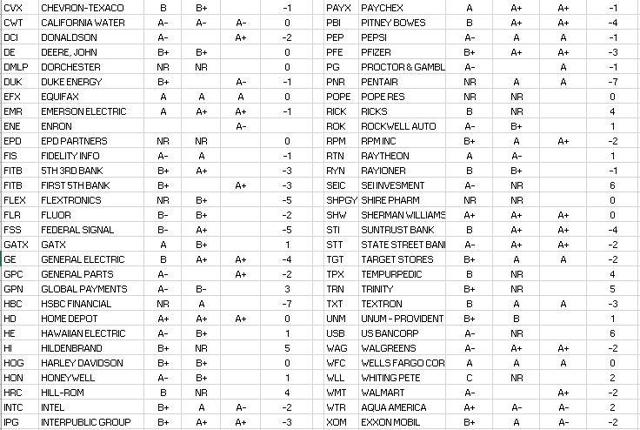 Source: Guiding Mast Investments
Of the approximately 3,670 stocks with a Quality Ranking, about 2%, or 81 stocks are ranked A+, 6% or 204 are ranked A, 6% or 233 are ranked A-, and 16% or 576 are ranked B+. The balance of the 2,576 firms (70%) are ranked B or below and an additional 2,500+ stocks carry a NR rating. Stated another way, those stocks rated in the A grouping represent the top 14% of all stocks reviewed by S&P for consistency in 10 yrs earnings and dividend growth. Pretty select grouping, in my opinion.
While the SPGMI Quality Ranking is not the end all, be all of investment research, its inclusion in your due diligence should add one more data point for consideration. While I don't restrict stock selections to specific Rankings, I personally handicap stocks based on their positioning within this ranking scheme.
From the Graham and Dodd's book Security Analysis:
A statement of actual earnings, over a period of years, with a reasonable expectation of that these will be approximated in the future. The record must cover a number of years, first because a continued or repeated performance is always more impressive than a single occurrence, and secondly because the average of a fairly long period will tend to absorb and equalize, the distorting influences of the business cycle.
It would seem the SPGMI Quality Ranking would fit nicely into the description above as a worthwhile research tool, in the eyes of Graham and Dodd.
If you are not using the SPGMI Quality Ranking and have access to the CFRA stock reports through your broker's research tools, you may be missing an important piece of the research pie. Just like Little Mikey in the 1972 Life cereal commercial: Try it, You May Like It.
Author's Note: Please refer to my profile page for the obligatory disclosures.
Disclosure: I am/we are long BDX, DMLP, EPD, FLR, GATX, GE, INTC.
I wrote this article myself, and it expresses my own opinions. I am not receiving compensation for it (other than from Seeking Alpha). I have no business relationship with any company whose stock is mentioned in this article.