Fears are rising high for millions of people along the Gulf, Florida and east Coast this spring, as hurricane Harvey and Irma is still fresh in many people's minds. Hurricane forecasting is not exact science, as everything from a warming planet to unusual individual climate features (i.e--Hawaii volcano) can have a huge impact on storm intensifies and tracks.
The oceans are ever changing, and the toxic wastes we are dumping into them is a crime and can threaten the world food chain in the years ahead. For an interesting, but worrisome article we wrote about "plastics and the changing oceans, please go here
Ok, back to the weather. I look at more than 24 teleconnections , such the cooling ocean waters in the eastern Tropical Atlantic (TNA), in trying to find the "Holy Grail" in long-range weather forecasting. Based on droughts in the western Plains wheat areas earlier this spring; as well as a great (2nd half) of the ski season for places like Snowbird, Utah, a weakening La Nina; a drought that wiped out 25% of Argentina's soybean crop, one analog that looks similar to this hurricane season might be 1996. While not written in stone, you can garner a "general idea" from the map (below) that the Gulf coast may be spared a major hurricane this season. If you are interested in learning more about how we prepare hurricane forecasts for clients, which affect everything from the natural gas market (UNG) to crude oil (CO) and crack spreads, please see my last article.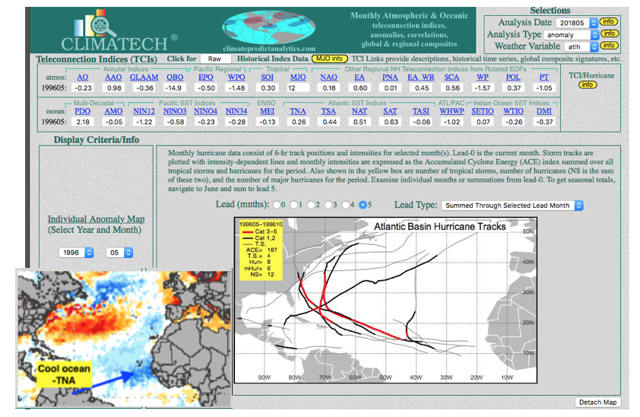 Ok, so what about commodities and global weather? Trade War concerns are having more of an immediate impact on many markets, but earlier global weather concerns about a Midwest drought affecting corn (NYSEARCA:CORN) and soybeans (SOYB) have greatly eased. Most of my research suggests some of the best Midwest crop conditions since 1994. Something I began telling clients, a month ago. Hence, outside from a potential temporary "truce" in the Trade War (If that happens at all), which could result in a smart recovery in grain prices, I do not see any extended hot-dry weather for Midwest crops through at least mid July.
We are partnering up with one of the most widely recognized agricultural analysts, Shawn Hackett to help educate everyone from the novice investor to major food companies, farmers, hedgers and traders, the "very best" weather and commodity market analysis in the industry. Due to popular demand and requests from being on Bloomberg radio, Seeking Alpha and around the world, I will be offering (shortly) a paid subscription service for information like you see below. These charts show my market sentiment, based on global weather, other fundamentals, technicals, etc. The chart on the right is Shawn's Smart Money indicator, which is a mathematical model, that combines buy and sell signals, with respect to the commitment of traders report and several other variables.
You can see, for example, the sell signal in cotton (BALB). Cotton has been one of the few major, consistent bull ag-commodities over the last 6 months. Inspired by China importing the most cotton in years, plus the worst Texas drought in 50 years and flooding in China, cotton has had a major bull run.
Shawn has recommended that farmers and producers take advantage of the high prices of cotton and lock in profits. While any further disruption in production this summer, could send prices to well over $1.00, in the short term, I look for drought easing rains in the next week or so, that will prevent even more of a disaster for Texas farmers. Most of my research portends improved summer conditions for Texas, as La Nina weakens.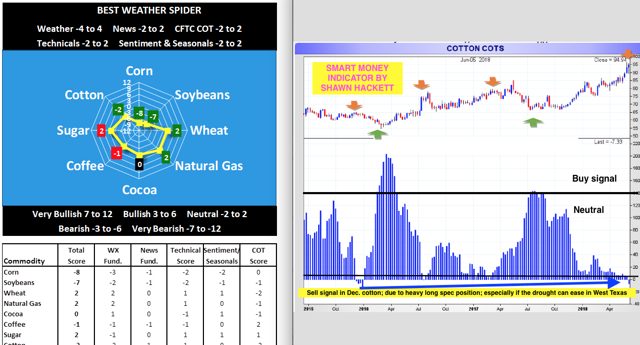 Best Weather Spider and Smart Money sentiment (above). While Trade War concerns and U.S. harvest pressure is pressuring wheat (WEAT), dryness in Russia and Australia could set the stage for some kind of rebound in wheat prices, after the U.S. harvest. Hence, as shown above, wheat has a had a lightly friendly sentiment. You can see that the last 3-4 weeks, my spider has had a negative sentiment in corn and soybeans and slightly friendly natural gas. The sentiment has recently changed from bullish to bearish in cotton.
Disclosure: I/we have no positions in any stocks mentioned, and no plans to initiate any positions within the next 72 hours.
I wrote this article myself, and it expresses my own opinions. I am not receiving compensation for it (other than from Seeking Alpha). I have no business relationship with any company whose stock is mentioned in this article.