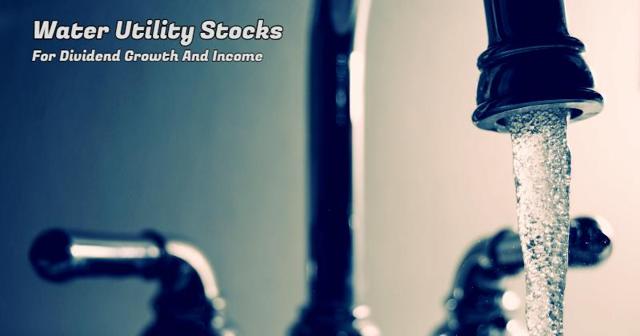 Photo by Steve Johnson from Pexels
Clean water is one of the essential elements needed for a prosperous community. A city or town simply can't operate very well without it.
This makes water utilities (like their electric and natural gas utility brethren) some of the steadier growers in the market.
This stable and steady growth is an attractive trait for income investors, and the companies in the sector have rewarded those investors with some of the longer dividend growth streaks in the market.
| | | | | | | | | | |
| --- | --- | --- | --- | --- | --- | --- | --- | --- | --- |
| Ticker | Company | # Years Div. Inc. | S&P Credit Rating | Debt / Cap | Market Cap (B$) | 52WK HIGH | 52WK LOW | % Below 52-week High | Share Price 6/13/18 |
| (AWR) | American States Water Co | 63 | A+ | 35% | $2.0 | $60.00 | $46.62 | -7.8% | $55.30 |
| (AWK) | American Water Works Company Inc | 11 | A | 49% | $14.2 | $92.37 | $76.04 | -14.6% | $78.93 |
| (WTR) | Aqua America Inc | 25 | n/a | 48% | $5.8 | $39.55 | $32.30 | -16.2% | $33.14 |
| (ARTNA) | Artesian Resources Corporation | 20 | n/a | 40% | $0.3 | $43.22 | $32.00 | -13.7% | $37.31 |
| (CTWS) | Connecticut Water Service Inc | 48 | A | 44% | $0.8 | $69.72 | $48.86 | -7.4% | $64.59 |
| (CWT) | California Water Service Group | 51 | n/a | 34% | $1.8 | $46.15 | $35.25 | -16.0% | $38.75 |
| (MSEX) | Middlesex Water Company | 43 | A | 34% | $0.7 | $46.74 | $33.96 | -8.7% | $42.66 |
| (SJW) | SJW Group | 51 | n/a | 46% | $1.4 | $69.29 | $47.56 | -4.5% | $66.19 |
| (YORW) | York Water Co | 21 | A- | 43% | $0.4 | $39.86 | $27.45 | -22.2% | $31.00 |
Eight of the nine companies on the list have raised dividends for at least twenty consecutive years. The only one that hasn't, American Water Works Company, has raised its dividend every year since it went public in 2008.
Investors appear willing to pay up for this earnings and dividend stability, as these companies typically trade at PE ratios above 20. This is even higher than the typical 16-18 PE range seen by electrical and gas utilities.
I highlighted this valuation premium in my previous article on the sector, and also stated that despite them trading below my then fair value target, I was hesitant to recommend them for those looking for capital gains.
My skepticism was unfounded however, as my top five picks went on to produce an average return of over 60% over the next two-plus years.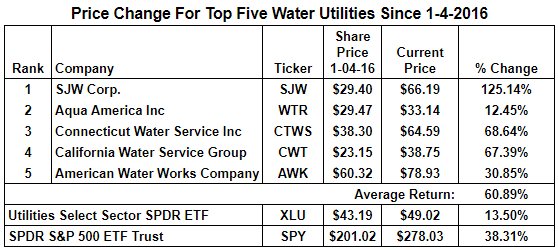 This far outpaced the 13.5% returns from the Utilities Select Sector SPDR ETF (XLU) and the 38.3% gains from (SPY).
Perhaps even more impressive is the fact that three of the five beat both benchmarks, making it an across-the-board effort.
Historical Numbers And Analyst Estimates
The stocks have done well in producing capital gains, next we will take a look at how they've done on the income growth front and what impact those price increases have had on valuations.
I've updated the spreadsheet with 2018 EPS estimates from F.A.S.T. Graphs and Yahoo Finance, and used them to calculate the estimated PE.
The historical "Fair Value" P/E was found by looking at various time frames on F.A.S.T. Graphs to determine what earnings multiple each company typically trades at. This is then compared with the 2018 estimated PE to calculate the "Delta P/E" to show a relative valuation for each company.
In this case, a negative number is good, as that means shares are currently trading below the fair value number.
I've also updated the historical dividend growth information for each company from the U.S. Dividend Champions spreadsheet to show how the various companies compare to each other by dividend growth rates.
Here are the updated numbers for the water utilities:

As you can see, the valuation problem has become even more pronounced for the sector, even after the 10-15% pullback seen by companies on the list.
Just two of the nine stocks (American Water Works and Aqua America) are trading within 10% of "Fair Value", and five are trading more than 20% above that target.
This is despite a generous fair value PE range of 21-26, which is a pricey multiple to pay for single-digit growth.
These high valuations keep the dividend yields suppressed too, as eight of the nine have yields under 2.5%, and four have yields under 2%.
Income And Total Return Projections
This next table will show my projections for future income for each of the members on the list. I do this by searching through company conference call transcripts and presentations and looking at historical payout ratios, along with analysts' EPS growth projections to predict what the dividend growth rates over the next few years could be.
These numbers are then used to calculate a five-year yield on cost ("YOC") estimate, for both organic growth as well as with reinvestment of dividends. The numbers are also used along with the EPS growth estimates and the "Delta PE" number to project the total and annualized returns over the next five years.

This is where those high valuations really create a cause for concern, as just three of the nine companies are projected for better than 5% annual total returns.
The income potential is also concerning, as American Water Works and Aqua America are the only two companies projected for better than a 3.0% YOC after five years.
Another thing I found surprising is the lack of guidance regarding dividend growth targets. With these companies all being long-time dividend growers, I expected there to be plenty of color from management on payout ratio targets or expected dividend growth. Yet I was only able to find guidance from four of the nine companies, and even those were fairly wide ranges, and most were paying less than the targeted range as well.
My Top Two Picks Plus One To Consider
With many of the stocks trading well above fair value, the investment options appear a bit limited at this time. However, I think three companies on the list are still worthy of a second look for investors.

The first two selections, American Water Works and Aqua, have the highest projected dividend income of the group, and also respectable total return projections of 9.0% and 7.2%.
The third, SJW Group has the highest projected returns at 9.7%, but also has questions surrounding an impending merger that murkies the water a bit.
#1 - American Water Works Company Inc. has the shortest dividend growth streak of the companies on the watch list, but makes up for it with the highest growth rate. The company has produced a 5YR dividend growth rate of 11.0%, and announced another 9.6% increase back in April.
Management discussed that increase during the Q1 conference call and stated that it expects to continue growing the dividend at the high end of a 7-10% rate going forward. It also targeted a payout ratio of 50-60%, putting the current 55% payout right in the middle of guidance.
As the F.A.S.T. Graph shows, the dividend growth has been backed by similar earnings growth, as its growth earnings at an 11% annual rate over the last decade.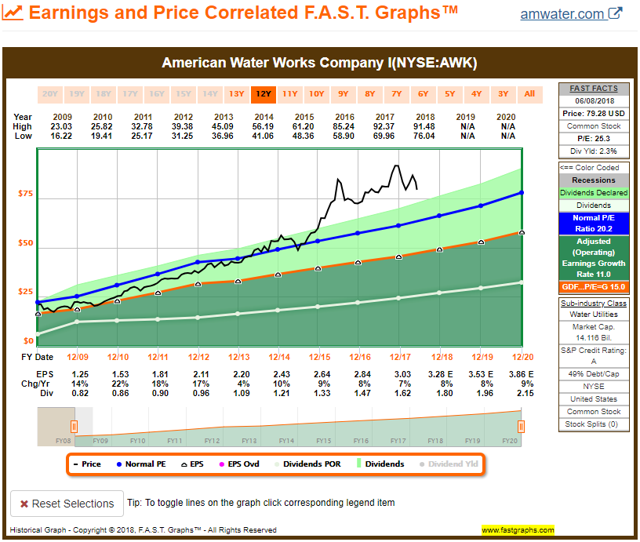 With shares trading at a blended PE of 25.3, valuation becomes the question mark, as the stock has traded at a normal PE of 20.2 over the last decade.
Shortening the time frame to five years paints a better picture, as it shows a normal PE of 23.3 over that period.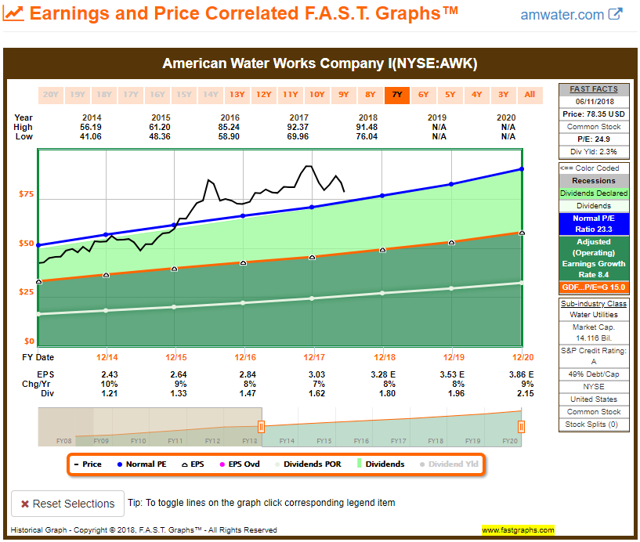 I've used 22 as my fair value target, as that discounts a bit the recent premium, yet still takes into account the normal high valuation given to the sector.
The stock trades at 24 times expected 2018 EPS of $3.29, and while this is still higher than my fair value target, it is actually the cheapest the stock has been since February of 2016.
With high single-digit earnings and dividend growth likely, this looks like a decent time to start building a position in this high quality company.
#2 - Aqua America Inc. is a water and wastewater utility that is headquartered in Pennsylvania and provides services to around one million customers across eight states.
Aqua America has provided 26 years of dividend growth for investors, and while it hasn't quite kept up with American Water Works, it's still produced an attractive 7.5% dividend growth rate over the last decade.
Earnings growth has followed suit, moving up at an 8.7% rate over the same period. I like the consistency of growth as well, as Aqua America has provided positive earnings growth in nineteen of the last twenty years and for each of the last ten.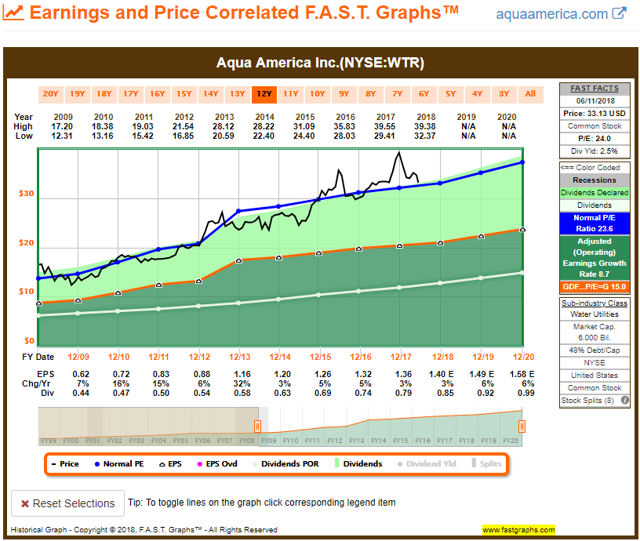 Analysts are expecting earnings growth of around 5% over the next five years, and I think dividend growth will likely exceed that rate. Management continues to guide for a payout ratio of 60-70%, and with the payout ratio currently at just 58.5%, there is room for that to expand going forward.
While the current yield of ~2.5% isn't all that high, the consistent growth of the dividend really adds up over the years, as the performance results from F.A.S.T. Graphs clearly shows.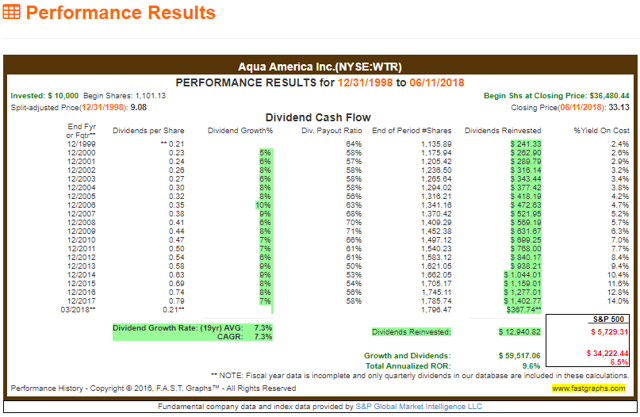 The company churns out 5-10% dividend growth like clockwork, which results in attractive yield on cost numbers as dividends are reinvested over the years.
As with others in the sector, Aqua America is richly valued at a 23.7 PE, but this isn't far from where the stock historically trades at. For long-term buy and hold investors, I think the stock is beginning to look attractive after the recent 15% pullback.
#3 - SJW Group is a water and wastewater utility based in San Jose, California with operations in California and Texas. It has a dividend growth streak of over 50 years, and has raised the dividend at a 3.7% annual rate over the last decade.
SJW is an interesting case, as the company also has a real estate business that causes fluctuations in earnings. This makes the FAST Graph much more lumpy than those produced by AWK and WTR.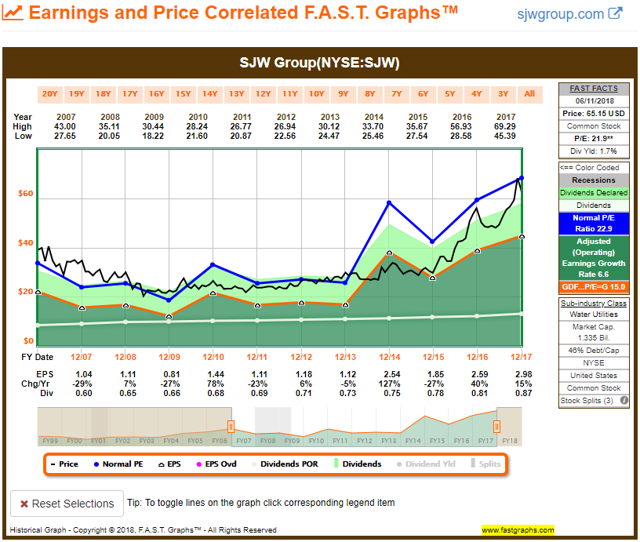 F.A.S.T. Graphs does not give any 2018 EPS estimates, while Yahoo Finance shows just one analyst that is forecasting for $2.25 in earnings. This would be a forward PE of around 29, well above my 22 PE fair value target.
That analyst is also projecting EPS growth of 14% going forward, which makes that 29 multiple a little more palatable. If those growth targets are met, a 10% annual total return could be expected.
SJW is also in the middle of a potential merger with another company on the watch list, Connecticut Water Service Inc. This deal would expand SJW's operations to new areas of the country and create a combined company that would be the 3rd largest among water/wastewater utilities.
However, questions remain about the deal, as Eversource (ES) has made a competing offer for CTWS and California's PUC announced it will require SJW to seek its approval for the deal.
To even further complicate things, on June 11th, California Water Service Group (also on the watch list) made a tender offer of $68.25 for SJW. The SJW board turned down the offer, but should CWT push it to a vote by shareholders, the deal could still potentially go through.
Obviously there are a lot of moving parts with plenty of uncertainty, but I think SJW/CTWS are worth a look in what appears to be an M&A driven sector at the moment.
Conclusion
The water sector has produced some of the longest dividend growth streaks in the market, but between the premium given to its stability and M&A activity driving prices even higher, valuations are stretched for most of the companies.
American Water Works and Aqua America appear to be the two most attractive opportunities for investors. Their higher yields, better growth rates, and lower relative valuations make them decent buy candidates at this time.
SJW Group also looks interesting, and if it can pull off its deal with Connecticut Water Service and meet analyst growth expectations, it too could be a nice opportunity for investors.
Hopefully this update helps those looking for investment ideas and provides some positive insight into the water utility sector. For those interested, I've updated the spreadsheet info on my blog page as well, and provided a PDF for those who like to print things out to study.
If you would like to read future articles covering this and other sectors, I kindly as you to click the "Follow" button next to my profile at the top of the page to receive notifications when they are published.
Disclosure: I am/we are long AWK. I wrote this article myself, and it expresses my own opinions. I am not receiving compensation for it (other than from Seeking Alpha). I have no business relationship with any company whose stock is mentioned in this article.
Additional disclosure: I am an engineer by trade and am not a professional investment adviser or financial analyst. This article is not an endorsement for the stocks mentioned. Please perform your own due diligence before you decide to trade any securities or other products.