While there are many out there, such as T. Boone Pickens, trying to push the use of natural gas, one of the warmest winters on record continues to pressure natural gas prices to multi-seasonal lows.
True, natural gas is now cheaper than coal and industrial demand is picking up, but over the next 2 weeks or so, some of the warmest weather we have ever seen in March, will blanket much of the Midwest and Eastern U.S. with numerous days in the 50's and 60's and even a few areas reaching over 70 degrees in mid-March.
Temps between March 13-17th will average as much as 15-25 degrees above normal over the areas shaded in red with white being the warmest.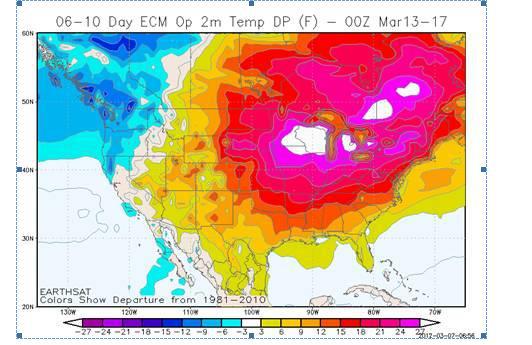 (Click to enlarge)
SOURCE: EarthSat
RECORD WARM WINTER A SHOT IN THE ARM FOR THE ECONOMY BUT NOT GOOD FOR THE SKI INDUSTRY AND MORE SPRING PESTS
The warm weather continues to be a reflection of what we call a positive Arctic Oscillation and Northern Atlantic Oscillation Index, in which sea ice has grown over the N. Pole, due to cold and low pressure north of Greenland and over the N. Pole. While I am a firm believer in man-made global warming, Sea Surface temperatures in the Pacific, Atlantic and near Greenland have been greatly responsible for this warm winter.
Heating Degree Day contracts, traded at the CME, have collapsed, yielding incredible profit potential for those who took our advice, about a warm winter, back in October. See this for more information.
While the warm weather could continue to benefit housing construction and put people in a great, early spring mood, the lack of snow and cold this winter could create more pests problems. In Virgina, for example, the Norfolk Department of Health says that mosquitoes and termites could be a greater than normal problem this spring.
NATURAL GAS PRICES TRENDING TOWARD $2.00?
I think it is possible over the next couple weeks, we will see natural gas prices trend close to $2.00 and hence, companies such as Chesapeake Energy (NYSE:CHK); Canadian Natural Resources (NYSE:CNQ) and other natural gas stocks that have been beaten up, may continue to slide even further, for now.
UNG may continue to slide slightly in coming weeks due to the record warm March.
Cheniere Energy Partners (NYSEMKT:CQP) could be a strong play, since it is involved in liquefied natrual gas and is developing a liquefaction project to provide bi-directional LNG import and export services at the Sabine Pass LNG terminal. Though this stock has rallied a lot, its dividend is close to 7%
Disclosure: I have no positions in any stocks mentioned, and no plans to initiate any positions within the next 72 hours.