Nickel versus Cobalt or Both?
As an investor analyzing the fundamentals of the nickel and cobalt markets, with an emphasis on the associated dynamics of electric vehicle (EV) battery demand for these metals, I have been eager to capture the flashpoint when we could see the future return potential batton change hands from cobalt to nickel. Nickel's EV bull case remains overshadowed by the predominate cobalt bull case which goes something like this:
The world is going to use as much or more cobalt in batteries alone in 5 to 7 years that it currently uses for all applications (e.g., 100,000 tonnes of demand going to 200,000 tonnes of demand). Most of it comes from the unstable Democratic Republic of Congo (NYSE:DRC). This case frequently comes with a warning label on the box: it is dangerous to make batteries without enough cobalt in them. If you are somehow not familiar with this case here is an example.
The bull case has some merit to it but it all too often avoids the inconvenient truth that Glencore (OTCPK:GLCNF)(OTCPK:GLNCY), Jinchuan, and Eurasian Resource Group are ready to flood the market with supply. If it does mention it, it is assumed that the extra tonnes will be stockpiled by battery manufacturers. The stockpile argument fails to address the sheer volume of capital that will be necessary at current cobalt price levels to absorb the additional 2019 to 2020 supplies-about 70,000 tonnes by my reckoning. At $80,000 per tonne, it would take $5.6 billion to buy up such a surplus. Glancing at the balance sheets of the largest battery manufacturers, this looks doubtful.
I expect the price of cobalt to fall until it reaches a sustainable price level where manufacturers can confidently and actively invest in production capacity for mainstream EV battery technologies (e.g., NMC 622). Ultimately, this would support the case for widespread EV adoption which would be good for cobalt and nickel demand, but more so nickel as higher nickel content battery demand is just really starting to hit the nickel market.
I want to be positioned in equities exposed to the metal where there is ample room for the future price to continue to rise and where the economic & industrial structures are there to continue to support that price level. This is what could turn $100 into $200 over the next few years, not what has turned $100 into $200 over the last few years. This is why my eye is on nickel.
The price of nickel remains historically low as can be seen here on this 20-year monthly chart, but the breakout is clearly on: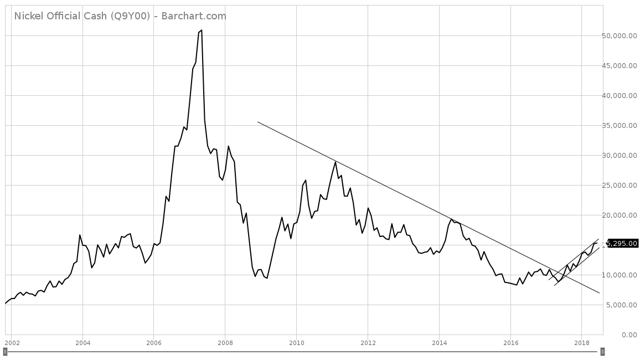 Chart courtesy of barchart.com
This chart alone would imply that nickel still has plenty of room to run if it is hit with a major new source of demand.
Introducing the Cobalt-Nickel Ratio
Several months ago I started monitoring the cobalt to nickel ratio and sharing my analysis with Industrial Minefinder members. What I love about this ratio is it bypasses the debate about how much of which metals will be in the majority of EV batteries and simply lets the market do the talking. I somewhat stirred the pot on the cobalt/nickel debate in the previous section to get us to this point of realizing the value of an outside mechanism to help assess future outcomes.
First off, to be clear, the cobalt-nickel ratio is the ratio of the London Metal Exchange closing price of cobalt to nickel. $80,000 per tonne cobalt and $15,000 per tonne nickel gives you a ratio of 5.33. Simple enough. The lower the ratio, the more nickel is outperforming cobalt. The higher the ratio, the more cobalt is outperforming nickel.
Here is the daily chart of the ratio going back to March 2016: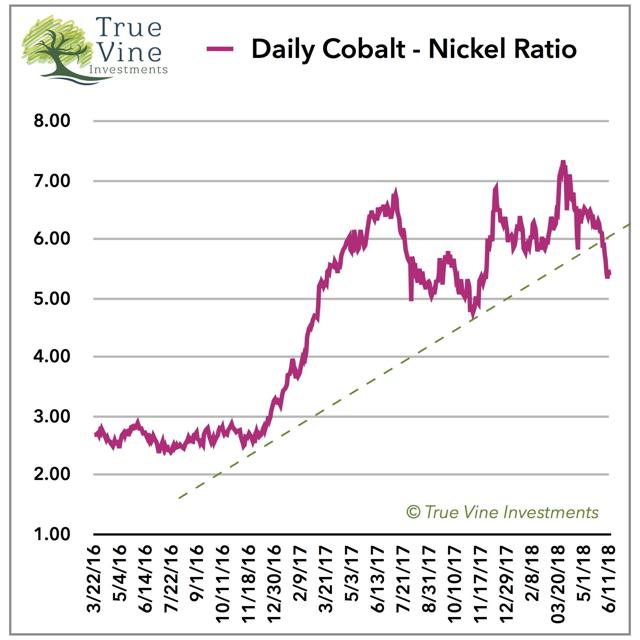 Looking at this daily chart, a clear breakout in nickel versus cobalt is not yet conclusive. The ratio put in a new high this year and one could argue that cobalt is now bottoming versus nickel and ready for a new move higher.
However, when we look at the monthly chart - which provides more of a long-term perspective - we get a different story: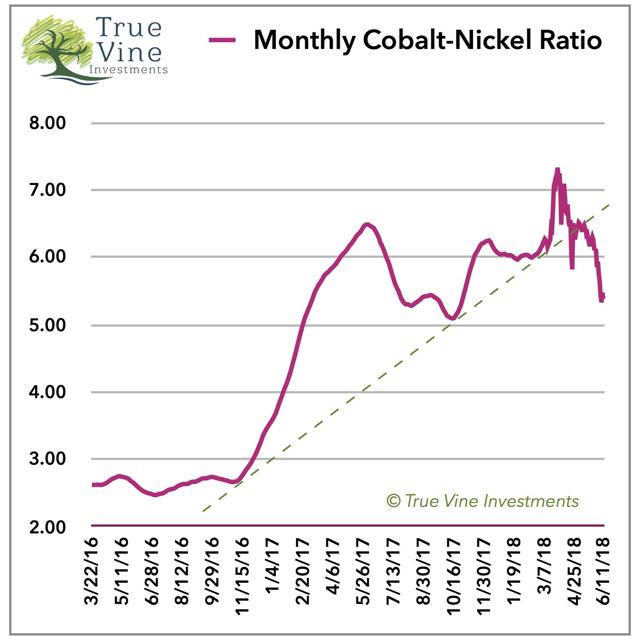 What is interesting to me about the monthly chart is how smooth the upward climb was until Q1 of this year. The monthly ratio has become much more volatile. The sharp back and forth here could be pointing to an inflection point. The case for a new move higher in this ratio is less convincing. I think it is pointing to a breakdown. If so, keep in mind, that this is not necessarily saying that cobalt is breaking down. It is saying that nickel is now the place to be going forward.
Disclaimer: I am an investment adviser and owner of True Vine Investments, a Registered Investment Advisor in the State of Pennsylvania (U.S.A.). I screen electronic communications from prospective clients in other states to ensure that I do not communicate directly with any prospect in another state where I have not met the registration requirements or do not have an applicable exemption. Any investment advice or recommendations involving securities referenced in this article is general in nature and geared towards a readership of sophisticated investors. This article does not involve an attempt to effect transactions in a specific security nor constitute specific investment advice to any particular individual. It does not take into the account the specific financial situation, investment objectives, or particular needs of any specific person who may read this article. Individual investors are encouraged to independently evaluate specific investments and consult a licensed professional before making any investment decisions.
All data presented by the author is regarded as factual, however, its accuracy is not guaranteed. Investors are encouraged to conduct their own comprehensive analysis.
Positive comments made regarding this article should not be construed by readers to be an endorsement of my abilities to act as an investment adviser. My clients always come first.
Industrial Minefinder
Industrial Minefinder is my Seeking Alpha Marketplace service focused on providing investors with what I think are the best opportunities in the industrial metals mining sector-juniors, intermediates, and majors. Interested subscribers can sample my work by reading my "author's picks" accessible from my Seeking Alpha profile. Do not hesitate to direct message me with any questions you may have.
Disclosure: I/we have no positions in any stocks mentioned, and no plans to initiate any positions within the next 72 hours. I wrote this article myself, and it expresses my own opinions. I am not receiving compensation for it (other than from Seeking Alpha). I have no business relationship with any company whose stock is mentioned in this article.
Editor's Note: This article covers one or more microcap stocks. Please be aware of the risks associated with these stocks.