Inflation is something I have covered both in macro articles and in in-depth articles about single companies. My main thesis was and still is that inflation in the US is about to accelerate. This is based on leading indicators that have gone up for quite some time. However, most recent consumer price data shows that real prices are following the trend. In other words, prepare for even higher prices.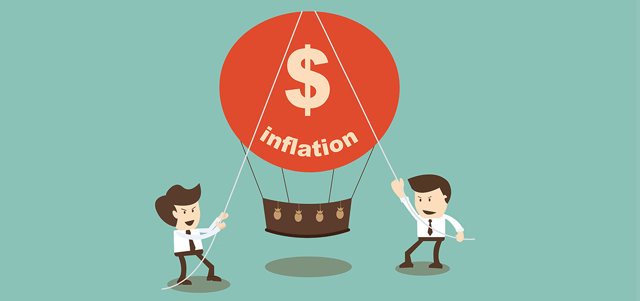 Source: Horn Diplomat
Prices Are Rising
The graph below is a part of my monthly economic review based on regional indicators. The graph shows the prices received index from manufacturing companies from 5 federal reserve districts. The befit of using this data is its predicting ability when it comes to official consumer prices growth. Since 2017 we are seeing increasing momentum when it comes to regional prices received. It is just a matter of time until official prices are starting to rise as well.
The most recent numbers show that prices are starting to rise. May saw consumer prices growth (all items) at 2.7%. This is the highest level since February of 2017. It seems that CPI growth is on its way to the 3.5% mark which would be similar to the situation in 2011. This would make sense given the strength of regional prices received and the fact that the current situation is similar when you look at the strong economic upswing and commodity strength.
The bigger picture shows that inflation is in a strong uptrend since 2015 when consumer prices briefly went below 0%. The current trend is similar to the one between 2001 and 2005 with the exception that the current uptrend happens at lower inflation levels (graph below). 2001 started at 1.0% and ended with almost 5% inflation in 2005 while we are currently below 3.0% after starting at 0.0%.
That being said, it is important to look at a few sub-categories to get a better picture.
Let's start with the only category that's in an actual downtrend. Food covers both food at home and food away from home and is highly depending on agricultural commodities. One good example is the price of wheat which is currently roughly 50% below its 2012 peak levels.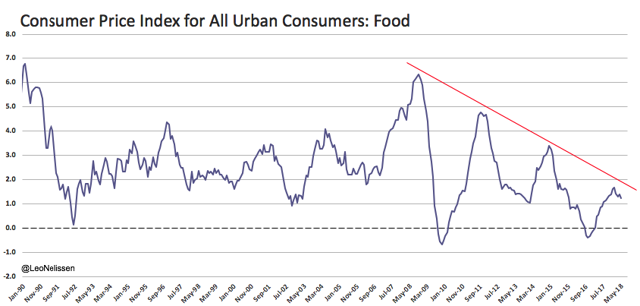 Energy on the other hand is doing the exact opposite. Energy, which includes energy commodities (all types), fuel oil as well as energy services like electricity and utility gas has hit 11% growth in May. This is obviously the result of rising oil prices which is hitting gas prices and petroleum products in general. It is almost a certainty that these prices are not going to drop with oil on the rise.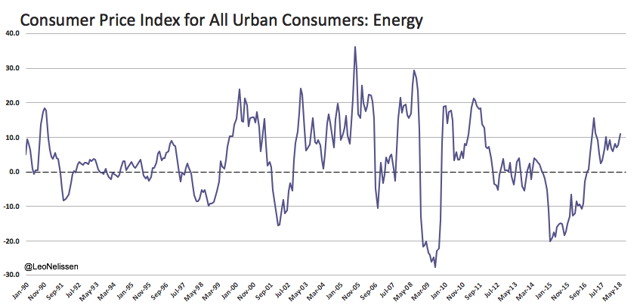 The next graph is one of my favorite categories. Everything except for food and volatile energy prices is included in this graph. The result is steady growth around 2.0% since the early 2000s. It also shows that energy prices are the reason why consumer prices went down in 2015. One could say that if you don't own a car you have not had any deflation over the past decades. On a more serious note, it seems that these prices are on their way to a 10-year high. I would not be surprised if the current growth number of 2.2% would turn into at least 2.5% growth over the next 3 months. This would then mean that we are exceeding the post-recession levels of 2010 and 2011.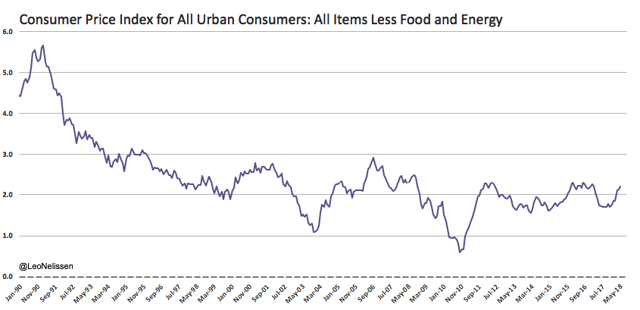 Moreover, the 'all items less food and energy' category can be broken down into 2 sub-categories. Those are the one which includes new and used vehicles as well as apparel and medical care commodities (blue line) and the one which includes shelter, transportation services and medical care services (yellow line). Services continue to grow at strong levels. Especially shelter is adding to this strength with another 0.2% growth compared to April of this year. Cyclical products like cars on the other hand are still in a deflationary situation which they entered in 2014.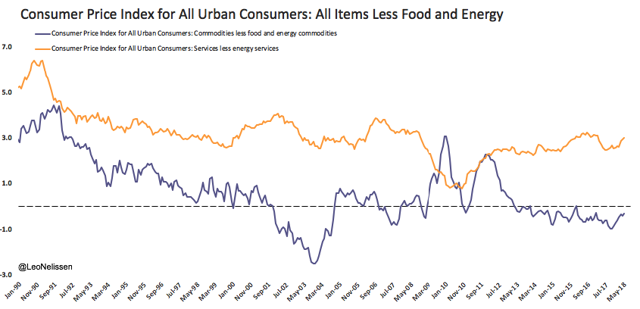 What's Next?
If I had to use one sentence to end this article I would say: prepare for higher inflation. I believe that the consumer price index (all items) is going towards 3.5%. This is likely going to put more pressure on bonds like the long term government bonds ETF (TLT). This ETF is going nowhere since the start of 2017. Note that I added one of the reasons why inflation is increasing to the graph below. Oil is massively accelerating and more or less putting a very low ceiling on the price of TLT. All TLT does is bother both bulls and bears who are eagerly waiting for the next big move.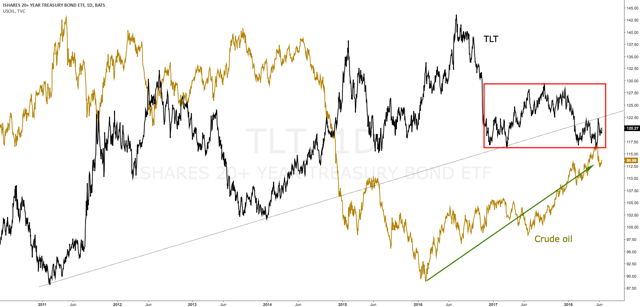 Source: TradingView
The best way to handle the current situation is to stay away from the yield trades like bonds and high yielding dividend stocks. Yes, these are wonderful long term investments but they won't do very well on the mid-term which is important for traders. Personally, I am long a lot of cyclical stocks like oil drillers and gold miners which I will continue to do until I expect inflation to drop (along with economic growth in general).
Stay tuned!
Thank you for reading my article. Please let me know what you think of my thesis. Your input is highly appreciated!
Disclosure: I/we have no positions in any stocks mentioned, and no plans to initiate any positions within the next 72 hours.
I wrote this article myself, and it expresses my own opinions. I am not receiving compensation for it (other than from Seeking Alpha). I have no business relationship with any company whose stock is mentioned in this article.
Additional disclosure: This article serves the sole purpose of adding value to the research process. Always take care of your own risk management and asset allocation.