Emerge Energy's shares have been on a roller-coaster ride in the past year due to false perceptions of oversupply looming for the frac sand industry. However, earnings have been strong for EMES, despite the negative chatter, and are only projected to rise in the coming quarters. With their recent expansion into the Eagleford shale basin, and now Oklahoma, EMES has the catalysts needed to propel its stock higher.
Three Month Chart
Emerge Energy is trending up on a three month chart, trading above all moving averages. To be exact, EMES recently failed the 20 day mavg after briefly poking above it. But, other than that, EMES is above all moving averages and trending up.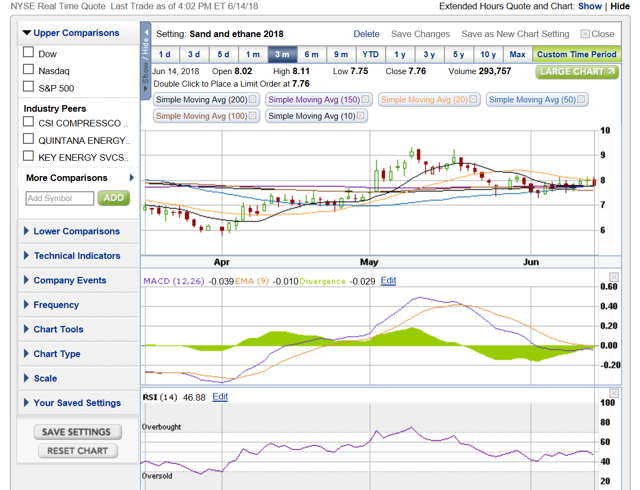 Source: E*TRADE
EMES's chart is coiling, with the 10 day moving average (black line) moving in a parallel fashion, and converging with all other moving averages. When moving averages converge together with one another, and fundamentals strengthen (as in EMES's case), a volatility expansion occurs, fanning the stock's moving averages out in an upward fashion. This is what model uptrends need.
In May, we almost got the fanning out action that we needed for the uptrend to stick. But, since the 10 day rolled over, the MACD crossed down, and the RSI was overbought, a perfect storm threw EMES's stock off of its course. Now, the tide is turning in Emerge's favor again. Its stock is now oversold, its MACD is beginning to cross up, and it has almost made it back above all moving averages again. Once the 20 day mavg is broken to the upside, the next stop for EMES is $9 a share.
Max Timeframe
On a max timeframe chart, Emerge's stock looks like it is dragging through the mud. But, we saw that a shorter timeframe looks bullish. So, the main point to takeaway with the max chart is that investors should see what the stock is capable of. If EMES can just regain half of their old share price of $150, then investors could stand to make a small fortune.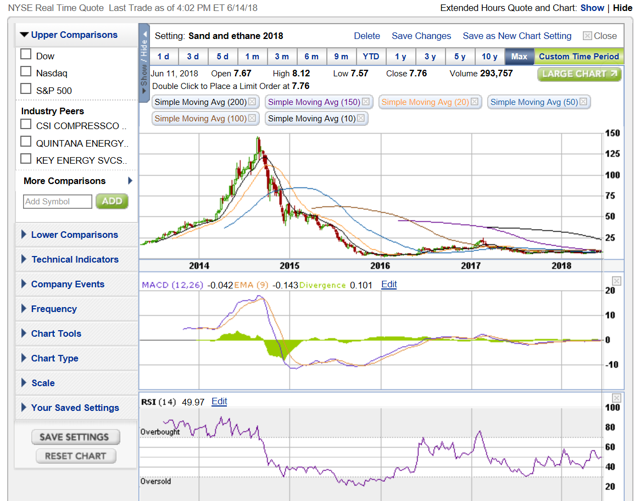 Source: E*TRADE
It is almost comical how the 200 day moving average on a max timeframe is looming around $25, EMES's old resistance point in 2017. So, look for $25 to act as strong resistance, if and when, EMES breaks out from current levels.
Also, please see how the RSI is not overbought yet, but once EMES reaches the old resistance point of the 200 day moving average (or around $25 a share), then the RSI will be conveniently overbought. This could setup the perfect storm again for the correction, but we shall worry about that when the time comes.
In the meantime, if EMES trends up, the 200 day moving average on a max timeframe chart should continue to fall and catch up with the stock, acting as a launching pad if the 200 can be surpassed quickly enough.
Bollinger Bands
In combination with having a favorable moving average, RSI, and MACD setup for EMES, Bollinger Bands are also foreshadowing a large price jump ahead.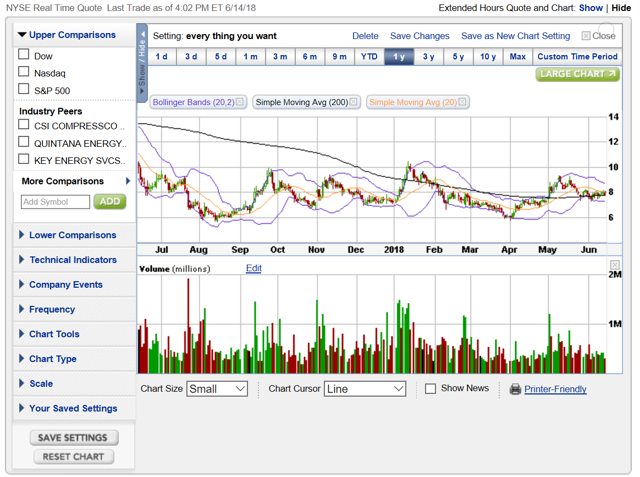 Source: E*TRADE
Normally, investors look for a stock to tag the upper Bollinger Band before placing bullish bets. But, tags of the upper Bollinger Band can lead to fake outs. Investors may be better served waiting for the squeeze to happen, instead. As EMES's one year chart above shows, Bollinger Bands are on the verge of squeezing.
In past times, such as in August and December, after EMES's Bollinger Bands converged, a sharp expansion occurred after. Plus, this time around may be more supportive for a breakout in EMES, as the 200 day moving average is weaving through and acting as support; whereas before, in February, the 200 acted as resistance, and false support.
A Quick Glance At Emerge's Financials
Before mortgaging the farm in order to go all-in on Emerge, a quick rundown on their financial condition is prudent. As investors can see by their income statement below, Emerge's revenues have been rising in steady fashion.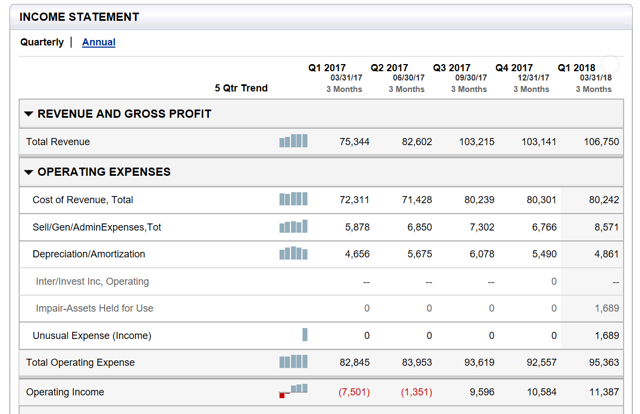 Source: E*TRADE
It is also encouraging to see that Emerge's operating income is rising with revenues, implying that costs are going down as revenues go up. This is due to the leverage and fixed cost absorption that a logistics company like Emerge enjoys.
Emerge's balance sheet also appears steady. Total liabilities are less than assets, but not at the level that investors would typically like to see. However, the company invested heavily in its future during the recent downturn.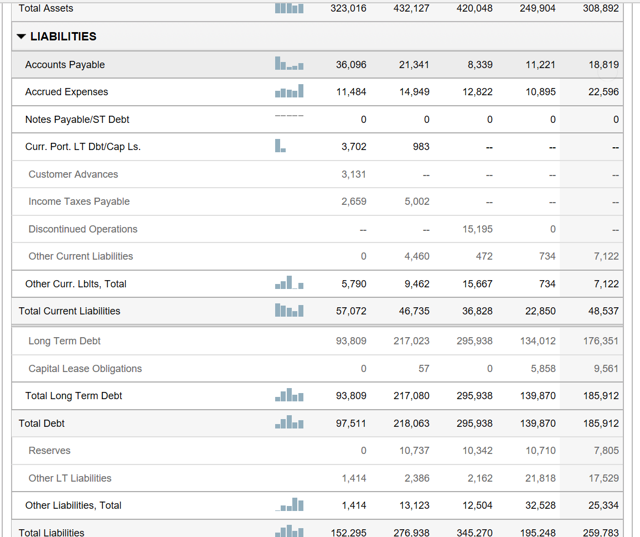 Source: E*TRADE
So, with a strong rebound in North American shale activity currently underway, EMES should be reaping the rewards of their investments soon and be able to pay down more of its debt.
Emerge Has Catalysts To Propel Its Stock Higher
Short cycle drilling operations are changing the energy equation of the world, and drillers desperately need sand suppliers to provide them with quality proppant (in copious amounts) for slick water fracs. These are powerful dynamics that have been clearly overlooked by institutional investors. However, one of the more obvious catalysts for Emerge that should catapult its stock higher is their recent expansion into Oklahoma.
In addition to paying a minimal amount for their San Antonio expansion, Emerge was able to sneak into the Kingfisher area of Oklahoma for nearly the same price. EMES plans to spend no more than $20 million for their new plant, whereas peers paid hundreds of millions for their expansions in-basin. The plant will have a nameplate capacity of 1.5 million tons per year, and production is projected to start by year end 2018.
So, with sand contract pricing per ton ranging in the mid $70s, and EMES already being fully contracted in Oklahoma, then 1.5 million tons should equate to an easy $100 million extra in revenues for 2019. The project will be funded with the cash on hand and the company's revolver availability, and does not change their full year 2018 capital expenditures guidance of $70 million to $90 million.
Technical Risks
There are always risks to oil & gas companies that can threaten earnings, including rising rates, inflation, slowing petroleum or LNG demand, and geopolitical tensions. However, for the purposes of this article, risks from a technical perspective must be taken into account. Bollinger Bands, alone, show how EMES's stock can experience significant volatility. So, it is wise to buy in positions, not all at one time, and to put a stop loss below support in case volatility moves in the wrong direction for you (the 200 day mavg in EMES's case, or $7.35, which is low enough below $8 to prevent a shakeout).
Conclusion
Emerge Energy is showing a constructive setup on multiple timeframes and strategies. When a stock is above all moving averages, is nearly oversold, has a MACD that's about to cross up, and is coiling sideways to the point where a volatility squeeze begins to develop, the odds of a move higher strongly increase. Combine these bullish technical indicators with powerful catalysts to drive future earnings growth, and EMES emerges as a top pick in the oil & gas universe.