Editor's note: Seeking Alpha is proud to welcome Deltabot Capital as a new contributor. It's easy to become a Seeking Alpha contributor and earn money for your best investment ideas. Active contributors also get free access to the SA PRO archive. Click here to find out more »
Long-Term value in the cannabis industry does not come from having the largest grow facility, or having the most kilograms in dried flower each year. Value is created in the cannabis industry by separating yourself from your competitors and establishing yourself as a dominant player in a specific vertical.
Legalization Is On The Horizon
This past week, the Canadian Senate passed bill C-45 with a vote of 56 Yay's to 30 Nay's just before the Parliament takes their "Summer Break" on June 22nd. While some people cared very little about the voting results, many others had been awaiting the results of the vote for quite some time. Despite questions concerning the actual timeline for producers leading up to first sale (which could now be pushed back to mid-September), the passing of Bill C-45 is a massive step forward in Canadian legalization. Furthermore, it does bring up previous concerns about the recreational market's demand relative to the Licensed Producers supply.
Consumer Demand For Recreational Cannabis
By using 2017 tax revenues from Colorado recreational cannabis sales, we can project out a baseline demand for the Canadian market. The State of Colorado saw $42 million in Cannabis Tax Revenues at a rate of 2.9%. Survey results have shown that 21.6% of Coloradans have purchased recreational cannabis and that 12.7% of Canadians are indicating the intent to purchase at the onset of legalization. Using a population difference multiplier of 6.55x and adjusting for the 12% of sales that were edibles (not allowed for sale initially in Canada), Canadian demand projections put annual consumption at $5.59 billion in revenues. Assuming an average cost including tax of $7.35 per gram, the projected annual demand for the Canadian market is 670,000 kilograms per year. At face value, over half a million kilograms of weed seems like an enormous amount, though further analysis reveals issues with massive oversupply to be expected by the end of 2019.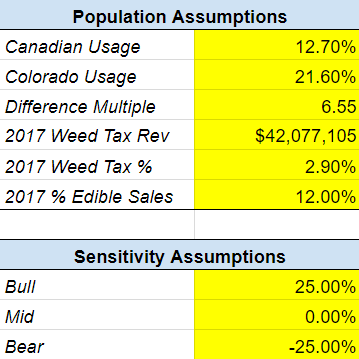 Model for Photos: Link To Google Sheets
Isolating production from the "Big 5" Canadian cannabis powerhouses, planned annual production capacities will reach 388,000kg for Canopy Growth (CGC), 300,000kg for Aurora (ACBFF) (TSE: ACB), MedReleaf (OTCPK:MEDFF) (TSE: LEAF), 225,000kg for Aphria (APHQF) [TSE: APH], and 47,000kg for Cronos (CRON). The collective production from these 5 LPs alone is 960,000kg. With other growing companies such as Hydropothecary (HYYDF) (CVE: THCX), Canntrust (CNTTF) [TSE: TRST], and Organigram (OGRMF) (CVE: OGI), supply levels will be exceeding domestic demand by over 30% within 2 years. While this issue is obviously well known in the industry and steps are in place to secure numerous international supply contracts to ship large quantities overseas, investors should proceed with caution as the terms of the agreements are often not fully guaranteed and many are dependent on annual extension options being exercised. While this may be concerning for investors, it does lead to other investor-friendly avenues within the cannabis sector that provide additional value-adding services.
The Wild, Wild West
The "Green Rush" of cannabis legalization bears many similarities to the "Gold Rush" of the American West. With over 100 LPs in Canada, most producers are going to be scrambling for scraps or taking massive hits to their gross and wholesale margins to get their product into the hands of consumers. This very closely resembles the thousands of miners who uprooted their lives in hopes of making a new life on gold mining. While some miners did find their giant nugget and retired happily, there was another group of individuals who saw the potential of the rush but had a better understanding of risk-to-reward analysis. Their solution was to supply the miners with pickaxes, sifters, and shovels, the products they invariably needed to buy to begin their search for gold.
With a dedicated client base who had a constant demand for their products, the tool merchants made fortunes equal to those of the luckiest gold miners without nearly as much risk.
One can apply this analogy perfectly to the cannabis industry. While many investors are concerned with flower production abilities, they may fail to miss the growing trend in demand for cannabis concentrates and extracts. Richardson GMP estimates that by the of 2018, concentrate sales will become the majority of the overall cannabis product mix. Consumers are preferring smokeless alternatives to dried flower, and producers are enjoying the more lucrative profit margins on concentrate products. While concentrate revenues will trickle down LP's Income Statement and effect Net Income as they grow over time, the industry we are interested in is the "tool merchants" or more specifically concentrate extraction technology companies.
Conclusion/Market Outlook
Legalization in Canada took a massive step forward with the passing of bill C-45 and the first recreational sales are still expected to occur within the calendar year. Though there may be an initial lack of supply due to producers finishing construction and planting in their expansion projects, by the end of 2019, the Big 5 producers alone will produce over 300,000kg extra relative to projected consumer demands. With Canadian demand for concentrates over the past two years rising from 30% of all cannabis sales in 2016 to over 40% at the end of 2017, demand for extraction technologies from producers will follow. Several Canadian companies are focusing entirely on the cannabis extraction process and developing novel/proprietary technologies to improve extraction efficiency, potency, and yields. With an emphasis on ease of use and mobility, these companies are enabling producers to gain access to top-level extraction equipment at far lower costs than what it takes to develop in-house. While the largest producers who are able to secure market share will still see profits from the sale of actual cannabis, smaller companies focused on supplying equipment to the producers will be poised to experience greater share price appreciation for investors.
Editor's Note: This article discusses one or more securities that do not trade on a major U.S. exchange. Please be aware of the risks associated with these stocks.