In the last entry of this series we took a look at top ideas from EcoR1 Capital, a hedge fund with high returns and a higher percentage of the portfolio in its top 10 holdings (making it a good one to keep tabs on).
The series is down to its last two funds to be reviewed, as usual trying to place ourselves in the mindset of the managers and analysts of these succesful funds. We do so humbly, knowing that we don't have access to their research or thought processes (and keeping in mind that positions are constantly changing) - nevertheless, it is an interesting exercise that I hope readers find useful.
After this series concludes, I hope readers will tune into my weekend blog posts ¨JF´s Biotech Week in Review¨, where I continue to report institutional positions and biotech news of note along with other information of value.
Today's Fund: Cormorant Asset Management
Founded: 2013
Manager: Bihua Chen
Strategy: Long/short
Relevant Reading Material: N/A
Market Value: $1,341,490,000
Top 10 Holdings %: 66.32%
Turnover %: 34.62%
Time Held Top 20 holdings: 1.75 quarters
Performance 6/16- 4/18: 126.57%

Figure 1: Performance compared to S&P Total Return Index (source: Whale Wisdom)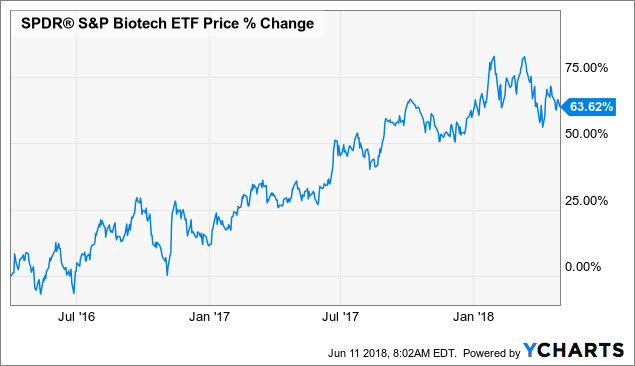 Top 5 Weighted Biotech Positions:
#1: Nektar Therapeutics (NKTR) @ 20.3% of portfolio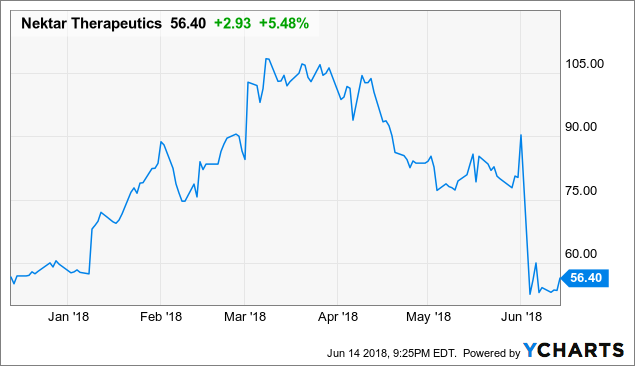 Possible 1 Sentence Thesis: After a disappointing ASCO, the valuation looks more appealing with the company´s burgeoning immuno-oncology portfolio led by NKTR-214 (subject of lucrative deal with Bristol-Myers Squibb) which has been shown to selectively grow T-cells and increase PD-1 exposure in cancer patients- bulls contend that as data matures with longer follow up we will see more patients responding to treatment and ambitious plans are in the works for pivotal trials addressing over 20 indications in 9 tumor types in around 15,000 patients.
Opinion: I tentatively side with the bulls on this one, but past I-O disappointments such as Incyte´s IDO inhibitor epacadostat should be remembered for the sake of caution. Unlike what Cormorant has done, I would not suggest that readers heavily overweight their portfolios with this one.
#2: Anaptysbio (ANAB) @ 8.56% of portfolio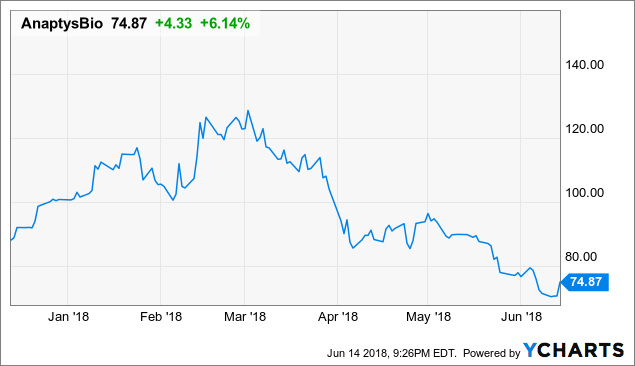 Possible 1 Sentence Thesis: This is an appealing antibody platform company that´s already generated impressive data in adult patients with moderate-to-severe atopic dermatitis- ANB020 could potentially be superior to competing therapeutic antibodies and third quarter data in adult patients with severe eosinophilic asthma could spur a rebound in shares.
Opinion: I recently revisited this former ROTY winner in late May, concluding that as the stock declined the valuation was once again getting interesting as the pipeline continued to progress with multiple indications being addressed. Institutional clustering provides a significant green flag, prior data provides an element of derisking and I believe at these levels investors will do well longer term.
#3: Apellis Pharmaceuticals (APLS) @ 6.73% of portfolio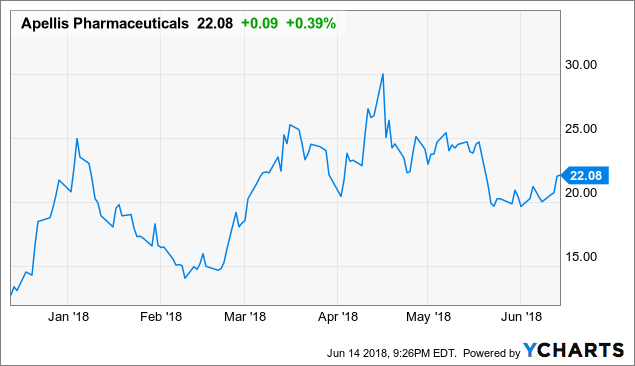 Possible 1 Sentence Thesis: The company´s April upsized secondary and institutional clustering (Venbio, Cormorant Asset Management, EcoR1 Capital, etc) bodes well, it possesses a deep pipeline comprised of rare disease and retina directed drug candidates, and pivotal studies in PNH and GA are set to get underway in the second half of the year.
Opinion: I can't say I'm overly familiar with this one but the second half of the year should be interesting starting with Phase 2 proof of concept data in CDN (complement-dependent nephropathies). Positive 18-month results in GA and interim data in PNH increase confidence in the longer-term outlook - considering their bolstered cash position this one could be worth taking a position in for investors with a longer-term time horizon. The stock is also a new position for Ra Capital.
#4: Mirati Therpaeutics (MRTX) @ 4.39% of portfolio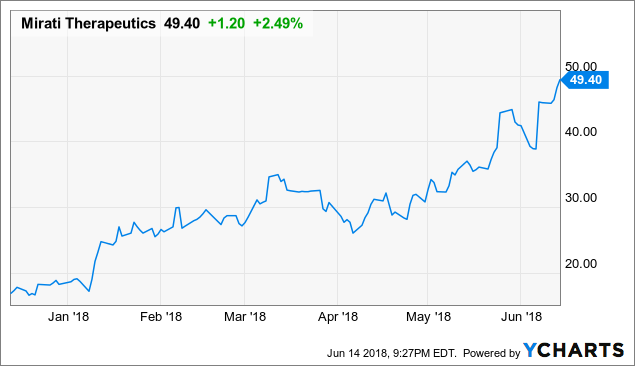 Possible 1 Sentence Thesis: This targeted oncology play reported a promising response in the first NSCLC patient harboring CBL inactivating mutation treated with their drug candidate and has a few key readouts coming up with the potential value driver being a phase 1b study of sitravatinib as a single agent in genetically selected patients with NSCLC and other solid tumors.
Opinion: At this point I don´t mind revealing that in the ROTY 10 stock model account we logged a double on our position here, took partial profits and took further profits as our gains near 200%. I´ve shared a more complete thesis (and gameplan) with members going forward and continue to hold shares looking forward to upcoming data. The recent secondary offering with strong pricing and institutional demand was another green flag to take note of. The targeted oncology theme as been quite successful for us in 2017 and this year we own several key holdings poised to benefit.
#5: Inflarx NV (IFRX) @ 3% of portfolio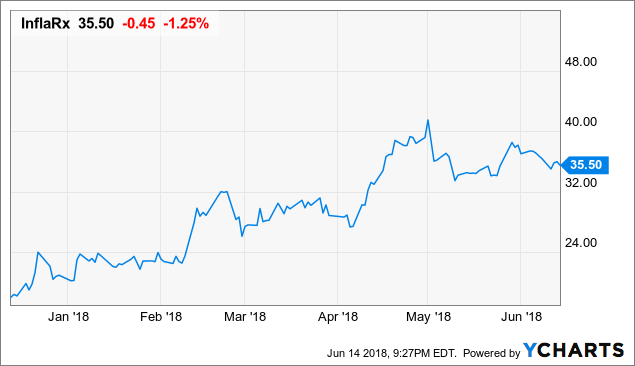 Possible 1 Sentence Thesis: The company is taking a unique approach to addressing life-threatening inflammatory diseases via targeting the complement system, efficacy for lead candidate IFX-1 in a Phase 2a study treating Hidradenitis Suppurativa bodes well for top line results coming next year and expansion into additional indications (ANCA-associated vasculitis) could drive further upside.
Opinion: This November IPO has been a strong performer and prior to their IPO they pulled off a solid $55 million private financing (access to capital markets is a green flag). The private financing was co-led by Bain Capital Life Sciences, Cormorant Asset Management and RA Capital Management, among others. I wish I had taken more notice of this one when it went public but agree that the future looks promising, even after the recent run up in share price. The stock is also the fifth largest holding for Ra Capital.
Commentary on Top Weighted Positions: To my eyes at least being so exposed to Nektar seems borderline reckless, but the reward could be great as I side with the bull camp that longer follow up will result in a higher amount of responders. The fund has a shorter holding time frame and does more trading than quite a few of the ones we´ve looked at. Still, returns for the most recent period are impressive.
3 New Positions of Note:
Sage Therapeutics (SAGE) @ 2.87% of portfolio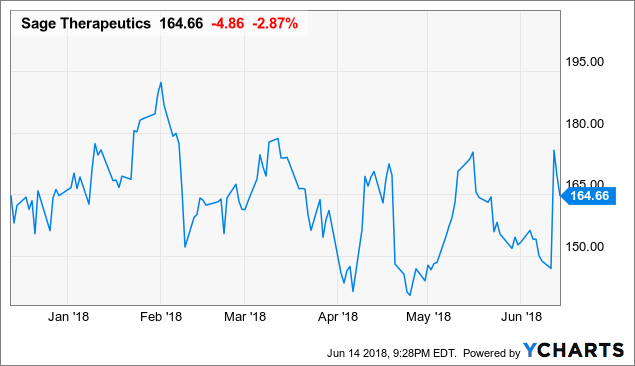 Possible 1 Sentence Thesis: The company is much touted as an M&A candidate due to Brexanolone's potential in PPD and more importantly SAGE-217's impressive mid-stage data in major depressive disorder - as a leading CNS biotech firm with studies ongoing in multiple indications, further value could be created via expansion into new markets and crossing the regulatory finish line.
Opinion: At the present valuation of over $7.5 billion, the stock doesn't appear that attractive to me. If it pulls back some, further data for SAGE-217 in PPD and other indications such as Parkinson's and bipolar depression could lead to continued upside and merit entry. They have over $1 billion in cash after their most recent stock offering, meaning they most likely won't need to tap capital markets anytime soon and have the upper hand for negotiations with any potential suitors. The stock is also the fourth largest position for Ra Capital.
Rocket Pharmaceuticals (RCKT) @ 2.12% of portfolio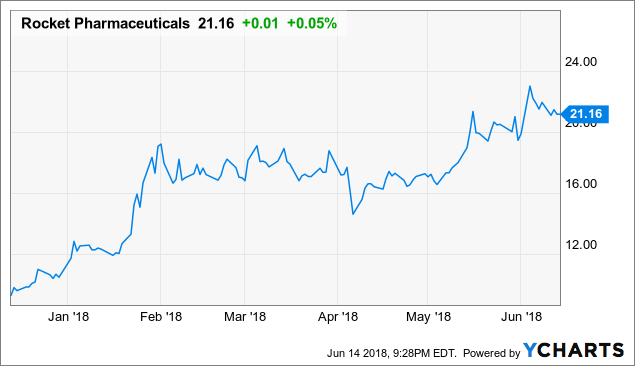 Possible 1 Sentence Thesis: Gene therapy continues to be an attractive theme, they have a solid cash position and the firm has first-mover advantage in its pursuit of a variety of best-in-class indications, starting with Fanconi Anemia- key executive appointments serve as another green flag and their promising pipeline continues to move forward.
Opinion: I took a look at this gene therapy story a month ago and liked what I found. If there´s a significant dip I´d be more inclined to reevaluate for possible entry. It has several programs I find highly interesting, including their AAV program which has been kept under wraps (presumably for competitive reasons).
Tesaro (TSRO) @ 1.49% of portfolio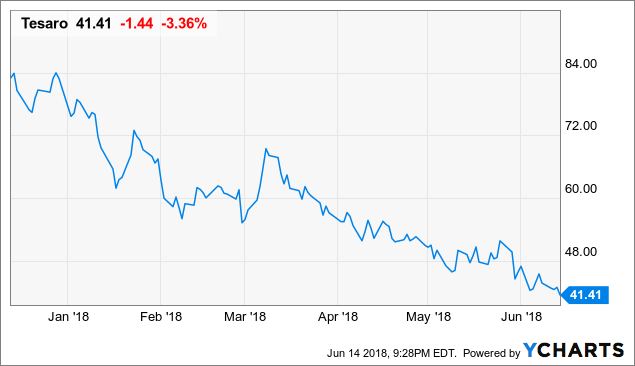 Possible 1 Sentence Thesis: The valuation appears intriguing after such a steep decline in the stock price, at this point M&A is a distinct possibility, the burden of proof is on management to execute in growing sales and their immuno-oncology pipeline could create value with data from the AMBER study to be presented later this year.
Opinion: I revisited this one in late May as well, as I found it fascinating to watch the stock rise to lofty highs as optimism peaked followed by a competition-inspired crash to perhaps unjustified lows (a prime example of Mr. Market swinging to both extremes). The company continues to struggle with competition and other issues, while on the other hand its immuno-oncology pipeline continues to fly under the radar.
3 Noteworthy Positions To Which They Are Adding:
Reata Pharmaceuticals (RETA) @ 0.68% of portfolio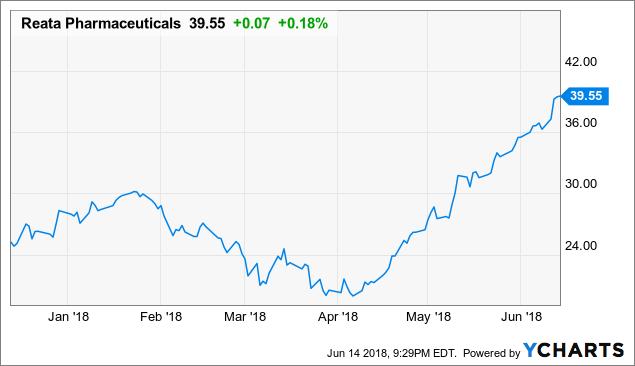 Possible 1 Sentence Thesis: The company has strengthened their cash position with an expanded loan facility, a large market opportunity consisting of 12,000 Alport syndrome patients in the United States and 40,000 worldwide is being targeted (prior data significantly derisks), insider buying was a green flag, and key catalysts aren´t too far off with full data from the PHOENIX study expected in the third quarter and a host of data readouts in 2019.
Opinion: I wish I´d taken heed when this one dipped closer to the $20 level, as that was quite a nice entry point in hindsight. Its CKD programs and other clinical candidates continue to progress and this is definitely one to keep an eye on going forward. The firm´s MOXIe pivotal study of omaveloxolone in Friedrich´s ataxia has a good shot at success as well based on prior data. I should also point out that toward the end of 2017 there was a lot of conviction-sized insider buying.
Omeros Corporation (OMER) @ 1.09% of portfolio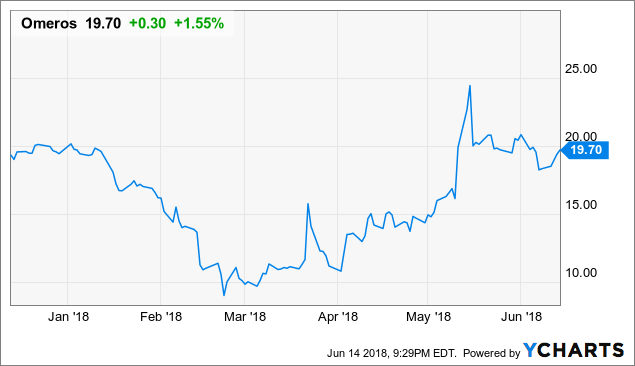 Possible 1 Sentence Thesis: With the Omidria revenue picture gaining clarity through restored pass-through status, as well as expanded credit limit under more favorable terms for the CRG-financed loan, Omeros can now focus on potential blockbuster drug candidate OMS721 currently engaged in three phase 3 trials for 3 separate indications (two of which have no current FDA-approved treatments)- Breakthrough Therapy Designation appears likely for the HSCT-TMA indication based on promising phase 2 data with high statistical significance and the primary endpoint of proteinuria reduction for the IgAN phase 3 trial design looks very achievable based on prior data.
Opinion: The above thesis is borrowed from ROTY´s Idea Lab, where members submit their high conviction ideas for the rest of members to see. While currently it´s in the green by 30% since initiation, there´s plenty of upside left. The news that the company is preparing a marketing application for OMS721 for HSCT-TMA was received warmly by Wall Street.
Ascendis Pharma (ASND) @ 1.81% of portfolio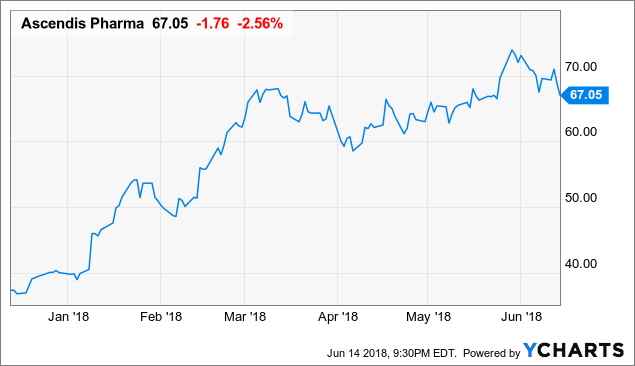 Possible 1 Sentence Thesis: While there is high binary risk with their lead program TransCon hGH, original data gives reason for optimism and other assets such as TransCon PTH give hope that this platform story will continue to deliver for years to come with many potential applications for this unique technology.
Opinion: Readers and ROTY subscribers have done well playing the run-up to Phase 3 data on this one, entering it shortly after Versartis' (NASDAQ:VSAR-OLD) failed Phase 3 study. Their lead candidate is a potential blockbuster and the amount of potential applications for their technology is very exciting to me - after their February equity offering, they have a revamped cash position and clear runway to head higher prior to Phase 3 data. It's worth noting that DAFNA Capital has been adding to the position and that it accounts for over 18% of Ra Capital's portfolio. It also is the second largest position for EcoR1 Capital.
Bonus Section: Five 13G/13D Filings Of Note
With many of these bigger biotech funds, it's especially important to look into their recent 13G/13D filings (required when they buy up more than 5% of a company's shares).
For example, Baker Brothers' holdings in Idera Pharmaceuticals (IDRA) makes up less than 1% of their portfolio - however, it accounts for 18% of the company's shares and thus is quite significant.
#1 Kiniksa Pharmaceuticals (KNSA) - owns over 5% (SEC Filing)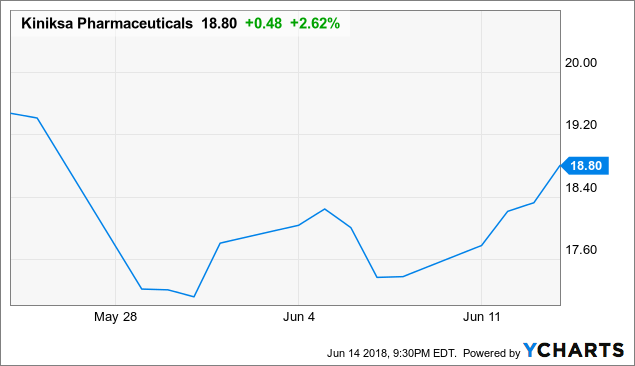 Thoughts: Institutional clustering in this one is a green flag (Baker Brothers owns over 20%), they have several interesting candidates in the pipeline and data later in the year (rilonacept in recurrent pericarditis and mavrilimumab in giant cell arthritis). I´m inclined to stay on the sidelines as I don´t feel I have an edge here.
#2 Gemphire Therapeutics (GEMP) - owns over 6% (SEC Filing)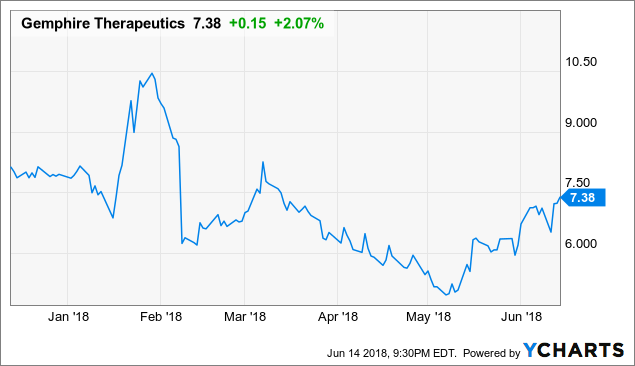 Thoughts: This was a former run up play we did well on in 2017 before disappointing data took it back to lows. Be aware that its prospects rest on a single drug candidate and it has top-line results from the INDIGO-1 study in severe hypertriglyceridemia (SHTG) coming soon. In the second half of the year it also has top-line data expected from the clinical program in pediatric nonalcoholic fatty liver disease (NAFLD) and nonalcoholic steatohepatitis (NYSEARCA:NASH) patients, an area that has been on fire lately after positive data from Madrigal Pharmaceuticals (MDGL) and Galmed Pharmaceuticals (GLMD).
#3 TiGenix NV (TIG) - owns nearly 3% (SEC Filing)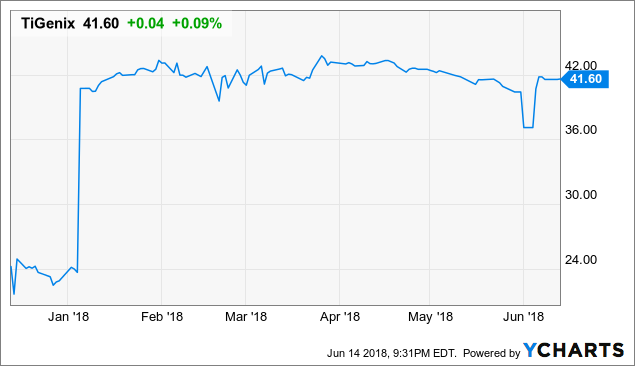 Thoughts: The company was bought out by Takeda for $630 million to get its hands on their technology exploiting anti-inflammatory properties of allogeneic stem cells for serious medical conditions (specifically Cx601 for treating complex perianal fistula in Crohn's disease patients). In the past I´ve pointed out several examples of where these funds were well positioned for buyouts- of note, Cormorant also did well on their stake in Ignyta (RXDX) when it was bought out by Roche for $1.7 billion.
#4 Clearside Biomedical (CLSD) - owns over 6% (SEC filing)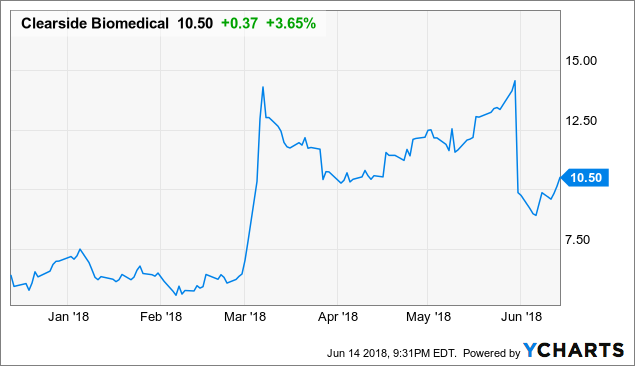 Thoughts: I wish I´d listened to Bay Area Biotech Investor when he gave me a heads up on this one well in advance of encouraging data from its pivotal phase 3 clinical trial of suprachoroidal CLS-TA in patients with macular edema associated with non-infectious uveitis. The firm raised funds in a secondary after and recently announced completion of patient enrollment in a phase 3 clinical trial evaluating suprachoroidal CLS-TA used in combination with intravitreally administered EYLEA intravitreal for the treatment of Retinal Vein Occlusion (data expected in Q4). This could offer an intriguing run up opportunity.
#5 Quotient Limited (QTNT) - owns over 8% (SEC Filing)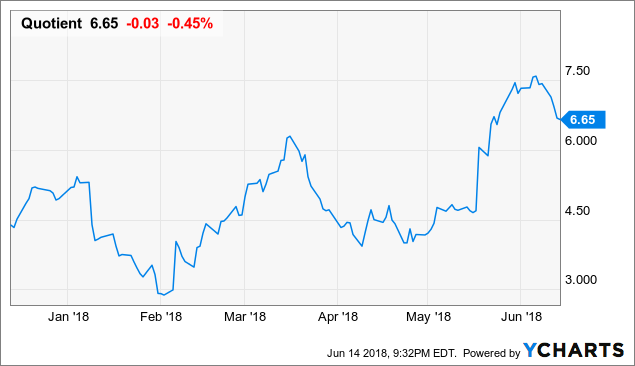 Thoughts: The thesis from ROTY´s Idea Lab (member submitted stock picks) is as follows: The company recently announced completion of the verification and validation process for their MosaiQ microarray diagnostic product candidate, field trials have already kicked off in Europe, past disappointments have led to a depressed valuation, Perceptive Advisors has been adding to their stake (now over 6 million shares) and results of field trials will be reported soon.
This isn´t one that I feel I have a firm enough grasp of to establish a position, but the setup and idea is quite interesting. Using the search feature in ROTY Live Chat readers can see there´s been a fair amount of due diligence on the name shared by several members.
Conclusion/Final Thoughts:
As you can see, this is by no means a comprehensive piece and just covers a few of the fund's positions that stuck out to me or to which they were heavily adding.
I hope you found the above article useful. I look forward to reading your feedback in the comments section, including which stocks mentioned above that you own or also find attractive (along with your thesis and plan if you'd like to share with the Seeking Alpha community).
Disclaimer: Commentary presented is not individualized investment advice. Opinions offered here are not personalized recommendations. Readers are expected to do their own due diligence or consult an investment professional if needed prior to making trades. Strategies discussed should not be mistaken for recommendations, and past performance may not be indicative of future results. Although I do my best to present factual research, I do not in any way guarantee the accuracy of the information I post. I reserve the right to make investment decisions on behalf of myself and affiliates regarding any security without notification except where it is required by law. Keep in mind that any opinion or position disclosed on this platform is subject to change at any moment as the thesis evolves. Investing in common stock can result in partial or total loss of capital. In other words, readers are expected to form their own trading plan, do their own research and take responsibility for their own actions. If they are not able or willing to do so, better to buy index funds or find a thoroughly vetted fee-only financial advisor to handle your account.
Disclosure: I/we have no positions in any stocks mentioned, and no plans to initiate any positions within the next 72 hours. I wrote this article myself, and it expresses my own opinions. I am not receiving compensation for it (other than from Seeking Alpha). I have no business relationship with any company whose stock is mentioned in this article.