The week started strong, with MLPs up 1.6% Monday, but then followed up with 4 straight negative days, culminating in a big Friday selloff (-2.6%). Friday was the MLP Index's worst day since March 19th, just a few days after the FERC ruling. It was also the worst week for the index since that same week in March. Unlike that week, there wasn't any big midstream news that led to the drop. The action this week was more related to the macro (i.e., China tariffs, the Fed, oil prices and positioning ahead of OPEC).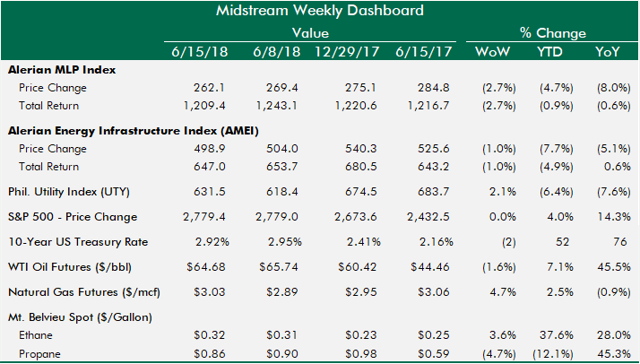 Utilities traded well this week, helped by activist news on Monday that sent Sempra Energy (NYSE:SRE) up 16%. While SRE isn't in the AMEI, another midstream-oriented utility that has underperformed this year, Dominion (NYSE:D), traded well this week (+5.9%), maybe in sympathy with SRE, maybe on a positive Marcellus or natural gas midstream trade this week.
Dominion's strong performance helped AMEI outperform the MLP Index. Large cap Canadian stocks outperformed as well. AMEI's relative strength this week is an argument for spreading your midstream dollars over a more inclusive universe of stocks, an argument we've been making repeatedly the last few years.
There was not a lot going on in midstream this week, so your outlook on the sector as an investor probably shouldn't change just because prices dropped on "the macro", unless you are strictly trading MLPs on technicals (the MLP Index closed the week back below the 200-day moving average). Absent some strategic transaction announcements, it will likely be another quiet week in midstream news, with stock whipped around by oil prices and trade concerns.
On the other hand, there is a lot going on this weekend away from the stock market, including opening games of the World Cup, the U.S. Open, Father's Day, and rare non-rainy weather. Perhaps would-be midstream buyers took off a bit early to partake in some of the above. I know I did.
Winners & Losers
CNX Midstream Partners (NYSE:CNXM) beat all MLPs by a healthy margin this week, most of that came on Friday (+4.7%) on huge volume (20x normal), which may have been some index or option-related noise. Of all the MLPs on the leaderboard for the week, just USA Compression Partners (NYSE:USAC) had news (secondary sale).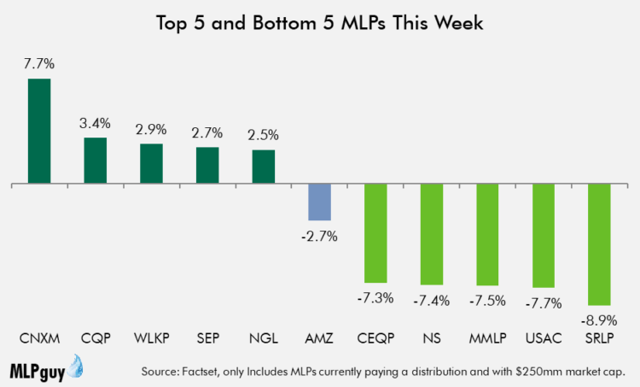 Crestwood Equity Partners' (NYSE:CEQP) poor performance this week knocked it off its spot at the top of all MLPs year to date, replaced by Natural Resource Partners (NYSE:NRP). Cheniere Energy Partners (NYSEMKT:CQP) and CNXM climbed back up near the top with their big weeks. Plains All American Pipeline (NYSE:PAA) is hanging on to the top 5 and 20%+ returns for the year. On the downside, TC PipeLines (NYSE:TCP) and Dominion Midstream Partners (NYSE:DM) were both negative on the week, still both down 50%+.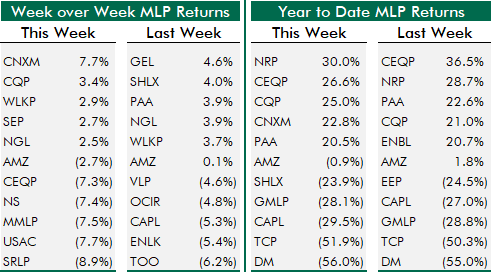 General Partners & Midstream Corporations
GPs and midstream corps outperformed MLPs this week on average. There were only two positive stocks and Williams Companies (NYSE:WMB) led the group with a 2% gain. Permian-levered natural gas names Targa Resources (NYSE:TRGP) and Western Gas Equity Partners (NYSE:WGP-OLD) underperformed. Concerns that gas pipeline constraints could lead to reduced production outlook in the Permian appears to have gained some traction as a meme, starting this week. Or, if you aren't into that narrative, maybe TRGP just traded down because of oil and WGP is thinly traded and went down too.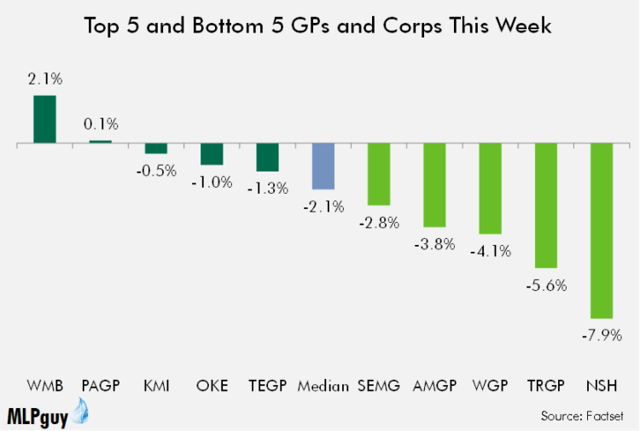 Permian player Plains GP Holdings (NYSE:PAGP) was helped by the announcement of yet another Permian pipeline project, this one with Exxon Mobil Corp. (NYSE:XOM). On the YTD leaderboard, just 4 in the group have positive returns and the median return of the group (-4.6%) is well below the MLP Index return for the year. WMB's solid week helped it climb a few spots from the bottom.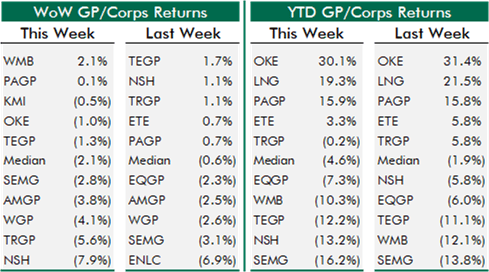 Canadian Midstream Corporations
Enbridge (NYSE:ENB), like WMB above, has not traded well this year, but separated itself this week. More commodity sensitive stocks like KEY and IPL were at the bottom.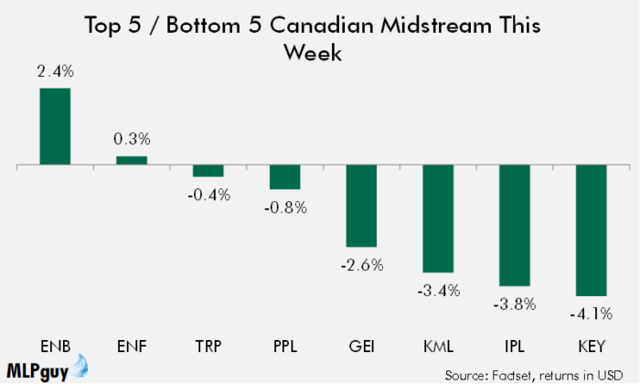 Every midstream stock in Canada is negative for the year in US dollar terms. ENB is still the worst performer so far, but a few weeks of outperformance has narrowed the gap.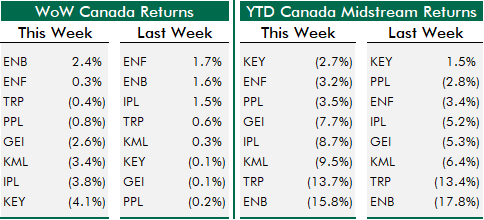 News of the (Midstream) World
Another week has passed with no resolution on the Antero Midstream GP (AMGP)/Antero Midstream Partners (NYSE:AM) strategic process, but expect an announcement soon. The USAC secondary is the first action in a while for the equity market, and despite the large discount, it traded pretty well in the after-market, and could lead others to test the market this summer. In other news, another big Permian pipeline is on the drawing board, Phillips 66 (NYSE:PSX) is expanding its downstream NGL infrastructure and Energy Transfer Partners (ETP) is still on hold in the exurbs of Philadelphia, a mere 17 miles from our offices.
Capital Markets
Growth Projects/M&A