Investors in Treasury Inflation-Protected Securities have had some excellent buying opportunities in 2018, and the trend is likely to continue. But that doesn't apply to Thursday's reopening of a 30-year TIPS. It isn't an attractive investment.
The U.S. Treasury on June 21 will offer $5 billion in a reopened CUSIP 912810SB5, creating a 29-year, 8-month TIPS. The auction closes to non-competitive bids at noon, and finalizes at 1 p.m. EDT. This TIPS originally auctioned on Feb. 15 with a real yield of 1.003%, setting its coupon rate at 1.00%.
Here's the problem with Thursday's auction: According to Bloomberg's Current Yields, this TIPS is currently trading on the secondary market with a real yield of 0.92% and a price of about $102.09 for $100 of par value. So in a time of gradually rising real yields, the yield on a 30-year TIPS has actually declined, meaning buyers at Thursday's auction may have to pay a 2% premium to par to get a 1.00% coupon rate, which remains historically low.
Since the original auction on February 15:

If this trend of weak long-term yields reverses - which seems likely - this 30-year TIPS could lose a substantial amount of market value. So as a trading investment, this TIPS is a potential time bomb. If 30-year yields tick up 50 basis points, it would lose about 15% of its market value. Even if you are a buy-and-hold-to-maturity investor, I'd recommend looking at shorter-term TIPS, where the yield trend is more attractive.
Also, note that this TIPS will carry an inflation index of 1.01575 on the June 29 settlement date, meaning that investors will be purchasing nearly 1.6% additional principal over par, which will slightly increase the adjusted price.
Here is the yield trend over the last two years for 5-, 10- and 30-year TIPS, showing the dramatic tightening of the yield spread. The 30-year yield is the outlier; it remains stubbornly low even as shorter-term yields are rising.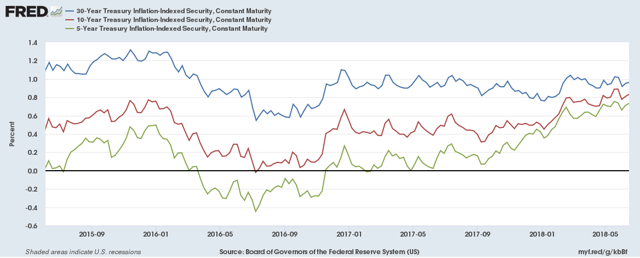 I'm not a fan of a 30-year TIPS anyway, because it doesn't fit into my buy-and-hold-to-maturity strategy. But if the real yield were approaching 2%, I could be tempted. Not at 0.92% and just a 12-basis-point premium over a 10-year TIPS. This graph shows the historic spread of the 30-year real yield over the 10-year real yield since mid-2013. The trend is almost shocking:

30-Year Inflation Breakeven Rate
With a 30-year nominal Treasury currently yielding 3.05%, this 30-year TIPS reopening should get an inflation breakeven rate of about 2.13%, which is reasonable and very close to the originating auction's 2.12%. In my opinion, the inflation breakeven rate makes a 30-year TIPS much more desirable than a nominal 30-year Treasury, an investment I wouldn't touch at 3.05% when I can get a 2-year nominal Treasury yielding 2.55%. There's value in inflation protection, which is why Thursday's auction should attract reasonable interest from big-money investors like pension funds and foreign central banks.
Here's the 30-year inflation breakeven trend since 2010, showing that today's rate is solidly in the middle ground:

Yes or No on this TIPS auction?
Obviously, I'm not a fan and I won't be investing. But this auction has been attracting some attention over on the Bogleheads forum, including some solid analysis by "real" numbers people (as opposed to my "journalistic" background). Check out that discussion if you are interested in investing.
I'll be posting the auction results as soon as it closes at 1 p.m. EDT Thursday.
Here's the history of all 29- to 30-year TIPS auctions over the last eight years: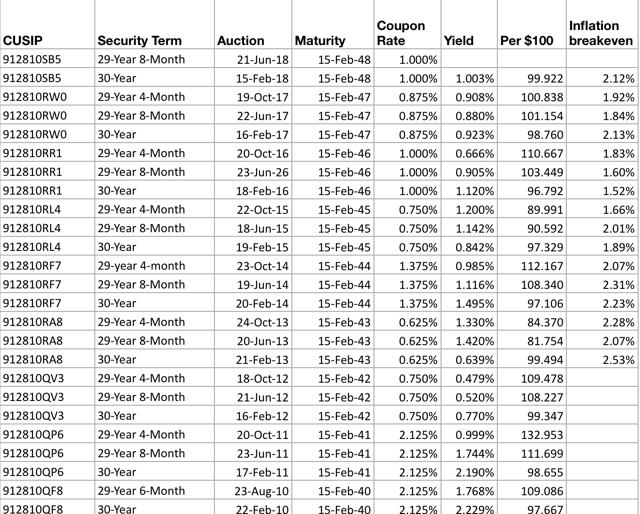 Disclosure: I/we have no positions in any stocks mentioned, and no plans to initiate any positions within the next 72 hours.
I wrote this article myself, and it expresses my own opinions. I am not receiving compensation for it (other than from Seeking Alpha). I have no business relationship with any company whose stock is mentioned in this article.