This week brings good news for utility investors:

Utilities were the best-performing sector on the week, rising 2.66%.
The charts, however, tell a somewhat different story.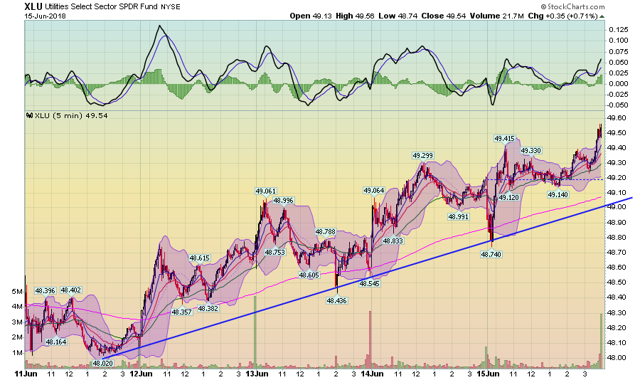 The 5-minute weekly chart shows a clear uptrend with prices using the 200-minute EMA for technical support.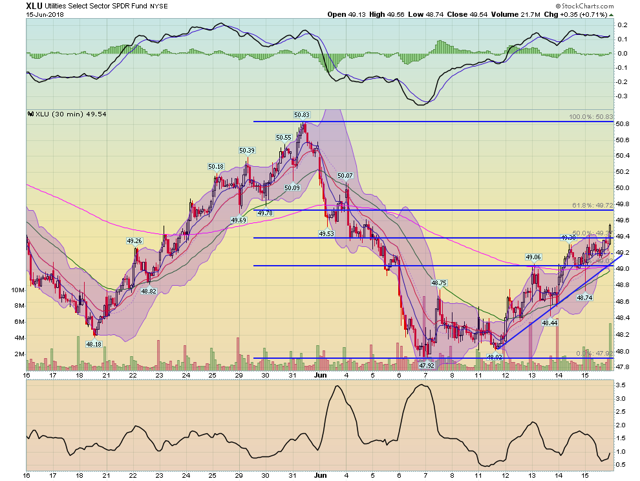 But the 30-day, 15-minute chart shows that prices have recovered 50% of the May 31-June 7 sell-off. It's also possible to look at this time as a sideways consolidation.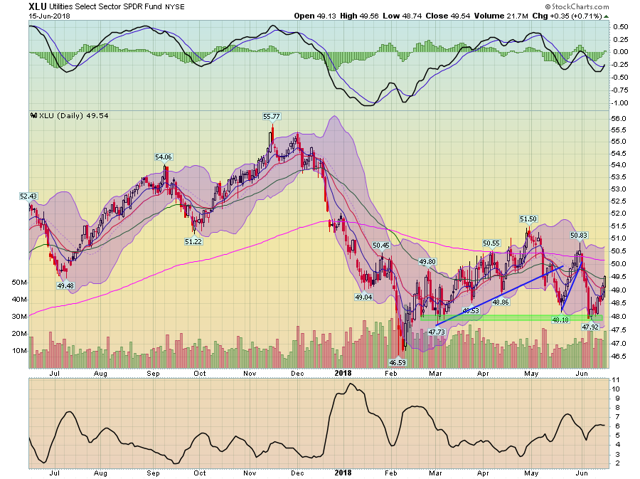 And the daily chart is slightly bearish. The 200- and 50-day EMAs are both moving lower while prices have had a difficult time maintaining momentum above the 200-day EMA. The main reason for this lack of upward movement is that we're in a rate-rising environment. More than most other industries, utilities are dependent on the credit markets for financing, so when rates go up, the sector is disproportionately hit by rising costs. And this week, the Fed raised interest rates and signaled it may raise rates an additional 50 basis points. This explains why some analysts have downgraded the sector. But also remember that this sector is known for its dividends, which will help to provide a floor under some of the issues.
As for industry news, the NY Times published an article that detailed why coal is having a difficult time making a comeback:
When Mr. Trump came into office, he vowed to revive America's coal mining industry by rolling back Obama-era environmental regulations. But coal keeps getting edged out by cheaper and cleaner alternatives. At least 15.4 gigawatts of coal capacity is set to retire this year, one of the biggest years on record, according to the Institute for Energy Economics and Financial Analysis. And the coal units that are left now operate far less frequently than they used to, replaced by natural gas, wind and solar power.

For many utilities, the decision to abandon coal comes down to simple economics. Xcel Energy, Colorado's largest electric utility, recently concluded that it could save $213 million by retiring two of its older coal-fired units a decade ahead of schedule and replacing them with a mix of wind, solar, battery storage and natural gas.
Meanwhile, Barron's ran a story arguing that improved battery life was making renewable energy more cost effective:
Bigger, better batteries are speeding up change in the U.S. electricity sector and could help power a rally in Xcel Energy Inc, American Electric Power Co Inc and other utility and renewable energy stocks, Barron's reported.

After a decade of steep cost declines, wind and solar installations, often paired with battery storage, are increasingly displacing older coal and gas-fired power plants, benefiting battery makers and some utilities, the Barron's cover story said.

Batteries can now store enough electricity to help power small towns when wind and solar supplies ebb, Barron's said. The United States is expected to install more than 35 gigawatts of battery storage through 2025, which could save more than $4 billion in annual operating costs, Barron's said, citing the Washington-based Energy Storage Association trade group.
This leads nicely into a discussion about the performance of the largest XLU members. First, here are its charts for the last year: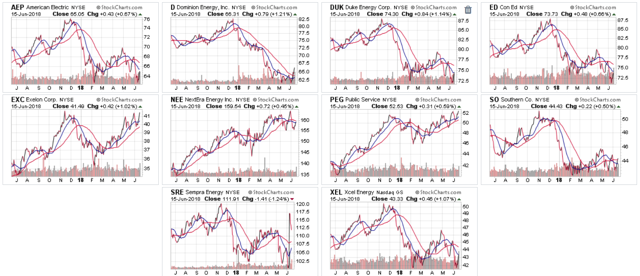 Three stocks are clearly in a rally: EXC, NEE, and PEG. What do these companies have in common? Two are heavily invested in renewable energy. Here is a table of EXC's generation mixture from its latest 10-K:

Nuclear and renewable account for about 2/3 of its generating capacity.
As for NextEra, it is also heavily invested in renewable sources (from its latest 10-K):

As for PEG, it has no generating assets; it is strictly a transmission and distribution company. As it notes in its latest 10-K:
"Our utility operations primarily earn margins through the transmission and distribution of electricity and the distribution of gas."
Finally, Sempra Energy (SRE) popped on news about potential changes to its Board of Directors:
Activist investor Paul Singer's Elliott Management on Monday revealed its latest target in the power and utilities space: Sempra Energy.

.....

Now, Elliott and Bluescape Resources - frequent allies in activist campaigns in the utility space - are taking issue with Sempra's business mix less than a year after Singer helped add Oncor to its portfolio. The investors on Monday called for an overhaul of Sempra's board of directors and a strategic review of its assets and operations.
We'll have to see what happens with this.
This post is not an offer to buy or sell this security. It is also not specific investment advice for a recommendation for any specific person. Please see our disclaimer for additional information.
Disclosure: I/we have no positions in any stocks mentioned, and no plans to initiate any positions within the next 72 hours.
I wrote this article myself, and it expresses my own opinions. I am not receiving compensation for it (other than from Seeking Alpha). I have no business relationship with any company whose stock is mentioned in this article.