Grandpa's stocks have been out of favor the last couple of years. But that does not mean that they should be simply cast aside for their relative underperformance. Stocks across the size and style spectrum are constantly moving in and out of favor over time. For those that own "grandpa's stocks," now is not the time to sell. If anything, now may be the time to buy.
Now is not the time to sell Grandpa's stocks. Kirk Spano recently wrote an outstanding article on Seeking Alpha about revamping or starting a portfolio in which he made a number of excellent points with which I agree. But in his article, he suggests that now is the time to consider "sell grandpa's stocks" in carrying out the process of shifting a portfolio toward world-changing segments such as technology. Such "grandpa stocks" include old economy stocks such as Procter & Gamble (NYSE:PG). While Kirk may very well be proven correct on this particular point, I maintain an alternative opinion, particularly when it comes to retiree portfolios.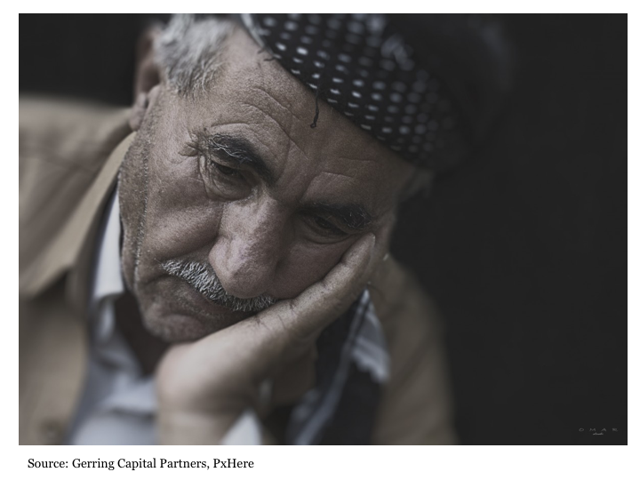 Defining "Grandpa's stocks." The type of stocks typically owned by "grandpa" are most commonly found in the large cap value area of the market. And since the start of last year, the large cap value segment of the U.S. stock market has been ice cold relative to the S&P 500 Index, underperforming by more than half. This is also true relative to its large cap growth counterpart, which has returned more than three times since the start of 2017. Such trailing returns can cause many investors to lose patience with this more staid, old economy segment of the market and induce them to pursue the enticing allure of the more dynamic growth area of the market.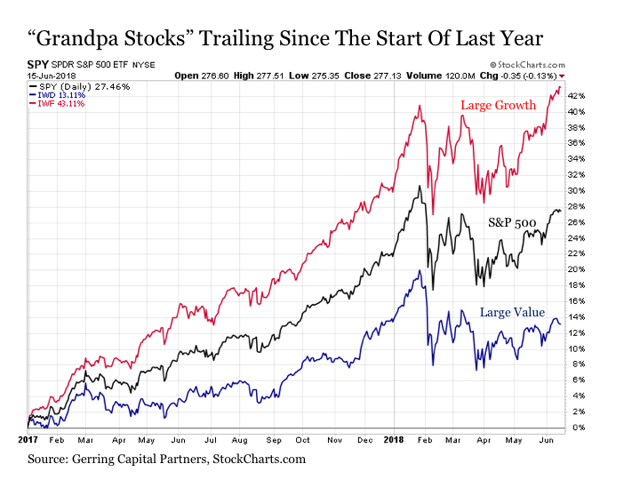 Defining stocks that will change the world. The cutting edge stocks that are most likely to bring transformative change are typically found not in the large cap growth space but instead in the small cap growth segment. And since the calming of the financial crisis in 2009, the relative outperformance of small cap growth over large cap value has been impressive indeed.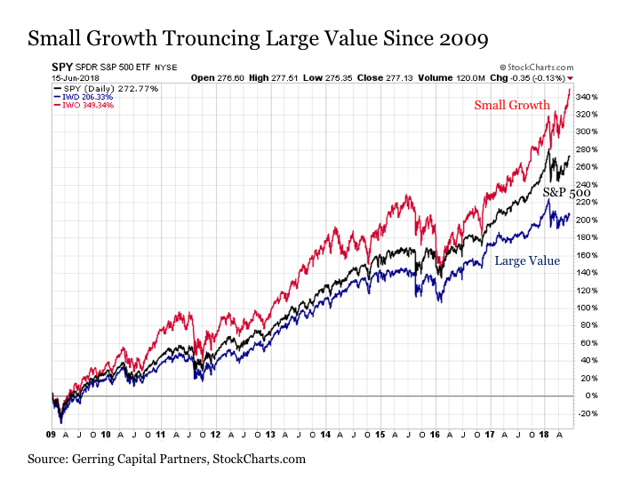 Why then continue to own "Grandpa" stocks? Given this performance disparity, why then would an investor wish to continue owning large cap value stocks? Several key reasons.
1. Lower risk. The first reason why investors should consider buying, not selling, "grandpa" stocks at the present time is the fact that large cap value stocks provide investors with a much more stable returns experience over time relative to their growth counterparts including small cap growth. For example, from 1990 to the present, large cap value and small cap growth stocks have generated a virtually identical annualized return of 9.12% and 9.07%, respectively. But large cap value stocks generated these returns with a standard deviation of returns of 15.95% versus a notably higher reading for small cap growth at 22.24%. Put simply, comparable returns for large cap value over a near three-decade time period with considerably less risk versus small cap growth.
2. Diversification benefit. But what about recent history since 2009? Shouldn't investors have simply been fully allocated to small cap growth instead of large cap value? From a risk-adjusted return perspective, the answer is no. Even given small cap growth's resounding outperformance relative to large cap value, the optimal portfolio mix from a risk-adjusted return standpoint would have been two-thirds to small cap growth and one-third to large cap value.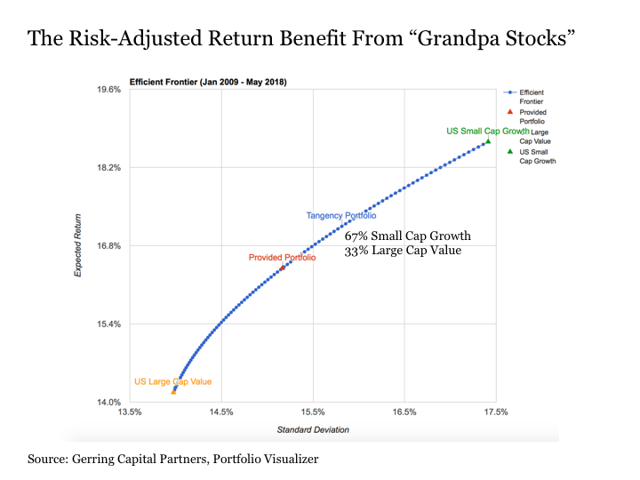 3. Long-term performance. When drawing back to consider history over longer term periods of time, the reason why "grandpa" has owned these stocks for so long becomes apparent. For example, over the 36-year period from 1982 to the present that has included the two longest economic expansions in U.S. history along with major technological transformations such as the advent of the Internet; large cap value has generated an annualized return of 12.92% with a standard deviation of returns of 14.52% versus small cap growth stocks at 12.50% with a standard deviation of 20.11%. Lower returns at much higher risk lead to a portfolio fully allocated to large cap value over this historical time period.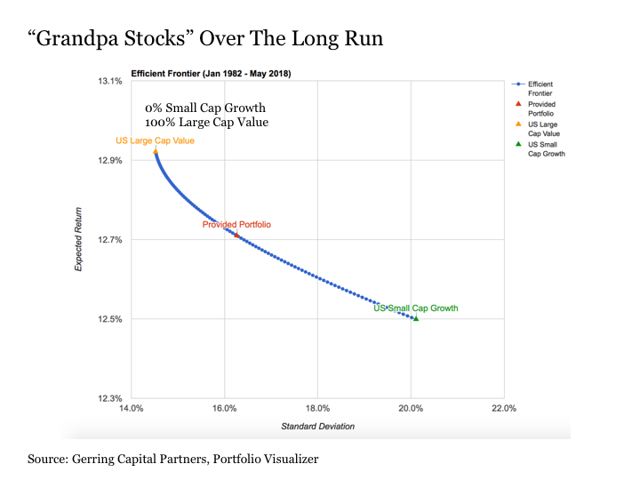 But what about the future? All of these above points are worth highlighting, but they ignore the key fact that we do not invest for the past but instead for the future. And it is very possible that the forces of technological change may drive small cap growth stocks to continue to lead large cap value stocks well into the future. But on this point I also have particular concerns.
4. Overdue for size and style rotation. As mentioned above, small cap growth stocks have enjoyed a period of impressive outperformance relative to large cap value stocks for nine calendar years and counting. This is a very long time from a historical perspective. Small cap growth did not perform this consistently well for this long relative to large cap value even during the boom years of the tech bubble in the late 1990s. In short, we are already in an unprecedented territory from a relative performance perspective between these two categories. And in the past when small cap growth has outperformed large cap value for a spell, the subsequent mean reversion has been swift and dramatic. For example, large cap value performed impressively well for many years versus small cap growth once the segment reclaimed leadership starting in 2000.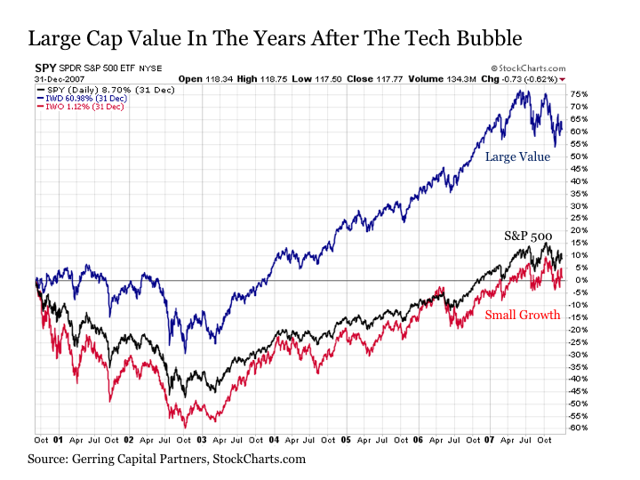 What might be the catalyst for large cap value to reclaim the lead? Simple. An economic slowdown. Small cap stocks in general and small cap growth stocks more specifically have historically performed particularly poorly during periods of economic weakness, whereas large cap value stocks historically have held up better with less price downside. And Europe and emerging markets back under pressure at a time when monetary policy is tightening and the yield curve is plunging toward inversion, this suggests that such a rotation may be looming on the horizon.
Stay bold in pursuing change. Investors should continue to pursue the world-changing technology that Kirk Spano does well in outlining and detailing in his various work on Seeking Alpha. I enjoy reading his articles and look forward to following his future research. And to one of Kirk's many good underlying points, if one can identify the right individual small cap growth stocks, then the upside return potential is considerable.
But stick with "Grandpa" too. But also recognize that grandpa has had great success in owning these more conservative large cap value stocks over the years for a reason. It is because these stocks deliver attractive long-term returns over time, and they do so with considerably less risk. While these "grandpa" stocks have certainly struggled over the last couple of years, we may soon be approaching a juncture where they may finally be poised to reclaim market leadership.
For these reasons, buying grandpa's stocks may actually be the better thing to do today than selling.
Disclosure: This article is for information purposes only. There are risks involved with investing including loss of principal. Gerring Capital Partners makes no explicit or implicit guarantee with respect to performance or the outcome of any investment or projections made. There is no guarantee that the goals of the strategies discussed by Gerring Capital Partners will be met.
Disclosure: I am/we are long PG.
I wrote this article myself, and it expresses my own opinions. I am not receiving compensation for it (other than from Seeking Alpha). I have no business relationship with any company whose stock is mentioned in this article.
Additional disclosure: I am long many individual "grandpa" stocks in my portfolio as part of a broad asset allocation strategy.