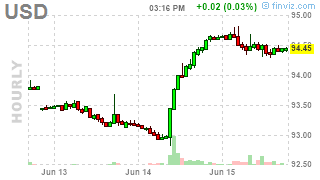 1.5% is a MASSIVE one-day move for the Dollar and it's putting pressure on the indexes and commodities but it's also a Quad Witching Expiration Day, when options and Futures roll over for the quarter, so we're not anxious to bet the indexes but I do comment that:
Coffee (/KCU8) holding up well against strong Dollar but often down into Monday. Still, I'll take 2 and happy to DD now if they go lower.

Gold (/YG)

still very laggy to

/SI

and I still like it long down here ($1,303) and it's a $300 loss at $1,300 but that's the stop if you want to play. If

/SI

breaks over $17.30, we're golden!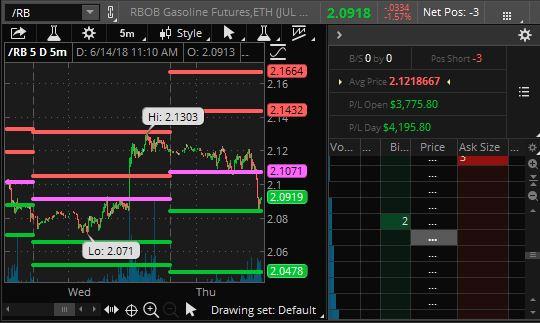 We had a very successful Nasdaq short, making over $4,000 off Wednesday's Live Trading Webinar trade and yesterday we also cashed in Wednesday's Gasoline (/RB) short for another $4,000 gain so that's over $8,000 gained in two days. We do these things every week folks for our subscribers to the Options Opportunity Portfolio over at Seeking Alpha.
Keep in mind that we only trade the Futures while we wait for our much more conservative spreads and hedges to pay off. If we do those right, it's like watching paint dry waiting to get paid but the returns can be very, very exciting.
For instance, our bullish play on the Carlyle Group in the Options Opportunity Portfolio expired Friday and it's in the money so we'll collect the full $2,500 for our 10 June $20/22.50 bull call spread we added on Feb 6th for net $1,450 - so that's up a nice 72% in 4 months but we paired it with 5 short Sept $22.50 puts which we sold for $2.30 ($1,150), which dropped our cash outlay to just $300 and those are already up $600 so our net gain on $300 cash is $1,650 for a lovely 550% in 4 months. See - boring!

Our portfolios are filled with "boring" trades like these so we like to play the Futures while we're waiting for them to mature. Having Futures trading in our toolbelt also lets us make on-the-fly adjustments to our portfolios - even when the markets are closed - that's a massive trading advantage we have vs other traders.
In other "boring" news, our one Public Portfolio is the Money Talk Portfolio, which is used to track only the picks we make publicly on BNN's Money Talk. By necessity it's a very low-touch portfolio, as I'm only on about once a quarter (because it takes up the whole show and we barely have time even then!) and I haven't been on since February but, even COMPLETELY UNTOUCHED since we reviewed it for you in our May 18th Report, we gained another $6,010 (12.%) and are now up 85.5% since our Sept 6, 2017 inception: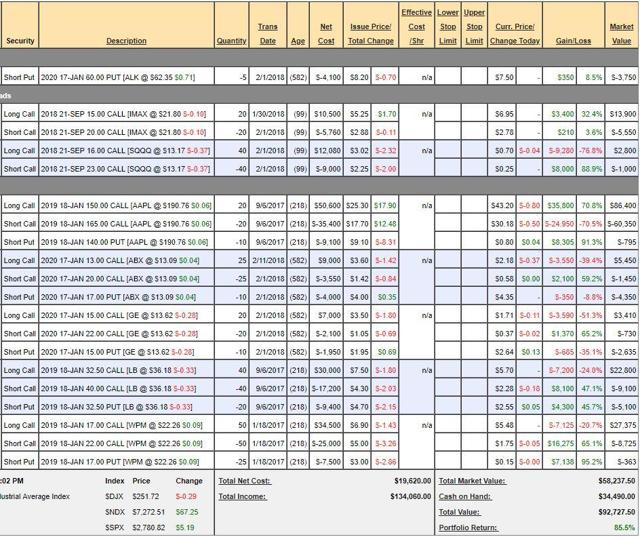 Notice that we have $34,490 of cash on the side and we're only using $30,000 of ordinary margin - just 1/3 of our available buying power! This is a nice, conservative portfolio that is still averaging 10% monthly gains. As I was saying at the Webinar this week - you don't have to swing for the fences to make great returns. Like Ty Cobb, we just try to swing for a good average and, over time, the small hits tend to add up.
Other than IMAX, which we adjusted when they dipped (on the show, of course), these are all the original trade ideas from the shows and this is now, by far, the Best-Performing Public Portfolio of 2018, not only on television but even in publishing. You'll hear many, many people CLAIM to have great performance but none of the ones that have actually published their picks live have come close to matching us and I thank Kim Parlee, Barbra Tong, BNN and TD Ameritrade for allowing us the opportunity to teach our "Be the House - NOT the Gambler" system (also featured in Forbes) to such a wide audience.

While I know an 85% return since September pales in comparison to the 550% return our Members are getting from February's CG trade - these are simple, accessible trades than even beginning traders can follow. Of course I urge readers to educate themselves on options trading, whether through our own Membership offerings or others as it's certainly the most valuable tool you can have in any trading belt.
Remember, we are not Options Strategists, who tend to be market-neutral, we are FUNDAMENTAL Investors who use options for hedging and leverage on our positions. That allows us to reduce our risk and greatly reduce the cash that's required in our portfolios and that makes us far, far more flexible so down days like today are always an OPPORTUNITY for us to deploy some cash.
Disclosure: I am/we are long CG, BJO, GLD, SLV, WPM, ALK, IMAX, SQQQ, AAPL, ABX, GE, LB. I wrote this article myself, and it expresses my own opinions. I am not receiving compensation for it. I have no business relationship with any company whose stock is mentioned in this article.
Additional disclosure: Positions as indicated but subject to RAPIDLY change (currently mainly cash and an otherwise slightly bearish mix of long and short positions - see previous posts for other trade ideas).