Breakout Forecast Selections for Week 25:
Market conditions continue with high volatility. The positive momentum gauge continues with another full week in yellow (medium) moving from a value of 60 at the end of the prior week down to a value of 44 this week. The all time low for the positive momentum selection gauge is 8 during week 14 and all time high is 120 during August 2017. Last public report: Week 22 Breakout Forecast
Total Return Chart: +78.16%
The Total Return Chart reflects total return of all stocks in the weekly portfolio.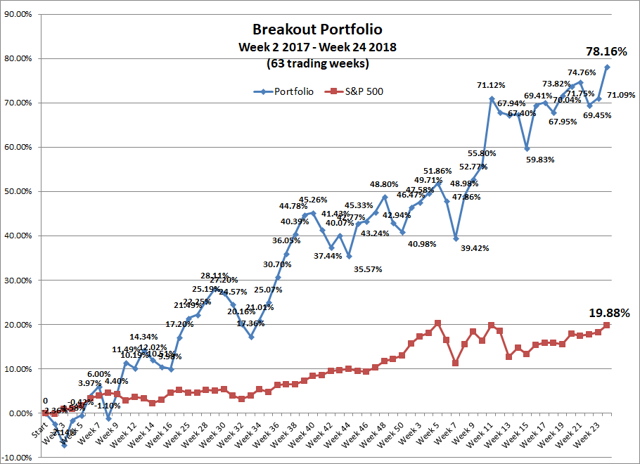 My momentum gauge is based on the count of the momentum stocks screened as either positive accelerating and negative accelerating stocks based on my research algorithm. The combination of the two different types of momentum categories screened by my algorithm may help validate the quality of the overall market momentum strength.

Market fund flow update June 15 from ETF.com:
After seeing their eight-week inflows streak snapped last week, U.S.-listed ETFs are at it again. During the latest week, they collected $15.3 billion in fresh money from investors, pushing year-to-date inflows up to $135.1 billion.

~ ETF.com
This week I have selected 8 breakout stocks from the following sectors: 2 technology and 6 healthcare.
The new selections of positive momentum stocks for this week include:
Immune Design Corp (IMDZ) - Healthcare / Biotechnology
Quotient Limited (QTNT) - Healthcare / Diagnostic Substances
These stocks are not necessarily recommended for long term buy/hold unless you are comfortable with very large price swings. As I continue to observe, strong momentum events usually last from one to three weeks and may encounter some substantial decline before returning again to positive gains.
These are the most volatile selections I offer from among all the different Value & Momentum portfolios. Proposed entry points for each of the selected stocks are as close to the highlighted prices in yellow on the charts at market open. All stocks are selected for high short-term breakout results over one to three weeks.
Breakout Stock Selections for Week 25
Note: all breakout stocks are selected based on my algorithm to increase the frequency of 10% gains within a short period of time. Price targets are estimated through an unrelated technical charting process for those who are looking for estimated exit points, however it is possible the momentum in these selections may move well beyond the initial target.
Pick #1: Immune Design Corp (IMDZ) - Healthcare / Biotechnology

Price Target: 8.00

Immune Design Corp., a clinical-stage immunotherapy company, engages in the research and development of in vivo treatments for cancer. The company primarily develops oncology product candidates based on its ZVex and GLAAS discovery platforms. Its lead products include CMB305, a cancer vaccine targeting the NY-ESO-1 tumor antigen, which is in Phase 2 trial for the treatment of patients with synovial and MRCL sarcoma as a monotherapy; and G100, an antigen agnostic intratumoral product candidate as a monotherapy and combination therapy for the treatment of patients with follicular non-Hodgkin Lymphoma.
Most recent corporate presentation:
IMDZ_NCDA_Corp_Overview_2018_04_26.pdf
Pick #2: Quotient Limited (QTNT) - Healthcare / Diagnostic Substances

Price Target: 10.00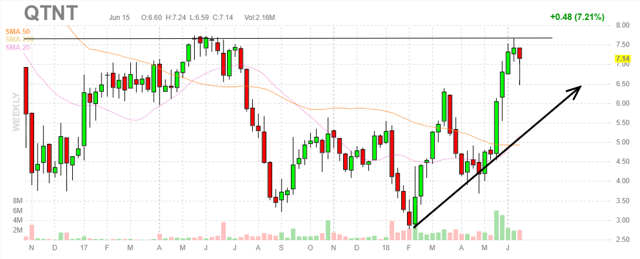 Quotient Limited, a commercial-stage diagnostics company, develops, manufactures, and commercializes conventional reagent products used for blood grouping in the transfusion diagnostics market worldwide. The company is developing MosaiQ, a proprietary technology platform, which provides tests for blood grouping and serological disease screening.
No recent corporate presentation.
2018 Chart: +36.97% YTD
Cumulative return with 1-Week holding period.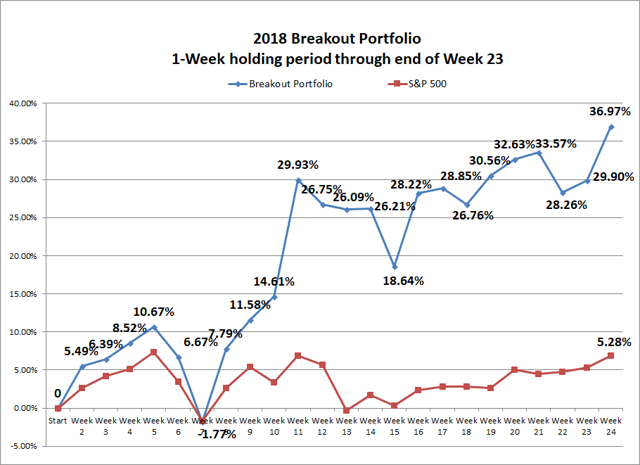 Breakout Forecast Performance Results
Total Breakout portfolio returns from 3 weeks ago are listed below to illustrate the rolling returns of prior top performers and total portfolio returns:
| | |
| --- | --- |
| Breakout Forecast | Portfolio gains past 5 weeks / Top 3 Performing Stocks |
| Week 22 | +6.17% / (TXMD) +12.11% (VSTO) +10.61% (DRRX) +10.55% |
| Week 21 | +7.80% / (GALT) +91.89% (CRVS) +21.97% (RUBI) +15.08% |
| Week 20 | +3.34% / (NVTA) +19.06% (ARTX) +15.27% (JT) +10.98% |
| Week 19 | +21.84% /(MRNS) +51.62% (QTNT) +50.63% (PSTG) +19.80% |
| Week 18 | +7.45% / (SPHS) +61.11% (XENE) +49.11% (CYTK) +15.79% |
*The most current weekly portfolio results (including all the value and forensic portfolios) are available to subscribers HERE.
2-Week Holding Period Returns
The next charts shows the cumulative return for a longer fixed 2-week holding period instead of the 1 week holding period charted above. Because 2-week holding periods overlap with weekly selections, I have separated it into two charts, Odd and Even weeks:
Using 2-week holding periods, the ODD Weekly Breakout portfolios have returned +33.40% compared to 4.99% for the S&P 500 YTD over the same holding periods.
The EVEN Weekly Breakout portfolios have returned +22.43% compared to 4.11% of the S&P 500 in the equivalent 2-week holding period.
1. Odd 2-Week Holding Chart 2. Even 2-Week Holding Chart

A detailed holding period analysis for Q1 2018 sampled Breakout Stocks is available here for review: Value & Momentum Breakout Stock Returns For Q1 2018
Long Term Portfolio Returns
As a reminder of the other longer term portfolios being tracked and updated regularly, here are the returns through Week 24. These 23 Buy/Hold portfolios (not including the Premium Portfolio) are averaging 18.37% in much less than a full year duration. The Premium Portfolio is an actively managed trading portfolio exclusively for members.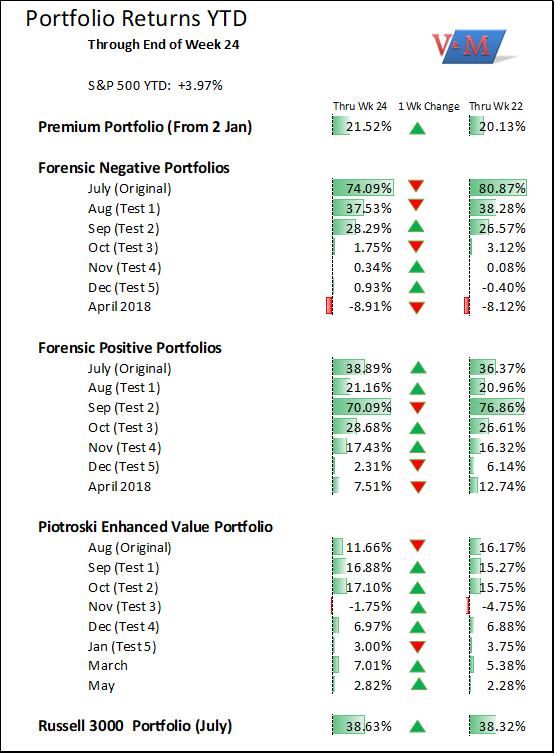 Please click the "Follow" button at the top of the page to enjoy free updates on the progress of each of the different portfolios I offer that are outperforming the S&P 500 in each of their respective time periods.
To Subscribe to Value & Momentum Breakouts,click on the link HERE.
I think these breakout stocks will serve you well in Week 25 and beyond. I hope you all do well with these stocks and always diversify to minimize some of the market risks. All the very best, and have a great week of trading!JD Henning, PhD, MBA, CFE, CAMS
Disclosure: I am/we are long AEZS, AKTS, ARWR, DRRX, JT, KEM, LOPE, MU, NBRV, NGVC, OTIC, SRNE, STAA, TXMD, LABU, UBIO.
I wrote this article myself, and it expresses my own opinions. I am not receiving compensation for it (other than from Seeking Alpha). I have no business relationship with any company whose stock is mentioned in this article.