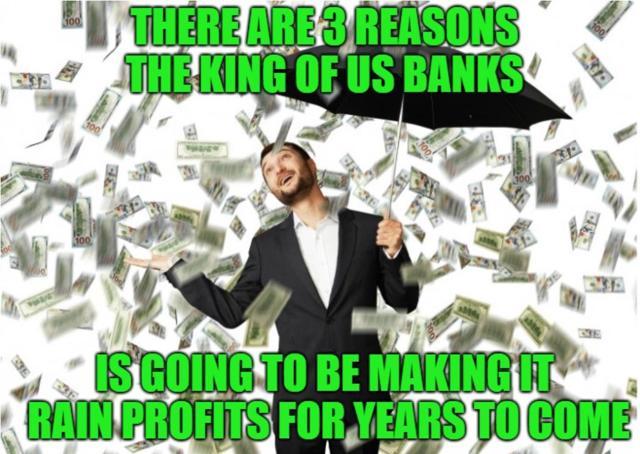 (Source: imgflip)
Due to the financial crisis almost wiping out the US financial system, many income investors understandably shy away from large banks. This is due to fears that their highly complex "black box" balance sheets might still pose a major risk during another economic downturn.
However, when it comes to large US banks, JPMorgan Chase (JPM) is the gold standard thanks to its highly conservative management team led by legendary CEO Jamie Dimon. While JPMorgan wasn't unaffected by the financial crisis, it did manage to avoid the worst of the subprime meltdown. In fact, between 2008 and 2009, the company generated $16 billion in net profit. Other than Wells Fargo (WFC), JPMorgan was the only large US bank to remain profitable during the crisis and didn't require a bail out. Rather it was forced to accept one by the government so that investors wouldn't know which banks were insolvent.
And despite a far stricter regulatory environment for large banks, JPMorgan has managed to adapt beautifully. Let's take a look at the three reasons I consider JPMorgan to be America's best megabank, including reasons why it's likely to generate long-term market beating total returns.
1. America's Biggest Megabank Booming In The Short Term...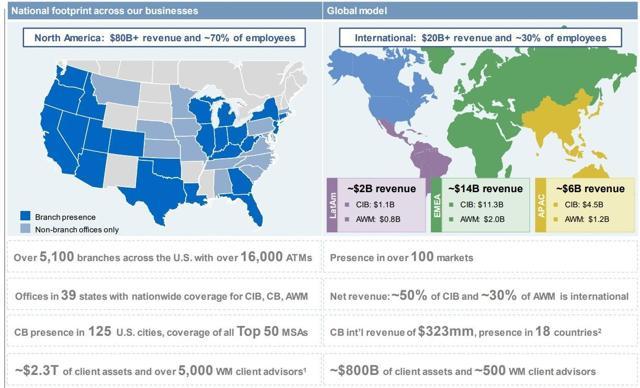 (Source: JPMorgan Investor Presentation)
JPMorgan Chase is America's largest megabank with $2.6 trillion in assets (up 2% YOY). The company's 5,100 branches and 16,000 ATMs in the US serve nearly 100 million American households. Approximately 50% of Americans bank with JPMorgan in some fashion, either directly or through its Chase branded credit cards.

(Source: JPMorgan Investor Presentation)
In addition, JPMorgan Chase is the world's largest generator of investment banking fees in the world. Similarly its fixed-income, commodities, and currency trading operations are also the biggest on earth. JPMorgan Chase is also the world's fourth largest asset manager behind BlackRock (BLK), Vanguard, and UBS (UBS).
Thanks to a strong US economy and the 2017 Tax Cuts and Job Act, JPMorgan's first quarter was a triumph. All four of its major business segments reported strong growth in revenue and earnings.

(Source: earnings presentation)
In consumer and community lending, the company saw 15% revenue growth thanks to:
core loans up 8%
deposits up 6%
credit card activity up 12% (merchant processing up 15%)
Mobile customers up 13%

(Source: earnings presentation)
In corporate and investment banking, JPMorgan generated the largest investment banking fees of any bank on earth. That was largely driven by 14% increase in treasury servicing revenue and 25% growth in equity market revenue.

(Source: earnings presentation)
In commercial banking, average loan balances (what JPMorgan lends to commercial businesses) was up 6%. And thanks to rising interest rates, net interest income increased 14%.

(Source: earnings presentation)
JPMorgan is also one of the world's largest wealth managers (for ultra high net worth individuals), and saw assets under management soar 10% to $2 trillion. Client assets grew 9% to $2.8 trillion indicating plenty of growth runway left to grow its asset base. The average loan balance to its wealthy clients rose 12%.
Overall core loans were up 8% to $934 billion. Meanwhile, US deposits were up 6% to $1.2 trillion (33% of which are non interest bearing accounts). However, that just explains the company's top line growth. Bottom line growth in EPS is what investors really care about and that's where JPMorgan's increasingly effective cost structure comes in.
| | |
| --- | --- |
| Metric | Q1 2018 Results |
| Efficiency Ratio | 56% (down from 59%) |
| Net Interest Margin | 2.48% (up from 2.33%) |
| Return On Assets | 1.37% (up from 1.03%) |
| Return On Equity | 15% (up from 11%) |
| Tangible Book Value Per Share Growth | 4% |
(Source: earnings supplement)
JPMorgan continues to execute well on cost cutting and improving its economies of scale. This means amortizing its fixed costs over its steadily growing asset base and fast growing revenue. The bank's efficiency ratio (non-interest expenses/net income) is the most important efficiency metric. As a rule of thumb, 50% is the lowest any US bank is expected to be able to achieve, and the lower the efficiency ratio, the more efficient (and profitable) the bank is. JPM's efficiency ratio declined 4% in the past 12 months to 56% which is among the lowest of any US bank.
Meanwhile, the company continued to benefit from rising interest rates, with the net interest margin spread (yield on loans minus interest costs) jumping 6.4% to 2.48%. Combined with its improving cost structure and lower tax rates, this allowed JPMorgan to boost its returns on assets and returns on equity to 1.37% and 15%, respectively. The rule of thumb for US banks is that good management can generate 1% returns on assets and 10% returns on equity. JPMorgan's figures are far above these levels, indicating it's one of America's most profitable banks. Finally, the banks tangible book value per share (objective measure of intrinsic value) grew 4%, in line with many smaller banks. This shows that despite its massive size, JPMorgan is able to leverage a strong economy into impressive top and bottom line growth.
| | |
| --- | --- |
| Metric | Q1 2018 Results |
| Revenue Growth | 11.9% |
| Net Income Growth | 35.1% |
| Shares Count Growth | -4.1% |
| EPS | 43.6% |
| Dividend | 12.0% |
| Dividend Payout Ratio | 23.6% |
(Sources: earnings supplement, Gurufocus)
In fact for a bank of its size, with over $100 billion in annual revenue, JPMorgan's double-digit top line growth is sensational. And while its bottom line growth is what grabbed the headlines this quarter, much of that was due to tax cuts. Revenue, on the other hand, wasn't affected by lower tax rates (20%), indicating that JPMorgan's organic growth remains strong.
Due to its status as a strategically important financial institutions or SIFI (too big to fail), JPMorgan doesn't have much opportunity to grow through acquiring other banks. This frees it up to pay out the vast majority (77% in Q1) of its record profits to shareholders via buybacks and dividends. Over the past 12 months, JPMorgan hiked its dividend 12% and bought back 4.1% of its shares.
Going forward, JPMorgan expects to continue benefiting from a strong economy. Specifically, management guidance for full-year 2018 includes:
core loan growth: 6% to 7%
non-interest revenue growth: 7%
Net Interest Income: $54.5 billion, up about 9% from 2017
However, while JPMorgan's results in the last quarter and year were impressive, all banks have the growth winds at their back right now. That's thanks to America's economic expansion now being in its 10th year and interest rates continuing to rise off their all-time lows. What really matters to income investors is JPMorgan's long-term investment thesis. Fortunately, there are four key reasons why I think JPM is going to remain one of the best investment choices in US banking for the foreseeable future.
2. And Competitive Advantages Should Provide Long-Term Growth Catalysts
There are three key drivers of good investment returns in bank stocks. The first is the quality of the management team. This is because the highly levered nature of banking means that good risk management is essential to a bank being able to grow well during the good times, but avoid disaster when a recession hits.
JPMorgan is led by legendary CEO Jamie Dimon, who began his financial career in 1982 at American Express (AXP). Dimon has 36 years of industry experience and has worked at: Travelers Group, Citigroup, and Bankone. When JPMorgan bought Bankone in 2004, Dimon became the new larger company's COO. In 2005, he was promoted to president and CEO, and in late 2006 became Chairman of JPM's board of directors. It was Dimon's disciplined, steady, and calm head that helped guide America's largest bank through the worst financial crisis since the Great Depression. In fact, since Dimon took over the top spot 15 years ago, the bank's assets have more than doubled and its earnings have more than tripled. That's despite the financial crisis and much stricter banking regulations that followed. This track record is why Fortune Magazine has called Jamie Dimon one of the greatest banking CEOs of all time. His track record was also why Dimon was picked for Treasury Secretary in the Trump administration. Fortunately for shareholders, he declined because he wanted to remain at JPMorgan and continue leading it to ever greater profitability.
Now it should be noted that Dimon isn't a god who can ensure the bank never makes a mistake. Rather he sets the tone and corporate culture, especially in terms of risk management. Because JPMorgan has 254,000 employees, sometimes mistakes like the infamous London Whale ($7.1 billion in losses and fines) will happen. What Dimon does do help ensure a conservative banking culture that focuses on maximizing earnings in a safe and sustainable manner. This means avoiding making risky loans to boost short-term profits at the expense of risking the bank's solvency in a recession.
For example, in Q1 2018, JPMorgan's net charge-off rate (loan losses) on consumer lending ranged from 0.03% for home loans to 3.32% for credit cards. The overall net-charge off rate was 1.2%, down from 1.58% a year earlier. That's in comparison to an industry average of 2.2%. In other words, JPMorgan's consumer lending business is making far safer loans than most US banks.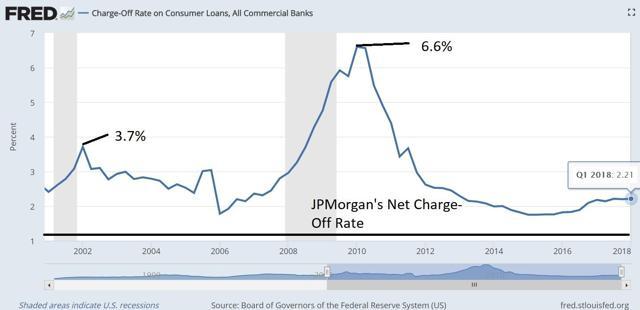 Meanwhile, the bank's commercial lending arm is also highly disciplined and focused on strong underwriting. This is why the bank's commercial net charge-off rate is 0.07%, which is 4.5 times lower than the industry average of 0.31%.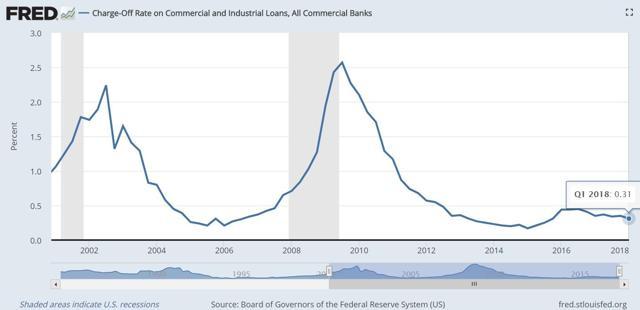 JPM's conservative banking culture is why it has one of the strongest balance sheets of any US bank. This is what will protect investors during a recession and likely allow the bank to maintain its dividend even during economic downturns.
There are two important balance sheet metrics investors need to know when it comes to banking. The first is the Common equity tier 1 capital ratio or CET1. This is the new gold standard of banking safety metrics and measures a bank's ability to absorb unexpected losses. Specifically, it's the ratio a bank's equity (net assets owned by shareholders) against its risk-weighted assets. The standards of CET1 are international and under the fully phased in Basel III standards (effective 2019) sets a minimum ratio of 7% for all large banks. The US Federal Reserve, which regulates America's banks, has set JPMorgan's minimum ratio at 9.5% in order to ensure that it can remain solvent during another financial crisis.
Minimum CET1 requirement: 9.5%
JPM's Fully Phased in Basel III CET1: 12.5%
JPMorgan plans to maintain a fortress like balance sheet which is why its fully phased in CET1 is 3% above its minimal requirement. This is to ensure the company cannot just remain solvent and avoid a bailout (it was forced to take one during the crisis) but also maintain its dividend during the next downturn.
The other important safety metric is the supplementary leverage ratio or SLR. This measures a bank's equity against its total risk weighted assets, including off balance sheet ones. The global minimum for all banks is 5% with 6% being the minimum for large banks. JPM's SLR is 6.5%, again well above its minimum requirement.
Under new banking regulations the SLR, CET1 system might change to better account for a bank's dividends and the outcomes of the Fed's annual stress tests. These are simulated economic catastrophes that were worse than what happened in 2008-2009.
The new proposal replaces the SLR minimum of 6% with 3% + half the stress capital buffer or SCR. The Stress Capital Buffer is the lowest CET1 ratio under the severely adverse scenario the Fed model's in each year's stress test. It's also includes the last 4 quarter's dividends. In other words, the Fed's new minimal regulatory CET1 ratio factors in a worst case scenario for each bank, and requires they also hold enough capital in reserve to not just avoid losses but maintain their dividends in a recession.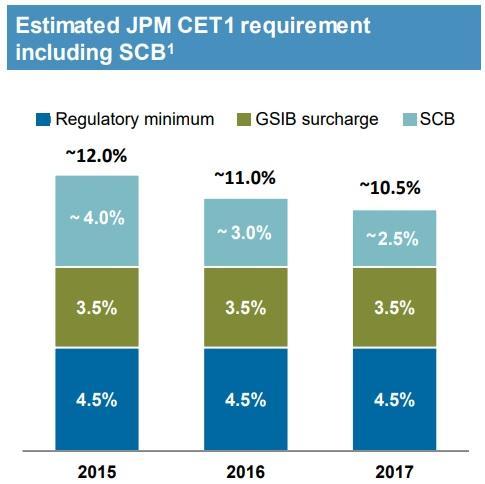 (Source: earnings presentation)
What kind of worst case scenario are we talking about? Well, here's what the Fed's 2017 severely adverse scenario modeled:
unemployment spikes to 10% (Same as 2009)
GDP falls 6.5% (Fell 5.1% in Great Recession)
home prices fall 35% (33% in Great Recession)
stock prices fall 50% (54% in Great Recession)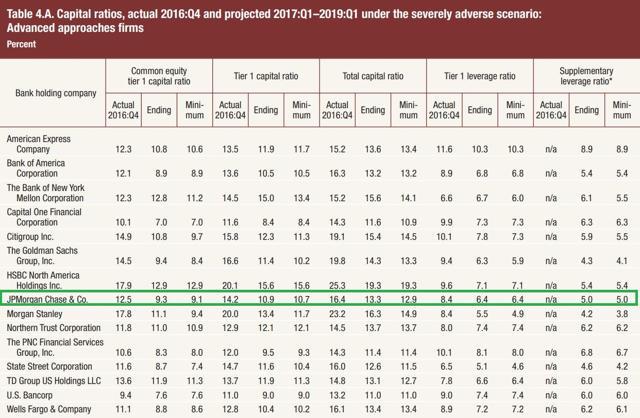 (Source: Federal Reserve)
Based on JPMorgan's strong showing at its stress tests, its all in regulatory minimum CET1 ratio under the new proposed system has been falling over time. At the end of 2017, it was 10.5% which is the level above which JPMorgan's dividend will be allowed to grow and will likely remain sustainable (Fed must approve all big bank capital return plans). Again, JPM's fully phased in CET1 is 12.5%, well above this minimum.
In addition to world class management and a very strong balance sheet, JPMorgan enjoys immense economies of scale across all of its business units. Banking is ultimately a commodity business and so minimizing costs is a huge advantage for any bank. Low costs allows it to profitably lend at lower rates and thus maintain or grow market share. Thanks to JPMorgan's large base of interest free checking accounts (33% of US deposits), it enjoys very low borrowing costs averaging just 1.0% on total deposits in Q1 2018. That's compared to 3.48% average loan interest rates creating a healthy net margin spread.
| | | | | |
| --- | --- | --- | --- | --- |
| Bank | ROA | ROE | NIM | Efficiency Ratio |
| JPMorgan Chase | 1.37% | 15% | 2.48% | 56% |
| Industry Average | 0.87% | 8.4% | NA | NA |
(Sources: earnings supplement, Gurufocus)
Which in turn is why JPMorgan is one of the most profitable big banks in America and the world.
JPMorgan's long-term earnings growth is likely to come from continued improvements in cost cutting and economies of scale. A key driver of this is the company's heavy investment into digital and mobile banking.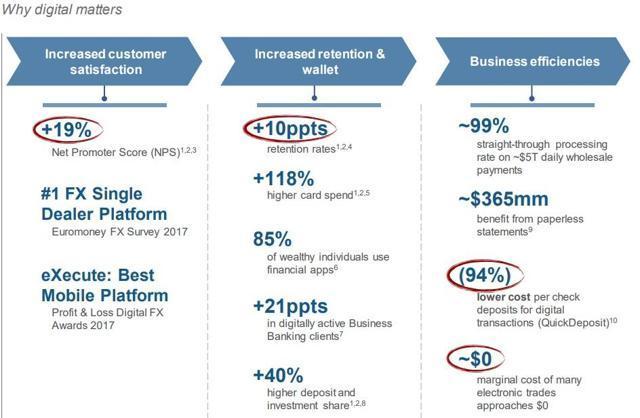 (Source: JPMorgan earnings supplement)
Digital banking is a major game changer for banks because a well crafted online banking experience can differentiate a bank from its rivals (higher switching costs, wider moat). That means a better consumer experience, increased retention rates (better market share), and most importantly of all, lower costs. In fact, JPM estimates that online check deposits are 94% less expensive to process than regular checks. And the marginal cost of digital transactions is effectively zero.
Best of all, the more mobile/online banking its customers do (13% YOY increase in Q1 2018), the less physical branches it must maintain which have high fixed overhead costs. JPMorgan's big push into digital is one of the key reasons that Morningstar expects its efficiency ratio to continue falling over the coming five years.
| | |
| --- | --- |
| Bank | Projected 2022 Efficiency Ratio |
| Bank Of America (BAC) | 51% |
| JPMorgan Chase | 52% |
| Citigroup (C) | 54% |
| Wells Fargo | 57% |
(Source: Morningstar)
By 2022, JPM is projected to become America's second most profitable big bank behind Bank Of America which is also ferociously cutting costs and driving hard into mobile banking.
The final growth catalyst for JPM is its international operations which currently account for about 20% of revenue and 30% of its total employee count. Unlike regional banks in the US (and Wells Fargo which is effectively a nationwide regional bank), JPMorgan stands to benefit immensely from the massive growth in both population and economic growth in emerging markets. These include: China, India, Latin America, and eventually Africa.
Now banking in emerging markets is more dangerous since those economies are more volatile, their currencies can fluctuate wildly, and capital markets are less developed (higher risk). However that's where JPMorgan's top notch risk management and strong balance sheet comes in. Few global banks have proven they can maintain conservative underwriting standards as well as JPMorgan and I expect this to serve them well as they attempt to win market share in the most important economies of the the future.
The bottom line is that JPMorgan's investment thesis isn't just about its strong current growth. Rather it's a bet on one of the most conservative banking cultures in America, a rock solid balance sheet, enormous cost advantages, and a proven ability to safely grow its business overseas. All these factors should help JPMorgan to deliver some of the industry's best long-term dividend growth.
3. Dividend Profile: Long-Term Market Beating Total Return Potential
| | | | | |
| --- | --- | --- | --- | --- |
| Bank | Yield | Payout Ratio | 10-Year Projected Dividend Growth | 10-Year Potential Annual Total Return |
| JPMorgan Chase | 2.1% | 24% | 6% to 7% | 8.1% to 9.1% |
| S&P 500 | 1.8% | 40% | 6.2% | 8.0% |
(Sources: earnings supplement, Gurufocus, Fastgraphs, Yardeni Research, Multpl)
The core of any good income investment is the dividend profile which consists of three parts: yield, dividend safety, and long-term growth potential. JPMorgan's current yield isn't that great, but it remains nicely above that of the broader market.
More importantly, the dividend is extremely safe, representing just 24% of its most recent EPS. It's also far below the 30% to 35% range the Fed has said it considers a good payout ratio, one that should preserve dividends during the next recession.
The other side of the safety coin is the balance sheet. As we've seen, JPMorgan is a fortress and it should easily be able to handle even a worse economic downturn than the Great Recession without a dividend cut. Remember that the only reason the company cut its dividend during the crisis is because the government forced all major banks to accept a bailout (so that we wouldn't know who actually needed one). An unfortunate provision of the bailout was massive dividend cuts (87% in the case of JPM). However, had the company been allowed to go it alone and not been forced to accept a bailout and forced dividend cut, JPM's $5.6 billion in net profit in 2008 would have covered its $5.4 billion in dividend costs. In 2009, JPM earned $10.4 billion which would have covered its pre-crisis dividend almost twice over.
The bottom line is that unless the next recession is significantly worse than the Great Recession and the Fed's worse case stress test scenario (say 7+% GDP decline), JPMorgan's dividend should survive the next downturn intact. Over the long term, analysts expect JPM to grow its EPS at about 6.5% over the next decade. Since the Fed has set an effective cap of the payout ratio of large banks at 30% to 35%, this means that JPM's dividend growth is likely to track its bottom line growth.
Over time, total returns tend to follow the formula yield + long-term dividend growth (dividends are a proxy for earnings growth). This is because a stock's total returns are a function of three things: current income, earnings/cash flow growth, and valuation multiple changes. Over time, multiples tend to be mean reverting and cancel out, leaving just current income and earnings/dividend growth as the determining factors (Gordon Dividend Growth Model).
The analyst long-term consensus may seem rather small to those who have been happily watching JPM hike its dividend at double digits for years. However, you need to remember that a 10-year outlook needs to account for a recession which might occur and which would cause the bank's earnings to fall and its dividend to remain frozen for a year or two. Overall, I estimate that JPM should be capable of roughly 8.6% total returns over the next decade. This is slightly superior to the 8% I estimate the S&P 500 will generate from its current valuation.
Valuation: Arguably Still Worth Buying Depending On Your Needs And Time Horizon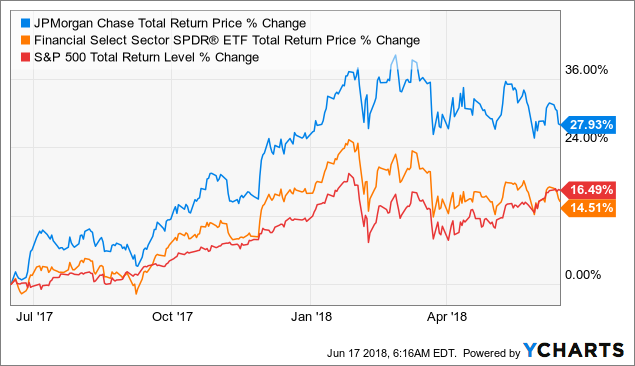 JPM Total Return Price data by YCharts
Thanks to its soaring earnings (fueled by tax cuts and rising interest rates), JPMorgan has crushed not just the broader market over the past year but most other financial stocks as well. Of course, that means that creates some concern that it might be overvalued.
Now the thing to remember about valuing a stock is there is no 100% objectively correct way to do it. The future is uncertain so even pure fundamental approaches like discounted cash flow (earnings in the case of banks) models can only serve as a rough guide. In total, there are dozens of different ways to value a stock which is why I like to use a multi-pronged approach to create a more robust valuation model to minimize the chances of overpaying for a company.
The first valuation screen is the total return potential from the dividend profile. I want any stock I buy or recommend to have the potential to beat the market over the long term. On that count, JPM passes but just barely. However, I also have a 10+% personal hurdle rate because my goal is to achieve double-digit total returns over time. On that basis, JPM falls short.
The next screen is looking at the forward PE ratio, comparing it to the company's historical norm, and determining the implied growth rate. That means estimating what growth is currently baked into the stock to see if JPMorgan can beat that.
| | | | | |
| --- | --- | --- | --- | --- |
| Forward PE | Implied 10-Year EPS Growth Rate | Historical PE | P/TBV | Historical P/TBV |
| 12.0 | 1.8% | 15.8 | 2.1 | 1.7 |
(Sources: Gurufocus, Fastgraphs, Benjamin Graham)
Currently, the forward PE is 12.0, far below the 20-year average of 15.8. This implies a 1.8% long-term (10-year) EPS growth rate. Even assuming a modest recession in the next few years, the company should easily be able to beat that low hurdle rate.
Finally, with banks, the price/tangible book value is often a good way of estimating whether or not a stock is at fair value or not. This is because over time a bank's P/TBV will be cyclical but mean reverting. In other words, it will fluctuate around a relatively fixed point that can be a proxy for fair value.
Right now JPMorgan is trading at 2.1 times book value which is significantly higher than its 13-year median norm. It's also far above the global bank median of 1.3. Now a bank of this caliber certainly deserves a premium; however, I consider the 25% current premium to historical TBV to be on the high side.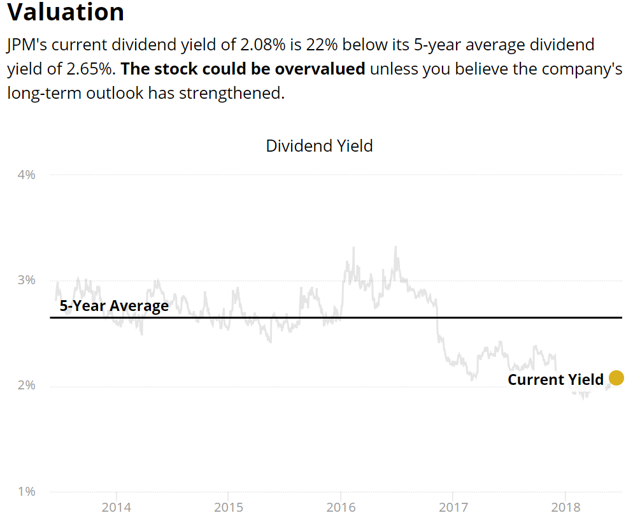 (Source: Simply Safe Dividends)
Another approach I often use is to compare a stock's yield to its five-year average yield. This is because income is my primary focus, and like other valuation multiples, yields tend to be mean reverting. Under this approach, JPM appears about 22% overvalued. That tracks closely with the 25% premium to historical tangible book value.
One can also consider a long-term, dual stage discounted earnings multiple such as done by Morningstar which estimates JPM is about 5% overvalued. Putting it all together, I'd estimate the stock is between 5% and 25% overvalued at present but still capable of slightly better total returns than the S&P 500 over the next decade.
This means that while I personally won't be buying JPM at current levels, the stock could still be a good investment depending on your time horizon and personal total return target. That is assuming you're comfortable with the company's risk profile.
Risks To Consider
It's important to note that even with the regulatory changes recently passed (loosened up Dodd-Frank a bit), US banking is still one of the most heavily regulated industries on earth. The specific easing of regulations won't likely effect JPMorgan in any significantly positive manner since it mainly raised the minimum threshold for a bank to be classified as a SIFI (too big to fail) from $50 billion in assets to $250 billion. With $2.6 trillion in assets, JPMorgan will continues to face the highest levels of scrutiny from the Fed each year. That includes during its annual stress test and the Comprehensive Capital Analysis and Review or CCAR. In order to return capital to shareholders via buybacks and dividends, a bank must have its CCAR approved. Whether or not that happens is based on how the bank does in the annual stress test.
In 2018, the Fed is dialing up the worst case scenario in its stress test including:
Recession duration: 3 years (Great Recession was 18 months)
Peak unemployment: 10% (unchanged from 2017 or Great Recession)
Max fall in stock prices: 65% (up from 50% in 2017 and 54% in Great Recession)
Peak decline in home prices: 30% (down from 35% in 2017 and 33% in Great recession)
Peak decline in commercial real estate: 40%
Peak GDP decline: 8.9% (up from 6.5% in 2017 and 5.1% in Great Recession)
In other words, for 2018, the Fed will be effectively simulating a miniature depression.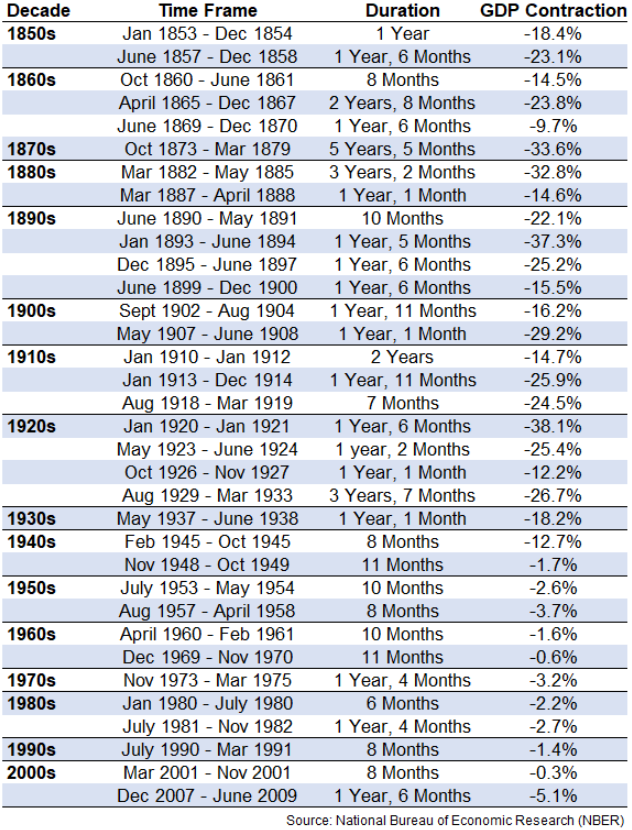 (Source: awealthofcommonsense.com)
In fact, since the Great Depression (actually a series of bad recessions), no US recession has lasted more than 18 months. And since 1945 none has seen US GDP fall by more than 5.1% and that was during the financial crisis. Or to put another way the Fed is likely taking things to extremes because the scenario it's modeling is extremely unlikely to happen. That being said, JPMorgan's capital return program is still going to have to pass through this trial by fire. If it doesn't pass the stress test, JPM might not be able to spend as much on buybacks or raise its dividend at its recent pace, despite the low payout ratio.
In addition, we can't forget that global banking regulations can also change. Basel III has been getting tighter over time, and in the future, JPM might end up having to raise its CET1 which would lower its leverage and its profitability.
Next remember that banking is a cyclical business tied to the health of the US and global economy. This means that even the best banks (including legendary Canadian ones) aren't capable of the kinds of clockwork like annual dividend increases characterized by dividend aristocrats or kings. This means that anyone owning JPMorgan needs to be prepared for the dividend to become frozen (maintained) for one to three years depending on the length and severity of the next recession.
Also keep in mind that banks are usually more volatile than the broader market. For example, over the past year, JPMorgan has been 11% more volatile than the S&P 500. If you are looking for a low volatility source of generous yield, JPMorgan isn't a good choice for you.
The good news is that there is little risk of a recession starting anytime soon.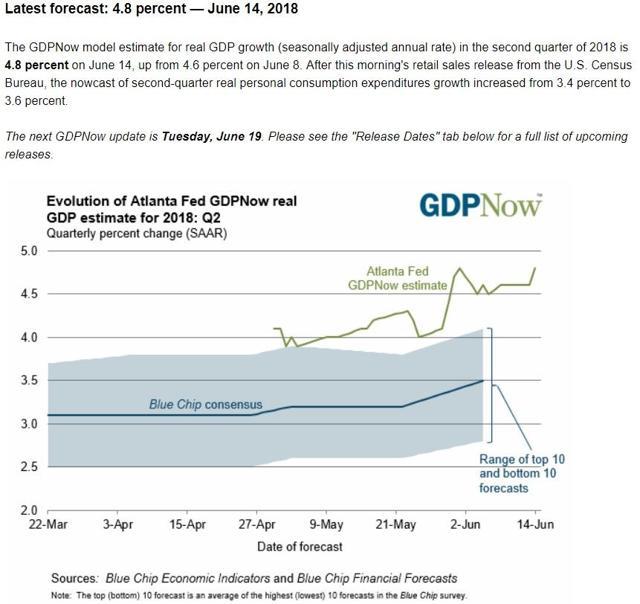 (Source: Atlanta Federal Reserve)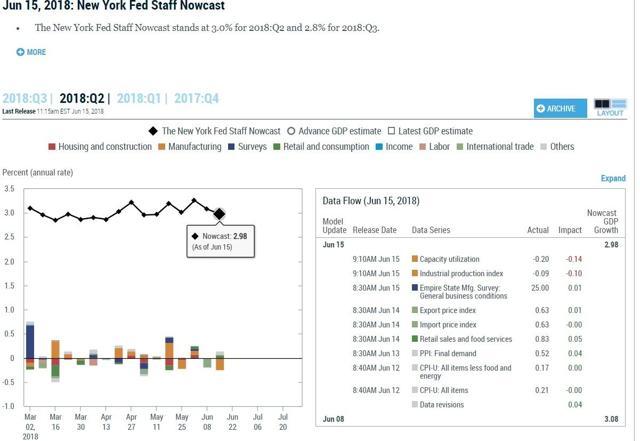 (Source: New York Federal Reserve)
According to the real time GDP growth models maintained by the Atlanta and New York Federal Reserves, the US economy is likely growing between 3% and 4.8% right now. That rate is expected to remain stable in Q3 with New York's model estimating 2.8% growth.
For the full year, the Federal Reserve is estimating 2.8% GDP growth, up from 1.6% and 2.3% in 2016 and 2017, respectively. That's roughly in line with most economist forecasts which also call for roughly 2.5% growth in 2019 and 2% in 2020.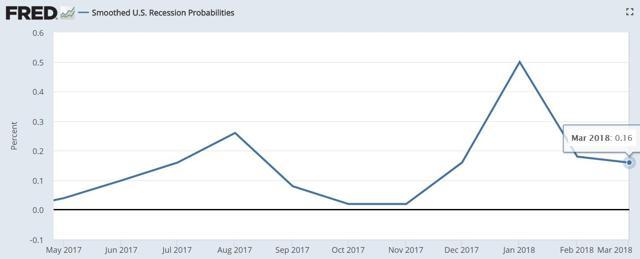 (Source: St. Louis Federal Reserve)
Meanwhile, the St. Louis Fed has a smoothed out recession probability model that uses a four-month running average of leading economic indicators to estimate the probability of the economy being in a recession in a given month. Because it's a rolling average, there is a two-month delay with the probability of a recession having started in March estimated at 0.16%.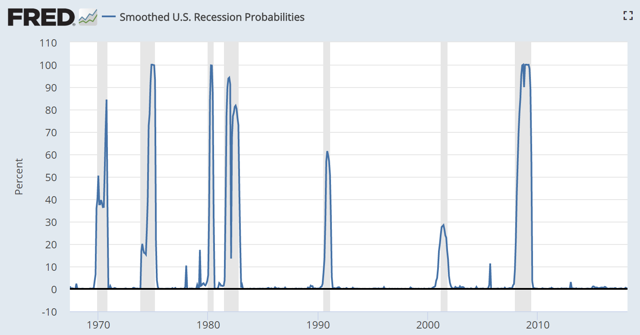 (Source: St. Louis Federal Reserve)
This model has been extremely accurate in predicting recessions with an average lead time of four months (before it's official). The key is that as long as the reading is at 18% or below, the US economy has never been contracting. 0.16% indicates very low risk of a recession.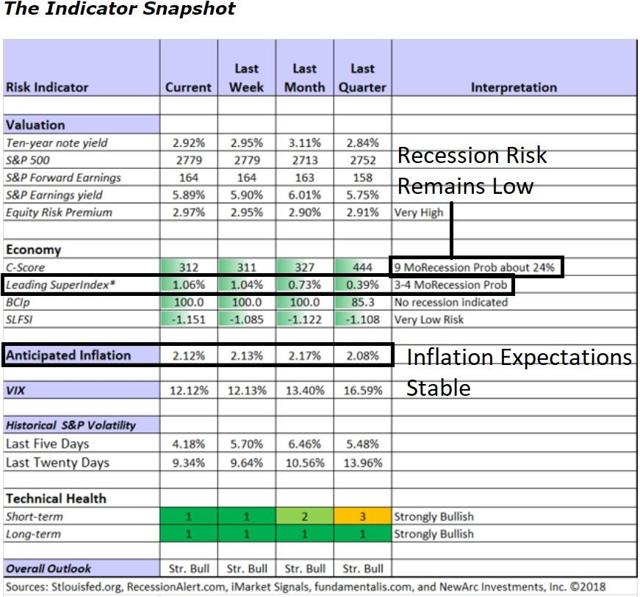 (Source: Jeff Miller)
That coincides with Jeff Miller's economic indicator snapshot which shows an estimated risk of a recession starting within four and nine months at about 1% and 24%, respectively. About the only potential dark cloud on the horizon would be the flattening yield curve (10-year Treasury yield minus 2-year treasury yield).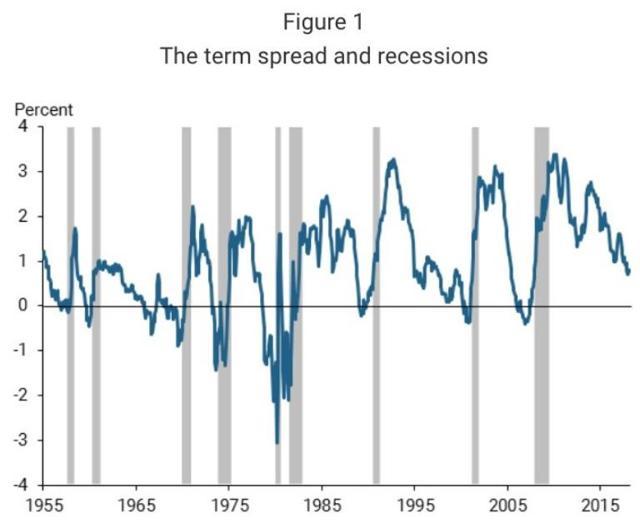 (Source: Business Insider)
A yield curve inversion has correctly predicted the last nine recessions. This means that when the 2-year yield rises above the 10-year yield, the bond market is extremely bearish on the economy and predicting a recession will begin soon. Yield curve inversions usually proceed recessions by 12 to 18 months with an average of 16.6 months (the last five times).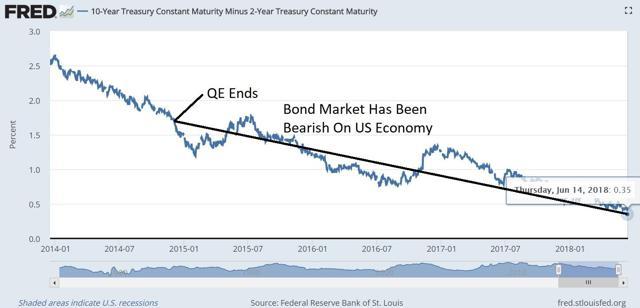 The yield curve has been flattening since 2014 as the bond market has been increasingly bearish on the prospects of our 10-year expansion continuing. On June 14th, the curve hit a 10-year low of 0.35% (currently 0.38%). The good news is that as long as the curve is positive the risks of a recession are low. In addition, even if the yield curve were to invert late this year, it would likely take until late 2019 to mid-2020 before a recession began.
In addition, there is some debate among economists about the predictive power of the curve. Specifically, whether or not the curve inverting actually causes recessions or is merely correlated with them. Theoretically, financial companies borrow at the short end of the curve to lend at higher interest rates at the long end. Thus, a flattening curve might signal decreasing lending profitability which could cause the money supply to contract (85% of our money supply is provided by financial company lending). That in turn would mean lower consumer and business spending and could directly cause a recession.
However, it's important to remember that the 2- and 10-year Treasury yields are mere proxies for short- and long-term interest rates. Banks like JPM don't actually borrow at 2-year rates to lend at the same interest rate as the 10-year yield. Rather banks use their deposit bases to fund their loans. JPM's average borrowing cost was 1% in Q1 which was up from 0.71% a year earlier.
This shows that bank borrowing costs are rising, but fortunately, many of their loans are benchmarked off the prime rate. This is the rate banks charge to their most creditworthy customers. The prime rate is itself benchmarked off the Fed's fund rate (overnight interbank lending rate). This means that each time the Fed hikes the FFR (like last week) banks increase interest rates on variable rate loans like credit cards and auto loans.
Longer-term loans such as mortgages are indexed to the 10-year yield which has no significant correlation with the FFR. But the point is that for now, despite the flattening yield curve, bank net interest margins should continue to rise, though more slowly. For example, Morningstar's Eric Compton estimates that by 2022 (barring a recession), the 10-year yield could hit 4.5% and JPM's net interest margin will peak around 2.6%. That's just 0.12% higher than today because of rising interest rates the bank is expected to have to pay to maintain and grow its deposit base.
The bottom line on big bank risk is that they have volatile earnings, large regulatory uncertainty, high economic sensitivity. And while the risk of a recession remains very low today, investors may want to keep an eye out for risks rising over time as I do in my weekly portfolio updates.
Bottom Line: JPMorgan Is The Gold Standard Of US Megabanks And Should Still Beat The Market From Today's Valuation
Don't get me wrong, I'm not saying that everyone needs to invest in US megabanks. They are incredibly complex beasts and their revenue and earnings are cyclical due to being tied to the health of the global economy.
That being said, JPMorgan Chase has several major competitive advantages that should help it to continue generating solid earnings growth over the long term (across multiple economic cycles): These are its:
massive economies of scale, including very low cost of capital (non-interest bearing accounts);
world class management team who are experts at risk management;
a fortress like balance sheet that should easily handle the next recession; and
strong overseas growth potential in emerging markets.
While JPMorgan isn't necessarily undervalued today (roughly 15% above fair value), even from today's price it should be able to outperform the broader market over the next decade. That being said I'm placing JPMorgan on my watchlist as a "hold" because the current price falls a bit short of my long-term total return target (10+%).
Disclosure: I/we have no positions in any stocks mentioned, and no plans to initiate any positions within the next 72 hours. I wrote this article myself, and it expresses my own opinions. I am not receiving compensation for it (other than from Seeking Alpha). I have no business relationship with any company whose stock is mentioned in this article.