In this article, I'll attempt to perform a valuation on Despegar.com (NYSE:DESP). And as you'll see, the company appears to be trading at a higher-than-justified PE multiple.
Qualitative factors
The company is an online travel agency. It profits from the selling of airline tickets and hotel bookings. DESP operates across all of Latin America and has excellent brand recognition with customers.
In fact, it's well ahead of its competitors with regards to brand recognition. As of December 2017, Despegar.com outranked all its competitors. In other words, DESP has better brand recognition than Booking (BKNG), Trivago (TRVG), CVC, Airbnb (AIRB), and TripAdvisor (TRIP). According to DESP, these figures are based on Google's Share of Voice Report based on Google Trends data (search keywords).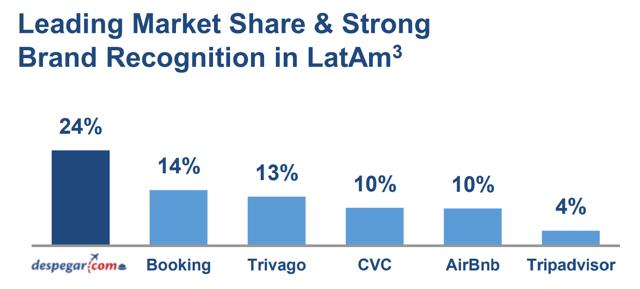 Source: Explained in the paragraph above
Regarding its ownership structure, a majority of shares are controlled by the investment firm Tiger Global (46%). After that, Expedia (EXPE) is another significant shareholder in Despegar.com. Expedia holds roughly 15% of the stock. Since Expedia is another travel technology company, the backing of this company is particularly interesting. At this time, there are no concrete "synergies" presented between Despegar.com and Expedia, but in the future, it's likely that they'll cooperate to boost each other's results. Moreover, the backing of a trustworthy investment firm with a long track record of success like Tiger Global adds certainty to the DESP's business model and prospects.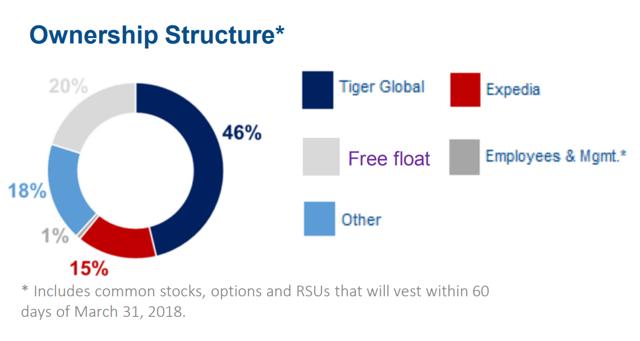 Source: Despegar.com fact sheet.
The publicly traded shares of Despegar.com account for approximately 20% of the company's floating shares. Unfortunately, this might be a negative factor in the company's valuation. I say this because any investor will only have a minority stake in the total equity through the publicly traded shares, and this might discourage activist investors and institutional firms that would otherwise hold management accountable. Nevertheless, Tiger Global and Expedia will probably be reliable and trustworthy shareholders in the long run. However, this is a factor worth taking into account.
Another element to consider in Despegar.com is that it's working with MercadoLibre (MELI), which leverages its operations even further. They've worked together through discounts and other e-commerce initiatives to boost their sales. Together, these two Argentinian corporations have been among the best in terms of brand recognition in Latin America. So this partnership should solidify their market share in these emerging markets going forward.

Source: 2017 annual report
In fact, as you can see in the excerpt above, MercadoLibre and Despegar.com share a board member. I think this goes to show the close relationship between the companies. Putting all of these together, it becomes clear that Despegar.com should have many opportunities to retain and expand its market share in the future despite fierce secular competition.
For me, this is a critical assumption. The valuation that I'll perform on the company assumes that it will be able to realize its forecasted potential growth (which is very high). In my opinion, this supposition is justifiable for the reasons previously explained. Nevertheless, it's worth making a note of these factors before proceeding.
Revenue drivers
Regarding revenue composition, its top three markets are Argentina, Brazil, and Uruguay. These countries represented 26%, 29%, and 28% of revenues respectively. None of the remaining countries in which DESP operates accounted for more than 10% of total revenues. Growth wise, Argentina and Mexico are showing promise. They've posted 21% and 29% YoY revenue increase respectively.
However, on the other hand, Brazil is lagging a little bit due to intensified competition and grew by only 14% YoY. This is a little concerning for DESP because it'd signal that a slowdown in growth is coming in the future. Nevertheless, I'll assume that this is just a bump in the road and grant DESP the benefit of the doubt here.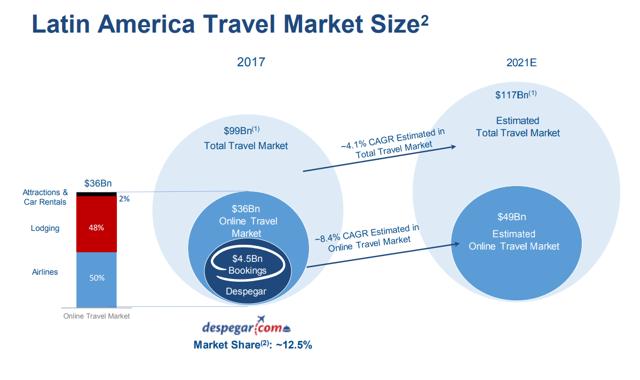 Source: Despegar.com fact sheet
On a broader perspective, management continues to expect further growth driven by secular tailwinds in Latin America. DESP forecasts that the relevant macroeconomic conditions will continue to improve in the years to come. Furthermore, as the online consumer culture continues to spread in Latin America, DESP is in an exceptional position to take profit.
Valuation
For Despegar's valuation, I thought it'd be interesting to find out an appropriate estimated PE ratio and then merely price the company's earnings accordingly. For this, I'll use a PE formula derived from the Gordon Dividend Discount Model.

Source: PE formula derived as explained above
The formula above only takes into account a single stage growth for the stock. Usually, this isn't as sound as contemplating a growth phase and then a slower growth phase (the terminal stage). The first phase is merely a discount model for five years, and the second phase is a growing perpetuity. This requires a simple two-stage model that can be easily derived from the formula above.
It's important to note that I could replace the FCFE (Free Cash Flow to Equity) for DESP's Payout Ratio. However, since DESP doesn't have a dividend, the FCFE is a good proxy for what the company could potentially pay as a dividend if it wanted.
Also, stock repurchases could be interpreted as dividends in this model (since in a way it's cash returned to shareholders). Hence, an axiom of this proposition is that stock issuance should have the opposite effect for this calculation. In DESP's case, the firm recently raised roughly $250 million in capital from the stock market.

Source: 2017 annual report
For my calculations, I assumed that we should remove the $253 million from the firm's increase in working capital. With that, I estimated DESP's FCFE to be approximately $8.86 billion.
Then, I worked with some very straightforward data. I assumed that the growth rate for the next five years should be half of the CAGR achieved so far (including my 2018 forecasted results). Hence, I used half of the 92% CAGR in Net Income as the growth rate for the first stage. I think it's reasonable only to use half that figure because if we don't, we might set the bar incredibly high for DESP and therefore render the valuation useless. This way, it's a realistic prospect that doesn't sandbag the company's potential either.

Source: DESP's 2017 annual report (see link above) and author's calculations and 2018 forecast
Furthermore, since DESP doesn't have a beta coefficient yet, I used ARGT's (Argentina's ETF) beta of 1.25 instead. The risk-free rate for this valuation was the Argentinian 10-year bond yield of 6.22%, and an equity risk premium (ERP) of 11.42%. Afterward, for the growing perpetuity phase, I assumed twice the payout ratio and only a third of the growth of the initial growth phase.
I'm aware these assumptions might be a little arbitrary, but for any valuation, we have to make some suppositions after all. It's important to note that these valuation axioms are fundamental to the result. Nevertheless, in my opinion, they're fair and reasonable and make justice to DESP's prospects.

Source: Two-stage PE formula derived as explained above.
The figure above shows the formula I'll use to calculate the estimated PE ratio for DESP's earnings. The calculations are simple but can get a little too tedious to explain step by step. Nevertheless, by replacing the data, as I detailed above, you'll arrive at the following results. I'll apply the resulting PE multiple to DESP's Net Income for 2017 of $42.3 million.

Source: Author's calculations
From there, I only have to divide the estimated fair value of DESP by its shares outstanding. In 2017, this figure was 61.457 shares (number obtained from the 2017 annual report). This results in a fair value of $18.24 for DESP's shares, which would represent a potential downside of 17.09% (calculated vis a vis the company's June 14, 2018, share price of $22).
I also applied the same valuation technique for each of DESP's reporting segments (Air and Packages, Hotels and OTP). Naturally, these two segments have different growth rates which yield slightly different valuation results, but still in line with the previous figure. In the interest of time, I've compiled for you these results in the following graphic: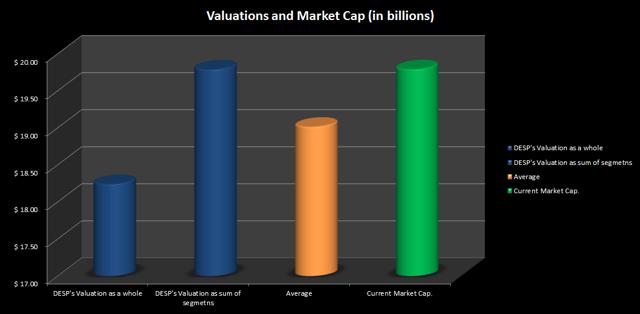 Source: Author's calculations
Conclusion
Despite the recent sharp selloff in Despegar.com's shares, the publicly traded equity appears to be at (or slightly above) fair value. This would indicate that there's little potential upside for investors in DESP.
Although the business seems to be exciting and firing on all cylinders, its pricey valuation makes it unattractive at current levels. For this reason, I think it's better to pass up DESP's shares at this time and look for other opportunities. Maybe in the future, the company's equity will trade at a cheaper price to grant an investment.
Thank you for reading and good luck in your investments.