TechTarget (NASDAQ:TTGT) has better than tripled in the last year - and doubled so far in 2018. The key driver has been the company's IT Deal Alert "purchase intent" offering, backed by confidence toward IT spending more broadly.
The optimism makes some sense: indeed, ITDA was the key reason I bought TTGT shares a little over a year ago. But the gains seemed to outpace the company's results. I, in fact, sold my shares back in December at $14, seeing a strong run nearing an end.
Even after a strong Q1 report (pdf), the valuation here looks awfully stretched. Growth is impressive, but this remains a stock valued at 26x EV/EBITDA and 6.5x EV/revenue - even at the high end of updated 2018 guidance. And the irony at this point is that it looks like it's going to be the legacy lead-gen business - what TechTarget calls its "Core" segment - that is going to have to support the valuation if TTGT is going to show any more upside.
IT Deal Alert
IT Deal Alert is based on the immense amount of data that TechTarget generates. TTGT operates over 140 websites, including Bitpipe, ComputerWeekly, a number of review sites, and other niche-focused offerings on techtarget.com itself. Those sites, in total, have nearly 20 million users.
So deep is the user base that TechTarget has data from specific buying teams at companies around the world. And at this point, it actually can discover, through that data, which buyers are looking for which products at which times. That's obviously hugely valuable information. TechTarget delivers the data in a form which can be integrated into CRMs like Salesforce.com, and partnerships with smaller firms HG Data and DiscoverOrg augment the proprietary data.
It's a product that's obviously attractive on its face, and its growth has been spectacular: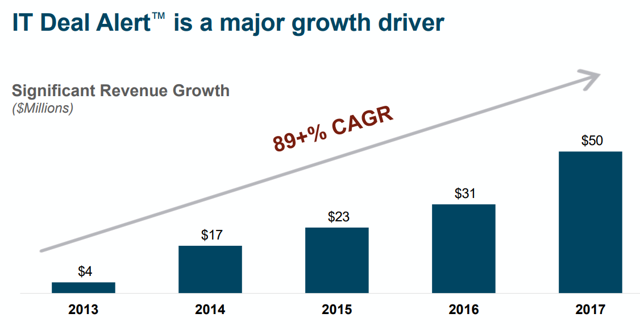 Source: TechTarget May presentation
Indeed, the performance appears to have outpaced even management's expectations. Just a year ago, the company had a 3-5 year revenue target for ITDA of $80-120 million. That's been bumped up to $120-140 million, per the above-linked presentation.
Nothing in Q1 seems to do anything to change the outlook here. Revenue in the segment grew 31% year over year in the quarter. Priority Engine (a subscription-based part of the ITDA offering) sales doubled, as TechTarget continues to move toward more recurring revenue (with a target of 40%, against sub-20% a year ago). International revenue rose 64%. The overseas opportunity here looks to be a significant mid-term driver, with that revenue still roughly a quarter of TTM revenue against ~40% in the Core business. Customer count rose to 600-plus against 450+ a year ago, and there still seems to be plenty of room for improvement on that front, both domestically and internationally.
All that said, I'm not sure the outlook for ITDA really has changed that much over the past twelve months - or even so far this year, during which time TTGT has doubled. The 31% growth in Q1 was a deceleration from a 58% rate in both Q4 and full-year 2017. CEO Mike Cotoia said on the Q1 conference call that the growth rate in ITDA was "in line with what we had expected". That's good news, but whether it's enough to support 30% just since the earnings report on May 9 seems a bit questionable.
Again, ITDA is an extremely attractive product and a huge opportunity for TechTarget. It's almost certainly going to drive over half of total revenue this year, a proportion that should only increase going forward. TechTarget management seemed more optimistic toward IT spending on the Q1 call, which should help demand. Cotoia pointed out in the Q&A of the call that the GDPR could present a tailwind for TechTarget, since its base data is fully owned, and fully opt-in. The CEO said the regulation was a "short-term negative", but longer-term "a big competitive advantage for us".
The question is at this point whether even torrid success for ITDA already is priced in. And both the price of the stock at the moment and the nature of TechTarget's business mean that the Core segment is going to have to do its part as well.
Core
The news for the Core business seems a lot better in Q1, with a 5% y/y increase. On the heels of two tough years - a 16% decline in 2017 and a 15% drop the year before - the growth seems like a step in the right direction. That's doubly true after a -3% print (including growth in North America) in Q4.
Per the call, a big part of the improvement is coming from the fact that the 10 largest customers are getting back to normal after a number of M&A deals and restructurings. The headwind from a strong dollar has moderated as well. Cotoia said the 5% growth in the quarter was "primarily attributed to the global IT vendors". And he raised the possibility of upside to guidance if IT spending accelerated in the second half, while admitting "it's not a 'light switch' as of right now".
Meanwhile, there's also been a "halo effect" on Core, with customers beginning to switch back and forth between the two categories - and even now moving to subscription programs.
Certainly, the news is better. But a bit of caution is required for several reasons. First, it's one quarter, and the comparisons are rather easy. TechTarget has generally framed the weakness in the Core business as being due to the choppiness from larger companies. But revenue in core still dropped 27% over four years, including a 29% decline in North America. That provides an obviously low bar to clear in terms of Q1 growth, and the 5 point boost "primarily" from larger customers also shows that there's more going on here than just customer M&A and cost-cutting.
Secondly, TechTarget has been overly optimistic toward Core in the past. 2016 consolidated guidance missed badly, and the company actually modestly underperformed initial projections last year as well. Given the strength in ITDA, it's Core that's been the cause. And, third, the company actually has pulled down its expectations already, with the 3-5 year target range dropping to $75-100 million from a previous $80-120 million.
Even that new range seems somewhat optimistic, suggesting a minimum 5% CAGR over five years from last year's $59 million to the $75 million low end. But increasingly, it looks like the Core business is going to have to hit those targets. TechTarget's bull case is based at least part on its attractive incremental margins, cited at 50-60% on an EBITDA basis. A lack of growth in Core undercuts those margins.
And unlike other two-segment businesses, TechTarget can't cut costs to boost margins in the lower-growth segment. The content being monetized in Core is the same content creating the purchase intent data. And at the end of the day, that Core business still seems to have problems beyond the short-term hiccups among a few customers. The long-term trend remains negative. But at this valuation, that's going to have to change.
Valuation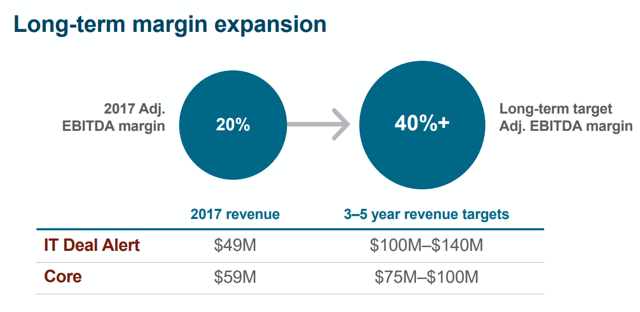 Source: TechTarget May presentation
Taking the high end of the company's targets, revenue would reach $240 million. At a 40% EBITDA margin, EBITDA would near $100 million. Assuming cash flow is kept on the books, a 15x multiple likely leads to a market cap of around $1.5 billion and a $50 share price. That's a 15% annualized return if TTGT can get there in four years, and suggests current fair value around $37 at an 8% discount rate. A low-capex model admittedly helps the case here: in this model, TTGT is valued at a low 20s P/FCF, which is more reasonable than a 15x EBITDA multiple might sound.
But that's a scenario where an awful lot goes right. ITDA grows revenue 25% a year. That's perhaps not unrealistic; what seems like a bigger stretch would be a 14% CAGR for Core sales. And it's worth noting that if Core stalls out, the model starts to fall apart. With zero Core growth, $200 million in 2021 revenue probably gets EBITDA closer to $75 million, as the 50%+ incremental margins on Core aren't realized. Free cash flow is ~$50 million (maybe a touch higher); low 20s P/FCF and mid-teens EBITDA suggest an enterprise value of $1.1 billion or so, a market cap of $1.2 billion, and a share price around $40.
That's about a 9% annualized return. And it's a scenario where ITDA still basically realizes its immense potential; in fact, it hits the high end of projections a year sooner than projected.
It's possible that ITDA could outperform. TTGT could still merit a high-teens EBITDA/mid-20s free cash flow multiple next decade, as high as that seems, particularly with Core dipping below 30% of consolidated revenue. But it seems a huge stretch to see any alpha here without Core truly being back on track from a multi-year perspective. Again, there don't appear to be material cost savings that can be taken if Core disappoints without impacting ITDA.
Again, ITDA is a hugely attractive product. But at 26x EBITDA, ~40x earnings, and 6x+ revenue, anything less than expectation-smashing performance isn't enough to move TTGT materially higher on its own. The Core business has to contribute as well. And while 2018 may be a rebound year on that front, Core actually has to get to new highs. Barring a huge shift in IT spending growth rates, I'm not sure how that happens. And if that doesn't happen, I'm skeptical there's much, if any, upside left in TTGT shares.
Disclosure: I/we have no positions in any stocks mentioned, and no plans to initiate any positions within the next 72 hours. I wrote this article myself, and it expresses my own opinions. I am not receiving compensation for it (other than from Seeking Alpha). I have no business relationship with any company whose stock is mentioned in this article.