With the U.S. economy firing on all cylinders, it's hard to find a reason to expect anything other than continued strength in the months ahead. Unemployment continues to shrink and consumers have shown an increased willingness to spend more of their discretionary income despite rising fuel costs. Many observers are wondering if perhaps the economy is priced to perfection and therefore vulnerable to a setback. As I'll argue here, however, the weight of evidence points to continued strength and even more recovery among U.S. middle class consumers.
A growing collection of positive economic numbers was highlighted last month by the news that the U.S. unemployment rate fell to an 18-year low. This has sparked some concern that inflation may become more of an issue, although there is certainly no evidence of that as yet. If anything, inflation pressure remain subdued as wage growth has been slower than anticipated while the U.S. dollar continues to strengthen. The strengthening dollar is a bonus for U.S. consumers in that it augments their spending power.
There are a number of indicators which suggest that the position of U.S. consumers is as strong as it has been since before the Great Recession. The New Economy Index (NASDAQ:NEI) is shown below and is one such piece of evidence which points to a powerful upward trend in consumer spending. The NEI is an average of the leading U.S. consumer retail and business service stocks, including FedEx (FDX), Amazon (AMZN), WalMart (WMT), Kforce (KFRC), etc. These stocks not only reflect the current spending trend among consumers but also to a degree the positive employment situation. A rapidly rising New Economy Index has been a reliable sign of retail economic strength since I created this index in 2007. As you can see here, it has just made another all-time high and appears to be going vertical.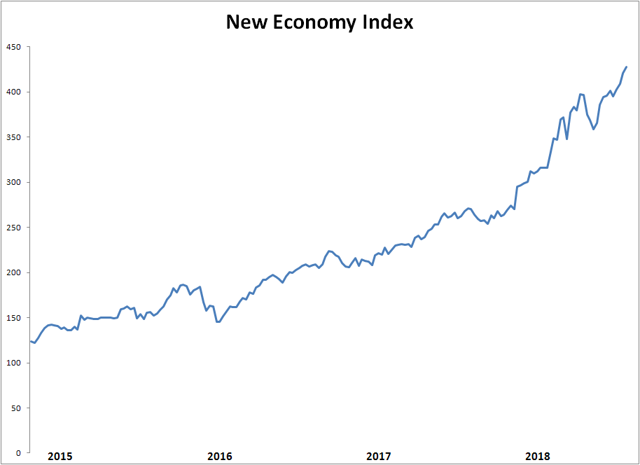 Source: WSJ
The fact that NEI has taken on a parabolic appearance of late would naturally lead some investors to surmise that perhaps the underlying stocks in this index have become overheated and overbought on an intermediate-term basis. While that may (or may not) be true, our primary focus here is the economic momentum reflected by this incredible chart pattern shown above. What the NEI is telling us is that we have no reason to expect an imminent setback in the U.S. economy given the powerful levels of spending by both small businesses and individual consumers.
In particular, one of NEI's individual components is worth highlighting. The stock performance of Kforce (KFRC), a professional staffing agency, suggests that the employment outlook is vastly improving. Shown below is the KFRC daily graph which needs no explication as to its impressive showing of recent months.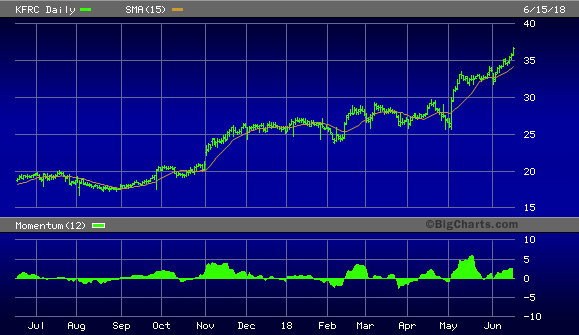 Source: BigCharts
The next chart exhibit shows the trend of the Middle Class Index (NYSE:MCI). This index is also comprised of several leading stocks which cater primarily to the middle class, including Kroger (KR), Dollar General (DG), J.C. Penny (JCP), and Ford (F). This index is a useful proxy for determining how much spending is being done in the aggregate by consumers in the $40-$80K per year earnings bracket.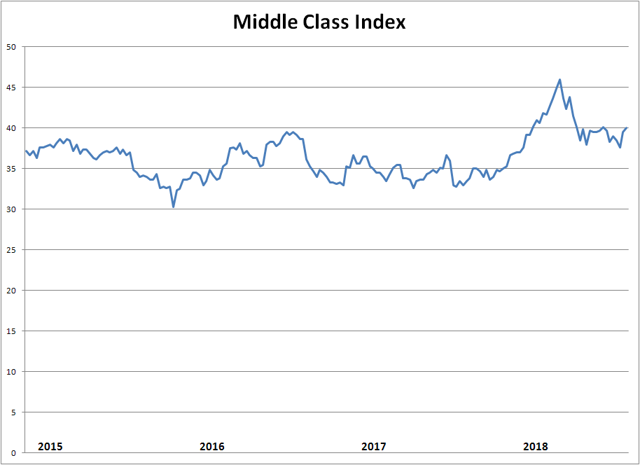 Source: WSJ
When we look at the MCI we see that for the last few years the index has mostly trended sideways. This is consonant with the findings of many economic researchers which point to a degree of stagnation in the middle class since the Great Recession. However, what we can say about the MCI this year is that it's clearly trying to break out of this lateral range. Indeed, MCI made a new high earlier this year and is still well above its trading range lows from previous years. This implies that the middle class is slowly making some headway on the earnings and spending front, although not nearly to the degree of the upper class or the upper middle class as we'll discuss below.
The Upper Middle Class Index is the next component of my market-based economic indicators. This index is composed of several leading publicly traded companies whose clientele is primarily upper middle class, i.e. consumers who make between roughly $100-$250K per year. This includes Ruth's Hospitality Group (RUTH), Starbucks (SBUX), BMW (OTCPK:BMWYY), and Apple Inc. (AAPL).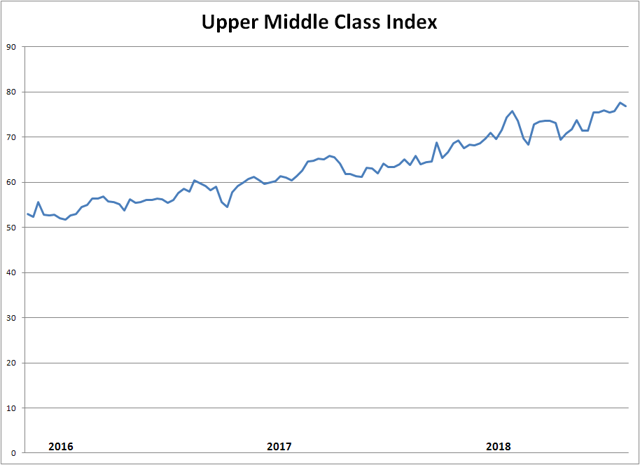 Source: WSJ
As the above graph illustrates, the upper middle class have done quite well in the last two years. The upper middle have certainly been on a spending spree if the companies which cater to them are any indication. The upward trend in the Upper Middle Class Index began accelerating shortly after last year's tax cuts. Since upper middle class spending accounts for a substantial portion of U.S. retail sales, the forward momentum reflected in this index points to further gains ahead for the economy in the coming months.
By far one of the best indications of the strength of the domestic economy is the strength of the U.S. dollar index (DXY). The intermediate-to-longer-term trends in the dollar can be considered a barometer of the overall strength or weakness of the economy with a strong dollar indicative of a strong economy due to the increased purchasing power for both domestic businesses and consumers. As the following graph illustrates, the DXY is at a high for the year as of mid-June and has been fairly consistent in confirming the growth in both business confidence and consumer confidence.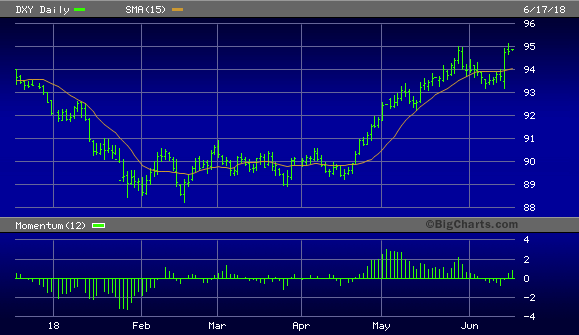 Source: BigCharts
Speaking of confidence, it's worth noting that the National Federation of Independent Business (NFIB) May survey of small business conditions revealed a significant increase in the percentage of businesses reporting higher minus lower earnings over the past three months. The latest result represents the second highest level in small business optimism in the NFIB survey's 45-year history. Positive sales trends moreover reached their highest level since 1995, according to NFIB. Clearly then small businesses are already seeing the benefit of several important positive economic trends, including a stronger dollar. The increase in small business optimism is a powerful sign that economic growth isn't illusory but is truly being felt on all levels of business. When smaller businesses are performing well, the economy can truly be said to be on a sound footing.
In light of the strong U.S. economy and the prospects for more growth in the months ahead, investors should continue to lean bullish. Investors should also focus primarily on a domestic stock strategy while eschewing the emerging markets. The U.S. stock market is where the action will be in the coming months and a rising economic tide will only serve to further bolster the already prodigious strength of the equity bull market. I recommend in particular that portfolios continue to be weighted heavily in favor the tech sector and Internet and e-commerce stocks in particular, as well as the retail sector.
Disclosure: I am/we are long XLK, HACK, IYR.
I wrote this article myself, and it expresses my own opinions. I am not receiving compensation for it (other than from Seeking Alpha). I have no business relationship with any company whose stock is mentioned in this article.
Editor's Note: This article discusses one or more securities that do not trade on a major U.S. exchange. Please be aware of the risks associated with these stocks.