My daughter used to be uncanny at finding money. We'd be walking through a parking lot or on a sidewalk or in a field, and she would look down and gleefully exclaim: "Hey ... there's a 5 dollar bill!" Over the years, she found a few $20s, some $10s and lots of $1s. She once even found a $2 bill!
I'll bet that between the ages of 4 and 18, she found several hundred dollars. She was like a human divining rod ... except she located dough-re-mi rather than H2O.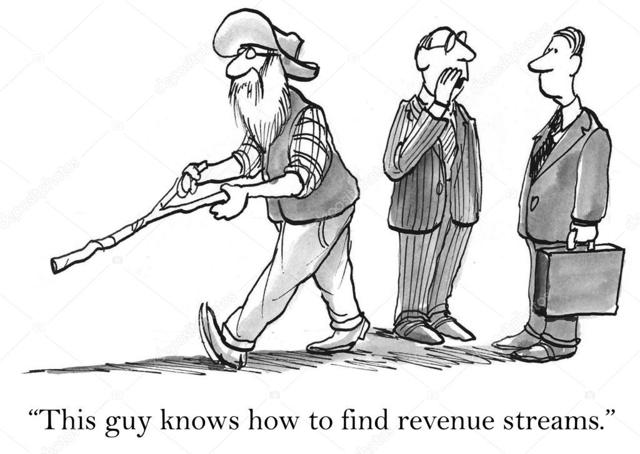 (Comic from depositphotos.com)
As amazing as this skill of hers was, she never once found $25,000 ... which is the kind of cash I have asked 13 Seeking Alpha regulars to imagine they suddenly found for investing purposes as part of our latest collaborative project:
If you had $25,000 to invest TODAY on one company and you planned to hold it for 10 years or more, which company would you buy? Why?
The panel includes respected contributors Adam Aloisi, Dividend Sensei, Eddie Herring, Eric Landis, Julian Lin, RoseNose, ScottU, Nicholas Ward; noted blogger Buyandhold 2012; and knowledgeable commenters kolpin, Paul Leibowitz and scoots.
In Part 1 of this series, you can see their answers to Question 1: If you could only own one company in your portfolio and you were buying it today, which would it be? Why?
Question 2 has subtle differences, with the main one being the time component. Theoretically, those investing in their Q1 selections could turn around and sell them in a few months (or less). Q2 all but mandates that the chosen companies be held for at least a decade.
As was the case with Question 1, I gave the panelists very few guidelines because I wanted each to interpret Q2 in his or her own way. My sole rule was that he or she had to choose a common stock (not an ETF, mutual fund or preferred shares).
Let's get right to how they answered the $25,000 Question. Following the table, each panelist explains his or her selection, and then I close with a few observations.
COMPANY

PANEL

YRS

YLD

5DG

PRICE

M*FVE

AbbVie (ABBV)

Rose

6

3.8%

19.1%

$99.98

$99

Alphabet (GOOGL)

Julian

NA*

NA*

NA*

$1,146.95

$1,200

Apple (AAPL)

Eddie, Nicholas

6

1.5%

10.9%

$193.98

$175

Becton Dickinson (BDX)

kolpin

46

1.3%

9.8%

$231.61

$225

Enbridge (ENB) -

(via Spectra Energy (SEP))

DSensei

22

(12)

6.7%

(9.9%)

10.5%

(8.0%)

$30.97

($30.27)

$50

($48)

Grupo Aeroportuario del Pacifico (PAC)

Ian

3

4.6%

6.9%

$84.11

$106

Johnson & Johnson (JNJ)

Paul

56

2.9%

6.7%

$122.79

$130

Nutanix (NTNX)

Adam

NA*

NA*

NA*

$56.20

NR**

Tencent (OTCPK:TCEHY)

scoots

4

0.2%

34.2%

$54.67

$82

UnitedHealth Group (UNH)

B&hold

8

1.4%

29.2%

$248.65

$190

Visa (V)

Eric, Scott

11

0.6%

22.8%

$136.28

$122
(Key: YRS is consecutive years of annual dividend raises; YLD is dividend yield. 5DG is annual dividend growth over the last 5 years; PRICE is as of market close 6/6/18, which was the deadline assigned to the panelists; M*FVE is Morningstar's Fair Value Estimate. *Alphabet and Nutanix do not pay dividends; **Morningstar had no rating for NTNX.)
As you can see, two panelists each selected Apple and Visa, and I'll present those comments first. After that, I'll turn things over to Dividend Sensei, who thoroughly explains why two companies are listed for him in the above table.
We'll then work our way through the panelists' suggestions, including several interesting, outside-the-box candidates for further research.
Apple Of Their Eyes
Eddie Herring on Apple:
I also chose AAPL as my Question 2 answer when we did this exercise back in 2015. My answer is the same because my reasons are the same.
I tend to have the same point of view as Warren Buffett when he said, "Lethargy, bordering on sloth remains the cornerstone of our investment style." Simply put, I'm a Dividend Growth Investing practitioner, and I want income growth. I don't "actively trade"; I invest and let the investments stew.
If I'm buying it today, then I have to know that it's a good value today; based on its earnings, AAPL is still at a decent valuation. Apple, Mastercard (MA) and Raytheon (RTN) all have been very good to me, but I consider MA and RTN overvalued.
This selection isn't really a hypothetical for me. My largest position is AAPL, at 7.5% of my portfolio. Put simply, I eat my own cooking.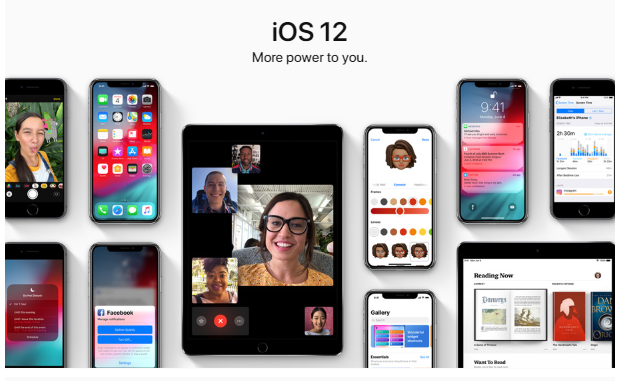 (Photo collage from Apple.com)
Nicholas Ward on Apple:
When thinking about the one company I feel most comfortable buying and holding blindly for a decade, the answer is clear. AAPL is my largest single stock holding, making up about 8.5% of my portfolio. As a younger investor, I manage my portfolio with a multi-decade horizon in mind, so it only makes sense to name my largest holding as my choice for Question 2.
I was a bit uncomfortable naming a company trading near all-time highs for this pick. A decade is a long time, however, and assuming that AAPL continues to grow as I expect, today's valuation will mean little 10 years from now. What's more, when you subtract cash from the share price, AAPL is trading at about 10x earnings, which is still quite attractive.
In a decade, the company's active device count could be well over 2 billion, counting phones, wearables, and whatever other devices innovation has led to by 2028. This massive user base should serve as a long runway for the high margin services business for which AAPL is just starting to get recognition. To me, this isn't a story about the iPhone, but instead, its installed user base and the cash flows generated by that ecosystem.
Not only do I suspect that Apple will continue to post solid growth over the next decade, but I think it will continue to return hundreds of billions of dollars to its shareholders. I wouldn't be surprised if AAPL's annual dividend in 2028 is nearly $8.00 a share (representing a yield on cost of over 4% at current prices). I also wouldn't be surprised if the company reduces its outstanding share count by 30-40% over the coming decade. It's hard to lose when you're receiving such generous rewards as a shareholder.
Everything They Want It To Be
Eric Landis on Visa:
Considering we are looking at a much longer time frame with this question, I'm not as concerned about valuations but am looking more for a secular growth story. One of my favorite sectors for continued strong, secular growth is payment technologies.
The world continues to transition from a cash economy to a digital one, and Visa is at the forefront. People often mistake Visa for a financial company, but in reality, it is a technology company because it doesn't have any credit risk with the transactions; it simply offers the technology and platform for those transactions to be made.
Since Visa is the middle-man and takes a small fee for each transaction, it gets all the benefit of the growth in credit transactions, but it doesn't have the risk of consumer defaults in a recession. It also has limited capital expenses to grow those transactions, resulting in high margins on growing revenues. Simply put, there just aren't many businesses around that offer operating margins of 65%+ along with double-digit annual revenue growth.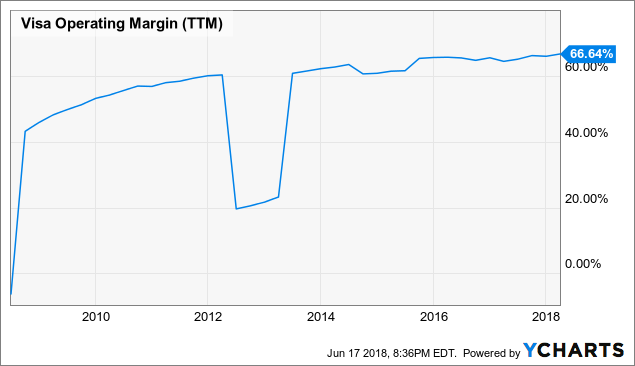 Visa also has a solid balance sheet and strong cash flows, letting it make deals to further supplement growth, as evidenced by the Fraedom, CardinalCommerce, and Visa Europe acquisitions in recent years.
Shares aren't cheap at 30X 2018 estimates, but with a 10-year holding period, I think it's worth paying for the type of growth Visa provides. Visa has grown earnings at a 15%+ rate in 9 of the last 10 years and is expected to continue growing at a high-teens rate going forward.
Mastercard, PayPal (PYPL), and Square (SQ) also could be worthy picks for long-term growth in the sector.
ScottU on Visa:
As was the case when I participated in the 2015 collaborative project, my choice again came down to Visa and Mastercard. And again I chose Visa.
Visa's growth projections are not nearly as high as Mastercard's, but the premium paid for the shares is also not nearly as high. Visa trades at a P/E ratio of roughly 34, and at 30X 2018 full-year estimates. Bank of America Merrill Lynch estimates growth at 19% over the next 5 years and consensus earnings of $5.26 in 2019. Using consensus earnings and a 30 P/E ratio, the shares end up at $157.
Visa isn't a stock for everyone due to its 0.6% yield, but the growth of that dividend has been spectacular.
Buy One, Get One Free(ish)
Dividend Sensei on Enbridge via Spectra Energy Partners:
Enbridge, a future Dividend Aristocrat, is the single best low-risk, high-yield dividend growth investment opportunity ... not just of today, but that I've seen since the financial crisis. A big part of the reason is its impending merger with Spectra Energy Partners (NYSE:SEP).
The midstream bear market - created by a combination of the worst oil crash in over 50 years, rising interest rates, a stock market correction, and most recently, the FERC rule change - has crushed midstream stocks. But ENB will be a long-term winner.
Enbridge is a C-corp that is buying out its MLPs, which will increase its distributable cash flow, strengthen its balance sheet (already among the strongest in the industry), and keep its dividend growing at 8% to 10% over the next decade. The company has an $18 billion backlog of projects that it will complete by 2020, and those are now fully funded.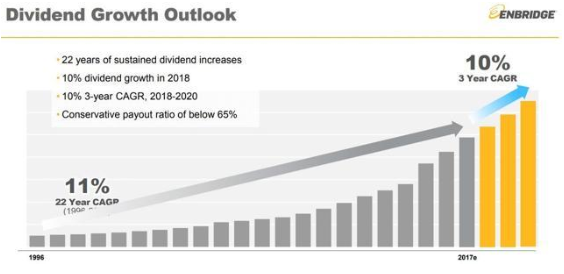 (Enbridge graphic)
Beyond 2020, ENB will be retaining about $5.5 billion to $6 billion in annual cash flow (after paying the dividend) with which to fund its shadow backlog of projects - potentially $30 billion in wide-moat assets for which management hasn't yet obtained firm contracts. America's energy boom is expected to continue for decades and require up to $900 billion in new midstream infrastructure, so Enbridge has plenty of growth runway left.
Best of all, at just 7x forward cash flow, Enbridge is trading at Depression Era valuations. It's the fattest pitch I've seen since the financial crisis and my strongest low-risk, high-yield conviction buy.
I'm currently doubling down on Enbridge in a big way ... via buying more of Spectra Energy Partners not once, not twice, but thrice over the past month.
Why buy SEP instead of ENB directly? Because when the merger is complete later this year, for each unit of Spectra I own, I'll get 1.01 shares of Enbridge. And because Spectra is trading at a 2% discount to ENB, this is like getting ENB at a 3% discount.
Even in a worst-case scenario in which the ENB-SEP deal falls apart for whatever reason, SEP is a low-risk blue chip with a well-covered dividend ... and I'd be happy to own it for 10 years, too.
Let's Talk Tech
Adam Aloisi on Nutanix:
Back in 2015, I chose to play the "$25,000 Question" safe with Berkshire Hathaway (BRK.B). Although that company has done well compared to the overall market, my forward-decade confidence in BRK.B is slightly lower now compared to 3 years ago. So this go-around, I'm taking a more aggressive approach.
The aggressive investor, in my opinion, should be looking squarely at technology. As I've noted in my writings through the years, society is on the precipice of a "Jetson's economy," one dominated by personal wireless devices, robotics, artificial intelligence, virtual reality, the cloud, and the catch-all "Internet of Things."
In a recent article, I pondered how much tech a DGI practitioner should own - and I noted that the sector's S&P 500 weighting has advanced 5-fold over the past 25 years. While investors clearly became overly bullish during the late '90s tech bubble from a pricing perspective, they did not miss the boat in terms of forward sector sentiment.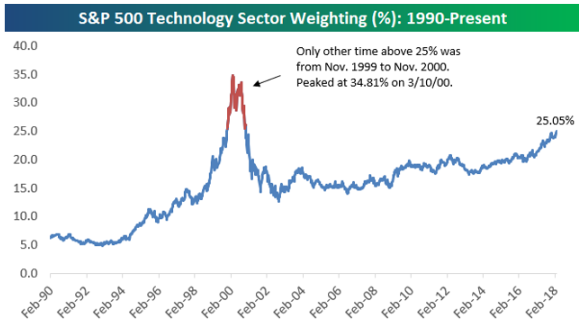 (Bespoke Investment Group graphic)
Even now, investors with longer-term time frames simply cannot ignore the continuing ramp of technological innovation as a ubiquitously disruptive economic element. With renewed near-term optimism, however, tech stocks are generally not cheap, with many possessing speculative characteristics. Still, it might be argued that picking a pricey, yet strategically oriented tech stock is a better alternative than hoping for a recovery from today's omnipresent 4% yielding consumer-products companies over the next decade.
So, my choice for this question is Nutanix, a software company geared toward optimizing an enterprise's cloud operations through "hyperconvergence" of IT infrastructure. The company is NOT profitable but does have revenues in excess of $1 billion, nearly 10,000 global customers, and a huge growth runway.
Given the speculative valuation, the stock could conceivably drop 50% at any point. Still, this company is on the cutting edge of where the business world is headed, and it should rise exponentially over the next decade. While I do not currently own shares, I'm sitting on January 2019 calls with a $30 strike.
NTNX will have limited appeal to conservative investors, but it's representative of general technological advancement that is improving the way that businesses operate and society functions. So philosophically, I'd see my Nutanix call as less about the choice of one company and more about the notion that investors should be making concerted decade-long commitments to continued technological disruption.
Julian Lin on Alphabet:
I chose GOOGL for both questions because it is my top pick for the short and long term. It's a high-quality growth story trading at attractive valuations.
I extensively explained my reasons for choosing GOOGL in Part 1. As for large-cap tech stocks in general, if you think they are in a bubble solely because of their size, I suggest you think again. You might be missing a diamond in bright daylight.
scoots on Tencent:
This giant Chinese company probably has the broadest scope of services in the world, especially for Millennials. Further, Tencent has a multitude of services for all of China, where it primarily operates, and for other areas as well. It is growing constantly, is diversifying broadly and is handsomely profitable.
WeChat, often referred to as the Facebook of China, is Tencent's "app for everything" and has more than 1 billion active users monthly. It provides social media, voice, video, text messaging, ride hailing and mobile payment. TCEHY also is the world's largest gaming company, and that is a lucrative industry in China.
Tencent, the highest-ranked non-American company among BrandZ's top 10 brands and one of the world's largest firms by market cap, has made great strides in advertising, artificial intelligence and the cloud.
As with my choice for Question 1 (Alphabet), TCEHY is a major player in "TIE" - Tech + Internet + eCommerce. And hey, there are really only two markets now: TIE and all the rest!
Tencent's fundamentals, business model, and potential for future growth justify its current valuation.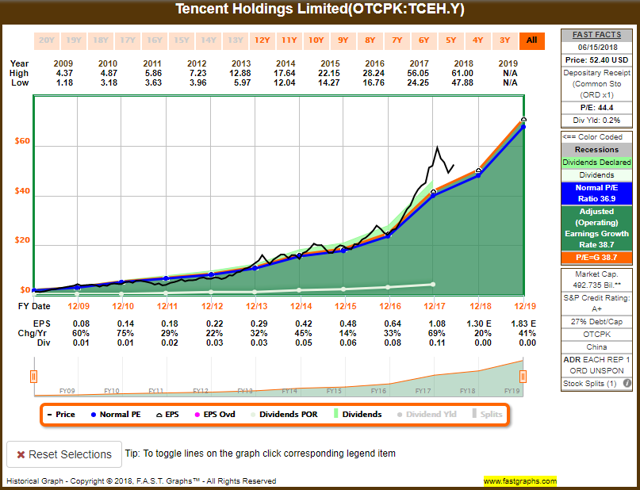 Analysts surveyed by Bloomberg estimate a long-term growth rate of about 32%. They predict revenue growth of about 51% for the year ending 2018, and 56% for the year ending 2019. Analysts covering TCEHY have recommendations of 18 Buy, 20 Outperform, and 1 Hold.
Tencent's stock price has gained an eye-popping 45,180% the last 14 years! It is up about 600% over the last 5 years, 168% over 3 years, and 54% over 1 year. However, analysts and larger buyers were perturbed that increased expenditures to build for the future reduced the company's margins in the most recent quarter, and TCEHY shares sold off before recovering the last month. Typically, whenever the company has gone through periodic dips in the past, it always has bounced back strongly.
Although its dividend is miniscule, this is precisely the type of stock I would be pleased to buy, throw in the drawer, benignly neglect, and come back a happy man 10 years later.
Here's To Health
RoseNose on AbbVie:
This company has performed superbly since being spun off from Abbott Laboratories (ABT) about 5 years ago. It has an excellent drug pipeline and future prospects, thanks partly to its acquisition of Pharmacyclics in 2015. ABBV's top-notch management realizes the debt load from that deal brought with it excellent revenue.
At $96, ABBV provides nearly a 4% yield; I consider that an attractive price to buy. I almost added to my position recently but I'm watching for a little further dip - I love bargains! An amazing 5-year dividend growth rate of 19% goes along with the earnings.
As much as I love JNJ in healthcare, I think ABBV will outrun it for earnings and growth for many more years.
kolpin on Becton, Dickinson:
As a self-described medical technology company, BDX occupies a sweet spot where safety intersects with growth. Or as some analysts have described it: "JNJ without the pharmaceutical business."
Over a 10 year+ time period, BDX is positioned to thrive in both bear and bull markets. A downturn in the economy would have little impact on the recurring demand for single-use supplies that BDX produces for hospitals, doctor's offices, life science researchers, clinical laboratories, and the general public (such as syringes, insulin needles, catheters, and IV tubing).
Whereas many other healthcare companies quake at the mere mention of Amazon (NASDAQ:AMZN) entering the healthcare space, BDX has little to fear because of its diverse array of higher-tech and higher-margin products (gene sequencing machines, IV machines, implantable heart devices, sophisticated orthopedics devices, anesthesia products, etc.). Exposure to emerging markets also lend to BDX's growth.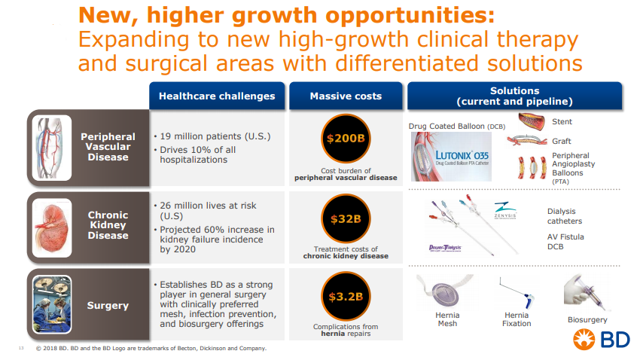 (Becton Dickinson investor presentation graphic)
BDX, which I think is fairly valued, recently made its largest acquisition ever - a $24 billion purchase of competitor CR Bard, which dramatically increased its revenues and whose integration most analysts have deemed a success.
Becton Dickinson has been in business for 117 years. It's a Dividend Aristocrat that has increased its divvy for 46 consecutive years, it generates positive and growing free cash flow with a payout ratio around 30%, and it's one of the most predictable companies in terms of meeting quarterly earnings expectations.
During the financial crisis, BDX suffered a drawdown of less than 24% - vs. 55% for the S&P 500 Index (SPY). During the dot-com crash, BDX actually gained 8% while SPY lost 45%.
Paul Leibowitz on Johnson & Johnson:
Deficit-financed aid from Congress is stimulating growth but will likely shorten the time to the next recession. Interest rates are rising. Should the recovery come to an end within the next 1-3 years, that's too short a time from now to then to gamble on overpaying. People delay buying new cars, why not new iPhones?
Key to my answer for Question 2 is the assumption that that this investment represents a large percentage or sole holding of someone's portfolio. In these later stages of our economic expansion (especially in view of my concerns expressed above), I recommend a safer 8-10% annual total return.
My pick is JNJ. My reasons for selecting the company were given in Part 1.
Buyandhold 2012 on UnitedHealth Group:
UNH seems to pop up on many lists as one of the best performing stocks over the past 25 years in terms of price appreciation and dividend growth.
The Beta is 0.76; not a volatile stock, which is good. Valuation-wise, the forward P/E is 20.
UNH has a 1.3% yield, but it has substantially outperformed SPY long-term. They say that a thing in motion seems to stay in motion. And the performance of UNH over the past 25 years has been great. Who am I to argue with success?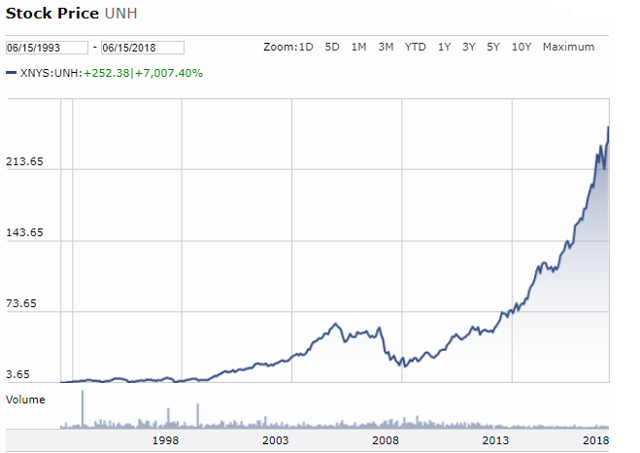 (Morningstar graphic)
By the way, I do not own either UNH or JNJ, the company I chose for Question 1. Why am I hesitating to buy them even though I know they are both great? Probably because I think the stock market is extremely high, and I may be able to buy both of them cheaper if I wait. Of course, I could be wrong.
A Flight To Growth And Income
Ian Bezek on Grupo Aeroportuario del Pacifico:
One of three US-listed Mexican airport operators, PAC has the best mix of airports, including a big city (Guadalajara), tourism focused spots (Los Cabos, Puerto Vallarta), and an important industrial airport (Tijuana). This is a great business for investors - essentially a monopoly in a sector of the economy that tends to grow at 3x the rate of GDP.
PAC as a particularly nice holding because it has a nearly debt-free balance sheet and pays out almost all of its free cash flow as dividends every year. Unlike most REITs, PAC has huge growth, with compounded 14% revenue growth and 17% free cash flow growth over the past 10 years. Not surprisingly, the dividend has more than doubled since 2012.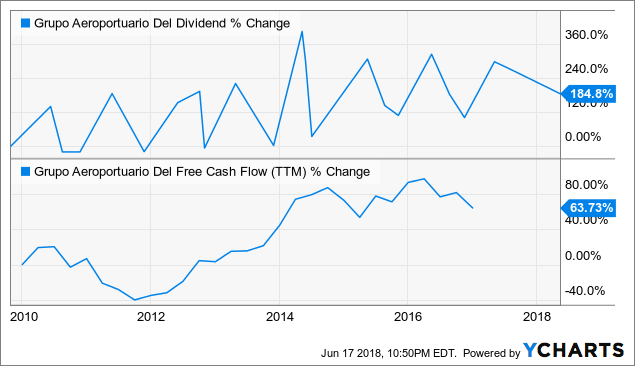 Do be aware that PAC's dividend aligns with its profits, so the annual payout isn't fixed. As long as the business keeps growing, however, dividends will follow.
Back in January 2017, I made PAC My Top Pick For 2017. It was trading at less than $75/share and went up to $120 within six months, but due to renewed NAFTA worries and a presidential election in Mexico, the stock is back in the $80s. That has the yield back at about 5% for a growing business with huge tailwinds from growing tourism, fast-growing Mexican discount airlines, and a rising Mexican middle class that will keep swapping buses for planes in years to come.
I expect the stock to move back up to $120 once the current political nerves pass, offering a nice near-term capital gain on top of the dividend.
Conclusion: My 8 Cents
I love the variety of these selections. Two companies that don't pay dividends at all, two others that yield well under 1%, three relatively high-yielders. Companies from China, Mexico, and Canada. Numerous sectors represented. And, of course, good ol' JNJ.
Most (but not all) panelists practice DGI in one form or another, and this exercise underscores my belief that there is room in just about any portfolio for a few "growthier" companies.
Nicholas has authored an article in which he expounds on his choice of Johnson & Johnson for Question 1 (HERE), and he says to expect an Apple piece soon. Other panelists also might use this project as a basis for articles; the best way to see their stuff is by following them.
Dividend Sensei's "buy this to get that" strategy is a first for any of the five collaborative efforts I've put together for Seeking Alpha. Very imaginative and interesting, and I'm glad he offered it.
Every time I do one of these, I come away thinking, "Hmmm, I really need to check into such-and-such company a little more to see if it's for me." This time, Ian's PAC, scoots' TCEHY and kolpin's BDX will put me into my due-diligence mode. I already have established that I want GOOGL; it's just a matter of determining the price I'm willing to pay.
I was mildly surprised that no panelist selected Berkshire Hathaway, Microsoft (MSFT), 3M (MMM) or Realty Income (O) for either question. Also, not a single utility was chosen.
Although it's human nature to want to "keep score," I can't say this strongly enough: This was not intended to be a contest.
I have been "volunteered" to write an article revealing my own answers to both questions, so look for Part 3 soon.
Disclosure: I am/we are long AAPL, ABBV, V, JNJ. I wrote this article myself, and it expresses my own opinions. I am not receiving compensation for it (other than from Seeking Alpha). I have no business relationship with any company whose stock is mentioned in this article.
Editor's Note: This article discusses one or more securities that do not trade on a major U.S. exchange. Please be aware of the risks associated with these stocks.