Welcome to the EIA DPR Edition of Oil Markets Daily!
Summary
EIA released its highly anticipated monthly drilling productivity report (DPR) today, and there were a few big changes to note.
For one, we made a positive upward revision to US oil production growth from 2018 to 2020 to the tune of ~130k b/d.

Source: HFI Research
The interesting highlights out of this month's DPR was that growth from Niobrara is expected to surprise to the upside in 2018, while Bakken's well productivity continues to impress to the upside leading us to revise higher Bakken oil production growth.
Permian's production per well productivity metric moved lower, but most of the growth will still come from the Permian for the years to come.
For 2018, we expect the following shale basins to show oil production growth of:
Permian - 772.3k b/d
Niobrara - 128.9k b/d
Bakken - 122.5k b/d
Eagle Ford - 93.4k b/d
Anadarko - 86.7k b/d
In total, we expect US shale to grow oil production y-o-y by 1.2 million b/d. This would also align with our latest trued-up US oil production figure showing production closer to ~10.85 million b/d.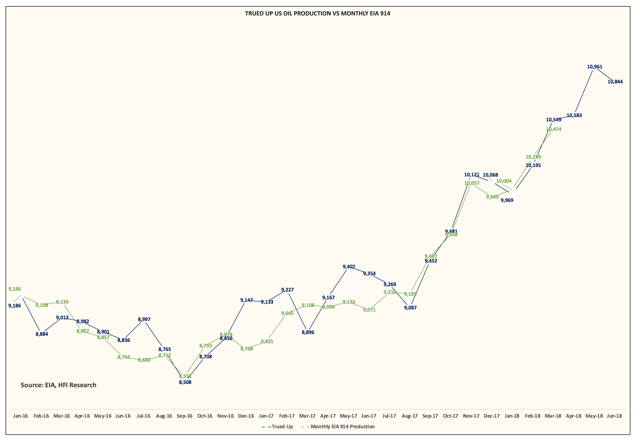 Permian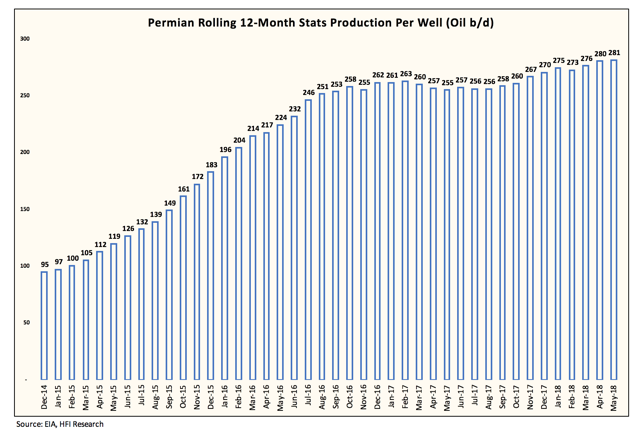 The latest EIA DPR pushed lower production per well from ~286 b/d to ~281 b/d. Nonetheless, well completions continue to rise for the Permian and so long as productivity remains here, Permian oil production will continue to grow: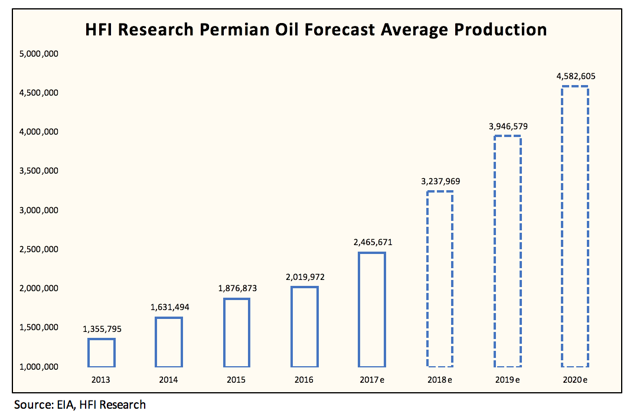 Increasingly, because of the elevated well productivity and increasing well completions rate per month, Permian takeaway capacity issues will become a serious problem by Q3 this year. Midland basin differentials have already widened, and we expect to remain wide going forward.
Operators have also started to echo a shift from the Permian to Eagle Ford, so overall US oil production growth may remain on track to reach ~11.2 to ~11.3 million b/d by year-end. The upside has already been modeled into our global oil supply and demand model, so it's the downside surprise everyone should focus on.
Eagle Ford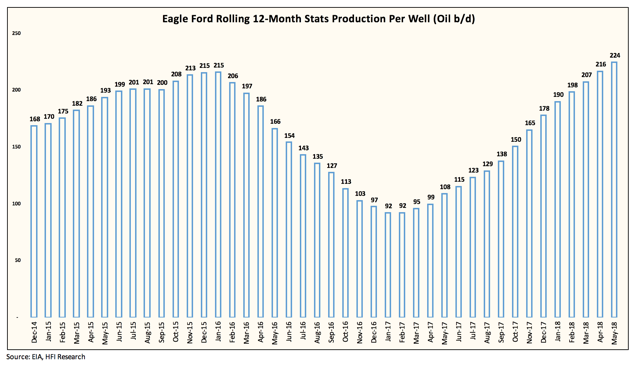 Well productivity continues to improve for the Eagle Ford. Alongside higher well completions, Eagle Ford production is expected to keep trending higher this year and the years after:
We expect it to average ~1.4 million b/d next year.
Bakken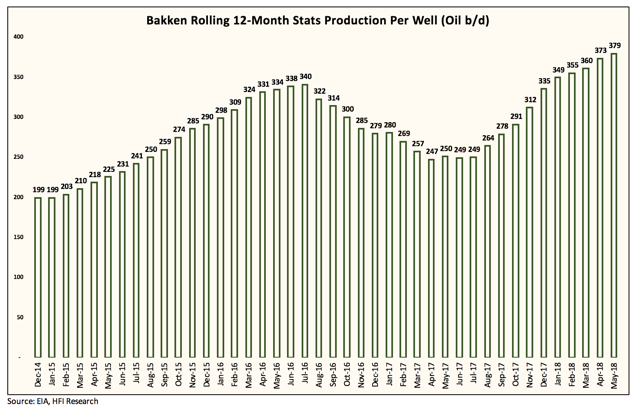 Bakken well productivity is also surprising to the upside. Bakken is now expected to show production growth y-o-y of 122.5k b/d in 2018. One thing we do want to note that is well completions per month have been rising, but albeit at a much slower pace than what we are seeing in the Eagle Ford and Permian.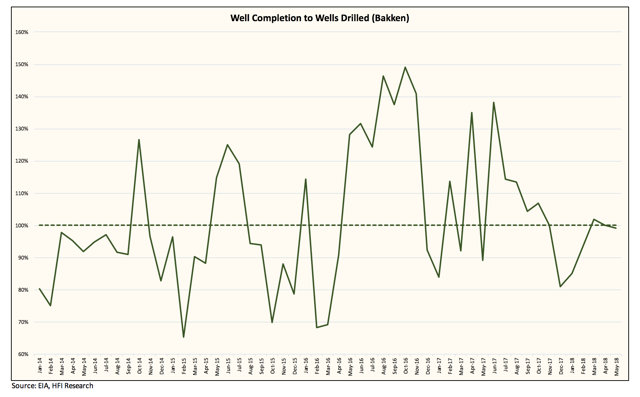 DUCs have also started to flatten out, so if Bakken was to show higher production growth, we would need to see it in the rig counts first.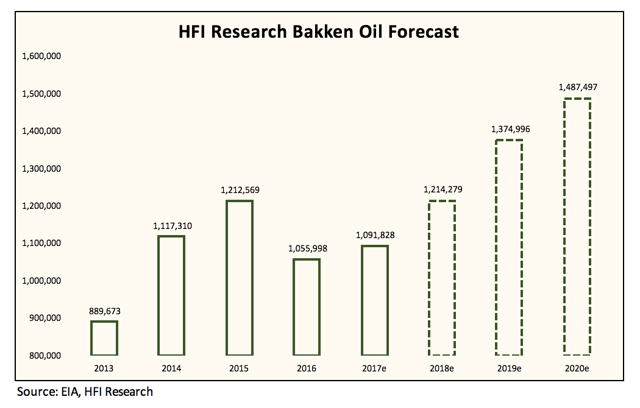 Niobrara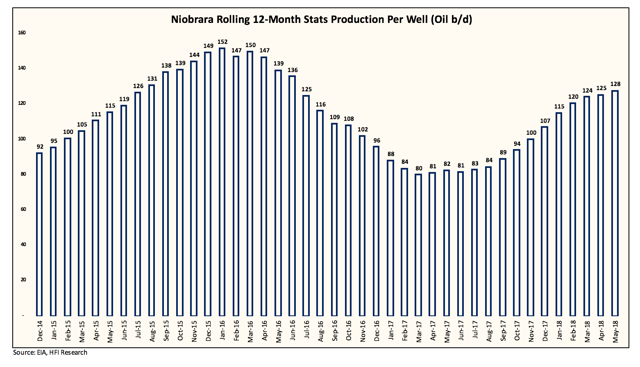 Niobrara is expected to provide the second highest oil production growth this year, but one thing to note is that operators are drawing down DUCs to obtain the growth: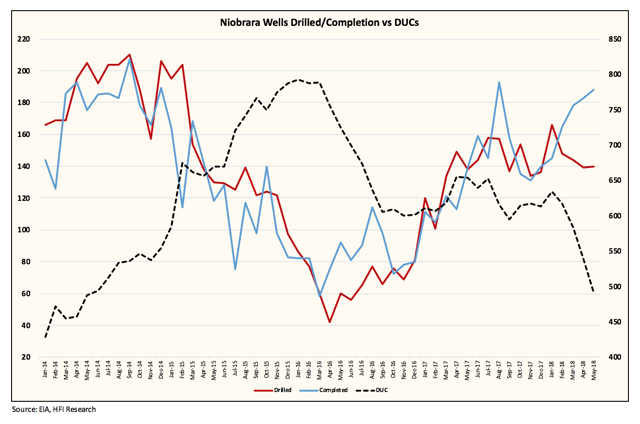 As a result, in order for this level of production growth to continue after 2018, we need to see the rig counts increase.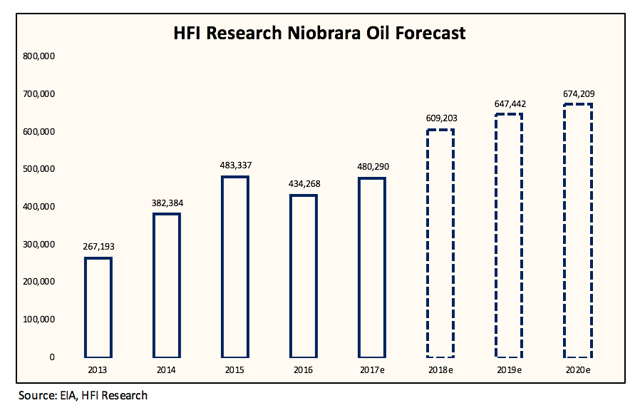 Anadarko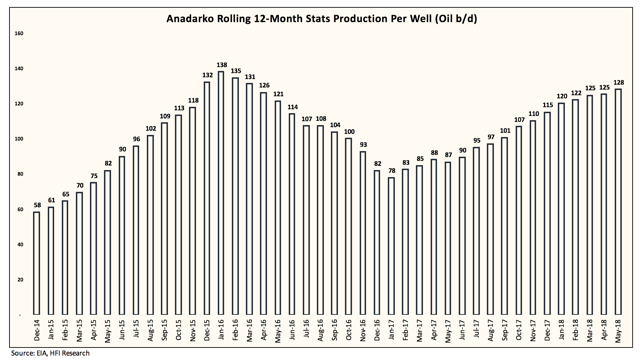 Anadarko production growth estimates slowed since our initial analysis at the start of 2018. Well completions have now surpassed wells drilled, and we are starting to see DUCs decrease.

In order for Anadarko to maintain the production growth we saw this year, rig counts will have to start rising.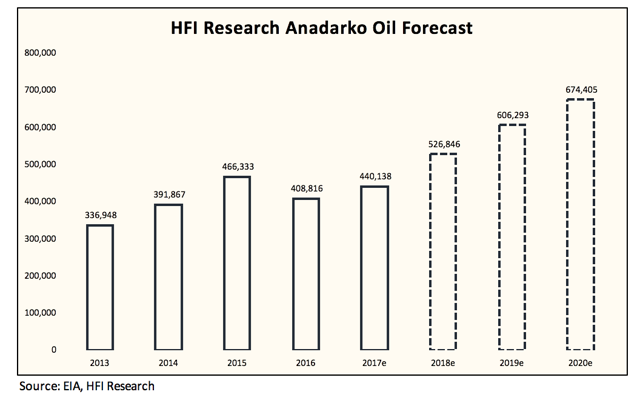 Conclusion
All-in-all, this EIA DPR confirms our assumption that US shale oil production growth has so far outpaced consensus expectations with the latest figure closer to ~10.85 million b/d or 2 months ahead of schedule. As for global oil supply/demand models, the higher growth from US shale has not deterred the bullish oil thesis given that we assumed +~1.8 million b/d y-o-y US liquids growth coming into 2018. Given that the latest data confirms our bullish US oil production growth forecast, there were no changes made to our model.
Disclosure: I/we have no positions in any stocks mentioned, and no plans to initiate any positions within the next 72 hours. I wrote this article myself, and it expresses my own opinions. I am not receiving compensation for it (other than from Seeking Alpha). I have no business relationship with any company whose stock is mentioned in this article.