Investment Thesis
May marks the third month that I have tracked Jane's dividend income from her Traditional and Roth IRAs. Unlike the taxable account, we did not start making significant changes to her retirement accounts until after the first of the year. Because of this, there were a number of stocks in her retirement accounts that didn't register their first dividend until April or May. Going forward, we should see a lot more consistency from the dividends produced in Jane's retirement accounts.
I've decided to write Jane's retirement review as a separate series than the taxable account because the approach we are using is slightly different than the approach used in developing the taxable account. The goal of this series is still to develop a database that allows for month-over-month, and eventually, year-over-year (YoY) comparisons that demonstrate the power and simplicity of dividend investing. In addition to documenting the past, I also like to forecast the upcoming month of dividends because I believe it helps keep expectations in check.
The primary difference between the retirement accounts and the taxable account is that there will be active trading done within Jane's retirement accounts. (I provide examples and explain this part of the strategy more clearly later in the article). Active trading in the retirement accounts will help shield her from capital gains.
As always, I would like to include a disclaimer that this article is based on an actual portfolio for a client of mine and that all figures and trades stated in this article actually took place (unless otherwise noted).
Dividend And Distribution Increases
It's worth noting that two of the four companies that paid increased dividends in the month of May, Clorox (NYSE:CLX) and Tanger Factory Outlet Centers (NYSE:SKT), are the same ones that were mentioned in my article "John And Jane - May Dividend Income Tracker - Taxable Account." For this reason, I won't rehash what has already been said other than stating what the increase was.
Bank of Marin Bancorp (NASDAQ:BMRC) - We recently sold the remainder of this position, as the valuation kept climbing too quickly. Shares were originally purchased back in February at a cost basis of $67.28/share. The last sale of BMRC was at $77.92/share (or approximately where the cost per share is today). I first discovered BMRC at my job and the rest is history. It is a well-run commercial bank that serves the affluent population of San Francisco and the Napa Valley region. Shares have recently started to come back down in price, and I would consider re-opening a small position around $75/share and moving to a full position if prices reach $72/share. In an article I wrote back in February, I suggested a long-term conservative price of $80.60/share.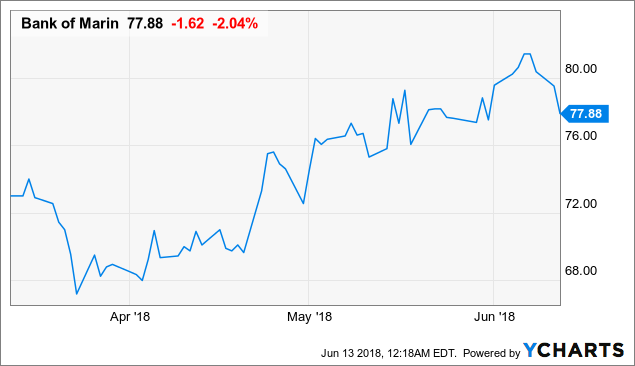 BMRC's dividend was increased from $.29/share per quarter to $.31/share per quarter. This represents an increase of 6.9% over the previous quarter's dividend. This results in a current yield of 1.59% based on a current share price of $77.88.
AbbVie (NYSE:ABBV) - We opened a position in ABBV when share prices dropped from roughly $120 a share to a low of $88.22. Jane's position was opened up at approximately $98/share. ABBV's EPS is set to explode by nearly 40% from 2017 to 2018 (based on analyst estimates), and its dividend increase of 35.2% implies that management shares the same sentiment. If ABBV drops below $90/share again, I plan to add at least 50 more shares to Jane's current holdings.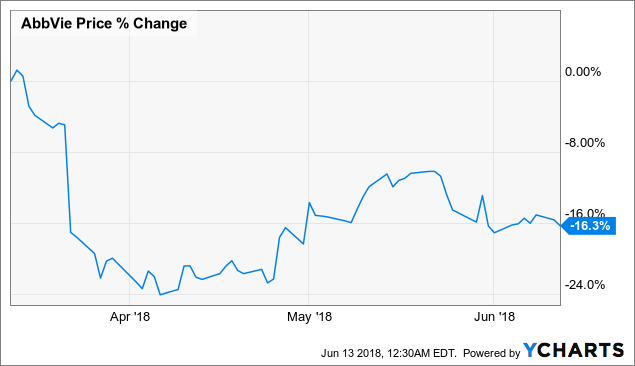 ABBV's dividend was increased from $.71/share per quarter to $.96/share per quarter. This represents an increase of 35.2% over the previous quarter's dividend. This results in a current yield of 3.85%, based on a current share price of $98.91.
Clorox - CLX's dividend was increased from $.84/share per quarter to $.96/share per quarter. This represents a 14.3% increase with a new full-year payout of $3.88/share, compared with the previous $3.36/share. This results in a current yield of 3.0%, based on a share price of $127.61.
Tanger Factory Outlet Centers - SKT's dividend was increased from $.34/share per quarter to $.35/share per quarter. This represents a 2.2% increase with a new full-year payout of $1.40/share, compared with the previous $1.36/share. This results in a current yield of 6.17%, based on a share price of $22.92.
Active Trading Log
I want to dispel all assumptions from the beginning by emphasizing that my trades within the retirement account are not initiated in some crazy day-trading ploy to make Jane wealthier by subjecting her to increased risk. My trading philosophy is based on a couple of key rules:
Worthy of being held on a long-term basis - Some of the trades that I make can play out over a very short period of time, while others can take months, depending on various events. Because of the risk associated with regular trades, I will only purchase companies that I deem worthy of being held on a long-term basis (in the event that they do not reach my sellable price target). By purchasing only high-quality stocks, we are able to mitigate much of the risk associated with the process.
Pays a dividend - Stocks that make my list almost always pay a dividend, which is important because this means that even while they are being temporarily held, they are fitting in perfectly with my dividend strategy - which, at its core, is focused on consistent dividend income.
Here are some examples of trades I made in the month of May that utilize this strategy:
Digital Realty (NYSE:DLR) - We sold 100 shares from Jane's Traditional IRA on May 4th because DLR tends to move back down after hitting a ceiling of $106/share (since then, I have moved my sell price target up to $109/share). After selling at $106/share, we began rebuilding the position with purchases at $104.35 and $104.97.

(Source: Consistent Dividend Investor, LLC)
The chart below shows how DLR was range-bound during the month of May.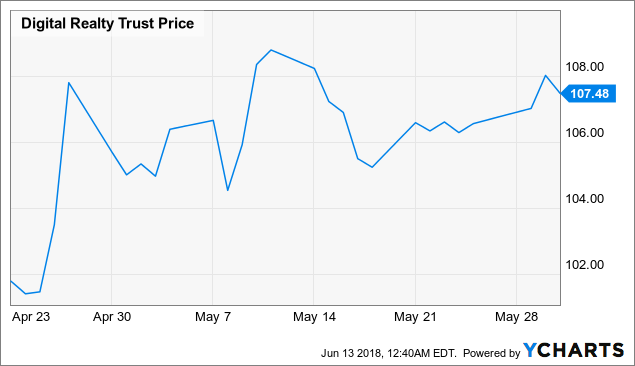 The stock seems to have broken out of its $100-106 range, and because of this, it is likely that I won't trade it as often as I have in the past. $105 seems to be the new bottom, and I would load up on shares once again if it hits this range, otherwise I will continue to refill the position with 30-40 share purchases and selling above $109/$110. So far, Jane has always maintained at least 100 shares of DLR.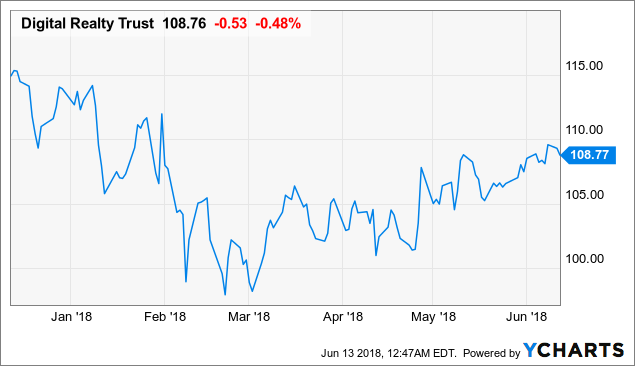 **DLR's ex-dividend date is 6/14, which means that only shares purchased on 6/13 or earlier are eligible to receive the dividend. Fortunately, we saw prices dip down to the low $106 range, which allowed me to pick up more shares that will receive the dividend on June 29th.
Simon Property Group - (NYSE:SPG)
We recently sold a position in SPG (the company stills hold a decent number of shares in the taxable account). While Jane made money on this trade, she didn't make as much as she should have because I believed that the rate hike announcement was going to bring shares back into the $150/share range. Over the last two weeks, we have seen almost all retail REITs increase in value, and I failed to anticipate how strong this trend was in regard to SPG. SPG is one of the highest-quality REITs (if not the highest-quality mall REIT) and has been unfairly beaten down over the last two years.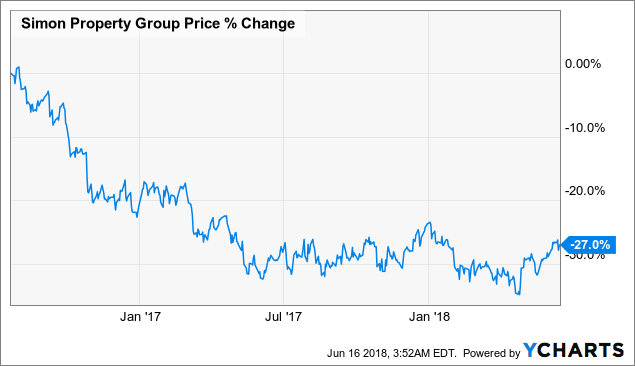 Although I believe shares are undervalued, I am still only interested in picking up more of them at less than $156/share. As SPG continues to show stronger price support, I will reconsider my buy price. Another reason we chose to sell at $160/share was that we had already crossed the ex-dividend date which allowed Jane to collect $97.50 on top of the $284.52 in capital gains, giving her a total benefit of $382.02!

(Source: Consistent Dividend Investor, LLC)
As the conclusion to the trades section of Jane's retirement portfolio, I want to emphasize that it is absolutely imperative for investors to consider the risks associated with this type of active trading. I have chosen this strategy because I am choosing to buy and sell high-quality names that are regular long-term holds in Jane's portfolio. In order for an investor to be successful with the strategy, it is critical that you focus on high-quality, dividend-paying stocks because this acts as your safety net in the event that the trade doesn't play out in the time frame you expected. It is also important to familiarize yourself with the trends of select companies and to "test" new companies that you haven't invested in yet.
For example, below you can see Scotts Miracle-Gro (NYSE:SMG), which was sold for a gain of $54.35. This stock did not perform the way I had hoped, and as a result, I decided to sell and reinvest into something I was more comfortable with. Since then, SMG has demonstrated stronger price support at $82.50 (approximately 2.57% yield), which means that it is on my radar if it dips again.
For the month of May, Jane realized a gain of $1806.40 in capital gains between her Roth and Traditional IRAs.
(Source: Consistent Dividend Investor, LLC)
Since February 1st, 2018, to May 31st, 2018, Jane's Traditional and Roth IRAs have benefited from realized capital gains totaling $3,965.12.
May Income Chart and June Estimates
I have created the following charts to assist with keeping track of Jane's retirement portfolios, with the intention of maintaining a database that can be compared on a month-to-month and YoY basis. Green is used to show when dividends were actually received, while yellow represents dividend estimates that haven't occurred yet (estimates). Red indicates a position that no longer held.
Jane's Traditional IRA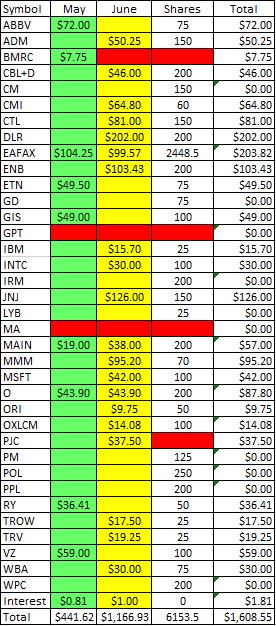 **My estimate for Gramercy Property Trust (NYSE:GPT) has been eliminated because we decided to sell all shares in the REIT after a buyout announcement from Blackstone (NYSE:BX).
Jane's Roth IRA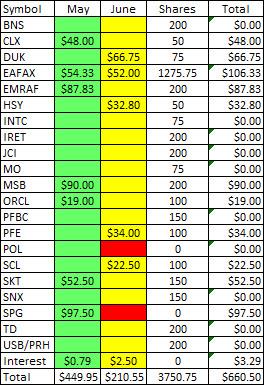 Below is a chart that shows the total dividends received in the Traditional and Roth IRA accounts, respectively, for the first five months of the year.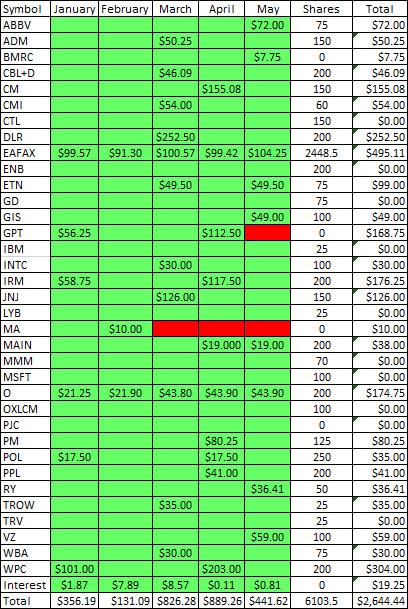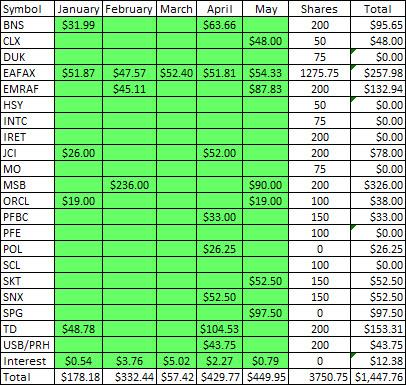 Trade Wars and Tariffs
I am looking to potentially reduce or exit some of the positions largely because I want more cash on hand as the trade wars escalate. The main reason why I want more cash on hand for Jane's portfolio is that people seem to be focused on the headlines rather than the details when it comes to these trade wars. Ultimately, the current details of the tariffs are rather small in comparison to the total amount of trade that takes place.
Let's look at some of the tariff details when it comes to the US and China:
$50 billion of imports from China will be subject to the 25% tariff.
Most of these products are considered "industrially significant technologies," and are therefore unlikely to impact most consumer-related products.
China exported approximately $505 billion of goods to the US in 2017, which means that approximately 10% of goods that come from China will be subject to these tariffs.
Overall, I consider the likelihood of the situation escalating moderate to high, but the one thing I know I can count on is for the market to overreact. As an investor, you have to be willing to set aside your feelings towards politics and look at the situation rationally (especially when it comes to how you believe it will really play out).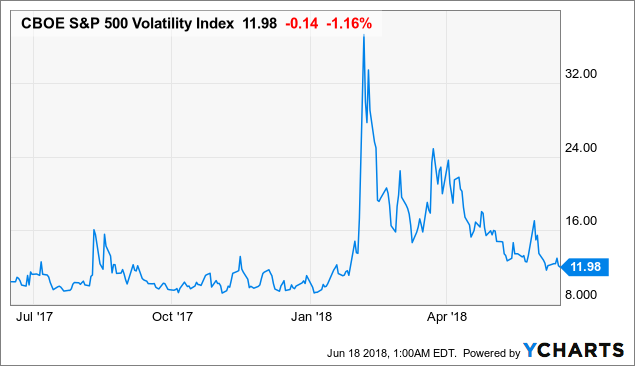 Whenever the VIX index begins to calm down is when I tend to like more cash on hand, since a spike in the VIX will likely bring cheaper share prices. Look at how the S&P 1000 moves in relationship to the VIX index since the beginning of the year.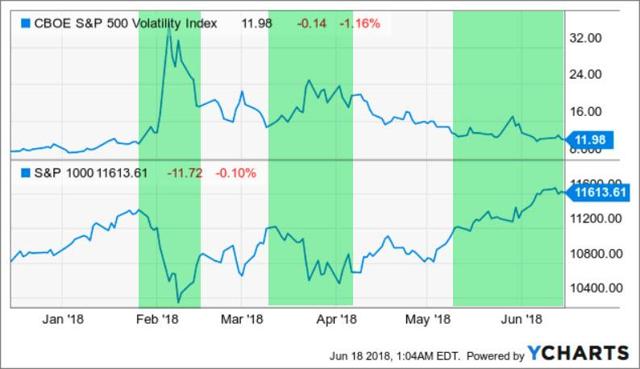 In each of the highlighted areas, it is easy to see how periods of increased volatility lead to staggering drops in the S&P 1000, while periods of decreased volatility lead to strong/gradual increases in the S&P 1000.
Conclusion
Jane's portfolio has performed well over the course of the last month as volatility settled and overall market value increased. Because of this, we are looking to prepare the portfolio for increased volatility as the market reacts to the threat of tariffs. By positioning the portfolio to have a larger cash position, we are preparing to take advantage of discounts that are not currently available.
May's income for both the Traditional and Roth IRAs was modest in terms of dividend income but highly successful from the perspective of realized capital gains that came from actively trading selected stocks. The largest gain from active trading came as a result of the buyout offer by Blackstone for Gramercy Property Trust. I originally planned to continue holding the shares, however, I wanted to redeploy capital in other long-term holdings rather than see how BX's buyout played out (I personally believe its offer of $27.50 was low).
Based on the charts above, I expect Jane's Traditional and Roth IRA dividend income for the month of June to be approximately $1,377.48.
It can be difficult to keep track of all the available investments out there, so I would love to hear some feedback in the comment section about any investments you think would be beneficial for John Jane's portfolio. I want to thank all of you who provided ample suggestions for stocks/funds worth additional consideration.
Final Note: If you enjoy my articles, please take the time to "Follow" me. While I enjoy performing analysis, following me is the best method for showing me that SA subscribers are finding my work useful. I welcome all meaningful feedback, and I enjoy using the Seeking Alpha platform to enhance and improve my own knowledge as well. My promise to readers is to be as open and transparent as I can be. The numbers presented are accurate as of the time I wrote this article.
In Jane's Traditional and Roth IRAs, she is currently long the following mentioned in this article: ABBV, Archer Daniels Midland (NYSE:ADM), Bank of Nova Scotia (NYSE:BNS), CBL Properties (NYSE:CBL.PD), CLX, Canadian Imperial Bank of Commerce (NYSE:CM), Cummins (NYSE:CMI), CenturyLink (NYSE:CTL), DLR, Duke Energy (NYSE:DUK), Eaton Vance Floating-Rate Advantage Fund A (MUTF:EAFAX), Enbridge (NYSE:ENB), Eaton Corporation (NYSE:ETN), Emera Inc. (OTCPK:EMRAF), General Dynamics (NYSE:GD), General Mills (NYSE:GIS), Hershey's (NYSE:HSY), International Business Machines (NYSE:IBM), Intel (NASDAQ:INTC), Investors Real Estate Trust (NASDAQ:IRET), Iron Mountain (NYSE:IRM), Johnson Controls (NYSE:JCI), Johnson & Johnson (NYSE:JNJ), LyondellBasell (NYSE:LYB), Main Street Capital (NYSE:MAIN), 3M (NYSE:MMM), Mesabi Trust (NYSE:MSB), Microsoft (NASDAQ:MSFT), Altria (NYSE:MO), Realty Income (NYSE:O), Old Republic International (NYSE:ORI), Oxford Lane Capital Corp 6.75% Cum Red Pdf Shs Series 2024 (NASDAQ:OXLCM), Preferred Bank (NASDAQ:PFBC), Pfizer (NYSE:PFE), Philip Morris (NYSE:PM), PolyOne Corp. (NYSE:POL), PPL Corporation (NYSE:PPL), Royal Bank of Canada (NYSE:RY), Stepan Co. (NYSE:SCL), SKT, Synnex Corp. (NYSE:SNX), Toronto-Dominion Bank (NYSE:TD), T. Rowe Price Group (NASDAQ:TROW), Travelers Co. (NYSE:TRV), US Bank Preferred H-Series (USB+H), Verizon (NYSE:VZ), Walgreens (NASDAQ:WBA), W.P. Carey (NYSE:WPC).
Disclosure: I am/we are long SCL, CTL, GD, PFBC.
I wrote this article myself, and it expresses my own opinions. I am not receiving compensation for it (other than from Seeking Alpha). I have no business relationship with any company whose stock is mentioned in this article.
Additional disclosure: This article reflects my own personal views and is not meant to be taken as investment advice. It is recommended that you do your own research. This article was written on my own and does not reflect the views or opinions of my employer.
Editor's Note: This article discusses one or more securities that do not trade on a major U.S. exchange. Please be aware of the risks associated with these stocks.