WTF Just Happened: Gold And Silver Drive-By Shooting Friday
After moving significantly higher on Wednesday and Thursday following the dovish monetary policy issued by both the Federal Reserve and the ECB, the precious metals were ambushed Friday morning by the Comex bank cartel. Right before the Comex gold pit opened on Friday, thousands of gold and silver contracts were dumped wholesale into the Comex Globex computer trading system. The deluge continued for over an hour: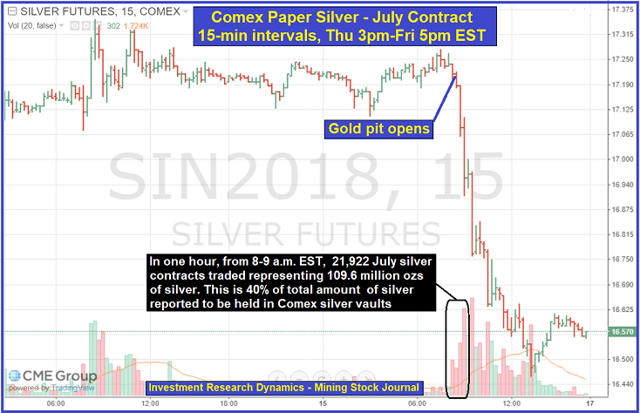 The chart above is the July Comex paper silver. From 8-9 a.m. EST, 21,922 silver contracts were dumped on the Comex. This represents 109.6 million ozs. of silver - roughly 13% of the total amount of silver produced by silver mining annually. It also represents 40% of amount of physical silver allegedly held in Comex silver vaults as reported by the vault operators (primarily JPMorgan, HSBC and Brink's). Friday was by far the largest volume day for the July contract going back to late April, when July became the "front-month" contract for silver. The same dynamic occurred in gold on Friday.
In the latest episode of "WTF Just Happened?" we discuss how and why the precious metals were smashed on Friday, as the Comex banks printed tens of millions in profits covering their enormous short positions in paper gold and silver: