Natural gas has been in an uptrend for the past five months now. Indeed, we have been recommending to buy the dips ever since the fuel cost index set a seasonal low on February 15 (see this article). In this article, we would like to explain why we have favored (and continue to favor) long positions over short ones.
Over the past five months, there has not been a single strong reason to be bearish on natural gas. Of course, there have been opportunities to profit from short-term bearish corrections, but the overall trend since February has been decidedly bullish. So, why did it make sense to focus more on long positions? Here are the top four reasons.
REASON 1: Trends In The Electric Power Sector
During the injection seasons, the Electric Power sector accounts for about 50% of natural gas demand. The price of natural gas for electricity generation (relative to coal) has been very low, which has spurred natural gas consumption in the Electric Power sector in general and stimulated healthy levels of coal-to-gas switching in particular.
Have a look at the Coal-to-Gas Switching Chart below. Notice three things:
Lower natural gas prices lead to higher levels of coal-to-gas switching (and vice versa) - especially, during April-September.
Natural gas prices often set a seasonal low just before an injection season (red circles on the chart).
Natural gas prices then rally, reducing the level of coal-to-gas switching to ensure that there is an adequate amount of natural gas in storage at the end of the season.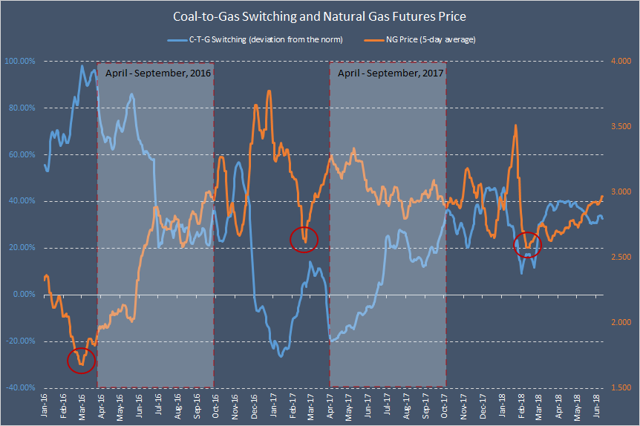 Source: Bluegold Research
Note: This chart is updated once per week for our subscribers
As you can see, despite higher natural gas prices, the level of coal-to-gas switching is still quite high – 33% above the 5-year average. Another way of looking at this relationship is via the fuel cost index (FCI), which measures the cost of natural gas (for electricity generation) relative to the historical base. FCI has already hit a seasonal low (red circles on the chart below) and started to increase, but hit a strong resistance near the 100 level on Friday, June 15. The last time it hit the 100 level was on May 28, which also prompted a sharp correction in natural gas prices (just like today - as I am writing this article, natural gas price is down 2.5%).
Of course, FCI is not as low as it used to be. In other words, natural gas is no longer as competitive as it was back in February. But clearly, FCI needs to rise higher to discourage consumption in the Electric Power sector. And for that to happen, either natural gas price has to increase or coal price has to fall.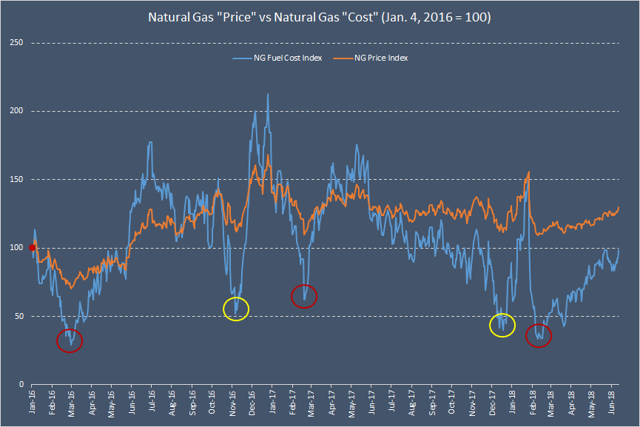 Source: Bluegold Research
Note: This chart is updated once per week for our subscribers
REASON 2: Weather
Weather models have been projecting above-normal cooling-degree-days for the past two and a half months. Indeed, the extended-range ECMWF model has not issued a single bearish weather forecast since April 30 (see the chart below). By "bearish" we mean projected CDDs that are below normal in either short, mid, or long term.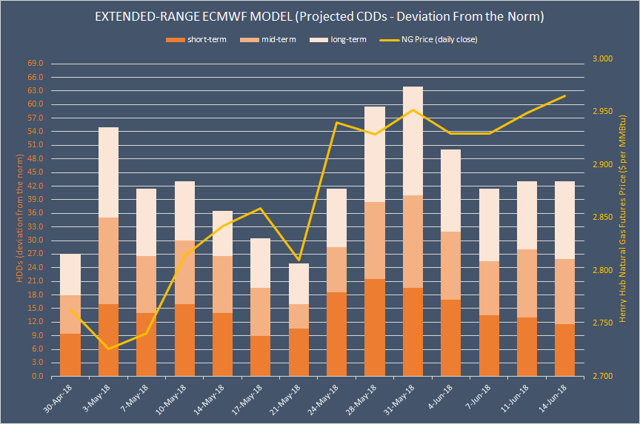 Source: Bluegold Research
Note: This chart is updated twice per week for our subscribers
REASON 3: Supply/Demand Balance
This season, too many market analysts have been relying too much on the bearish forces of supply (dry gas production + imports). Indeed, production is record high and there are no reasons to expect that it would plunge, but it is the balance between supply and demand that is driving the price, not supply on its own. Actually, in historical terms, supply and demand are more or less balanced.
The chart below plots the difference between the total supply 5-year average ratio and the same ratio for total demand. When the difference is negative, it means that the demand is stronger (relative to historical norm) than supply is. When the difference is positive, it means that supply is stronger than demand. We cannot call this chart to be particularly bullish, but let's just agree that it is at least neutral.
Furthermore, we must remind you that while production is expected to grow, the rate of increase so far has been actually somewhat disappointing. In fact, there has been almost no growth in dry gas production since December last year.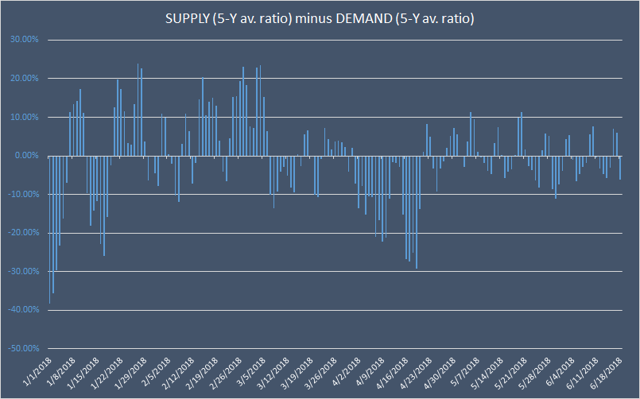 Source: Bluegold Research
REASON 4: Storage
All of the above factors in total + a still very bullish long-term weather forecast result in an abnormally low storage projection for the end of this injection season. Our latest estimate is only 3,208 bcf, which is 322 bcf below market expectations. Indeed, should the long-term weather forecast remain unchanged and natural gas price drops relative to coal (or, for that matter, coal price increases relative to natural gas), then our EOS storage projection is likely to decline even more.
As early as on February 12, 2018, we said it quite clearly: "storage level may not even reach 3,000 bcf by the end of October in case natural gas price does not increase" (see this article). Well, thankfully, it did increase since February, but that increase added only 200 more bcf to our EOS index.
Today, we are saying that under the latest fundamentals forecast (weather included), natural gas storage will not reach the level that the market expects it to (i.e., will not reach 3,530 bcf). Something must change: either weather forecast has to cool down, or production has to increase or natural gas price has to rise. A change in the weather forecast will have the most immediate and effective impact. Therefore, it is very important to monitor daily changes in the weather forecast. We issue a timely weather update for our subscribers two times per day. Consider signing up, if interested.
Thank you for reading our report. We also write a daily update of our forecast for key natural gas variables: production, consumption, exports, and imports. Interested in getting this daily update? Sign up for Natural Gas Fundamentals, our Marketplace service, to get the most critical natural gas data.
Disclosure: I/we have no positions in any stocks mentioned, and no plans to initiate any positions within the next 72 hours. I wrote this article myself, and it expresses my own opinions. I am not receiving compensation for it (other than from Seeking Alpha). I have no business relationship with any company whose stock is mentioned in this article.