After over a month long hiatus, HOTREITs is back. If you missed it, it was because I did such a poor job of announcing that my wife and I relocated to Nashville, Tennessee. Busy with selling a house, enrolling my daughter in school, renting an apartment while we look for a house, and opening a new office, needless to say, some things fell through the cracks.
But I am happy to say, we're in Nashville now y'all.
REIT performance has been a bit up and down but generally positive over the last 3 months. Regional Malls and Shopping Centers exploded last month with 12.4% and 10.3% returns respectively, and even the poor performing sub-sectors generated positive returns. The worse performing sub-sector over the last 3 month period was Timber, but it had been one of the best performers over the last 6 month period, outperforming the MSCI US REIT Index (RMZ) by over 11% and besting the S&P 500 (SPY) by 2%.
Lodging REITs have also bounced back with a 14% return over the last 3 months and are now up 8.3% YTD. The chart below shows the importance of diversification and slight tilts depending on economic trends. Not long ago, Data Centers and Infrastructure REITs were the top performers, but while Infrastructure REITs have held on, Data Center REITs are down 10.5% over the last 6 months. QTS Realty (QTS) was the big drag on the sub-sector's performance but even darlings like Digital Realty Trust (DLR) and CoreSite Realty (COR) were down 5.4% and 6.5%, respectively, over the last 6 months.
Interestingly, the Top 5 performers over the last month were in the Retail space, long thought to have been DEAD. That is, except Wheeler (WHLR), which investors seem to have left for dead.
Performance as of 04-30-2018: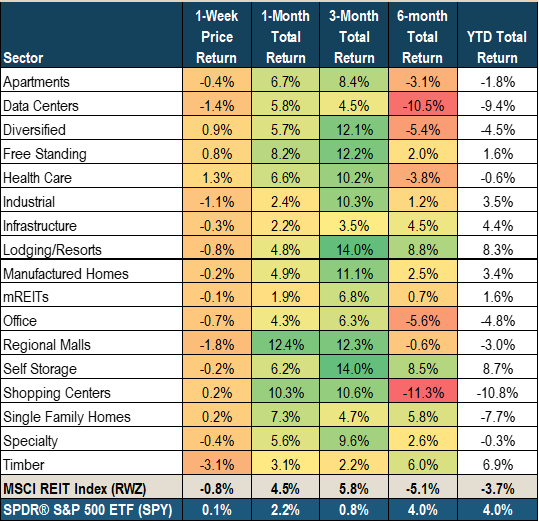 Returns as of 6/18/2018
Note: Returns are based on the average returns all REITs within each sector. Not market-weighted.
Top and Bottom Performers
1 month Returns ending May 2, 2018
Top 5

Bottom 5

REITonomics
The economic environment seems to be humming along and despite some indicators pointing to potential headwinds, the overall economy is still growing despite Fed rate hikes that so far have been quite benign.
Core CPI/PPI
There is certainly some inflation creeping in to the system as evidenced by PPI outpacing CPI, but neither indicator is at dangerously high levels nor spiking to levels indicative of inflation spikes. Since the middle of 2017, both CPI and PPI and steadily accelerated and PPI is now just below 0.3% on a month to month basis. Core CPI, on the other hand, has broken through the 2% barrier again – as it did in late 2015 and early 2016 – and I'll point out that the recent spike has been much steeper than it was last time. It remained in the 2.2% to 2.3% range for over a year before falling below 2% again in early 2017.
Whether the trend is continued acceleration is yet to be seen and the Fed has been wary of inflation getting out of control – hence the rate hikes. REITs may have already taken the worst of it and if the economy continues to expand, real estate should perform well. I can tell you that prices in Nashville don't seem to be slowing down and demand for housing is so high, we have been too slow to make an offer on houses that met our criteria. In some cases, houses were under contract the same day they went on the market. So, watch out for inflation in housing.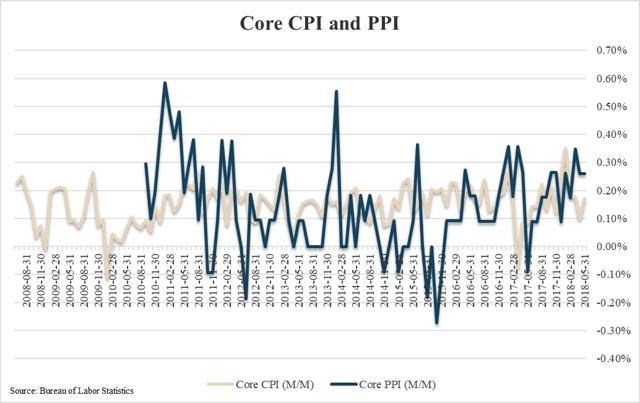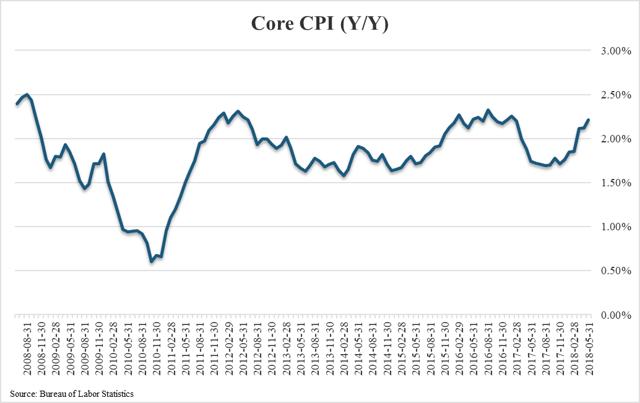 FED Funds Rate
As I mentioned earlier, the Fed has been raising rates in anticipation of inflation and not necessarily due to current inflation. The Fed Funds rate now stands at 1.75% and as the chart below shows, the rate has risen dramatically since late 2015 but is still low by historical standards.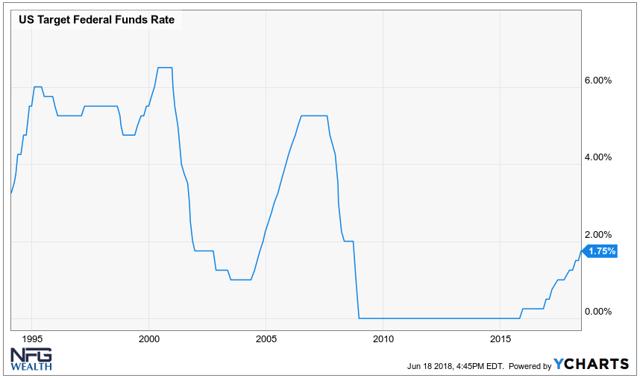 Core Retail Sales
Part of the reason for the strong performance of Retail REITs in both the Regional Malls and Shopping Center sectors is because of the continued strength in retail sales. This sector is ripe for asset allocation as some retail centers have been more internet resilient than others and some REITs have been much more aggressive and successful at shifting their strategy to take advantage of consumer trends AND protect against online competitors.
Both core and overall retail sales have been positive over the last few quarters and despite internet sales continuing to outpace brick and mortar sales, they still only make up a fraction of overall sales. The strong job market is likely to continue to drive sales as consumer discretionary income rises.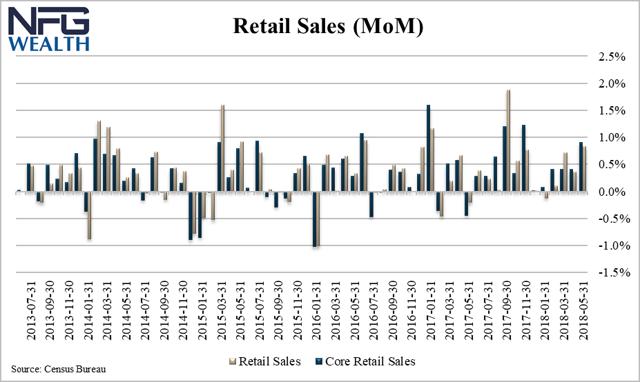 Initial Jobless Claims
Initial claims remains in the low 200K range and unemployment (not shown) remains below 4%. The bottom line here is that consumers have the means to keep spending.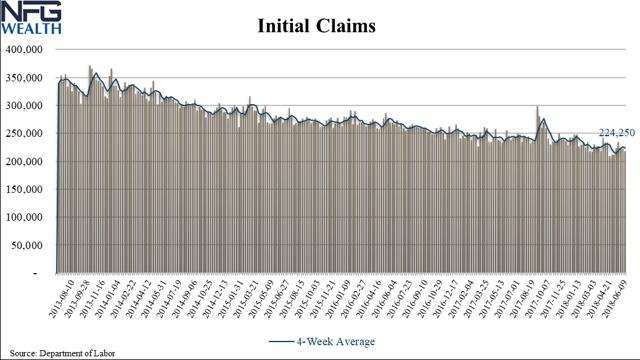 Michigan Consumer Expectations
In line with initial claims is the University of Michigan Consumer Sentiment index, which despite being below its recent high, remains elevated. This indicator is typically a good lead indicator of consumer spending which for some time had predicted a rise in retail sales that didn't occur. We are starting to see that confidence translate into spending as consumers feel more comfortable in their jobs, even has wages have only begun to rise.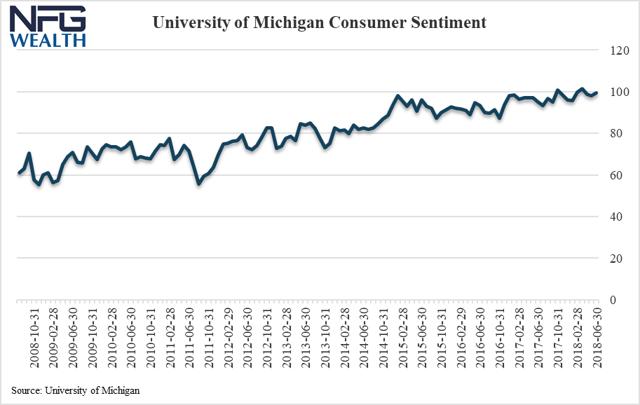 Baker Hughes Oil Rig Count
Unrelated to real estate directly but a factor when it comes to consumer sentiment and spending is the level and direction of oil prices. While prices have risen to $70 a barrel, so too have the number of oil rigs in operation. The chart below highlights the strong correlation between oil prices and oil rigs in operation as higher prices cause drillers to deploy more resources. The advances in fracking and the ability for oil drillers to efficiently deploy additional rigs puts a lid on oil prices as does OPEC's ability to increase production – or rather – remove restrictions on production.
So long as oil and gas prices remain at manageable levels consumers will likely remain bullish on their own situations. Who knows, maybe those with short memories will go back to buying the big gas-guzzling SUVs that were the big trend back in the late 2000s. Fortunately, many of those vehicles are much more fuel efficient these days and there is a broad interest in energy efficient cars that should also help put a cap on oil prices.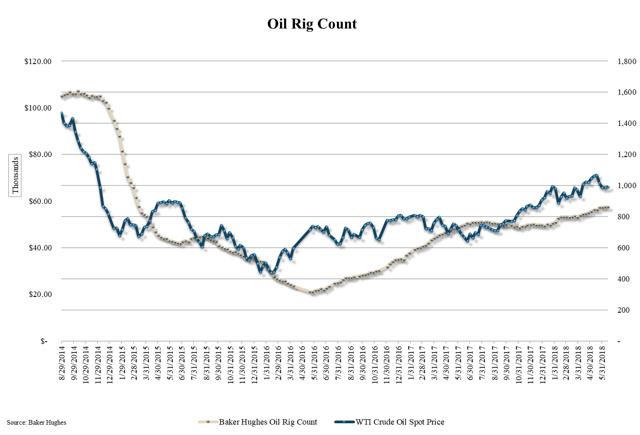 Select News Highlights
Please note these are highlights and have not been further analyzed beyond announced figures.
Analyst Upgrades/Downgrades
Upgrades
Downgrades
On the horizon is an overview of the Office REIT sub-sector, which has lagged the broader REIT index and is now facing additional challenges. I'm also working on an article on Cousins Properties (CUZ), which should be released soon in our Premium service.
To follow me, please click on the Follow button at the top right of this article
Disclaimer: Please note, this article is meant to identify an idea for further research and analysis and should not be taken as a recommendation to invest. It is intended only to provide information to interested parties. Readers should carefully consider their own investment objectives, risk tolerance, time horizon, tax situation, liquidity needs, and concentration levels, or contact their advisor to determine if any ideas presented here are appropriate for their unique circumstances.
Past performance is not an indicator of future performance.
Investing in any security has risks and readers should ensure they understand these risks before investing.
Real Estate Investment Trusts are subject to decreases in value, adverse economic conditions, overbuilding, competition, fluctuations in rental income, and fluctuations in property taxes and operating expenses.
This post is illustrative and educational and is not a specific offer of products or services.
Information on this blog is not an offer to buy or sell, or a solicitation of any offer to buy or sell the securities mentioned herein, nor is the author compensated by any of the products mentioned.
Information presented is believed to be factual and up-to-date, but we do not guarantee its accuracy and it should not be regarded as a complete analysis of the topics or subjects discussed.
Information presented is not believed to be exhaustive nor are all the risks associated with the topic of each article explicitly mentioned. Readers are cautioned to perform their own analysis or seek the advice of their financial advisor before making any investment decisions based on this information.
Investment decisions should be based on an individual's own goals, time horizon, and tolerance for risk. Nothing in this content should be considered to be legal or tax advice and you are encouraged to consult your own lawyer, accountant, or other advisor before making any financial decision.
All expressions of opinion reflect the judgment of the author, which does not assume any duty to update any of the information
Any positive comments made by others should not be construed as an endorsement of the author's abilities to act as an investment advisor.
Disclosure: I am/we are long BXP.
I wrote this article myself, and it expresses my own opinions. I am not receiving compensation for it (other than from Seeking Alpha). I have no business relationship with any company whose stock is mentioned in this article.
Additional disclosure: Long
BXP
SLG
DRE
MNR
KIM
REG
SPG
GGP
SRC
SMTA
O
EDR
IRT
AIV
UMH
AMH
INVH
HPT
CUBE
HTA
SNR
WY
AMT
UNIT
CCI
CORR
DLR
QTS
IIPR
BXMT
Editor's Note: This article covers one or more microcap stocks. Please be aware of the risks associated with these stocks.