We've never been fans of direct commodities investments and have been warning about the lack of risk adjusted returns that commodities funds offer investors for years. In previous articles, we focused on the structural issues with commodities markets and commodities funds that make them unworthy of inclusion in investors' portfolios. In this article, we want to focus on a different aspect of commodities funds that make them unattractive. The simple fact that there are better ways to get exposure to commodities!
How Commodities Funds Have Performed
Look at the returns of two of the most popular commodities funds since their inception compared to commodity exposed stocks. The chart below shows the performance of the Invesco DB Commodity Index Tracking ETF (NYSE:DBC) since inception compared to an energy sector ETF represented by the Energy Select Sector SPDR ETF (NYSEARCA:XLE) and two materials sector ETFs, the Materials Select Sector SPDR ETF (NYSEARCA:XLB) and the iShares Global Materials ETF (NYSEARCA:MXI). We added in MXI, a global materials ETF, since many metals and mining companies are headquartered internationally.

The next chart shows the performance of the Invesco DB Optimum Yield Diversified Commodity Strategy No K-1 ETF (NASDAQ:PDBC), another popular commodity fund which is again compared to the same commodity exposed stock ETFs as above.

As you can see, both commodity funds have wildly underperformed all of the commodity stock focused ETFs and it's not even close. In fact, when looking at the stock ETFs versus the commodity funds, we can see that they have fairly similar exposure to commodity trends
You Get Similar Exposure with Stock ETFs
The table below shows the weightings for the DBC commodity ETF.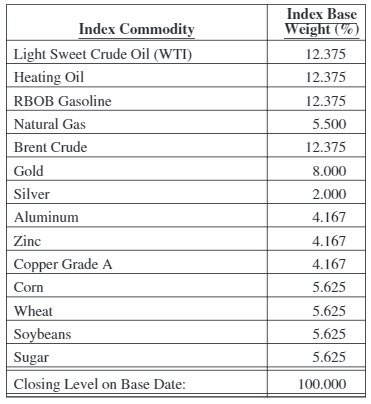 Now, compare this to the top ten holdings in XLE and MXI (XLE is on the left, MXI on the right).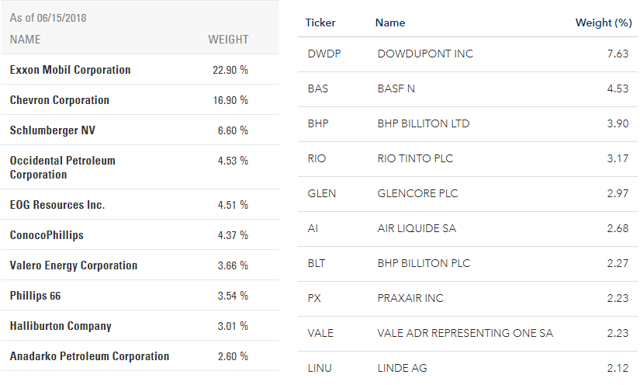 You get a lot of the same exposure to the underlying commodities. Exxon Mobil (NYSE:XOM), Chevron (NYSE:CVX), ConocoPhillips (NYSE:COP), and the like, give you exposure to crude oil. Schlumberger (NYSE:SLB) and Halliburton (NYSE:HAL) as well since you would expect drilling and oil field services businesses to do well as oil prices go up. Refiners like Valero (NYSE:VLO) and Phillips 66 (NYSE:PSX) give you exposure to end refined products like gasoline and heating oil. In the materials sectors large mining company's like BHP Billiton (NYSE:BHP), Rio Tinto (NYSE:RIO), Vale (NYSE:VALE), and to a lesser extent Glencore (LON:GLEN) (OTCPK:GLCNF) (OTCPK:GLNCY) give you direct exposure to gold, silver, aluminum, zinc, and copper. Glencore's trading operations also would likely benefit from increases in prices and demand for mined commodities as higher prices and demand would likely mean more trading volume. As far as agricultural commodities like corn, wheat, soybeans, and sugar are concerned, both DowDuPont (NYSE:DWDP) and BASF (OTCQX:BASFY) have significant agricultural businesses that likely would benefit from increased crop prices as higher incomes for farmers would likely flow through as more spending. There are some differences, there doesn't appear to be any direct exposure to industrial gases in the commodities funds while most materials sector indexes include industrial gas companies like Linde AG (OTCPK:LNAGF) (LNEGY), L'Air Liquide SA (OTCPK:AIQUF) (OTCPK:AIQUY), and in the US, Praxair (NYSE:PX) and Air Products and Chemicals (NYSE:APD). Also, many US materials indexes include significant allocations to coatings companies like Sherwin-Williams (NYSE:SHW) and PPG Industries (NYSE:PPG). The international index includes them as well, but the weightings are much lower. So, there are some additional industries you get exposure to with vastly different end market drivers (auto sales and/or housing for some coatings companies for example). However, a vast majority of the index is companies that have exposure to the commodities included in most commodity funds.
Not only can investors get similar exposure to commodities but they also will be paying lower fees in most cases. DBC has an expense ratio of .89% and PDBC has an expense ratio of .59%. XLE and XLB both have .13% expense ratios. Investors could also go with the Vanguard Energy ETF (NYSEARCA:VDE) or the Vanguard Materials ETF (NYSEARCA:VAW), which have expense ratios of only .10%. MXI is more expensive with a .48% expense ratio, but it is still cheaper than the two commodity funds profiled. There is also a metals and mining focused ETF offered by SSGA, the SPDR S&P Metals and Mining ETF (NYSEARCA:XME), which carries a .35% expense ratio.
Summary
In summary, we just don't see a very compelling reason for investors to buy commodity funds. You can get very similar exposure through ETFs that offer exposure to commodity related stocks with the added bonus of lower fees. It's very hard to make the case for an investment like commodity funds like DBC that have shown more than a decade of not only underperformance but negative performance. Sure, direct exposure to commodities may offer diversification, but losing money over the long term is not the type of diversification you want. In short, our title says it all. Stop buying commodity funds.
Disclosure: I am/we are long XLE.
I wrote this article myself, and it expresses my own opinions. I am not receiving compensation for it (other than from Seeking Alpha). I have no business relationship with any company whose stock is mentioned in this article.