Saudi Arabia has one of the world's best performing equity markets year-to-date. But with a number of key events on the horizon potentially impacting Saudi Arabia for years to come, both opportunities - and risks - for investors are in the spotlight.
Overview
Saudi Arabia has one of the world's best performing equity markets year-to-date. The MSCI Saudi Arabia IMI 25/50 Index is up 21.5% year-to-date, outperforming the MSCI Emerging Markets Index by 22.7% and the MSCI Frontier Markets100 Index by 27.1%.1
Saudi Arabia has recently outperformed both EM and FM benchmarks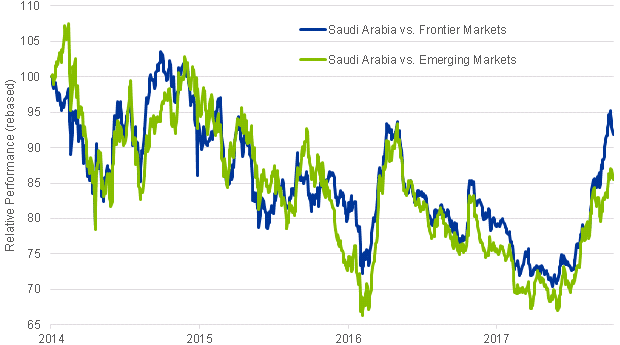 Source: Bloomberg, as of June 11, 2018. Relative performance measures the ratio of the return of the MSCI Saudi Arabia IMI 25/50 Index against the MSCI Frontier Markets 100 Index and the MSCI Emerging Markets Index. Index performance is for illustrative purposes only. Index performance does not reflect any management fees, transaction costs or expenses. Indexes are unmanaged and one cannot invest directly in an index. Past performance does not guarantee future results.
---
Steady inflows ahead of the potential 2019 inclusion into the MSCI Emerging Markets Index helps explain the flows and performance, but we are keeping an eye on three other key trends:
Vision 2030: Saudi Arabia has outlined a major reform agenda to overhaul its economy. The "Vision 2030" framework was adopted in 2016 to reduce oil dependence, diversify the economy, improve public services, and increase the privatization of business activities. Among the dozens of national programs underway is the $72 billion National Transformation Plan (NTB), the goal of which is to modernize the economy, improve socio-economic conditions, and boost tourism. Additionally, investors have interpreted a firmer stance against corruption as a potentially positive signal for future governance.
Saudi Aramco: The 5% local listing of the world's most valuable company, Saudi Aramco, on the Tadawul exchange is a key part of Vision 2030 and will likely have significant implications for investors. After scrapping plans for dual listing in London and Saudi Arabia, the single local listing requires investors to access local Saudi markets for Saudi Aramco exposure. Saudi Aramco's IPO will also likely reshape the MSCI Saudi Arabia IMI 25/50 Index, which has less than 1% energy exposure currently, and more accurately represent the economy.2 Despite the currently low energy exposure in the index, the Saudi petroleum sector accounts for roughly 87% of government budget revenues, 42% of GDP, and 90% export earnings.3
MSCI EM Index inclusion: MSCI is expected to upgrade Saudi Arabia to emerging market status this June after adding it to its EM watchlist in June 2017. The upgrade would come following ongoing market reform efforts, particularly around improved market structure. The total Saudi weight in the MSCI EM Index is likely to total 2.3% once included, however it could be even higher following further IPOs of state-owned entities.4 If included, Saudi Arabia would be the 13th largest EM market.
Key risks
Our base case is that tensions between Saudi Arabia and Iran will likely play out through proxy wars in the Middle East rather than a direct conflict. The U.S. has signaled strong support for Saudi Arabia while renewed U.S. sanctions on Iran could further escalate tensions. The other risk to Saudi equities are lower energy prices. However, we currently see strong global growth underpinning demand while Saudi-led OPEC production ahead of the Aramco IPO may help keep supply in check.
What flows are indicating
Global ETPs focused on Saudi Arabia have seen their assets under management (AUM) increase by nearly 15 times this year after gathering over $225 million year-to-date.5 We believe a supportive macro backdrop, ongoing reform efforts, and substantial interest in the Saudi Aramco IPO - which will be only locally listed in Saudi Arabia - are likely to continue underpinning strong and persistent flows. Saudi Arabia's potential position in the MSCI EM Index may lead to further fund flows. Applying the expected 2.3% weight to the roughly $1.7 trillion in global AUM - $385 billion in index funds' AUM, $1.3 trillion in active funds' AUM - tracking the MSCI EM Index implies a potential $8.8 billion in index fund flows and $30 billion in active fund flows ahead.6
Conclusion
Saudi Arabia's strong reform agenda, Vision 2030, is rapidly reshaping the Saudi economy and financial markets. The likely MSCI upgrade of Saudi Arabia to EM status and eventual MSCI EM Index inclusion means investors' portfolios are also rapidly being reshaped. Given the sole, local listing for Saudi Aramco, this may lead to further inflows into Saudi markets. A supportive macro drop, strong energy prices, and sizable inflows ahead may continue to underpin the outlook for Saudi equities.
This post originally appeared on the BlackRock Blog
© 2018 BlackRock, Inc. All rights reserved.
1 Source: Bloomberg. As of June 5, 2018.2 Source: MSCI. As of May 22, 2018.3 Source: Bloomberg. As of May 22, 2018.4 Source: MSCI, as of 4/30/2018.5 Source: Bloomberg. As of May 22, 2018.6 Source: MSCI, as of 6/30/2017. Note: estimated active flows assumes Saudi Arabia is held at market weight.
---
Carefully consider the Funds' investment objectives, risk factors, and charges and expenses before investing. This and other information can be found in the Funds' prospectuses or, if available, the summary prospectuses, which may be obtained by visiting the iShares Fund and BlackRock Fund prospectus pages. Read the prospectus carefully before investing.
Investing involves risk, including possible loss of principal.
International investing involves risks, including risks related to foreign currency, limited liquidity, less government regulation and the possibility of substantial volatility due to adverse political, economic or other developments. These risks often are heightened for investments in emerging/ developing markets or in concentrations of single countries.
The ability of foreign investors investing in Saudi Arabian issuers is new and untested and may be restricted or revoked at any time; a downturn in the price of petroleum exports could have significant negative effects on the economy; there is no assurance of political stability in Saudi Arabia.
Frontier markets involve heightened risks related to the same factors and may be subject to a greater risk of loss than investments in more developed and emerging markets.
This material represents an assessment of the market environment as of the date indicated; is subject to change; and is not intended to be a forecast of future events or a guarantee of future results. This information should not be relied upon by the reader as research or investment advice regarding the funds or any issuer or security in particular.
The strategies discussed are strictly for illustrative and educational purposes and are not a recommendation, offer or solicitation to buy or sell any securities or to adopt any investment strategy. There is no guarantee that any strategies discussed will be effective.
The information presented does not take into consideration commissions, tax implications, or other transactions costs, which may significantly affect the economic consequences of a given strategy or investment decision.
This document contains general information only and does not take into account an individual's financial circumstances. This information should not be relied upon as a primary basis for an investment decision. Rather, an assessment should be made as to whether the information is appropriate in individual circumstances and consideration should be given to talking to a financial advisor before making an investment decision.
The Funds are distributed by BlackRock Investments, LLC (together with its affiliates, "BlackRock").
The iShares Funds are not sponsored, endorsed, issued, sold or promoted by Barclays, Bloomberg Finance L.P., BlackRock Index Services, LLC, Cohen & Steers Capital Management, Inc., European Public Real Estate Association ("EPRA® "), FTSE International Limited ("FTSE"), ICE Data Services, LLC, India Index Services & Products Limited, JPMorgan Chase & Co., Japan Exchange Group, MSCI Inc., Markit Indices Limited, Morningstar, Inc., The NASDAQ OMX Group, Inc., National Association of Real Estate Investment Trusts ("NAREIT"), New York Stock Exchange, Inc., Russell or S&P Dow Jones Indices LLC. None of these companies make any representation regarding the advisability of investing in the Funds. With the exception of BlackRock Index Services, LLC, who is an affiliate, BlackRock Investments, LLC is not affiliated with the companies listed above.
Neither FTSE nor NAREIT makes any warranty regarding the FTSE NAREIT Equity REITS Index, FTSE NAREIT All Residential Capped Index or FTSE NAREIT All Mortgage Capped Index; all rights vest in NAREIT. Neither FTSE nor NAREIT makes any warranty regarding the FTSE EPRA/NAREIT Developed Real Estate ex-U.S. Index, FTSE EPRA/NAREIT Developed Europe Index or FTSE EPRA/NAREIT Global REIT Index; all rights vest in FTSE, NAREIT and EPRA."FTSE®" is a trademark of London Stock Exchange Group companies and is used by FTSE under license.
©2018 BlackRock, Inc. All rights reserved. BLACKROCK, BLACKROCK SOLUTIONS, BUILD ON BLACKROCK, ALADDIN, iSHARES, iBONDS, iSHARES CONNECT, FUND FRENZY, LIFEPATH, SO WHAT DO I DO WITH MY MONEY, INVESTING FOR A NEW WORLD, BUILT FOR THESE TIMES, the iShares Core Graphic, CoRI and the CoRI logo are registered and unregistered trademarks of BlackRock, Inc., or its subsidiaries in the United States and elsewhere. All other marks are the property of their respective owners.