The Mexican presidential election will be held on July 1, 2018. The current frontrunner is left-wing candidate Andrés Manuel López Obrador, but concerns about his agenda and style have impacted markets and sentiment in recent weeks as his lead has widened.
Political landscape
AMLO, the former head of government for Mexico City running with the National Regeneration Movement (MORENA) party, currently enjoys a sizeable lead in polls and his victory is becoming most investors' base case scenario. Ricardo Anaya, representing a curious coalition of the conservative National Action Party (PAN) and social democrats Party of the Democratic Revolution (PRD) and Citizens' Movement (MC), trails AMLO in the polls but is ahead of José Antonio Meade, the candidate from the ruling Institutional Revolutionary Party (PRI). Given AMLO's solid lead in the polls for the presidency, the focus for many Mexico watchers has turned to the congressional election, with MORENA having a good chance of gaining a majority in the lower house. The results of the senate are still hard to predict.
Even if MORENA falls short of a majority in either house, reaching a working majority for AMLO should be straightforward – either with small parties or PRI/PRD legislators that share AMLO's policy views. Therefore, congress should not pose a barrier in advancing most of AMLO's agenda, with the exception of constitutional reforms that require 2/3 of the votes in each chamber, we believe.
Economic backdrop
In our view, Mexico's current economic situation is reasonably stable, with sound growth, healthy employment and lower inflation. However, the outlook looks less positive as the uncertainty over the trade negotiations and the presidential and congressional election results start to affect expectations, mainly on investment. This has become particularly evident in the past several weeks as AMLO's lead has widened.
Mexico's GDP increased by 1.1% in the first quarter of 2018, marking the strongest expansion since the third quarter of 2016, mainly driven by gains in services and industry. Higher oil prices, together with the fall in the peso, have boosted manufacturing exports.1
However, looking forward, things don't look as positive. The Mexico Manufacturing Purchasing Managers Index, a measure of the vitality of the manufacturing sector, fell to 51.0 in May from 51.6 in the previous month, the lowest level since October. Investment continues to be the weak spot, affected by the high degree of uncertainty about the outcome of the ongoing NAFTA negotiations and the elections.2
Financial markets
Politics is the prominent source of uncertainty that is impacting Mexican financial assets. To be sure, emerging markets (EMs), which have been impacted by higher U.S. interest rates and the stronger U.S. dollar, began selling off broadly in late April. Mexican equities had withstood the uncertainty environment fairly well until May when a turning point was reached in terms of risk perception. As of June 8, 2018, the MSCI Mexico IMI 25/50 Index is down 5.4% in local currency terms for the year (but with a 9.5% decline in U.S. dollar terms). In contrast, the MSCI Emerging Markets Index is down 1.2%.3
An AMLO victory could lead to an increase in public investment, which could be beneficial in the short term for growth (although not very positive on inflation). However, those benefits could be mitigated if interest rates go up on the back of fiscal deterioration as the government looks to fund its social program with debt issuance.
Mexican equities and the peso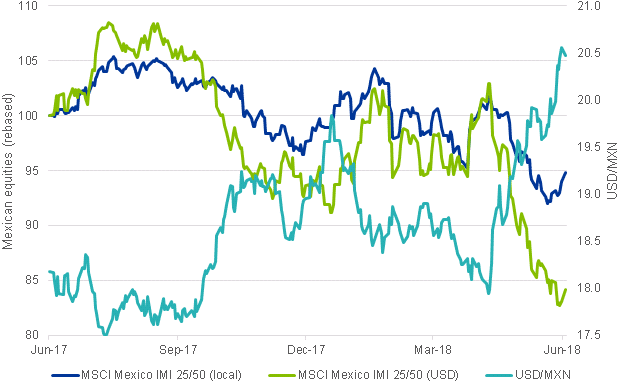 Source: Thomson Reuters, BlackRock, as of June 11, 2018. Index returns are the MSCI Mexico IMI 25/50 Index in local currency and dollar terms. Index performance is for illustrative purposes only. Index performance does not reflect any management fees, transaction costs or expenses. Indexes are unmanaged and one cannot invest directly in an index. Past performance does not guarantee future results.
What flows are saying
As we head into the last few weeks of campaigning, flows into single country Mexico exchange traded products (ETPs) have shown bearish investor sentiment, bringing the YTD accumulated flow number to the negative territory, particularly as AMLO's lead has widened.
Following the broader emerging market sell-off in mid-April, investors have overall been withdrawing assets from single country EM ETPs. However, among popular EM exposures, Mexico was one of the only countries that saw sharp outflows in both February and in May. Mexico has particularly fallen behind its Latin American peers.
U.S. listed Latin American single county ETP flows 2018 YTD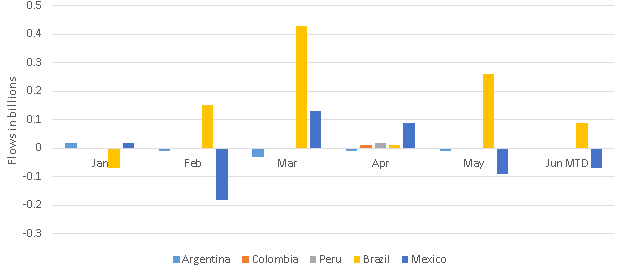 Source: Markit, Blackrock, as of 6/11/18
Conclusion
Voters in Mexico (as well as Brazil) currently appear to be favoring candidates outside the traditional political parties in upcoming elections, a change of a trend observed in other Latin American governments (as had been the case in Argentina and Chile), which has increased the concerns of foreign investors. As AMLO's lead has been widening, his economic policy announcements pose increasing challenges for Mexico's future fiscal consolidation. However, his particular style could lead to surprises, such as reaching a quicker-than-expected agreement on NAFTA or taking a more moderate policy stance. In any case, Mexico will definitively remain at the center of attention for investors looking toward Latin America.
This post originally appeared on iShares.
© 2018 BlackRock, Inc. All rights reserved.
1 Source: Bloomberg, as of June 8, 2018, BlackRock Investment Institute.2 Source: Bloomberg, as of June 8, 2018, BlackRock Investment Institute.3 Source: Thomson Reuters, as of June 11, 2018.
---
Carefully consider the Funds' investment objectives, risk factors, and charges and expenses before investing. This and other information can be found in the Funds' prospectuses or, if available, the summary prospectuses, which may be obtained by visiting the iShares Fund and BlackRock Fund prospectus pages. Read the prospectus carefully before investing.
Investing involves risk, including possible loss of principal.
International investing involves risks, including risks related to foreign currency, limited liquidity, less government regulation and the possibility of substantial volatility due to adverse political, economic or other developments. These risks often are heightened for investments in emerging/ developing markets or in concentrations of single countries.
A fund's use of derivatives may reduce a fund's returns and/or increase volatility and subject the fund to counterparty risk, which is the risk that the other party in the transaction will not fulfill its contractual obligation. A fund could suffer losses related to its derivative positions because of a possible lack of liquidity in the secondary market and as a result of unanticipated market movements, which losses are potentially unlimited. There can be no assurance that any fund's hedging transactions will be effective.
Investment in a fund of funds is subject to the risks and expenses of the underlying funds.
This material represents an assessment of the market environment as of the date indicated; is subject to change; and is not intended to be a forecast of future events or a guarantee of future results. This information should not be relied upon by the reader as research or investment advice regarding the funds or any issuer or security in particular.
The strategies discussed are strictly for illustrative and educational purposes and are not a recommendation, offer or solicitation to buy or sell any securities or to adopt any investment strategy. There is no guarantee that any strategies discussed will be effective.
The information presented does not take into consideration commissions, tax implications, or other transactions costs, which may significantly affect the economic consequences of a given strategy or investment decision.
This document contains general information only and does not take into account an individual's financial circumstances. This information should not be relied upon as a primary basis for an investment decision. Rather, an assessment should be made as to whether the information is appropriate in individual circumstances and consideration should be given to talking to a financial advisor before making an investment decision.
The Funds are distributed by BlackRock Investments, LLC (together with its affiliates, "BlackRock").
The iShares Funds are not sponsored, endorsed, issued, sold or promoted by Barclays, Bloomberg Finance L.P., BlackRock Index Services, LLC, Cohen & Steers Capital Management, Inc., European Public Real Estate Association ("EPRA® "), FTSE International Limited ("FTSE"), ICE Data Services, LLC, India Index Services & Products Limited, JPMorgan Chase & Co., Japan Exchange Group, MSCI Inc., Markit Indices Limited, Morningstar, Inc., The NASDAQ OMX Group, Inc., National Association of Real Estate Investment Trusts ("NAREIT"), New York Stock Exchange, Inc., Russell or S&P Dow Jones Indices LLC. None of these companies make any representation regarding the advisability of investing in the Funds. With the exception of BlackRock Index Services, LLC, who is an affiliate, BlackRock Investments, LLC is not affiliated with the companies listed above.
Neither FTSE nor NAREIT makes any warranty regarding the FTSE NAREIT Equity REITS Index, FTSE NAREIT All Residential Capped Index or FTSE NAREIT All Mortgage Capped Index; all rights vest in NAREIT. Neither FTSE nor NAREIT makes any warranty regarding the FTSE EPRA/NAREIT Developed Real Estate ex-U.S. Index, FTSE EPRA/NAREIT Developed Europe Index or FTSE EPRA/NAREIT Global REIT Index; all rights vest in FTSE, NAREIT and EPRA."FTSE®" is a trademark of London Stock Exchange Group companies and is used by FTSE under license.
©2018 BlackRock, Inc. All rights reserved. BLACKROCK, BLACKROCK SOLUTIONS, BUILD ON BLACKROCK, ALADDIN, iSHARES, iBONDS, iSHARES CONNECT, FUND FRENZY, LIFEPATH, SO WHAT DO I DO WITH MY MONEY, INVESTING FOR A NEW WORLD, BUILT FOR THESE TIMES, the iShares Core Graphic, CoRI and the CoRI logo are registered and unregistered trademarks of BlackRock, Inc., or its subsidiaries in the United States and elsewhere. All other marks are the property of their respective owners.
525193