Weekly Introduction - Back to regular programming
Just like Zuckerberg, I also need to apologize for something. Unfortunately, that is where our similarities start and end. My last update was in early April. A family illness and some personal work-related issues forced me to take a pause in updates. That is back to normal now, and hopefully, I can now continue to post my updates as usual, weekly, and further improve on content. Fortunately, I did not leave you with too bad recommendations. To start over, this weekly will cover the performance, recent events and updated recommendations of all old but still open recommendations. (Remember that we have already closed down positions in many of the earlier recommended stocks.) The next update with new screenings will come later this week and be based on transactions over the last two months.
Market commentary (a bit extended to cover my absence…)
A lot of things have happened in the markets since my last commentary in early April. Basically, those comments were made on the day of the backtest of the February bottom around S&P 2525-2550. Since then, there has been a lot of volatility but prices are a lot higher (2750 in Tuesday's premarket as I am writing this).
Trade
Granted, the following is a bit of back-trading, but this is the context within which I am operating myself at the moment. Overall this year, I have been positive about the markets. I have seen the trade tensions as temporary and believed it would be resolved rather quickly. What has made me more worried recently is the opposition from the media, EU, China, and G7 to not even accept the smallest concession of their (to different degrees) overly beneficial existing trade deals. I don't know if it is some global anti-Trump spirit that is behind all this - whether countries believe they can hold out, get Trump out of office, and thus keep their favourable deals.
Remember when reading this that I am European, I know for a fact how product by product we have net benefits versus the US in trade. In my opinion that is the only way you can evaluate who benefits the most. Aggregates and averages are not good enough for this type of analysis given the dynamic effects. Trump is mostly right, and (most) other countries should lower their tariffs if they really believe their globalist view that trade benefits everyone. Right now, "they" mostly look at the negative effects of Trump's negotiation tariffs. What about the business case of lowering their existing higher tariffs? Too few people are looking at the current situation, and instead are assuming we currently have a free trade world. One of the few articles out of Europe providing that view is this: "Trump may have a point about EU tariffs, ifo says." Ok, let's leave it at that given how infected this story is.
Macro
The Fed still seems intent on raising rates twice more this year, while long-term rates are declining, the yield curve is approaching inversion and the ECB/BOJ are being relatively dovish. The dollar has been very strong in the face of this, and emerging markets do not like this. I feel we will need a slight change in rhetoric from the Fed before markets can break out.
Seasonality and Sentiment
Also, the summer season is often weak/volatile. Many indicators are showing much more bullish sentiment than what we had in April. This goes for the VIX, put/call ratios and investor sentiment. Basically, the fuel to propel us higher is not there to the same extent anymore. The best case is we go sideways to reset these indicators.
Summary
So where does this take us? I believe we will have much harsher rhetoric in trade before it gets better. It might not be trade that is the real market driver; "trade war" by itself would probably not take us much lower. But in combination with the Fed, emerging markets performance, as well as seasonality and sentiment, there are enough factors to be cautious, keep above normal dry powder to engage later in the summer or even fall (news dependent). Monday's crazy run in FAANGs must have been some last-minute pump of sorts. I sold most of my holdings and will let this play out in time and price. I want to see a change in rhetoric before engaging in other ways than via:
Insider trading screenings;

Earnings speculation in strong companies; and

Short-term sentiment trades.
Introduction to Weekly Insider Trading (for new readers)
Weekly Insider Trading from G-stock is the result of quantitative screening of insider trading coupled with qualitative checks, to produce a list of companies with the most interesting cues. The screening process starts by looking at the number and value of insider trades, if spread across insiders, their historic behaviour, and the value of current trade in comparison to existing shares owned. This produces a list of the most interesting companies to look at.
The next step is to filter based on type of trades and the person trading. Purchases in a new issuance of stock or exercise of options are generally considered of lower value than an open market purchase. Generally, the more spread across insiders, the better the signalling value should be. Within the insider category, Officers and directors are ranked higher than >10% owners. That said, nothing is binary, and continuous purchases of a >10% owner can be very supportive for price. So to summarize, simply looking at transaction values is not enough. Most of the time, insider transactions need to be put in context, quantitatively and qualitatively - only then can such transactions be of value for portfolio decisions.
Please note that the companies presented and information given should not be interpreted as a full-picture view or some fundamental analysis of the company. I am merely identifying insider trading patterns and looking at some basic information related to those companies to better score the value of such insider transactions. I strongly encourage everyone to do their own fundamental analysis of each company before investing.
Types of Insider Transaction Setup (of course, any position is contingent on other screening factors as well)
Market opportunistic with positive trend: Insiders increasing holdings in a correction in a stock with a general uptrend (here I would buy and hold for some time, 1-6 months)
Market opportunistic with no trend: Insiders increasing holdings in a correction in a stock with a sideways trend (here I would buy and sell on a reversal to mean or within 3 months if the stock is not moving)
Turnaround bet: Insiders increasing holdings in a stock with a sideways or downwards trend (higher risk, smaller position, event-driven holding, max. 6 months)
A look back at previous recommendations
I have looked at the SEC-reported insider transactions over the last week (report date). The final list includes companies based on the insider activity rank, which might or might not lead to an immediate action.
| | | | | | | | |
| --- | --- | --- | --- | --- | --- | --- | --- |
| Company | Ticker | Insider activity in the week | Longer-term insider score | Company Fundamentals | Chart Technicals | Type of Setup | Return |
| DDR Corp. | DDR | + | + | 0 | + | "Turnaround" | +18% (long) |
| Odonate Therapeutics | | + | + | 0 | 0 | "No trend/Positive" | +23% (long) |
| LCI Industries | | + | + | + | ++ | "Positive Trend" | -12% (long) |
| AquaVenture Holdings | | + | + | + | + | "Turnaround" | +7% (long) |
| Bluelinx Holdings | | + | + | + | + | "Positive trend" | +12% (long) |
| Genesis Energy LP | | + | + | + | + | "Turnaround" | +7% (long) |
| Big 5 Sporting Goods Corp. | | + | + | - | + | "Turnaround" | +26% (exit) |
| NRG Yield Inc. | NYLD | + | + | + | + | "Market opportunistic/No trend" | +1% (exit) |
Check out the performance and updates of these companies below:
DDR Corp.
From $14.6 to $17.2 (+18%) - Stay long!
DDR was trading at $14.6 when I posted the recommendation (reverse stock split-adjusted). Since then, Otto Alexander has continued to make large-scale purchases and the stock has broken out of the wedge. Previous article can be found here. There is also an article published on June 8, "DDR Corporation: ~25% Upside Based On NAV, Clear Catalyst To Close The Gap." The article looks for 25% upside and that the upside will be realised through an intensive program to sell weaker assets and make investors see the full value of their assets. On the face of what is insider trading on the size of a share buyback and concrete strategy to realise value, I want to stay long this stock.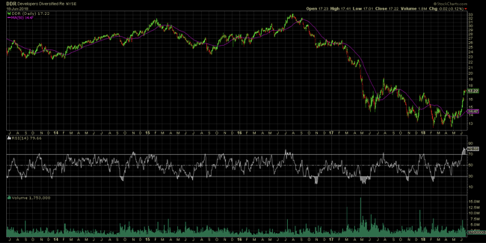 Odonate Therapeutics
From $21.1 to $26 (+23%) - Stay long!
ODT was trading at $21.1 when I posted the recommendation. I then recommended a special strategy to enter the stock in steps. My previous article can be found here. Since then, no significant news is out and there have been no further insider purchases. The quarterly report showed that the cash position is still solid at 195 MUSD versus 198 MUSD in Q4. Given no significant news, all in the initial article is still valid, and I will await updates from the clinical studies.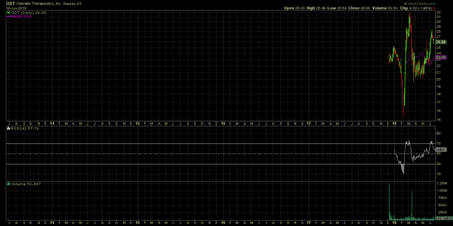 LCI Industries Inc.
From $104 to $91.3 (-12%) - Stay long!
LCII was trading at $104 when I posted the recommendation. My previous article can be found here. Since then, the stock mostly been heading lower. In May, insiders again stepped up, now also the CEO, gobbling up shares as low as at $84, in what was clear opportunistic behaviour.
The Q1 report showed continued good growth (+31% y/y) and the EBITDA margin improved slightly (11.5%) from Q4 (10.8%). The sector as a whole has been jittery due to tariff concerns. When all is said and done, I believe this company will recover to previous highs. With the recent insider purchases, I have another reason to keep this stock and no new reason to sell.
| | | | | | | |
| --- | --- | --- | --- | --- | --- | --- |
| Name | Insider Type | Trade Date | Purchase/Sale | Price | Value | Own. Chg. |
| Lippert Jason | CEO | 2018-06-04 | P - Purchase | $83.83 | $502,980 | 3% |
| Mereness Scott T | President | 2018-06-01 | P - Purchase | $85.00 | $340,000 | 2% |
| Henkels Virginia | Director | 2018-05-16 | P - Purchase | $88.55 | $177,100 | 173% |
| O'Sullivan Kieran M | Director | 2018-05-10 | P - Purchase | $89.43 | $62,601 | 10% |
| Gero James | Director | 2018-05-08 | P - Purchase | $89.34 | $893,360 | 4% |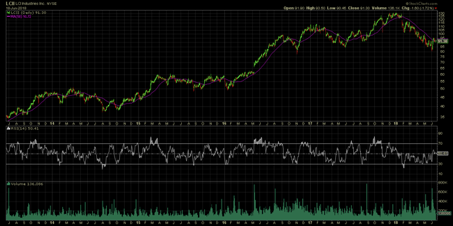 AquaVenture Holdings
From $13.6 to $14.5 (+7%) - Stay long!
WAAS dropped a bit further after my recommendation, but rebounded sharply and is now slightly above the initial recommendation level. Since then, there have been no new insider trades and the Q1 report was quite uneventful, missing profit estimation by a cent but beating on revenues. The slide deck for the earnings call can be found here. Given the lack of events, I would continue to hold this on the initially stated prospects of a turnaround.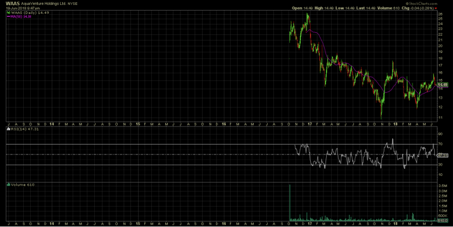 Bluelinx Holdings
From $36.7 to $41.2 (+12%) - Stay long!
I was hoping for BXC to come in a bit, but it was not by much. The "consolidation" has mostly been upwards. I don't expect us to get much more downside, and would keep this one for a couple of months more to see how high we can go.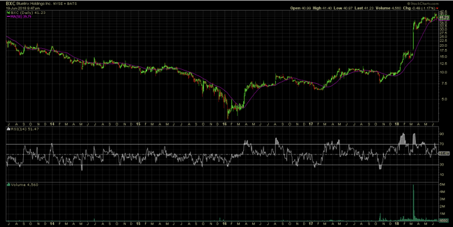 Genesis Energy
From $21.2 to $22.7 (+7%) - Stay long!
No new insider activity. My previous article can be found here. It will take time for this turnaround to play out.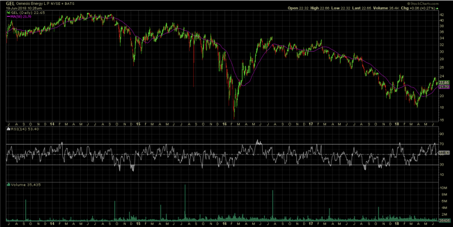 Big 5 Sporting Goods
From $6.6 to $8.3 (+26%) - After reaching +50%, exit!
I wish I had been more active here and been able to exit my positions formally a few days ago, or at least when finding out about the insider sales. This was all the time only a turnaround bet, nothing long term. My previous article can be found here.
| | | | | | | |
| --- | --- | --- | --- | --- | --- | --- |
| Name | Insider Type | Trade Date | Purchase/Sale | Price | Value | Own. Chg. |
| Fraley Jeffrey L | SVP, HR | 2018-05-29 | S - Sale | $8.47 | -$14,450 | -13% |
| Bane Sandra N | Director | 2018-05-25 | S - Sale | $8.43 | -$50,580 | -16% |
| Starr Shane O | SVP, Operations | 2018-05-24 | S - Sale | $8.32 | -$14,003 | -17% |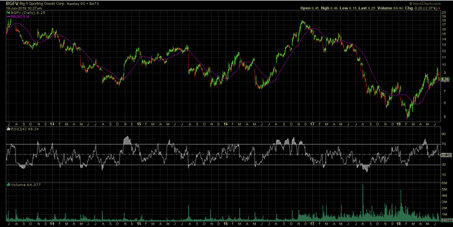 NRG Yield Inc.
From $16.95 to $17.2 (+1%)
Very little action in this one. Given the insider sale in May, I find it hard to stay with this one and will look for better opportunities.
| | | | | | | |
| --- | --- | --- | --- | --- | --- | --- |
| Name | Insider Type | Trade Date | Purchase/Sale | Price | Value | Own. Chg. |
| Chlebowski John | Director | 2018-05-10 | S - Sale | $17.81 | -$452,580 | -35% |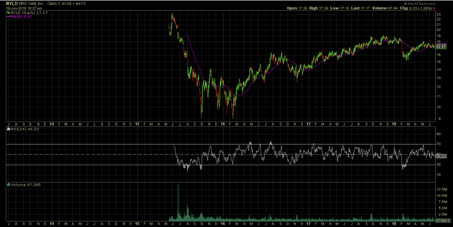 Disclosure: I am/we are long DDR,ODT,LCI,WAAS,BXC,GEL. I wrote this article myself, and it expresses my own opinions. I am not receiving compensation for it (other than from Seeking Alpha). I have no business relationship with any company whose stock is mentioned in this article.