I created the "Perfect Portfolio" as a potential solution for a period of low interest rates, when traditional broad based bond funds are not pulling their weight on the income front. A traditional bond ETF such as AGG could typically offer some decent yield and portfolio ballast. Those days are behind us, for now. And it may take a while before rates are boosted enough to make bonds attractive in the traditional sense. Now, I am certainly not against the traditional balanced portfolio of domestic and international broad based stock funds combined with a broad based bond fund, but the period of low rates may necessitate some out of the box thinking for those who are not satisfied with the measly income from those bonds.
I often write that there's two sides to the bond coin; there's the income and there's the management of the stock market price risks. These days, we might conclude that the coin is more of a one-sided offering. Currently, iShares AGG delivers an annual yield of 2.77% according to the iShares site.
If one holds that opinion that it's just 'not worth it' on the income side of the coin, then they might simply address the risk management side of the bond coin and focus on maximizing that effect. That leads us to those long term treasuries (TLT). As I have penned over and over and over again, the long term treasuries historically offer a wonderful form of market insurance. They typically offer an inverse relationship to stocks when those stocks are getting hit hard. You can read about that inverse relationship history in this article from 2014, Portfolio Keeping You Up At Night? Take One Of These.
Of course, past performance does not guarantee future returns. That article offers this wonderful chart for those seeking risk management.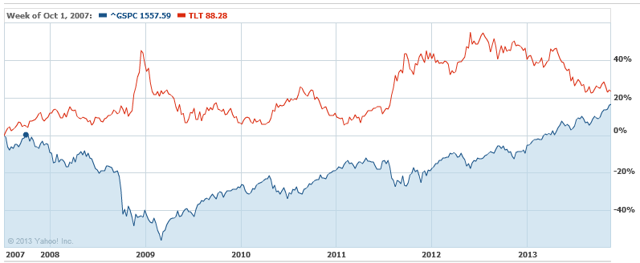 And, from 2013, The Best Market Correction Insurance. Now, I certainly wish I had not used an absolute statement in that article title. One could certainly argue that an inverse market ETF (SH) has more probability of success but I certainly like that inverse relationship history of the longer dated treasuries.
And while I've addressed the current low yield environment that is not to say that this Perfect Portfolio could be considered an all-weather portfolio as it is comprised for greater growth potential with RSP at its core. The magic when it happens occurs from that lower volatility and that ability to rebalance between the bonds and stocks when the stocks get hit hard and bonds are going up in price. There's that instant dry powder. In the rebalancing process, one will buy those stocks when they go on sale and perhaps delivering greater longer term "value".
So let's check in on the Perfect Portfolio over the last year and two. Once again, we've mostly been in a long bull market run. These are not the conditions when RSP will thrive or when the bonds will thrive. To no one's surprise the equal weight RSP has underperformed the cap weighted S&P 500 (IVV) as the overweighted tech heavyweights have been driving the total return show. Courtesy of portfoliovisualizer.com, here's RSP as Portfolio 1 and IVV as Portfolio 2 from January of 2017 through to end of May 2018. The cap weighted S&P 500 has outperformed the equal weighted S&P 500 version by over 3% on an annualized measure, 16.46% vs. 13.28%.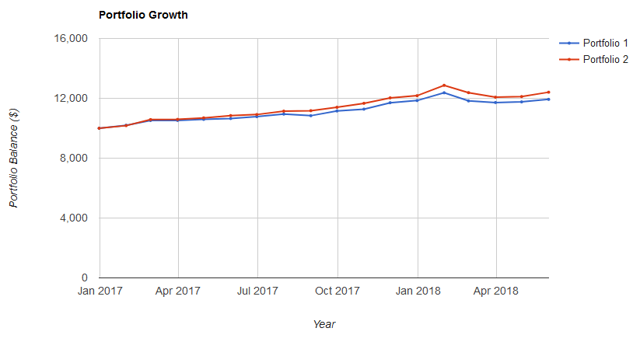 And here's TLT for the same period. It's certainly not the disaster that many had predicted due to the 'rising rate environment'. As per usual, no one has any idea what might happen to bond yields over the next one, two, three or five years and beyond.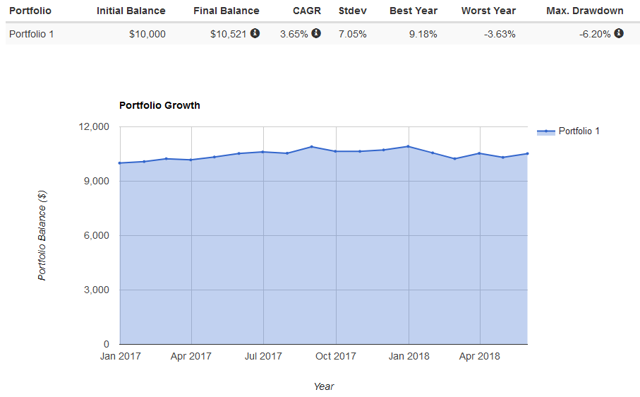 If we put them together in that 80/20 Perfect Portfolio asset allocation model, here's how it looks. The portfolio lags the market by 5% annual, but certainly the portfolio is able to deliver strong total returns even in a period that experienced some rate increases.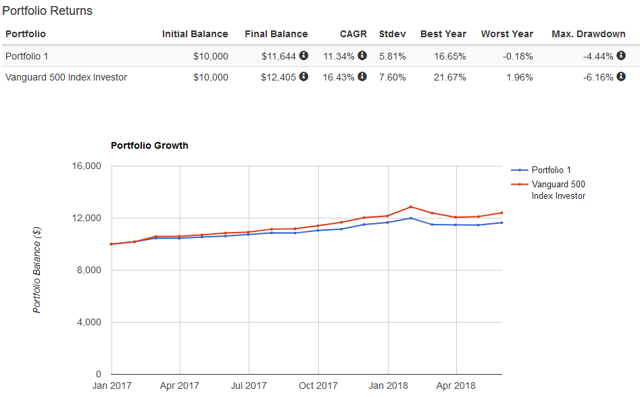 And how does the Perfect Portfolio stack up against a traditional 60/40 large cap balanced portfolio? As per design, we see an outperformance of the Perfect Portfolio due to the greater stock allocation.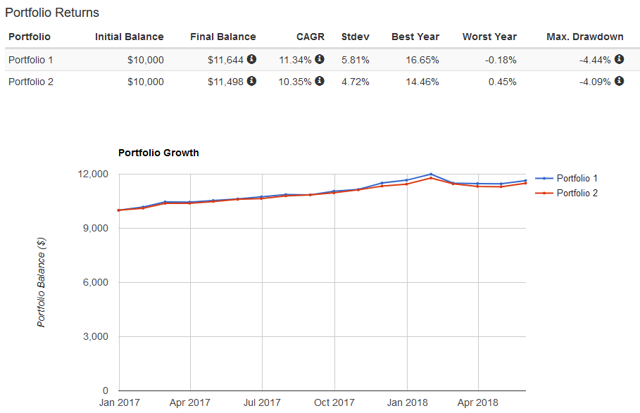 And we'll also run that back to January of 2016, through to end of May 2018. Keep in mind the portfolios are rebalanced on an annualized basis. We now see even greater outperformance.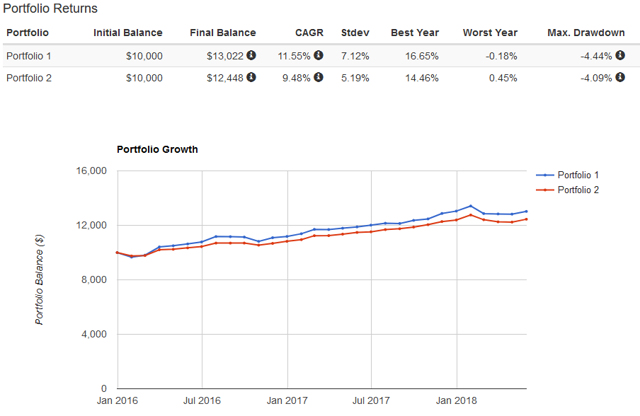 So what about the inverse relationship potential? Again, the stock markets have only offered very modest volatility, but let's have a look. It's certainly only a short term period, but here's March through April of 2018. Portfolio 1 is IVV, Portfolio 2 is TLT. We see that short term inverse relationship. But again, the real test(s) is yet to come.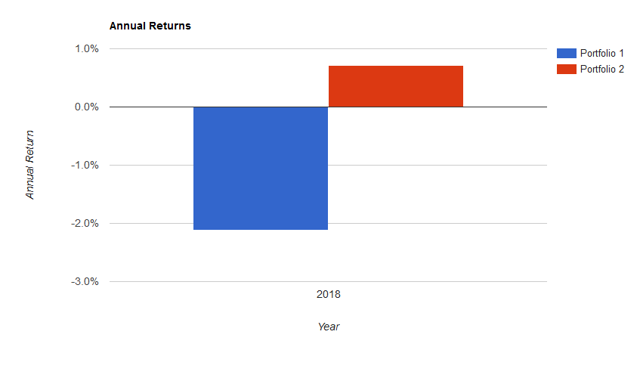 I would suggest that it's Mission Accomplished during a bull market run for the obvious reason that the Perfect Portfolio has a greater stock allocation. The longer dated treasuries certainly offer greater price risk compared to a broad based bond fund, but TLT has not been punished to any great degree. And in fact, even day to day and week to week, TLT has often offered that inverse relationship to stocks, when those stocks experience even modest declines.
Author's note: Thanks for reading. Please always know and invest within your risk tolerance level. Always know all tax implications and consequences. If you liked this article, please hit that "Like" button. If you'd like notices of future articles, click the "Follow" button.
Happy Investing.
Dale
Disclosure: I am/we are long AAPL, NKE, BCE, TU, ENB, TRP, CVS, WBA, MSFT, MMM, CL, JNJ, QCOM, MDT, BRK.B, ABT, PEP, TXN, WMT, UTX, LOW, RY, BNS.
I wrote this article myself, and it expresses my own opinions. I am not receiving compensation for it (other than from Seeking Alpha). I have no business relationship with any company whose stock is mentioned in this article.
Additional disclosure: Dale is the Chief Disruptor at cutthecrapinvesting.com