Soybeans appear to have already priced in a worst case scenario for supply and tariffs. But there is a long growing season ahead.
Opportunities for Option Cash Flow
In our April 6 feature on Soybeans, you read a suggestion for selling deep out of the money soybean calls. This was based on bearish soybean fundamentals. You also learned that if China targeted US soybeans in a trade war - this would only be an added bonus for the trade.
It turns out both have come to bear on the soybean market. Soybean prices are down over 15% from their April 6 price levels - pressured there by both fundamentals and the Chinese.
If you sold the calls, you're in tidy profits right now - possibly much sooner than you expected.
However, could prices have fallen too far, too fast? Is there now an opportunity on the OTHER side of this market?
Our opinion? Quite possibly yes.
Doubling Down on Potential Profit
Sudden market moves in your favor can be an unexpected bonus in option selling. You now have an advantage in that you have an option that is not only profitable, but highly unlikely ever to go in the money. You can play it safe and take your profit.
Or you can press your advantage.
Sometimes, that means doubling down on the other side of the market.
Are Soybean Prices Done Falling?
As an option seller, you do not necessarily have to answer that question.
However, this much is clear. The 2018 US soybean crop is off to a fantastic start. Planting went well. Weather has been near ideal. As of the June 12 USDA Supply/Demand report, US ending stocks are pegged at 385 million bushels. This is not the highest in the last couple of years, but well above historical norms.
Global Ending stocks remain burdensome as well. At 87.02 Million Metric Tons (MMT), the 2018/19 global soybean stocks will be the 3rd highest in history - behind only the last 2 years.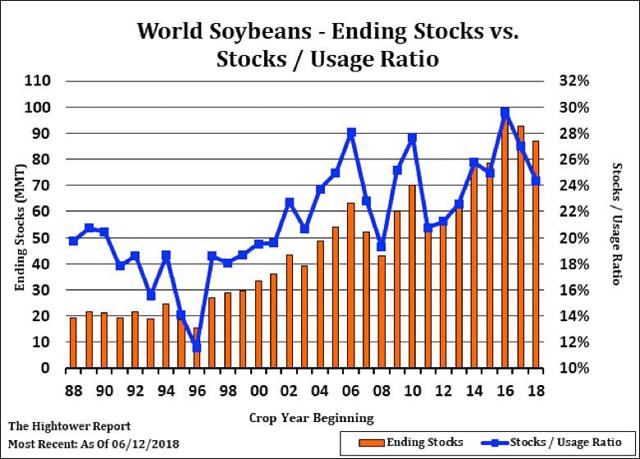 2018/19 Global Soybean Stocks will be 3rd Highest in History.
Throwing gas on this already bearish fire, of course, is the trade war story. President Trump's order to identify another $200 billion in Chinese goods for tariffs has whipped soybean traders into a trade war frenzy. The thought is that China will slap tariffs on US beans in retaliation, crushing demand.
This fear, more than anything, is what has driven prices to new lows this week.
Are prices done falling? Maybe. Maybe not. What is clear is that the news cannot get much worse. Which in trading, is when opportunity often knocks.
Only Way to Go Now?
It is said that once you hit bottom, the only way to go is up. While prices may or may not have bottomed, the bearish news on soybeans may have already jumped the shark.
Soybeans are already pricing in a Chinese tariff - even though none has been announced as of yet. They are also pricing a perfect US harvest. This before the growing season is barely underway.
But global soybean demand is booming - hitting an all-time record in 2018/19. There is little room for error. With prices now depressed so far, any blip in the weather could bring a wave of short covering, at the very least.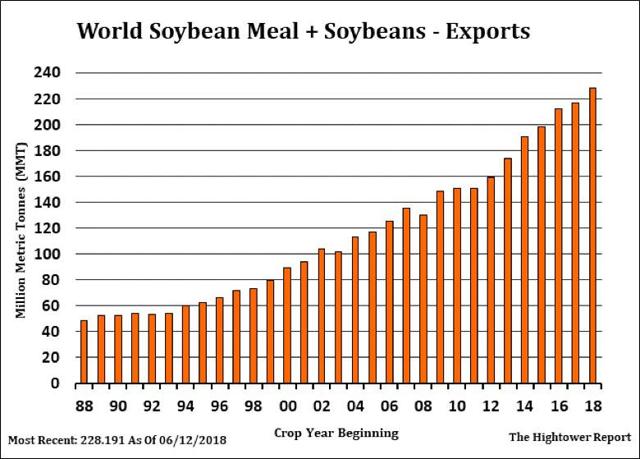 Global soybean exports will soar to new record highs in 2018, leaving little room for crop problems
As for China, a tariff on US beans would likely mean shifting a large portion of their business to Brazil. China still needs the beans. Chinese buyers will simply favor lower-priced Brazilian beans. On the world stage, that's a wash.
On the US stage, it is already happening. Indeed, May soybean exports from Brazil hit a new record high in May at 12.4 million tons. China has been gradually shifting business to Brazil for most of 2018.
It is our opinion that slapping a tariff on US Beans will be more of a formality than anything else. Sure, there could be another knee-jerk reaction leg down. But the market has largely already priced this in.
Conclusion and Strategy
Markets tend to react to news events by pricing in a worst-case scenario and then working backwards if it does not occur. We are of the opinion that soybeans are now in the process of doing exactly this.
The news cannot get much worse, which means odds favor something bullish, or at least less bearish, coming into prices. The least bit of US weather worries would be enough to give bears pause. Everyone expects Chinese soybean tariffs now. If they don't come, expect a rally.
Regardless, soybean prices may have overreacted to the recent news. While we don't suggest trying to pick a bottom, soybeans falling another $1.00 per bushel would seem extreme.
It is curious that put premium has not greatly inflated on the rally, perhaps a sign that while traders are liquidating longs, they are not necessarily excited about getting short.
While today's movement could be a blow-off bottom, we feel there is still enough bearish news to potentially see more weakness.
March 2019 Soybeans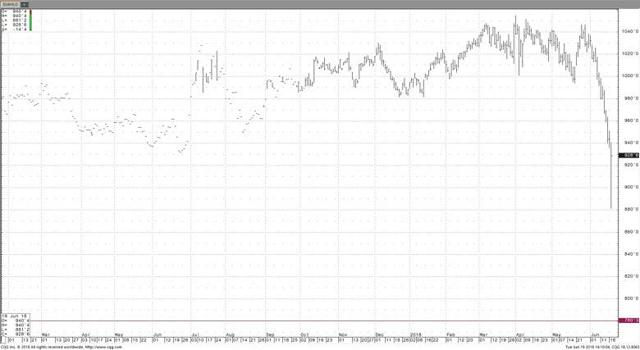 Selling the March 7.80 Soybean put on further price weakness
Self-directed traders can view additional weakness as an opportunity to sell put options at strikes below the $8.00 level basis the March 2019 contract.
The March 7.80 put looks like a good bet for safe premium given current fundamentals - even with a tariff. It is not there yet but a $500+ premium would be optimum. Another round of China news could potentially get us there soon.
Have a great month of premium collection and we'll be updating the soybean market in this month's podcast.