Introduction
Over the past few months, most of you have noticed our increased activity in closed-end funds, as the inflow of volatility finally shook them up and created various arbitrage, and directional, opportunities for active traders such as us.
Master Limited Partnerships, or MLPs, have had a couple of rough years, and we have been exposing ourselves to them through the related CEFs every now and then, as avid followers would have noticed from our articles. Now, this group shall become part of our Weekly Reviews so we can keep an eye on them in a more consistent manner and share our thoughts with you.
The News

There was no news relevant to the constituents of this group over the last week.
The Sector
After it reached a level of resistance, the Alerian MLP ETF (NYSEARCA:AMLP) started the week with a successful breakthrough, but it lasted just for a while. As shown below on the chart, the ETF started dropping on the third day of the week and continued so until the closing bell on Friday. Of course, there was a total selloff in the closed-end funds which are invested in Master Limited Partnerships.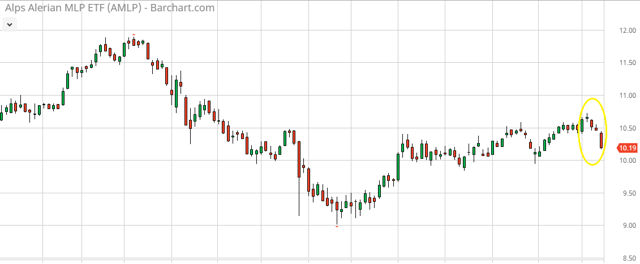 Source: Barchart.com - AMLP Daily Chart (6 months)
Now, let us take a look how the United States Oil (USO) index performed in the past week: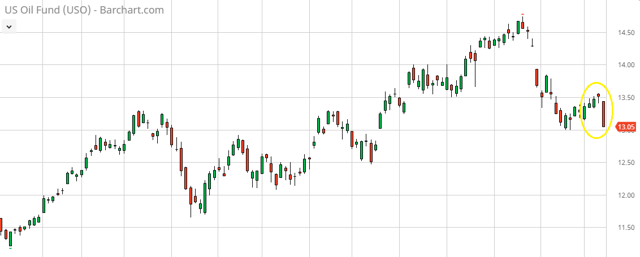 Source: Barchart.com - USO Daily Chart (6 months)
After the fund made a new high at the end of May, we observed a prolonged period of weakness that we had not witnessed since early February. However, the ETF bounced off the $13.00 level, reached a price of $13.50, and returned to its exit point in the frames of one day. It was a 'Black Friday' for the US Oil fund. We could notice a correlation between the USO and AMLP this week, especially when we look at the final days of the week.
All that said, let us proceed with a brief examination of how the closed-end funds, which invest in Master Limited Partnerships, ended last week.
1. Highest Z-Score

Source: CEFConnect.com
The leader in today's group is the Cushing MLP & Infrastructure TR fund (SRV) with a Z-score of 1.80. We should say that, over the past couple weeks, the numbers shown above are getting higher and higher. However, the only fund that we could categorize as overpriced is SRV.
2. Lowest Z-Score

Source: CEFConnect.com
Still in the leading position is the Salient Midstream & MLP Fund (SMM) with a negative Z-score of -2.10. It is followed by Duff & Phelps Select Energy ML (DSE), which has a Z-score of -1.90.
As we already discussed last week, DSE's Z-score has been going lower and lower, potentially because of the relatively recent dividend cut. Today, its present Z-score has shrunk with another 0.30 points since last week was -1.60. It is near the level where we could be looking at a potential "Buy".
3. 5-year Annualized Return On NAV

Source: CEFConnect.com
In a positive territory, today, we can only find the First Trust Energy Income & Growth Fund (FEN). Last week, it was the leader in the group again.
4. Highest Premium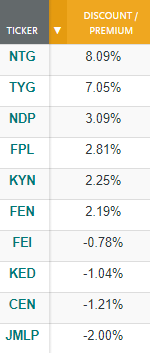 Source: CEFConnect.com
Today, there is a new shift in the leading positions. Again, the Tortoise MLP Fund (NTG) has the golden medal followed by Tortoise Energy Infrastructure Fund (TYG). Over the past few weeks, those two funds where concurring for the leading position.
Between the two funds, I could find a probable 'short' opportunity in the face of NTG. My first sign will be the higher Z-score (1.20), compared to TYG, which is 0.00. My second argument will be that the NTG fund is trading at a higher premium.

Source: CEFConnect.com
We can easily see that NTG is trading way higher than its average price at the moment compared to TYG which is trading around its 'normal' levels.

Source: CEFConnect.com
5. Biggest Discount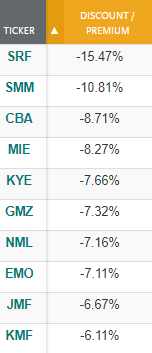 Source: CEFConnect.com
Without a change, the leader in the group is still Cushing Royalty & Income Fund (NYSE:SRF). Its current discount is -15.47%, which represents a slight narrowing of the Market Price/Net Asset Value spread observed last week.
For most of the funds, the Discount has actually increased.
6. Highest Effective Leverage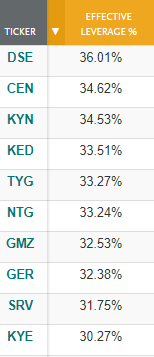 Source: CEFConnect.com
Although the sector is a stranger to positive returns, it definitely is not to leverage. As we can see, all of the funds in the group have a similar leverage % - from 30% to 36%.
7. Lowest Effective Leverage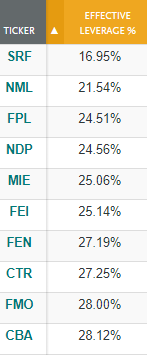 Source: CEFConnect.com
The difference between the funds' leverage is not that huge, or rather, there apparently is no MLP CEF that does not utilize it.
8. Highest Distribution Rate: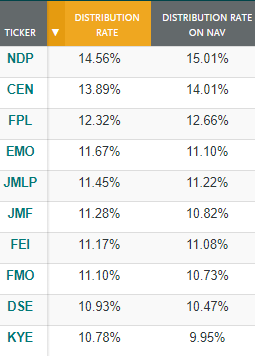 Source: CEFConnect.com
The above table provides us with information about the funds with the highest distribution rate on market price.
9. Lowest Distribution Rate: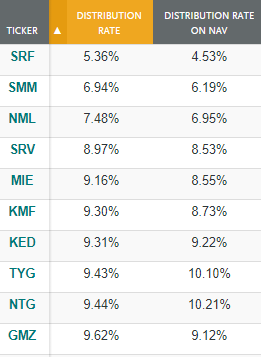 Source: CEFConnect.com
Like I have said before, for me, this is not the most important criteria that we should look at. The return on the net asset value is way more important to examine when we do our research on closed-end funds rather than just gazing at the distribution rate. It just makes no sense.
Conclusion
Master Limited Partnerships have not really been following the price of anything in particular. However, they are crippling up slow and steady, which is still acceptable, given the not-so-recent announcement from FERC, etc. Other segments of the Energy sector have been aiming at their 52-week highs in the meanwhile, and, as long as there is no weakness there, it is unlikely that MLPs will crumble without a good reason.
Additionally, there is an undergoing process in the sector where individual companies, held by the CEFs we examined, are switching from the MLP model to the Corporation one in order to deal with the aforementioned changes. This is also bound to have an impact on the sector, although it is absolutely beyond the scope of these articles.
Note: This article was originally published for our subscribers on 6/17/2018, and some figures and charts may not be entirely up to date.
Trade With Beta
At 'Trade With Beta' we also pay close attention to Closed-end Funds and are always keeping an eye on them for directional and arbitrage opportunities created by market price deviations. As you can guess, timing is crucial in these kinds of trades, therefore you are welcome to join us for early access and the discussions accompanying this kind of trades
Disclosure: I/we have no positions in any stocks mentioned, and no plans to initiate any positions within the next 72 hours. I wrote this article myself, and it expresses my own opinions. I am not receiving compensation for it (other than from Seeking Alpha). I have no business relationship with any company whose stock is mentioned in this article.