As was widely expected, the Fed delivered its seventh rate hike in the current cycle and raised the Fed funds target range by 25bp to 1.75%-2.00% at their meeting last week. More importantly, the dot plot that represents the median expectations of the 15 FOMC participants and is therefore the best approximation of their future votes and Fed's monetary policy decisions, now envisages a total of 4 rate hikes in 2018, one more than in March.
Chart 1: FOMC participants' assessments of appropriate monetary policy: Midpoint of target range or target level for the federal funds rate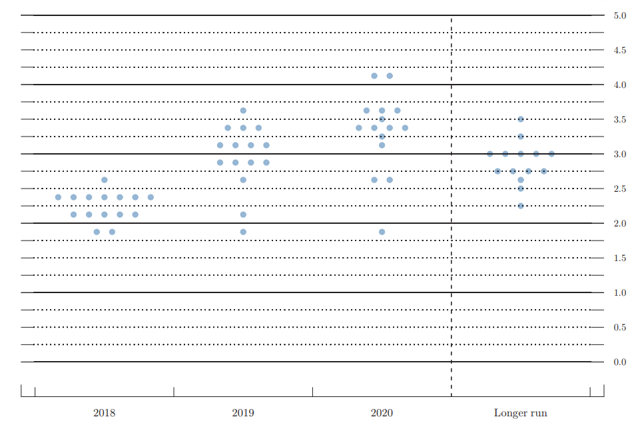 Source: FOMC statement
The statement and projections released after the meeting showed that the Fed upgraded their take on the economy and downgraded their worries about inflation. In detail 2018 GDP and core inflation projections were upgraded by a tenth each (see table below).
Table 1: Economic projections of Federal Reserve Board members
| | | | | |
| --- | --- | --- | --- | --- |
| | 2018. | 2019. | 2020. | Longer run |
| Change in real GDP | 2,80 | 2,40 | 2,00 | 1,80 |
| March projection | 2,70 | 2,40 | 2,00 | 1,80 |
| Unemployment rate | 3,60 | 3,50 | 3,50 | 4,50 |
| March projection | 3,80 | 3,60 | 3,60 | 4,50 |
| Core PCE inflation | 2,00 | 2,10 | 2,10 | n/a |
| March projection | 1,90 | 2,10 | 2,10 | n/a |
| Fed funds rate | 2,40 | 3,10 | 3,40 | 2,90 |
| March projection | 2,10 | 2,90 | 3,10 | 2,90 |
Source: FOMC statement
The Fed stated: "Recent data suggest that growth of household spending has picked up, while business fixed investment has continued to grow strongly." The Fed also acknowledged that the labor market strengthened further since their last meeting and therefore downgraded their 2018 unemployment forecast by 0.2pp to just 3.6%.
The phrase "the federal funds rate is likely to remain, for some time, below levels that are expected to prevail in the longer run" was dropped out from the statement. Also, chairman Powell announced that he will hold a press conference after every FOMC meeting as of January next year. Currently, the market thinks that the Fed will not change rates in a meeting without a scheduled press conference. The announced change allows the Fed to improve their communications and have more flexibility when hiking rates.
Just one day after the Fed hiked rates, the ECB announced that they will end their bond purchasing program at the end of the year. More precisely, the ECB plans to continue net asset purchases of EUR 30bn each month to the end of September, and will then continue them at a reduced pace of EUR 15bn per month to the end of December, before ending them completely at year-end.
However, one should think twice before interpreting the end of bond purchases as a sign of growing inflationary pressures or stronger fundamentals of the eurozone economy. If purchases had not been concluded, the ECB would soon hold more than one third of sovereign bonds of certain countries, leading to legal problems due to the OMT ruling of the European Court of Justice.
Chart 2: Percent of total debt held by the ECB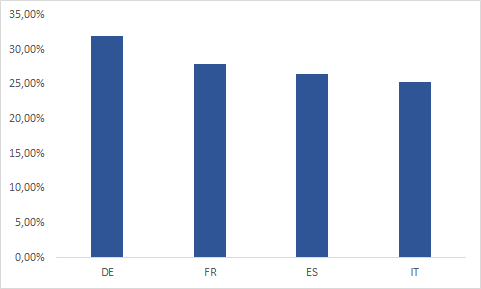 Source: ECB
In fact, the ECB showed pretty clearly that they have no intention ending their loose monetary policy stance any time soon. The forward guidance previously stated: "We still expect the key ECB interest rates to remain at their present levels for an extended period of time and well past the horizon of our net asset purchases."
The new guidance regarding the rates states: "Third, we decided to keep the key ECB interest rates unchanged and we expect them to remain at their present levels at least through the summer of 2019 and in any case for as long as necessary to ensure that the evolution of inflation remains aligned with our current expectations of a sustained adjustment path." The ECB statement clearly showed investors they have no reason to price an early rate hike or the beginning of hiking cycle in the near term.
Furthermore, the ECB downgraded their 2018 growth forecast by 0.3pp, while keeping the 2019 and 2020 outlook unchanged. While the ECB upgraded their 2018 and 2019 inflation projection by 0.3pp to 1.7%, they expect it to remain at that level through the next three years which implies that the ECB is still a long way from reaching their medium-term inflation target.
Table 2: Economic projections of the ECB Board members
| | | | |
| --- | --- | --- | --- |
| | 2018. | 2019. | 2020. |
| Change in real GDP | 2,10 | 1,90 | 1,70 |
| March projection | 2,40 | 1,90 | 1,70 |
| Unemployment rate | 8,40 | 7,80 | 7,30 |
| March projection | 8,30 | 7,70 | 7,20 |
| HICP inflation | 1,70 | 1,70 | 1,70 |
| March projection | 1,40 | 1,40 | 1,70 |
| Core HICP inflation | 1,10 | 1,60 | 1,90 |
| March projection | 1,15 | 1,50 | 1,80 |
Source: ECB projections materials
The euro has weakened substantially after the ECB decision and the EUR/USD exchange rate is again trading around the 1.16 level. The latter is in line with my expectations of lower EUR/USD levels (please see 4 catalysts supporting further EUR/USD decline).
Chart 3: EUR and USD index movements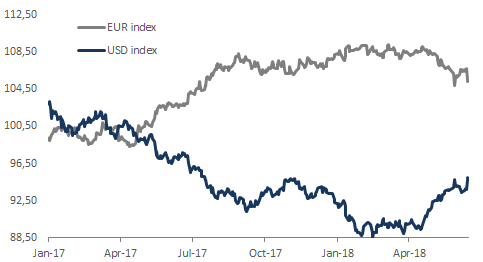 Source: ECB and St. Louis Fed
It seems that the reasons that supported the euro appreciation in the past 14 months vanished completely in the recent period. The ECB reinforced their view to keep the rates around current lows while political turbulences in Italy increased euro risk premium that has fallen significantly after Macron won the French presidential elections last year.
There are no fundamental arguments that would support euro appreciation in the near term while growing interest rate differential between the eurozone and the US and expected increase in profit repatriation due to tax relief in the US all support stronger dollar and therefore argue in favor of lower EUR/USD.
Disclosure: I/we have no positions in any stocks mentioned, and no plans to initiate any positions within the next 72 hours. I wrote this article myself, and it expresses my own opinions. I am not receiving compensation for it (other than from Seeking Alpha). I have no business relationship with any company whose stock is mentioned in this article.