In June 8th's "2 Billionaires Have this 4.1% REIT In Their Portfolios" we learned that two of the world's richest men, George Soros and Bill Gates, both owned shares of Crown Castle International (CCI).
Today, we analyze an even higher-yielding investment made by Mr. Soros that investors should strongly consider: Dominion Energy (D).
Electricity utilities have long been favorites of dividend investors. The reasons for this are simple. In exchange for putting up the capital to provide power to thousands of households, regulators guarantee them a reasonable rate of return - predictable profits that can be paid out in the form dividends.
The situation has worked well - imagine a world where you walk into your home after a long day. The only thing on your mind is a hot meal and a cold drink. You reach to switch on the light switch, flip your index finger, and then nothing. A trivial event you rarely think twice about has now turned your whole evening upside down.
This course of events sounds familiar to us all - we shouldn't feel bad about thinking little of what electricity utilities provide. That's just the point: when things are going well, you don't think about it.
Which is why, as reasons we shall soon learn, investors should give strong consideration to following multi-billionaire investor George Soros into shares of Dominion Energy.
Finding near-certain dividend stocks is a rare thing in an investor's life. And though they occasionally run into short-term travails, the public/private electric utility system in this country is alive and well and will likely continue to reward investors (and utility customers) for decades to come.
The hand that giveth taketh away…
In March 2018, the Federal Energy Regulatory Commission (FERC) handed down a ruling regarding the tax treatment of pipeline construction costs. Essentially, some pipeline operators lost a tax break. Unfortunately, Dominion Energy Midstream Partners (DM) (majority owned by Dominion Energy) was a beneficiary of this rule, and its units dropped like a stone from ~$26 to today's ~$13 quotation.
Making matters worse, Dominion Energy had planned to "drop down" its Cove Point LNG Facility to Midstream but has since canceled the plans as many of the moves' tax-advantages have disappeared thanks to the FERC's decision.
Adding insult to injury, Dominion's Virginia Power Subsidiary was forced to take a $215 million pre-tax charge in Q1 due to a deal with the state that required it to give a one-time rate credit to customers.
The good news for potential shareholders of Dominion Energy is that its fundamental business remains sound. Here are the highlights from its Q1 earnings:
Q1 FY 2018 EPS of $1.14 per share.
FY 2018 operating earnings still expected to fall between $3.80 to $4.25 per share.
Dividend expected to be increased by 10% in FY 2019 over 2018, and somewhere between 6-10% in FY 2020. Company affirms intention to increase dividends per share by 1% per year through 2019 and 6%

-10% in 2020
Though recent events have been less-than-ideal, they will eventually pass.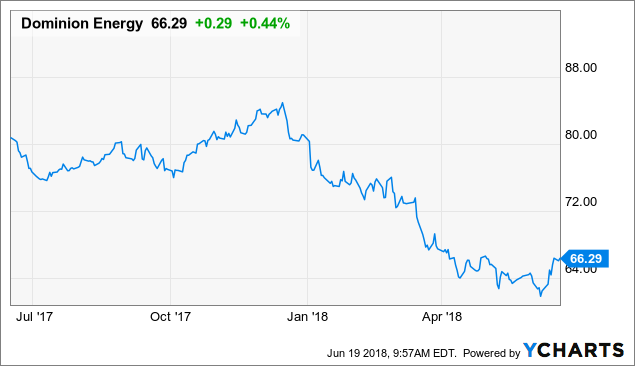 Shares have been pummeled by this string of bad news, downs some 17.5%. At their YTD-bottom, D shares were fairing even worse inflicting a 22%+ loss on investors.
It was at this moment that Soros, sensing opportunity, swept in via his Soros Fund Management hedge-fund turned family office and bought 225,000 Dominion Energy shares. Mr. Soros has been investing for six decades and knows a short-term storm that will soon pass when he sees one. As we can see, he is already up on the trade while simultaneously collecting that juicy 5%+ annual dividend.
Taking a step back, it should be clear to the reader that Soros is right. The regulators don't want to harm Dominion or its Midstream subsidiary - quite the opposite. In a way, these decisions are "costs of doing business" in its industry and a sign that Dominion will be better prepared to operate in the 21st century.
A stock worth owning is a battle-cruiser equipped to deal with anything. And Dominion, with its 5 million customers that all use its electricity to live their lives isn't going anywhere.
Compared to the rest of the stock market, an aging bull with more than a few grey hairs, Dominion Energy looks like a safe bet for both income and recovery-fueled capital gains.
Historically and over the long-term, we all know the stock market returns somewhere around 8%. With Dominion's 5% yield, you're two-thirds of the way there. Mix in a share price that has been pummeled by the negative news described above, and you've got the makings of a solid addition to your portfolio.
Generating electricity (and profits)
Essentially, we have a utility that is mired in regulatory rulings that were less than ideal. The uncertainty these actions taken by Dominion's overseers produced led to an inevitable avoidance of the shares.
But even the worst storms pass, and it's hard to imagine a scenario where Dominion doesn't continue rewarding investors for years to come.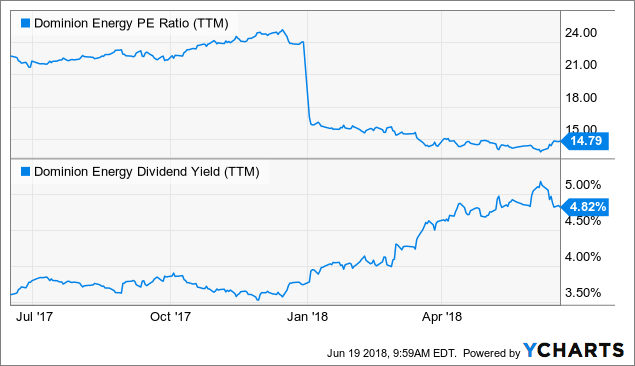 If you drown out the noise, it's clear that Wall Street will eventually come to its senses - and both you and Soros will be there as owners of Dominion Energy when it does.
We all love a good bargain, and Dominion's current valuation amounts to nothing less than a 20-30% coupon arriving in the mail for essential items like groceries - or even your electric bill.
Even the dividend, supported by a payout ratio that registered at 61.89% for FY 2017, trounces the Utilities Select Sector SPDR ETF (XLU)'s 3.44% yield.
By following Soros into D's shares, you'll get a 5%+ yield, share-price appreciation as regulatory-cost -fears abate, and growth as customers continue to demand more electricity to power their cars, computers, and smartphones.
Power your returns with Dominion
Dividends have historically made up a huge part of total returns enjoyed by investors.
By buying Dominion Energy's stock, you'll profit every time one of its customers flips on a light switch.
You'll own a great company purchased when shares were far below their normal valuation - a great place to be and no-doubt similar to other past successful investments made by the reader.
It is, of course, possible that regulators continue picking on Dominion. Management still hopes to acquire troubled South Carolina-based utility SCANA - a deal that if approved will have gone through an onerous regulatory process.
Failure could mean future earnings' growth visibility becomes foggy. But a lack of visibility is not the same thing as total lack of growth - Dominion is a 100-year old organization and will no doubt adapt to whatever the operating environment throws at it.
Everyone wants to own a stock with the potential to provide outsized returns - a harder and harder prospect in today's high-priced stock market. For reasons outlined above, Dominion Energy is a great place to start.
Disclosure: I/we have no positions in any stocks mentioned, and no plans to initiate any positions within the next 72 hours. I wrote this article myself, and it expresses my own opinions. I am not receiving compensation for it (other than from Seeking Alpha). I have no business relationship with any company whose stock is mentioned in this article.