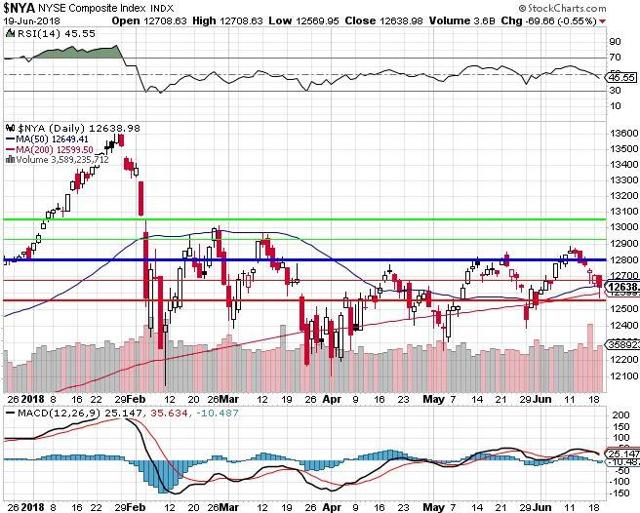 Coming back or just bouncing?
12,800 is the Must Hold line on the NYSE, meaning it's very bearish to be below that on the broad index and we finished the day yesterday at 12,638 and, so far, this morning's bounce isn't going to fix things. Back on May 26th, when the NYSE last tested 12,800, my notes from the Morning Report were:
It's still all about the NYSE and whether it's over or under that 12,800 line but I remember a time when the Dow and the NYSE would run completely neck and neck. That has gone completely out the Window as the headline index has been jammed 17% higher since Donald Trump was put in power by the USSR so thank you Putin – I guess…

The NYSE is right where we expected the market to be given that tax cuts, repatriation of capital and buybacks that have boosted the indexes over the past year plus. On the other hand, the Dow is silly and the Nasdaq is sillier and we're back to a 1998/1999 market, where Fundamentals don't matter (for now) and people are paying ridiculous forward multiples for stocks in the belief that this party is never going to stop and there's no piper to be paid. Is this time different? Don't bet on it!
The broad-market index has been trading in the lower part of a very tight range since February and, of course, the Dow is red for the year so the bulls are, at the moment, left with the over-priced Nasdaq and the narrowly-focused Russell 2000 Indexes to hang their hats on and we're still expecting a 10% correction in the Nasdaq, from 7,200 to 6,500 - before the summer ends. That's why we haven't been jumping in to buy things - we don't think these little "sales" are bargains at all.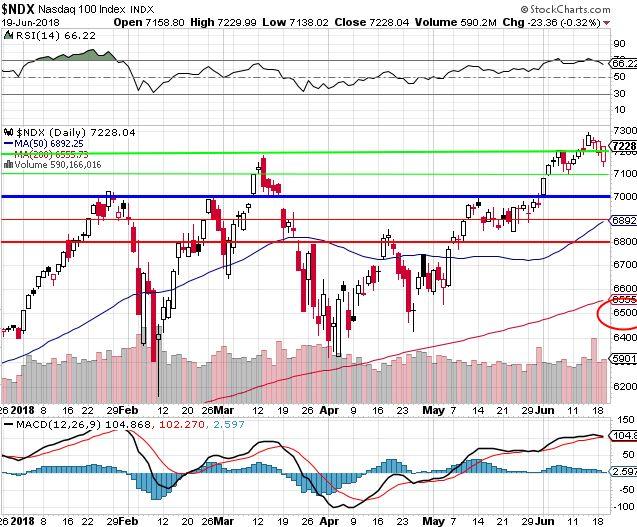 As you can see, the Nasdaq is way up in its range, over our 7,200 mark but we're not putting on the 7,500 hats just yet as that requires Apple (NASDAQ:AAPL) to punch up over $1,000,000,000,000 in valuation - and we don't think that's going to happen without a fight and, as I mentioned yesterday - the chance of Tesla (NASDAQ:TSLA) being exposed as a complete disaster is far more likely - and that will cause a huge rethink of all Nasdaq valuations.
Congratulations to all who followed us on yesterday's Tesla short from the Morning Report, which was (for our STP):
Sell 3 TSLA July $380 calls for $18 ($5,400)
Buy 4 TSLA July $435 ($70)/$400 ($42) bear put spreads at $28 ($11,200)
Despite what we considered very obviously bad news for TSLA, the July $380 calls opened at $17.50 and finished the day at $10.85 ($3,255) for a gain of $1,995 and the $435/400 bear put spread filled at $88/56, which was the same net $28, albeit at higher prices and that closed at $84.44/50.68, which is net $30.44 so $13,504 is net $10,249 which is up $4,449 (77%) in just one day! See, we don't have to make risky day trades to make perfectly good money in a single day...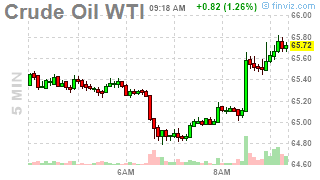 Today's day trade idea is Oil (/CL) with the Futures back up to $65.90 this morning and we'll take a short below the $66 mark with tight stops above into inventories, looking for a quick dip. Last night's API report showed an 800,000 barrel build in Oil and a 2.1Mb buid in Gasoline and a 750,000 barrel build in Distillates and oil wasn't as bad as feared so it shot up but that's silly and today is the last day of trading for the July contracts and, as of yesterday's close, there were still 27M open contracts for delivery and could you imagine the disaster if they actually accepted delivery of 27M more barrels into the glut we already have?
So we expect some dumping into the close and then there's Friday's OPEC meeting where Iran doesn't want to produce more oil, but the Saudis and Russians are likely to increase production with the added benefit of collecting 30M more barrels a month at $60+/barrel = $1.8Bn.
Disclosure: I am/we are short USO, TSLA.
I wrote this article myself, and it expresses my own opinions. I am not receiving compensation for it. I have no business relationship with any company whose stock is mentioned in this article.
Additional disclosure: Positions as indicated but subject to RAPIDLY change (currently mainly cash and an otherwise slightly bearish mix of long and short positions - see previous posts for other trade ideas).