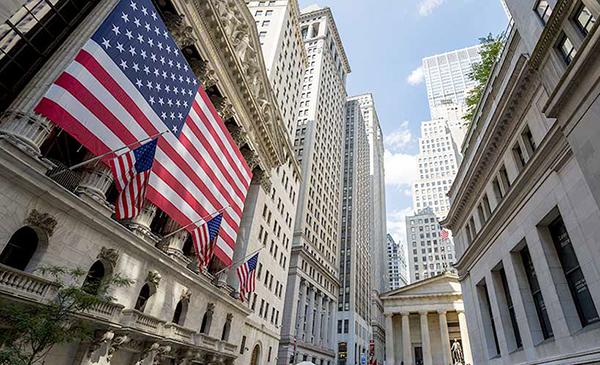 Staying The Course, Including Drawdowns, Within A Bull Market
The stock market is recording new all-time highs. The market has been led by the Russell 2000 (IWM) small cap index, which achieved the milestone in May, after a 3-month period of weakness for stocks. The Nasdaq (QQQ) has followed with its own new highs this month, while the S&P 500 (SPY) and Dow Jones (DIA) still lag.
The volatility provides another lesson in the relentless march of the market to new highs, that the downside fluctuations exist within a primary uptrend, which remains intact. Exiting the markets completely during a typical bull-market fluctuation can prove to be frustratingly costly if one is not reinvested on some of the best days during the recovery phase.
Market timing can markedly improve portfolio performance. Unfortunately, for both professional and non-professional investors, it is very difficult to practice market timing with consistent accuracy. The cost of being unsuccessful can grow over time as investors run the risk of missing strong performances within a bull market as corrections transform into recoveries.
The cost of market-timing on annual returns is illustrated in the chart below.
Cost of Market Timing: Risk of Missing Best Days 1997-2017

Source: Morningstar Just missing the 10-best days can slash the portfolio return by 50% fairly consistently over various time periods.
The only guaranteed return in the stock market is that of the market itself. And that should be fine for many less-active investors, as long as they have the desired allocation based on their age bracket, younger should be more aggressive and older should be less aggressive, and investment goals. The market has a natural upward bias over time, even with all the drawdowns, and the chart below should provide some measure of reassurance that the stock market always wins with time.
Dow Jones Performance 1900 to 2016 ~ Source: StockCharts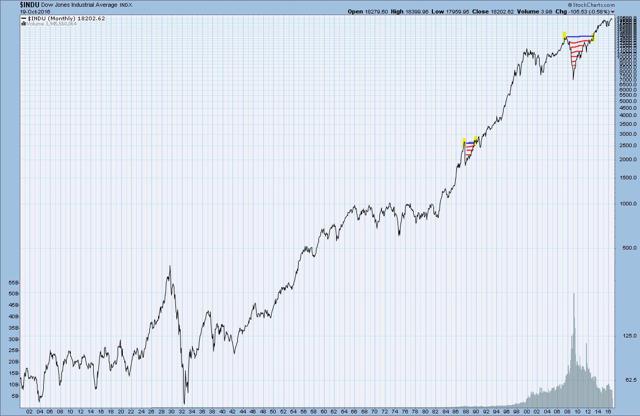 The red stripes on the chart above are the examples of drawdowns, with the steepest ones experienced during the recession-led bear markets. Drawdowns are fairly frequent even during bull markets. In over 180 years of market history, it has been observed that we live in a state of drawdown nearly 60% of the time.
Once we accept that fact about the inevitability of drawdowns even in a growth environment, of which more can be read here, it encourages investors to look further and take a longer-term outlook. The twin focus should be on, one, calibrating the portfolio exposure during a bull market, instead of timing an entry-and-exit strategy, and two, avoiding the worst of the bear market by tracking economic indicators that suggest a slowdown and forthcoming recession. Active investors, with the goal of outperforming the market indexes, will also find a measure of benefit with this approach.
It is just not possible for stock investors to be perfectly invested at the beginning of the bull market and be out at its end. But perfection is not required to be successful. Even with all the volatility, stock investing can still be highly rewarding and build wealth over time better than any other major asset class as demonstrated by the long-term chart below. The Growth of $1 from 1926 to 2017 - Stocks, Bonds, Bills, Inflation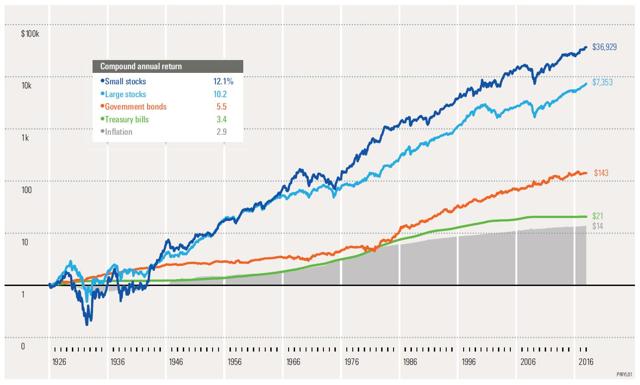 Source: Morningstar As one would anticipate, within the stock market the higher risk smaller cap stocks would have better performance over time.
Keeping An Eye Out For An Economic Slowdown
Most major bear markets are triggered by an economic slowdown leading to a recession. So it remains helpful for investors to keep track of measures that suggest a rising likelihood of an economic slowdown.
The key props of the stock market, earnings growth, economic growth, and monetary policy still remain favorable towards assuming investment risk. However, there are legitimate concerns, particularly around economic growth and interest rate policy at this time.
We discuss three indicators here that are helpful in developing an opinion on the economic outlook.
One reliable and easy way for investors to keep an eye out for a slowdown and perhaps an eventual recession is to monitor the yield spread between the long and short-term bonds. Typically, the spreads between 5 and 30 years as well as 2 and 10 years are followed. Any time, the long-end yield (30-year or 10-year) slips below the short-term yield (5-year or 2-year), it is referred as a yield inversion, and the spread turns negative. As can be observed from the chart below, the spread is dipping towards 0, and at the last week's level of 0.38, is now at the lowest point prior to the last recession.
US 10/2 Yield Spread

Source: Federal Reserve Bank of Saint Louis; GraycellAdvisors.com
The yield inversion indicator for recession is a well-respected leading economic indicator, followed closely even within the Federal Reserve, and consequently should assume greater importance for investors. The indicator has a reliable track record of predicting recessions and is fairly binary in its verdict. Each time the spread turns negative, a recession follows. At least that has been the consistent historical pattern over more than 40 years.
US 10/2 Yield Spread, 1976 to 2018

Source: Federal Reserve Bank of Saint Louis; GraycellAdvisors.com
Gray shaded areas are the periods of US recessions.
Even though the yield inversion indicator is a relatively reliable lighthouse bell alerting investors of a recession ahead, the economic downturn itself arrives with a considerable lag of 10 to 24 months, with a rough average of 16 months. The inversion should not by itself be a reason for investors to rush for the exits.
First, because of the significant lag, it doesn't make sense to batten down the hatches immediately. Second, because one indicator is never sufficient to predict the timing and other economic indicators need to be considered as well. Finally, the equities will still benefit from a late cycle boost before the market begins discounting a downturn.
Consumer and business spending are key drivers of economic growth. As things stand, they're not suggesting a recession compared to the patterns experienced before prior recessions.
Retail & Food Services Sales (Consumer Spending)

Source: Federal Reserve Bank of Saint Louis; GraycellAdvisors.comNotice the flattening out of the Retail & Food Services Sales, a proxy for consumer spending, prior to the two recessions in this century. Such sideways pattern is not observed in the current situation, with retail sales marking a new high in April data. This sideways pattern is observed in this blended data series and not if Food Services Sales are excluded.
When it comes to business spending, it has been lagging consumer spending since 2011. Things turned around in late 2016 and business spending is rising and contributing to economic growth.
Fixed Investment (Business Spending)

Source: Federal Reserve Bank of Saint Louis; GraycellAdvisors.comOver the past recessions, business capital spending weakened considerably prior to the economy heading into a downturn, as observed in the chart above. This does not appear to be the case presently with the data running until the end of 2017.
Consumer and business spending cannot be taken in isolation but studied in combination with other key economic data to arrive at an outlook. If one was to go solely by the Fixed Investment chart above, one would have been inclined to calling a recession since 2012. Much of this data can be obtained from various free sites including FRED, the Federal Reserve Economic Data database maintained by the Federal Reserve Bank of Saint Louis.
Conclusion
Staying the course is hard in the face of volatility. However, a valuable perspective on the investment outlook is added when one recognizes that volatility is a natural occurrence in a rising market. This has assisted us in our model portfolio approach, with the Prudent Biotech Portfolio up +37% as of June 1, and the Graycell Small Cap Portfolio up +28% in 2018.
A couple of key economic indicators, mentioned above, suggest that the expansion still remains intact and stock valuations have room to move higher, barring some systemic shock like an escalating and eventually out-of-control global trade war which will hurt economic growth.
At this time, we remain fully invested in our model portfolios and will calibrate the exposure as conditions warrant. Some of the promising midcap and smallcap names, which may be now or in the past part of our model portfolios, include Immunomedics (IMMU), Ultragenyx Pharma (RARE), Loxo Oncology (LOXO), Turtle Beach (HEAR), Agio Pharmaceuticals (AGIO), Fossil Inc. (FOSL), Regenxbio (RGNX), California Resources (CRC), Sarepta Therapeutics (SRPT), TransEnterix (TRXC), Supernus Pharmaceuticals (SUPN), Mirati Therapeutics (MRTX), Chegg (CHGG), Endocyte (ECYT), GDS Holdings (GDS), Adaptimmune Therapeutics (ADAP), Twilio (TWLO), Arrowhead Pharmaceuticals (ARWR), Trade Desk (TTD), Arena Pharmaceuticals (ARNA), and Neurocrine Biosciences (NBIX).
Author's note: As always, kindly do your own due diligence. The small cap/early midcap and biotech sector carry more risk of losses than the broader market. For additional information and helpful links, please check the Profile by clicking on the name above. Also, you can consider clicking the orange Follow button to receive such information immediately when published. Please feel free to add to this commentary or point out errors in the Comments section. Opinions can change with time and additional data. More details about our exposure to the names mentioned herein are in the disclosure below.
Disclosure: I/we have no positions in any stocks mentioned, and no plans to initiate any positions within the next 72 hours. I wrote this article myself, and it expresses my own opinions. I am not receiving compensation for it (other than from Seeking Alpha). I have no business relationship with any company whose stock is mentioned in this article.
Additional disclosure: Graycell Advisors or Prudent Biotech is not a registered investment advisor (RIA) and publishes quantitative-driven model portfolios for investors and RIAs. Some or all of the companies/stocks mentioned in the article may be in the past, now, or in the future, be part of the various model portfolios for subscribers. In addition, although there are no personal positions presently, stocks mentioned can be part of portfolios of family and associates.

Past performance is not a guarantee of future results. The information here is only provided for a general informational purpose and not as a recommendation, and is not guaranteed to be complete or accurate. Companies mentioned here may not be favored in the future as market trend changes and/or new information emerges, and no portfolio updates will be provided unless you are a model portfolio subscriber. Opinions, where expressed, can change with time and new information.
Editor's Note: This article covers one or more microcap stocks. Please be aware of the risks associated with these stocks.