Editor's note: Seeking Alpha is proud to welcome ETF Global as a new contributor. It's easy to become a Seeking Alpha contributor and earn money for your best investment ideas. Active contributors also get free access to the SA PRO archive. Click here to find out more »
Exchange traded funds can be a beautiful thing, offering cheap and easy access to some of the hottest stocks around and nowhere is hotter right now than the technology sector which has plenty of analysts conjuring visions of the dot.com bubble, version 2.0. Everyday seemingly brings new highs and with the technology sector now making up nearly 25% of the S&P 500, maybe those analysts have a right to be worried but those who focus on ETFs have an entirely different problem to be concerned about.
An asset allocation specialist once told us that it was better to buy the worst fund in the best space than vice-versa, and it's hard to argue with that logic after watching most tech funds outperform the broader market this year, but that gap between the best and worst performers is staggering. We're currently tracking 30 domestic non-levered technology funds and the difference in trailing one-year returns between the worst and best performers over the last 12 months is nearly 4600 basis points. Given that the iShares Core S&P 500 Fund (IVV) was only up 14.18%, that's a big enough gap to drive a truck through.
How The Study Was Done:
Everyone would agree that before you can make a proper comparison between two funds, you need to make sure they're even roughly comparable in the first place. Call it homogeneity; they should have a similar investment mandate and draw their investments from the same places or else you're just comparing apples and oranges.
That's easy to do in style box categories like "Large Blend" where nearly every fund is benchmarked to the S&P 500 or Russell 1000, but how can you tell who outperformed and who whiffed in a space where funds with a range of tech exposure from less than 50% to almost 100% can all be "technology" funds?
Why the broad range? Well ask yourself whether Amazon (AMZN) or eBay (EBAY) is a technology stock? The answer is that it depends on who's doing the judging. S&P Dow Jones Indices and MSCI have both been struggling to adjust their categorization systems to keep up with the modern economy, hence their announcement last year that Alphabet (NASDAQ:GOOG) (NASDAQ:GOOGL) and Facebook (NASDAQ:FB) would be joining Netflix (NASDAQ:NFLX) in the expanded "communications" category (Reuters Sector Announcement).
For now, AMZN is in the consumer discretionary category (eBay will be joining it there soon) under the "internet & direct marketing retailers" sub-industry which can have a major impact on a passive ETF's holdings. The Consumer Discretionary Select Sector SPDR (XLY) has AMZN and plenty of it with over 21% of the portfolio in that one stock, but the Technology Select Sector SPDR (XLK)? Not a single share. But it does have a .5% allocation to eBay.
Our analyst's solution was to take the broadest possible approach and look at funds assigned to the technology space by either ourselves or Morningstar and with at least a three-year track record producing a list with 31 names that you can see below. Seems straightforward enough but even that can be deceiving.
Two of the strongest performers over the last year, the ARK Web x.0 ETF (ARKW) and ARK Innovation ETF (ARKK), land in Morningstar's technology category while we assign them to the "thematic" space. Both have technology stocks as their largest sector, but their broad investment mandates mean they have smaller weightings to the space than older funds like the Technology Select Sector SPDR ETF (XLK) with 82% in tech names.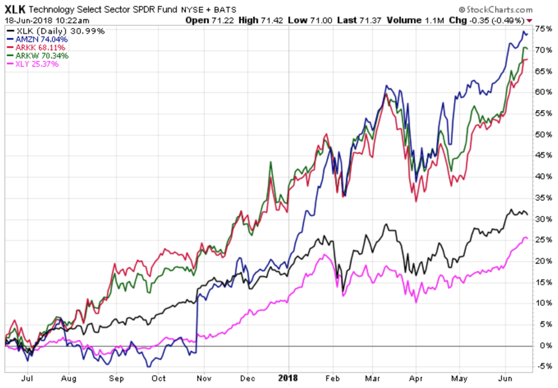 That wide range of industry exposure directly led to our second major stumbling block, namely trying to define the benchmark so we can determine who outperformed. Sounds like an easy problem, so why so serious Couldn't we simply take a simple average of all the funds in the space?
Well yes, and we did but given that wide range of industry exposure and differing average market caps, we're forced to ask whether they even technically belong in the same category. We tried a number of approaches including building our own hypothetical portfolio but ultimately decided to cut the Gordian knot by comparing our universe to one of the oldest funds around, the Technology Select Sector SPDR.
So why did we choose the "OG" fund XLK? Partly because that for many investors and their advisors, checking the performance of XLK is synonymous with checking the performance of the tech sector because the fund is so well-known. XLK offers exposure to a specific segment of the largest index in the United States thereby giving investors exposure to the largest, most-well-known names in tech and it cut our list of top performers down to 19. But more importantly, once you start comparing XLK to the other funds on this list, it becomes immediately apparent that passive index replication formula is exactly what investors don't want in 2018.
How The Sausage Is Made:
We've already pointed out that analyzing ETFs is more than just comparing top holdings, you have to know how those strong performers found their way into the portfolio in the first place. While there are a handful of active funds on our list, including two top performers ARKW and ARKK both active and passive funds follow a similar approach to building their portfolios, ultimately coming down to three factors. All need to have an investable universe defined by an investment mandate, a stock selection methodology and weighting system. Knowing that, what can we glean from our list of top performing tech funds?

Go Wide or Go Home: The first step in making our list of top performers was that you didn't have, namely an overly narrow investment mandate that restricted you to a specific sector or even sub-sector. Just look at the number of funds with some combination of innovation, internet or web in their name. And what does having an "internet" focus even really mean? For the First Trust Dow Jones Internet Index Fund (FDN) with almost $9 billion in AUM, it means merely that at least 50% of your annual sales must be generated over the internet.
That gets you not just S&P heavyweights like web retailers (Amazon) or media providers (Netflix) but unprofitable cloud enterprise names like Okta (OKTA) or New Relic (NEWR) that have been crushing it this year. XLK by comparison is limited to simply replicating the S&P 500's technology sector.
Size Matters: Now you could easily argue that funds like XLK have an equally broad mandate but because XLK is designed to track only technology names in the S&P 500, you tend to only get the biggest and most well-known companies hence their average market capitalization of over $200 billion. That may seem high but it's a direct function of their investment pool and weighting methodology.
By contrast, most of the funds among our top performers focus on smaller names and without a limited reference index. They only insist that you be based in the U.S. or have an ADR but even that's not a hard-and-fast rule, especially for some of the newer funds like the PureFunds Video Game Tech ETF (GAMR) given the international nature of the video game industry.
Instead they focus on industry and size, here defined by market capitalization and liquidity with most of our top performers having a minimum market cap floor of $500 million and six months of trade history but even that is flexible. FDN will allow companies with market caps of just over $100 million and three-month histories for IPOs while actively-managed ARKW has no defined criteria in its prospectus. What that gets out is the ability to target the small-to-mid cap names that have been driving this market, like OKTA or NEWR, as well as the option to add new stocks that larger funds will miss out on due to a lack of a trade history.
If You Got it, Flaunt It: Adding smaller names is only part of how you outperform, being able to give them a meaningful allocation is another. Within our own group of strong performers, there's no universal rule governing weighting systems; some have equally-weighted allocations, others use a modified or tiered market cap weighting system, but the outcome was the same. Less concentration in big names and more love for smaller companies, leading to a smaller overall average market cap and letting those smaller companies shine as they deliver serious performance.
"If It Ain't Broke, Don't Fix It"
In a nutshell, the funds that have stood out so far during this tech rally would be exactly the ones you'd expect to outperform; those that focus on smaller stocks and can add recent IPOs thanks to a more flexible universe with more frequent reconstitutions. But that success hasn't gone unnoticed, leading to new funds offering exposure to more of that same formula with an almost predictable result, over-concentration in the same names.
When we first began our research, we started with a list of funds that had just a one-year track record, coming up with 44 names but moving to a three-year track record cuts that down to just 31. It's almost surprising that the list wasn't longer given how quickly ETF assets have grown and while many are quickly creeping up on a three-year record, there do seem to be some similarities worth nothing.

As you can see, they share an affinity with their older brethren when it comes to having some combination of internet or innovative in the name but the similarities don't stop there. They also have much lower average market caps along with a smaller % in the top 10 names which would seem to indicate that they're using an equally-weighted or other system to spread their love around. That could seem a smart strategy for an individual fund, but when every fund begins using the same playbook, you could have a recipe for trouble.
Consider the case of Blucora (BCOR), a small firm (market cap of $1.75 billion) that provides technology-driven financial solutions like TaxAct and HD Vest and a strong performer, up over 77% in the last year. As new technology funds target smaller names, the company has become a common holding in 72 different funds which control nearly 20% of its market cap despite the company having such a small market cap.
You can see a comprehensive list of funds that own BCOR here (ETFG BCOR Exposure) but suffice it to say, XLK is not on that list while it's Vanguard competitor, Vanguard Information Technology ETF (VGT), is but with a mere .02% position.
But fast-growing funds like FDN or the Global X FinTech ETF (FINX) have quickly accumulated large positions in a small and volatile name. That's good when tech stocks have nowhere to go but up, not so good for a more volatile market as most funds have preset reconstitution dates.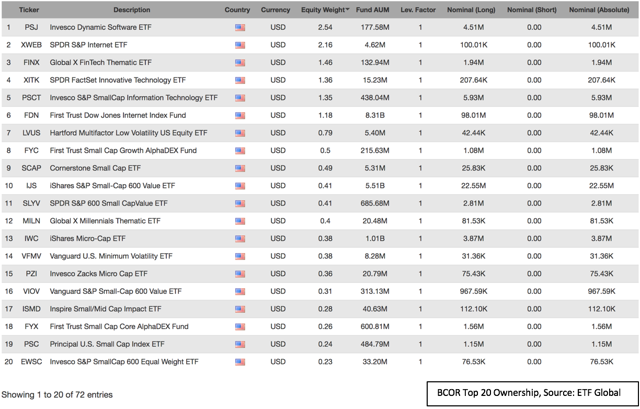 Add It To Your Watchlist:
We're not typically in the business of giving recommendations, we believe in education and offering insights, but that does include drawing on proven investment wisdom to help our readers make smarter choices. If there's one takeaway from this article it's simply that you need to be less focused on how your fund performed and more on how it was built in the first place. Many of these newer funds have been good to their owners, but what about those who still want to have tech exposure when the tech tide begins to go out?
One of the more unique funds that didn't make our list of strong performers but one you should add to your watchlist is the Pacer Trendpilot 100 ETF (PTNQ) which now has a three-year track record showing how it performed in a market that didn't always move up in a straight line (PTNQ Factsheet).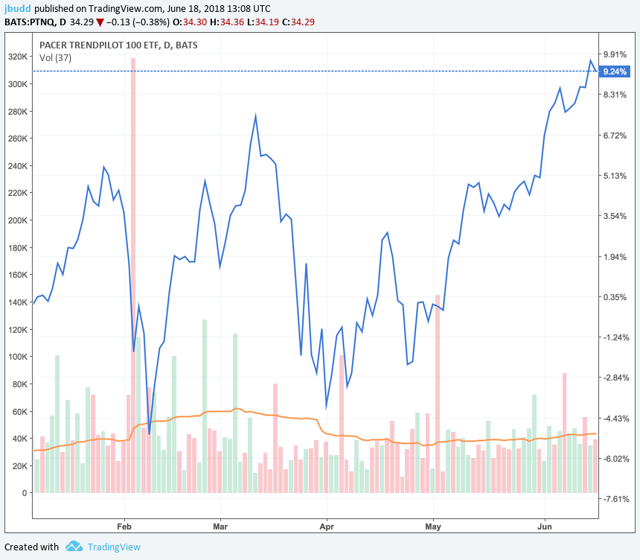 Why PTNQ? Linked to the Nasdaq 100, the fund offers ample exposure to both the technology and consumer names that seem to drive the market although as a pure tech play it would be disappointing. While its 13.36% return isn't out of place in 2018, the real attraction of the fund is that it also offers downside protection. It earns its name by following a series of simple trade rules built around the Nasdaq 100's 200-day simple moving average to determine whether the exposure should be 100% equity, 50% equity/50% T-bills or 100% T-Bills.
Easy to understand and PTNQ has done a good job keeping up with the Nasdaq over the last two years. The fund did struggle in the more volatile, sideways market of 2015 shortly after its launch, but strong inflows over the last three months show that at least a few investors are thinking ahead to a future where the market doesn't move upwards in a straight line.
Disclosure: I/we have no positions in any stocks mentioned, and no plans to initiate any positions within the next 72 hours. I wrote this article myself, and it expresses my own opinions. I am not receiving compensation for it (other than from Seeking Alpha). I have no business relationship with any company whose stock is mentioned in this article.
Additional disclosure: Assumptions, opinions and estimates constitute our judgment as of the date of this material and are subject to change without notice. ETF Global LLC ("ETFG") and its affiliates and any third-party providers, as well as their directors, officers, shareholders, employees or agents (collectively ETFG Parties) do not guarantee the accuracy, completeness, adequacy or timeliness of any information, including ratings and rankings and are not responsible for errors and omissions or for the results obtained from the use of such information and ETFG Parties shall have no liability for any errors, omissions, or interruptions therein, regardless of the cause, or for the results obtained from the use of such information. ETFG PARTIES DISCLAIM ANY AND ALL EXPRESS OR IMPLIED WARRANTIES, INCLUDING, BUT NOT LIMITED TO ANY WARRANTIES OF MERCHANTABILITY, SUITABILITY OR FITNESS FOR A PARTICULAR PURPOSE OR USE. In no event shall ETFG Parties be liable to any party for any direct, indirect, incidental, exemplary, compensatory, punitive, special or consequential damages, costs, expenses, legal fees, or losses (including, without limitation, lost income or lost profits and opportunity costs) in connection with any use of the information contained in this document even if advised of the possibility of such damages.