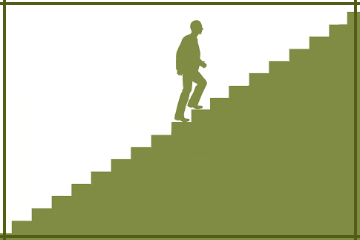 As a dividend growth investor, I highly value consistent earnings growth.
Consistent earnings growth gives a company options, either to grow the business, to retain the earnings, or to return it to shareholders as dividends or share buybacks. Of course, I'm mostly interested in dividends, so I look for consistent dividend growth commensurate with consistent earnings growth.
In my most recent 10 Dividend Growth Stocks articles (May 2018 and June 2018), I used a new screener to select candidate stocks from the CCC list. The screener allows me to set value ranges for up to twenty different fundamental metrics and to extract matching CCC stocks.
Here are the settings I used in the June article: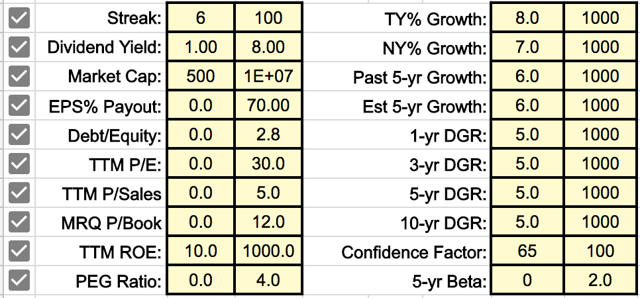 These settings extract 50 stocks from the CCC list, including stocks with both past 5-year and future (estimated) 5-year earnings growth rates of at least 6%.
While the above screener produces excellent stocks, it does not guarantee that those stocks will have consistent earnings growth. In fact, I haven't really defined what I mean by "consistent" earnings growth.
For the purposes of this article, I consider earnings growth to be consistent if a graph of the earnings over the past 10 years increases monotonically.
I used F.A.S.T. Graphs to look for stocks matching my definition of consistent earnings growth and found seven that meet the criteria, three of which I own.
The table below presents some key metrics as well as fair value estimates for these stocks.
In the table, Yrs are the years of consecutive dividend increases, Payout is the EPS payout ratio and Debt is the ratio of debt to equity. When available, the compound dividend growth rate over a 5-year period (5-Yr DGR) is provided. Standard & Poor's Credit Rating, as well as Value Line's Safety and financial strength (Fin. Strength) ratings also are provided. I've added Safety and Growth scores (out of 100) from Simply Safe Dividends. Finally, I present my own estimate of Fair Value.

To estimate fair value, I perform a multi-stage Dividend Discount Model analysis, a Gordon Growth Model analysis, and an analysis of dividend safety. My final fair value estimates also consider fair value estimates and price targets available elsewhere, such as from Morningstar, Simply Wall St, and TipRanks.
F.A.S.T. Graphs provide of view the relationship of stock price performance to operating results. In one glance, I can see where the stock price (the black line) is relative to the stock's normal P/E ratio (the blue line) and the so-called primary valuation line (the orange line). I can also see if earnings and earnings growth is consistent.
Let's look at each of these stocks in turn.
Comcast (CMCSA) • Consumer Discretionary
Founded in 1963 and headquartered in Philadelphia, Pennsylvania, CMCSA is a media and technology company. The company's Comcast Cable business provides video, Internet, and voice services to residential customers under the XFINITY brand. CMCSA's NBC Universal business consists of cable networks, broadcast television, filmed entertainment, and theme parks.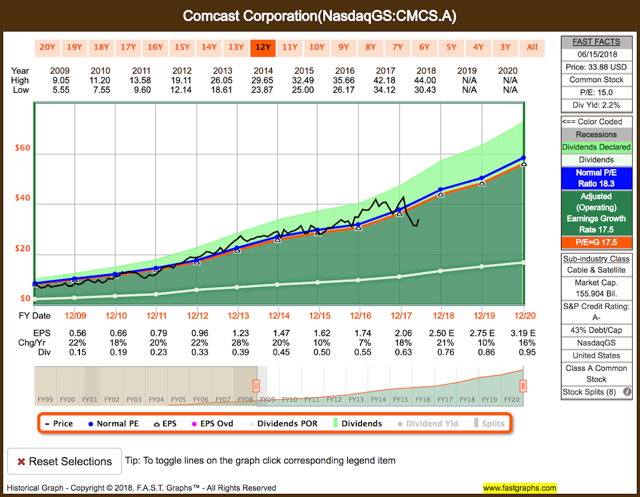 The slope of the primary evaluation (orange) line represents the earnings growth rate of CMCSA over the coverage period, calculated at 17.5%. Note that three earnings estimates (12/18, 12/19, 12/20) are included.
For stocks growing faster than 15%, F.A.S.T. Graphs uses the formula P/E=G to plot the primary evaluation line. If the price line intersects the primary evaluation line, the stock is considered to be fairly valued.
An investment in CMCSA in January 2009 would have returned 17.1% with dividends included.
CMS Energy (CMS) • Utilities
Founded in 1987 and based in Jackson, Michigan, CMS is an energy company engaged in independent power production and ownership of power generations facilities fueled by natural gas and biomass. The company generates, purchases, stores, transmits, distributes, and sells electricity and natural gas. Through EnerBank USA, CMS provides unsecured consumer installment loans for financing home improvements.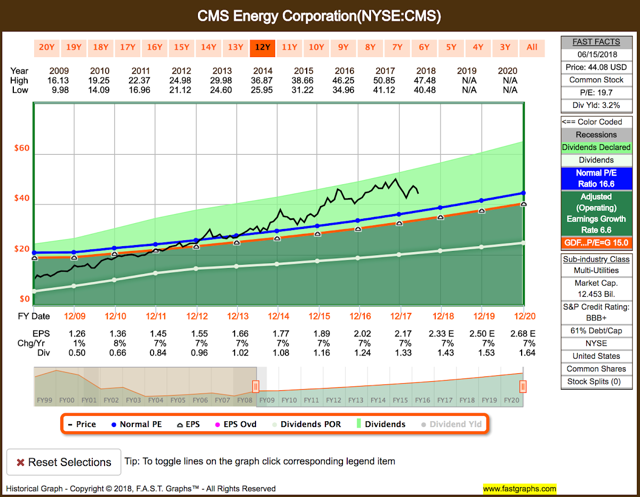 CMS has an adjusted earnings growth rate of 6.6%.
For stocks growing between 5% and 15%, F.A.S.T. Graphs blends two formulas, one for slow-growing stocks (earnings growth of 5% or less) and one for fast-growing stocks (earnings growth above 15%).
The formula for slow-growing stocks is Ben Graham's formula for valuing a business: V*= EPS × (8.5 + 2g), where V* is the intrinsic value, EPS is the trailing twelve month earnings per share, 8.5 is the PE ratio of a no-growth company, and g is the reasonably expected growth rate for the next 7-10 years.
An investment in CMS in January 2009 would have returned 19.2% with dividends included.
Marsh & McLennan (MMC) • Financials
Founded in 1871 and headquartered in New York, MMC is the parent company of various specialty consultants, including Marsh, an insurance broker, intermediary, and risk advisor; Guy Carpenter, a risk and reinsurance specialist; Mercer, a provider of human resource and related financial advice and services, and Oliver Wyman Group, a management, economic and brand consultancy.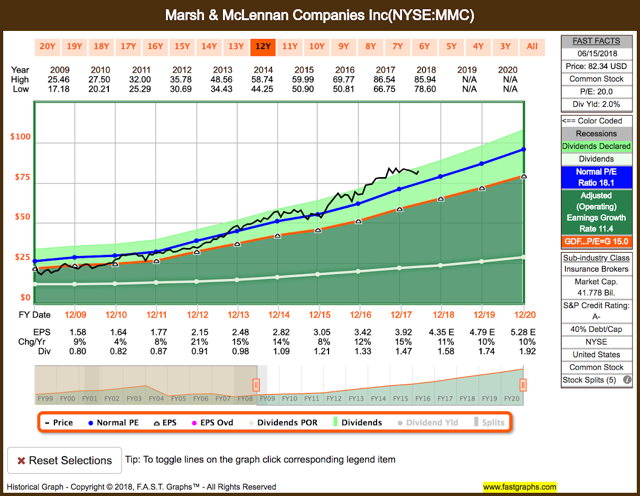 MMC has an earnings growth rate of 11.4%.
An investment in MMC in January 2009 would have returned 15.2% with dividends included.
NextEra Energy (NEE) • Utilities
Formerly known as FPL Group, Inc., NEE is an electric power company with operations in the United States and in Canada. The company generates electricity from gas, oil, coal, petroleum coke nuclear, solar and wind. NEE was founded in 1984 and is based in Juno Beach, Florida.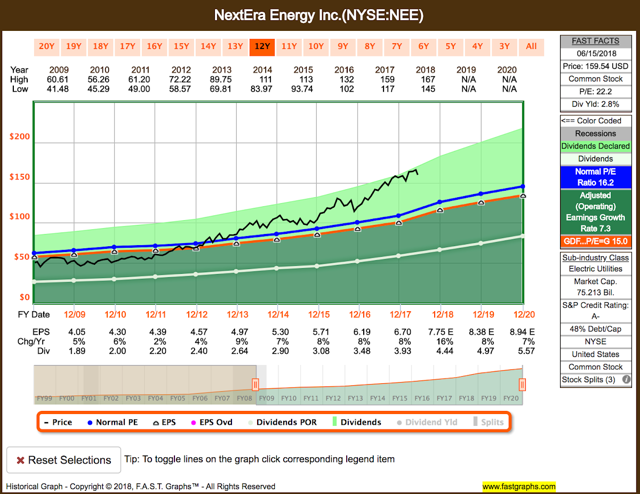 NEE has an earnings growth rate of 7.3%.
An investment in NEE in January 2009 would have returned 14.8% with dividends included.
Ross Stores (ROST) • Consumer Discretionary
ROST, together with its subsidiaries, operates off-price retail apparel and home fashion stores offering apparel, accessories, footwear, and home fashions. The company's stores include Ross Dress for Less stores and dd's DISCOUNTS stores. ROST was founded in 1982 and is headquartered in Dublin, California.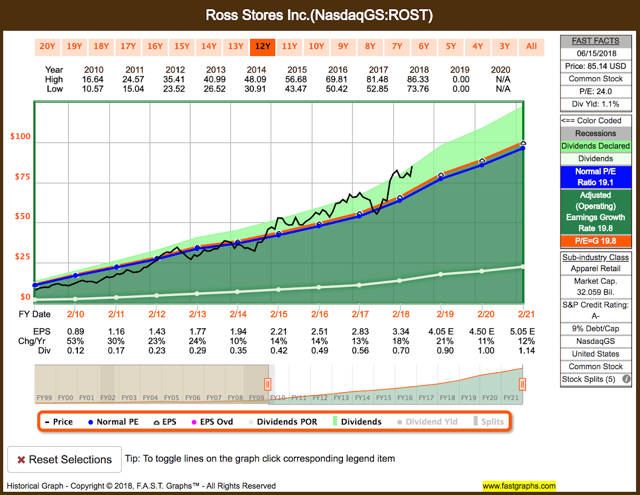 ROST has an earnings growth rate of 19.8%.
An investment in ROST in January 2009 would have returned 30.6% with dividends included.
TJX Companies (TJX) • Consumer Discretionary
Founded in 1956 and based in Framingham, Massachusetts, TJX operates as an off-price apparel and home fashions retailer in the United States and internationally. The company sells family apparel, home fashions, seasonal items, jewelry, and other merchandise. TJX operates stores under various names, including T.J. Maxx, Marshalls, and Sierra Trading.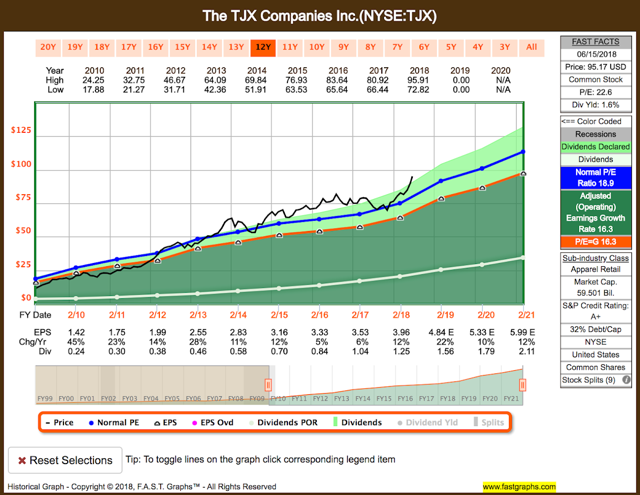 TJX has an earnings growth rate of 16.3%.
An investment in TJX in January 2009 would have returned 26.7% with dividends included.
UnitedHealth (UNH) • Healthcare
Founded in 1974 and based in Minnetonka, Minnesota, UNH is a diversified health and well-being company with core capabilities in clinical expertise, advanced technology, and data and health information. The company provides medical benefits to customers in the United States and in more than 125 other countries.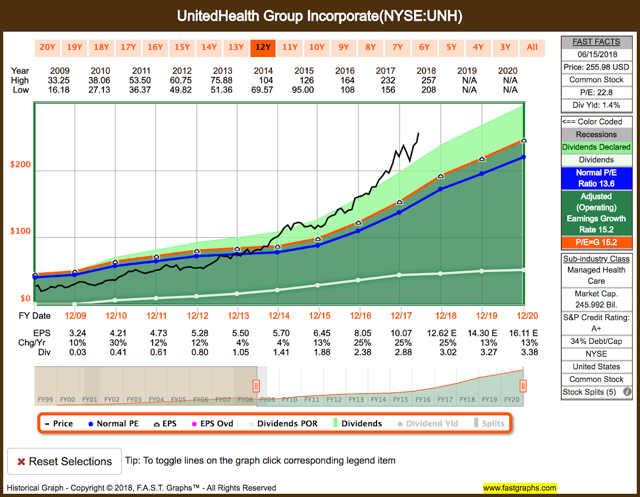 UNH has an earnings growth rate of 15.2%.
An investment in UNH in January 2009 would have returned 27.7% with dividends included.
Summary and Concluding Remarks
Following is a summary of the earnings growth rates and annualized returns (including dividends) of each of these stocks, as presented below each F.A.S.T. Graph. The summary repeats some of the metrics presented earlier, for convenience.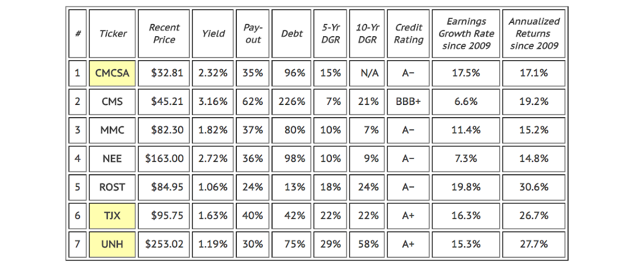 I find it fascinating that ROST with the lowest yield of 1.06% has the highest annualized returns of 30.6%. With an earnings growth rate of 20% since 2009, and very low EPS payout and debt to equity ratios, it is not surprising to see those generous 5-year and 10-year dividend growth rates.
UNH's dividend growth rates are even higher, in fact, much higher than its 15.3% earnings growth since 2009. Perhaps the relatively higher debt to equity ratio can explain the difference. Nevertheless, while UNH yields only 1.19%, my yield on cost of 3.49% (since January 2014) attests to the stock's impressive dividend growth.
Even though I like to see yields above 2% when opening new positions, I recently added TJX to my DivGro portfolio. TJX was ranked #4 in my top 10 Dividend Growth Stocks for May 2018 and I was fortunate to get in below $89 with an initial yield on cost of 1.76%. This month, TJX ranked #2. I expect TJX to continue its very generous dividend increases in the foreseeable future.
I added CMCSA to my portfolio in April and increased my position in May. With CMCSA trading at a discount of about 23% to my fair value estimate, I wouldn't mind increasing my position even more. However, my cash position is quite small now, so I'll have to wait to do so. I like the stock despite some concerns over the so-called cord-cutting phenomenon. Cord-cutters need fast internet, and CMCSA is one of the biggest suppliers.
The annualized returns of CMS is impressive given the stock's relatively low earnings growth rate. While the stock is the highest yielder at 3.16%, that only partially explains the outsized performance. Looking at CMS's chart, it is clear that much of the performance can be ascribed to a change in market valuation. In 2009, CMS was undervalued relative to its primary valuation line - now it is overvalued. Likely, investors are willing to pay a premium for the consistency of this Utility Sector stock.
If I had to choose between CMS and NEE purely on what I see here, I'd go for NEE. The stock has a better S&P Credit Rating, lower payout and debt levels, and better overall ratings.
Before running my screener and finding MMC, I've never heard of this Financials sector stock. I think the stock is worth considering, though. According to one Seeking Alpha author, MMC is a fast-growing business with growing revenues, high operating leverage, and a solid balance sheet.
As mentioned earlier, I highly value consistent earnings growth. The seven dividend growth stocks highlighted here are shining examples of companies that consistently grow their earnings. F.A.S.T. Graphs provide a convenient way to visualize this consistency, and the graphs presented are some of the most impressive and pleasing ones I've seen since becoming a subscriber.
While most of these stocks are trading at a premium to my fair value estimates, I think they are great candidates for dividend growth investment. As always, readers are advised to do their own due diligence before investing in these stocks.
Thanks for reading! If you liked this article and would like to read similar articles in future, please click the Follow link at the top of this article. And, if you're already following me, I sure would appreciate it if you click on the Like button below!
Disclosure: I am/we are long CMCSA, TJX, UNH.
I wrote this article myself, and it expresses my own opinions. I am not receiving compensation for it (other than from Seeking Alpha). I have no business relationship with any company whose stock is mentioned in this article.