Since its May 4 relisting, shares in Samsung Electronics (OTC:SSNLF) have lost 3% while those of Micron (MU) gained 22% (before the recent pullback) and those of SK Hynix (OTC:HXSCL) gained 9%. The spread in share performance results is surprising when one considers that all three companies compete in the same market that has exhibited more than a year of shortages and all three companies are under investigation by the Chinese government, as well as a class action lawsuit, for price fixing
Chart 1 shows the share prices of the three DRAM companies in addition to NAND supplier Toshiba).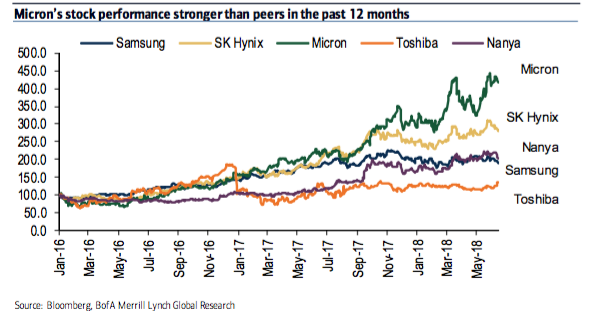 Chart 1
On March 23, 2018, Citi Research downgraded Micron on concern lower flash memory pricing will hurt Micron's financial results later this year. Citi analyst Christopher Danely noted flash memory represents 31% of Micron's sales and 15% of its profit. He noted flash memory prices fell 12% in the company's most recent quarter after a 3% decline the previous quarter.
Chart 2 shows the drop in NAND spot and contract prices between December 2015 and June 2018. It is interesting to note that as spot NAND prices began to rise in mid-2016, contract prices started rising in tandem.
I alerted readers a month earlier in a May 16, 2016 Seeking Alpha article entitled "A Shortage Of NAND Flash Memory Is Coming Soon - What Caused It And What Will Be Its Impact."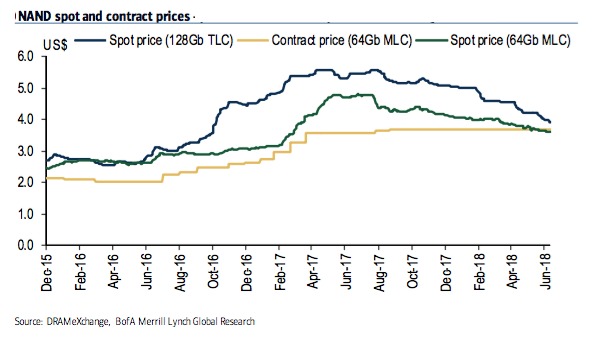 Chart 2
Most importantly in Chart 2 is that once spot prices stopped rising in Q2 2017, contract prices stopped rising and have remained flat for more than a year. Meanwhile, spot prices for 64Gb MCL are now lower than contract prices.
Although 31% of MU's revenue came from flash (according to the Citi analyst noted above), the majority of MU's revenues come from DRAM. This large exposure to DRAM is one of the reasons MU has stayed high, and the reason's are detailed in an April 28, 2018 Seeking Alpha article entitled "Micron Technology Keeps Rolling With The Punches Despite Headwinds." But now that's changing.
DRAM prices are now starting to drop
Table 1 shows current pricing (as of June 18, 2018) of DRAMs and NAND.
The table shows that 8Gb DDR4 has dropped 3% MoM and 4% QoQ. 4Gb DDR4 dropped 11% QoQ.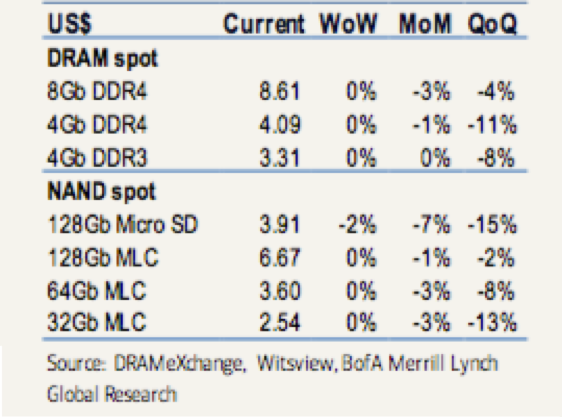 Table 1
Chart 3 shows a graph of DRAM spot and contract prices. Note in this chart that contrary to NAND contract prices leveling off as spot prices started stopped increasing, DRAM contract prices have continued to rise.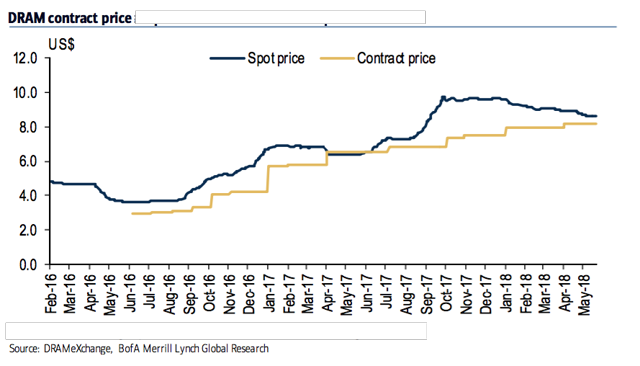 Chart 3
What to expect in 2H 2018
NAND have increased from two weeks of inventory in mid-2017 to four weeks currently. The reasons for the increase include lackluster high-end smartphone sales from Samsung (Galaxy S9) and Apple (iPhone 8), and, because of the high prices of NAND, a move from SSDs to HDDs at the enterprise.
Further lackluster smartphone sales will impact NAND and DRAM further. According to International Data Corporation (IDC), smartphone shipments are forecast to drop 0.2% in 2018 to 1.462 billion units, which is down from 1.465 billion in 2017, which was down 0.3% in from 1.469 billion in 2016.
As far as DRAM supply-demand dynamics, I detailed in a June 12, 2018 Seeking Alpha article entitled "Lam Research Had A Blowout April On Memory Billings," several ongoing programs that will expand DRAM capacity, namely:
Samsung Electronics
Samsung's DRAM Line 15 is migrating from 1Xnm to 1Ynm and is set to begin in 2H18 once equipment is installed. Capacity will increase 5,000 wafer starts per month ((wsm)) as a result.
Part of Samsung's Line 16, which is dedicated to NAND production, is being switched to DRAM ramping in 2H 2018.
I expect the west side on the upper floor of Samsung's P1 fab, divided between DRAM and 3D NAND, will reach 20,000 wpm DRAM capacity in 3Q 2018. NAND capacity of 10,000 wsm will start in 3Q 2018.
Micron Technology/Intel
The only DRAM line that's increasing capacity is Fab 15 (Elpida) growing from 110,000 wpm in Q2 to 115,000 wsm in 3Q 2018.
SK Hynix
The company's M14 fab makes DRAMs and NAND. DRAM capacity will increase from 135,000 wsm in Q2 to 140,000 wsm in Q3. The NAND fab capacity will increase from 50,000 wsm in Q2 to 60,000 wsm in Q3 2018.
Investor Takeaway
Wall Street expects revenue of $7.75 billion from Micron, according to 25 analysts polled by FactSet. Micron expects revenue of $7.7 billion to $7.8 billion, up from its previous forecast of $7.2 billion to $7.6 billion. Estimize expects revenue of $7.76 billion.
Table 2 shows increases in DRAM capacity in thousands of wafer starts per month, based on the above capacity by fab.

DRAM shortages in 2017 resulted in exceptionally large increases in ASPs, which, in turn, led to large increase in stock prices and operating profit margins.
That is now changing. DRAM capacity is increasing (Table 2) and DRAM prices are decreasing (Table 1). Since DRAM prices have directly correlated with stock prices of the three companies, and in particular Micron Technology, the investor and trader should consider future investment activity after MU's Q3 report on June 20.
Disclosure: I/we have no positions in any stocks mentioned, and no plans to initiate any positions within the next 72 hours.
I wrote this article myself, and it expresses my own opinions. I am not receiving compensation for it (other than from Seeking Alpha). I have no business relationship with any company whose stock is mentioned in this article.
Editor's Note: This article discusses one or more securities that do not trade on a major U.S. exchange. Please be aware of the risks associated with these stocks.