This Month In Automotive 2.0 is intended to be a regular feature covering the emerging Automotive 2.0 space. This first article of the series covers the concepts behind Automotive 2.0 and their readiness for deployment.
The automotive industry has been a relatively stable industry since inception. The changes over time have been incremental and the key players have remained substantially same over a period of decades. Automobile technology has also been stable although the cars improved gradually in performance, comfort, quality, and cost. Thanks to these gradual improvements and various societal factors, automobile adoption has steadily increased over time.
It is also interesting to note that neither the function of the automobile nor how people use automobiles has not changed much over time. The last major so-called "disruption" to the industry came about in the 70s and 80s when Japanese car manufacturers became prominent in the market with new manufacturing and quality paradigms.
The automotive industry, however, is about to change in a big way. In a historically stodgy industry, we are at the cusp of profound changes due to a confluence of factors:
Electric drivetrains
Battery technology
Autonomous driving
Renewable energy
Business model shift from car ownership to Transportation As A Service, or TAAS
Big data that enables serving customers in unexpected ways
Automotive 2.0 is about presenting customers with seamless transportation solutions using the emerging technologies discussed above. What makes this a true disruption is the fact that not only are the automobiles themselves set to change but we are also about to see a fundamental change in how people use automobiles.
The transition from the auto market as we know it today (Automotive 1.0) to the new set of market paradigms (Autonomous 2.0) has gotten considerable press over the last few years mainly due to players like Tesla (NASDAQ:TSLA), Uber (UBER), Google's and (NASDAQ:GOOG) (NASDAQ:GOOGL) Waymo.
Tesla became an early player to this space by bringing in excitement with electric drive trains, battery technology, and renewable energy. Players like Uber and Lyft (LYFT) have brought profound changes with TAAS concepts. Google is bringing in big data expertise and TAAS concepts while its subsidiary Waymo is bringing in leadership autonomous solutions.
In this context, it maybe helpful to discuss a historic precedent. The transition from Automotive 1.0 to Automotive 2.0 is somewhat analogous to the transition in the music industry from cassettes and CDs to MP3 players and cell phones. While the tape and CD industry was differentiated by hardware, the new audio industry is defined by software user interface and music ecosystem. While Sony (NYSE:SNE) and Panasonic (OTCPK:PCRFY) made money by manufacturing hardware devices, Apple (NASDAQ:AAPL) and Google make money on the experience created by systems design and software.
The key value add in the old environment was the quality of the hardware. The key value add in the new environment is the software and the ecosystem. The underlying devices are commodity in nature and could be made by the likes of Foxconn (OTC:FXCOF), Samsung (OTC:SSNLF), LG (OTC:LGEAF), HTC (OTC:HTCKF), Huawei, etc.
Extending the parallel shows why companies like Waymo/Google who focus on the software ecosystem could be winners in the new paradigm, but not someone like Tesla. In the new paradigm, auto manufacturers, like CD and tape equipment manufacturers, get pushed down the value stack. It is not just Tesla but the entire auto manufacturing industry is at risk of losing its value proposition.
Auto manufacturers are aware of the risks to a certain extent and are starting to make strategic moves. General Motors (NYSE:GM) investing into Cruise Automation was one such example. Nissan (OTCPK:NSANY), Volkswagen (VLKAY) investing in their own autonomy solutions is another.
However, traditional car makers are unlikely to succeed in their endeavor to produce self-driving cars with a great user experience as they lack the software engineering and big data competency of players like Waymo and Google. And, may be even Apple or Amazon (NASDAQ:AMZN) for that matter.
A case can be made that traditional manufacturers can climb up the value stack by working with third parties to buy the software and systems components necessary to build the appropriate systems. However, the challenge for the auto makers is that they will have to depend on third parties for many different core competencies. This third-party dependency on the core value proposition makes value retention a difficult task for manufacturers.
It is legitimate to ask in this context is for investors to be skeptical. Some key questions investors may ask include:
While there is enthusiasm in the space, are the concepts economical?
What is the timeline for Autonomy? When will autonomous vehicles reach consumer price points?
Is there a chance that we will see Automotive 2.0 in the near future or is Automotive 2.0 a pipedream?
Should auto manufacturers even worry given there is near zero volume in this new segment?
We will strive to answer these and other questions in This Month In Automotive 2.0. On a monthly basis, we plan to chronicle the latest developments in the industry and how the developments impact various players. We will be looking at various players in the industry (mostly public) in search of alpha.
For this first article in the series, we will start by arguing that Automotive 2.0 is not as far as people may think. The image below identifies various components of Automotive 2.0 and their maturity in reaching a mass market stage.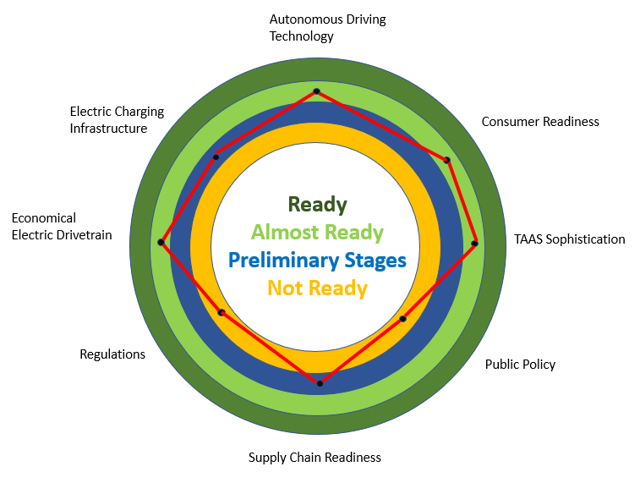 Our view of the key components is as follows:
Autonomous Driving Technology
This building block technology that forms the basis of much of Automotive 2.0 is far nearer than many investors give credit for. Waymo and several other vendors have been running trials of Level 4 systems for some time now. Waymo appears to be the most advanced and will likely have commercial deployments this year. However, Waymo's technology will be in early deployment stages in 2018 and may only be a few thousands or a few tens of thousands units at best.
While early solutions will be targeted toward robotaxis and other high value applications in limited geographic areas, we expect the solutions to become more pervasive over time as the technology matures. We expect that autonomous technology will get in to millions of units no earlier than 2020 or 2021.
TAAS Sophistication
Uber, Lyft, Ola, Didi, and other players are already changing the world by driving the world to a shared transportation model. What is missing in TAAS today is profitable business models and the sophistication to weave a network of end to end services. We believe these limitations will be overcome in due course of time and do not see them as being impediment to Automotive 2.0.
Economic Electric Drivetrain
Tesla popularized electric drivetrain but there is little doubt that autos with electric drivetrain are a small niche in the world auto market. The main reason is the cost of the electric drivetrain including the battery.
While some companies, including Nissan, GM, Hyundai (OTCPK:HYMLF), Kia (OTCPK:KIMTF), Renault (OTCPK:RNLSY), BYD (OTCPK:BYDDF), Geely (OTCPK:GELYY), GAIC, have gotten to much more of a mass market price points compared to Tesla, there is little doubt that, in spite of profligate subsidies, electric cars are not cost competitive with tradition internal combustion engine vehicles for most applications.
However, the underlying technologies are maturing rapidly and there is little doubt that BEV costs are declining. While the benefit of EVs is highly application dependent, we expect that electric cars will reach total cost of ownership parity with ICE vehicles around 2020 in many market segments.
In other words, electric drivetrains are nearly ready to fulfill their promise under the new paradigm.
Electric Charging Infrastructure
Electric drivetrain is only one piece of the puzzle when it comes to EV adoption. The other big piece is the charging infrastructure. While this infrastructure has been growing steadily over the past few years, it is certainly nowhere near the level necessary for mass EV adoption.
Given many customers like to charge their EVs at home, most of the time and given that it is expensive to build and provide charging to EVs, the economics of this segment are challenging. One needs to look no further than Blink Charging (NASDAQ:BLNK) to see the abysmal economics of EV charging. Due to the challenging economics, we expect that charging infrastructure will take several years to develop and it may be 2021 or later before there is acceptable charging infrastructure for widespread use.
Supply Chain Readiness
Automotive business is a capital intensive, long lead time business. Supply chain logistics are planned years in advance. Decisions are being made in 2018 for 2021 and later models. Given this long lead time, supply chain readiness may be one of the key limiters of how quickly Automotive 2.0 will evolve.
In our view, the readiness of companies to transition rapidly will define the winners and losers of the future automotive market.
Consumer Readiness
Consumers love convenience and Automotive 2.0 is mostly about convenience. Rapid adoption of the TAAS model, the eagerness of customers to try Waymo's technology, and the waiting lists for Tesla Model 3, are indicative that there is a considerable leading edge customer population who are willing to try Automotive 2.0 concepts. As such, the likely gradual rollout of Automotive 2.0 suggests that customer adoption may not be a problem.
Public Policy And Regulations
Public policy and regulations typically lag new technologies and it is unlikely to be any different with Automotive 2.0. Whether it is the adoption of rules for autonomy, or the impact of TAAS on existing services and infrastructure, governments have a lot to think about and adapt to. However, we can see from Uber that startups and aggressive players can circumvent regulations to enable a rapid ramp. We can also see from Waymo and others how companies can use favorable jurisdictions to do autonomous trials.
The point is that, even though public policy and regulations are lagging and are likely to lag, the impact of this lag may be uneven in various markets. We can expect that Automotive 2.0 concepts will adopted more rapidly in some markets than others. We believe that public policy will not make the technology unviable but will impact the rate of adoption.
Wrap-up
As we identify above, the key concepts and enablers behind Automotive 2.0 point to widespread adoption starting about 2020 or 2021. While this may appear far away, given the long lead times in the auto industry, the time for investments has begun. The task for investors now is to use appropriate diligence and prudence to identify high alpha opportunities. To this extent, in future monthly issues, we will cover developing news as well as prospects of some of the key players.
Subscribers to Beyond The Hype have access to all the linked articles that may otherwise be inaccessible. For timely, cutting-edge insights, analysis and investing ideas of solar, battery, autonomous vehicles, and other emerging technology stocks, check out Beyond the Hype. This Marketplace service gives you early access to my best investing ideas, along with event driven and arbitrage opportunities when they are most edgy and actionable. If you want expert advice on seeing through the hype, separating fact from fiction, avoiding investing landmines in emerging technologies, and an opportunity to participate in a vibrant and intellectually stimulating real-time chat room with other high-caliber, like-minded investors, consider subscribing to Beyond the Hype today. Subscribers also get access to all past articles.
Subscription rates are set to increase on July 1, 2018. Take this opportunity to join us today and lock in the subscription at current prices.
Disclosure: I am/we are long GOOG, GOOGL. I wrote this article myself, and it expresses my own opinions. I am not receiving compensation for it. I have no business relationship with any company whose stock is mentioned in this article.