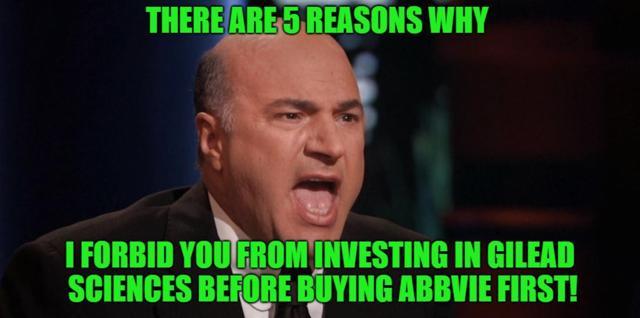 (Source: imgflip)
The core strategy of my dividend growth retirement portfolio is to own quality companies that are the leaders in their respective fields. Specifically, I'm looking for companies offering generous, safe, and growing income that I try to acquire at fair value or less.
That often means looking at beaten down and out of favorite sectors, which today includes drug makers such as Gilead Sciences (GILD), and AbbVie (ABBV). Thanks to the highly complex nature of this industry, as well as numerous risks baked into the business model, biotech and pharmaceutical companies can represent a good defensive source of income growth for risk tolerant long-term investors.
That being said, the drug industry is notorious for its highly volatile sales, earnings, and cash flow. That's mostly due to a combination of patent cliffs (which allow generic and biosimilar competition), as well as rivals targeting the same conditions with slightly different drugs.
Gilead Sciences was once the darling of Wall Street when its mega blockbuster Hepatitis C drugs Sovaldi and Harvoni sent its sales, earnings, and free cash flow soaring in 2014 and 2015.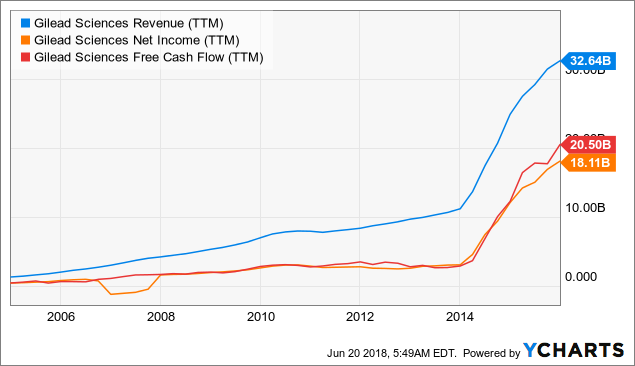 GILD Revenue (TTM) data by YCharts
However, this success proved to be a double edged sword because these medications cured patients, meaning they were one and done treatments. Combined with increasing competition from other HCV drugs hitting the market the decline of Gilead's HCV business has sent its sales, earnings, and stock price into a multi-year slide.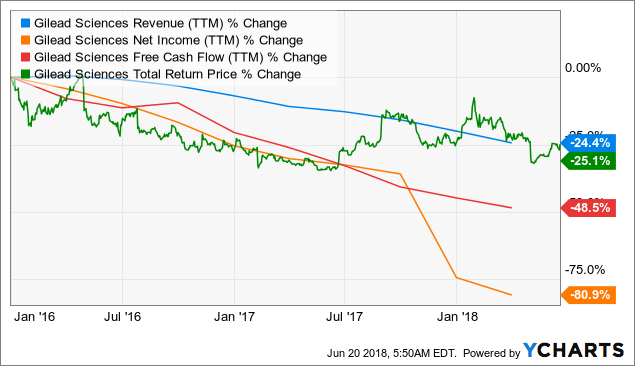 GILD Revenue (TTM) data by YCharts
In contrast AbbVie (ABBV), which became famous for its own mega blockbuster Humira (best selling drug in the world), has continued to generate strong top and bottom line growth. This has resulted in far superior total returns over time since its 2013 spin off from dividend aristocrat Abbott Labs (ABT).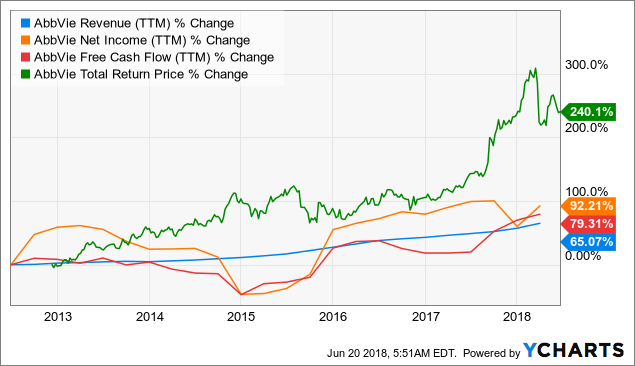 ABBV Revenue (TTM) data by YCharts
Let's take a look at the five reasons I consider AbbVie a far superior high-yield biotech. One that is likely to see continued strong top and bottom line growth that should translate into market crushing total returns over the next decade. That's in contrast to Gilead which I think will struggle for years before returning to growth.
Gilead Sciences: The King of HIV Is A Money Minting Machine...
Founded in 1987, Gilead Science's 10,000 employees operate in over 35 countries producing about two dozen drugs focused on treating several important conditions.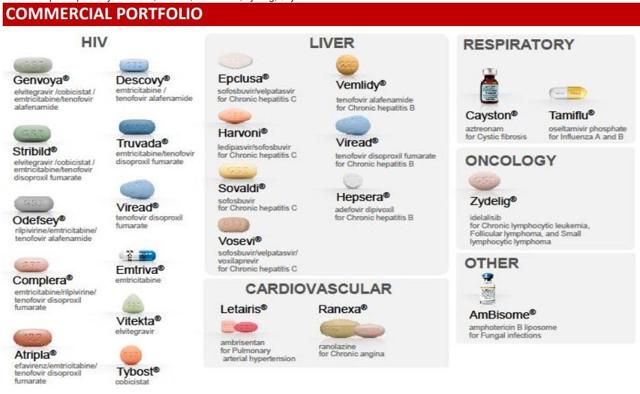 (Source: Gilead Sciences Investor Presentation)
Gilead's claim to fame has traditionally been antiviral medications, most notably highly active antiretroviral (HAART) treatments for HIV. Gilead has been an industry leader in HIV meds from the start. For example, when it launched its first HIV drug in 1996, patients often had to take up to two dozen pills per day. This resulted in terrible compliance rates and very severe side effects. Gilead has introduced Descovy based drugs (Genvoya and Odefsey) which allow patients to take a single pill daily, making it a much easier to follow regimen and one that is both more effective and safer. These drugs are especially good at lowering the risk of bone loss and kidney damage.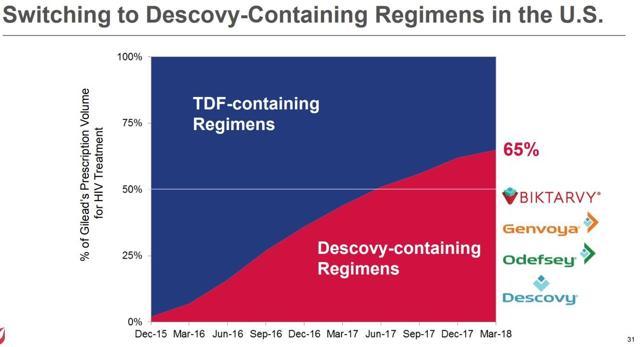 (Source: Gilead Sciences Investor Presentation)
The HIV market has responded strongly to these new drugs which is why sales have grown strongly, and Gilead has managed to maintain its dominant market share both in the US and Europe.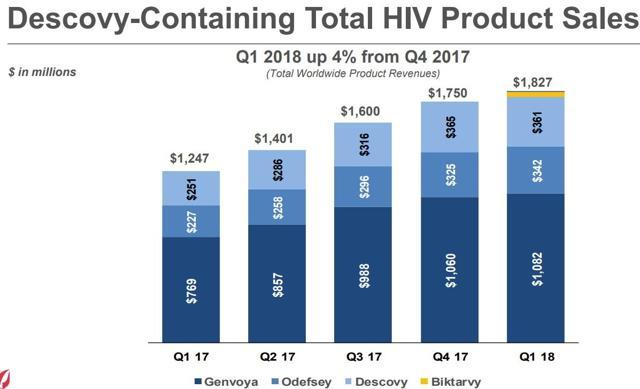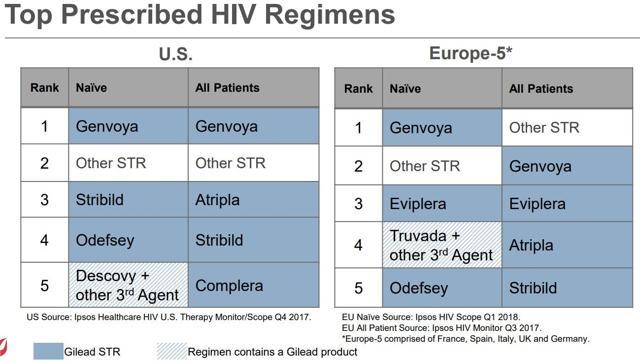 (Source: Gilead Sciences Investor Presentation)
In fact, today Gilead's market share in the US in HIV is 81% and that's been steadily climbing over the past two years.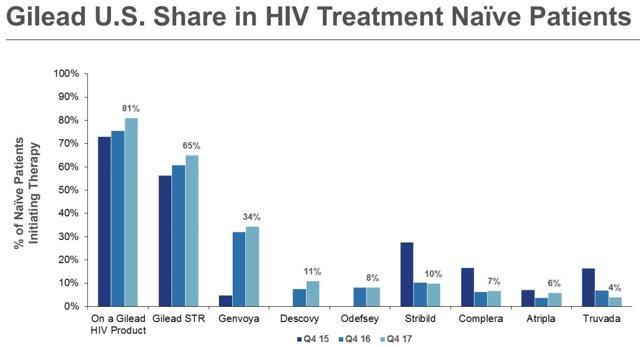 (Source: Gilead Sciences Investor Presentation)
Gilead is now in the process of launching its newest breakthrough, Bictegravir-based HIV drugs. These are the world's smallest single pill HIV regimen (easiest to swallow), and studies show zero viral resistance. This means that over time the drug is likely to work far longer while remaining effective compared to previous medications.
HIV is a great cornerstone for Gilead because of two main characteristics. First the disease is 100% fatal without treatment but with continuous treatment patients can live full and healthy lives with no negative impact. In other words, HIV is the ultimate defensive and recurring revenue stream. That's because no matter what the economy is doing patients will always prioritize their life saving medications.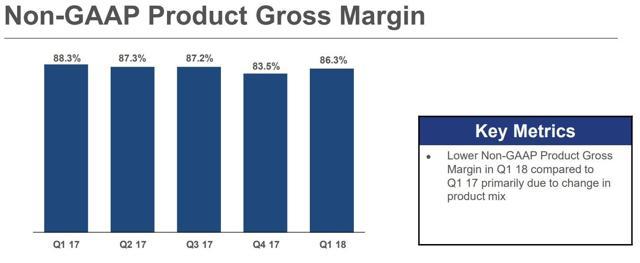 (Source: Gilead Sciences Investor Presentation)
The second major benefit to HIV meds is that they are wildly profitable. Even with Gilead's tumbling HCV sales (more on this in a moment) Gilead's gross margins have remained among the best in the industry. This is largely due to the top quality nature of its management team.
Gilead's management is world class, with seven of its 12 top executives being MDs or PhDs. This includes John Milligan PhD, Gilead's CEO, who started as a research scientist with the company back in 1990. Over the last 28 years Milligan has overseen the development of over 20 key drugs, and has served as CFO and COO before taking the top spot in 2016.
| | | | | | |
| --- | --- | --- | --- | --- | --- |
| Company | Gross Margin | Operating Margin | Net Margin | FCF Margin | ROIC |
| Gilead Sciences | 80.3% | 42.3% | 30.2% | 40.4% | 24.0% |
| AbbVie | 75.7% | 36.6% | 35.1% | 31.8% | 36.1% |
| Industry Average | 49.3% | 8.0% | 5.8% | NA | 5.5% |
(Source: Gurufocus, Morningstar, CSImarketing)
A good proxy for quality management is a company's profitability and return on invested capital or ROIC. That's because in the drug industry achieving high margins requires great execution in a complex dance involving: R&D, acquisitions, efficient manufacturing, a highly effective sales force, navigating complex regulatory requirements, and allocating capital efficiently. Gilead's ability to remain a free cash flow minting machine, even years into its current sales decline, is a testament to management's ability to navigate the challenging pharma waters with aplomb. Meanwhile its ROIC, which represents how well executives invest shareholder capital, is nearly five times the industry average.
So if Gilead management is so great and its HIV franchise such a rich cash cow, why don't I recommend it? Because of its ongoing struggles with HCV which are likely to persist for many years.
1...BUT HCV Collapse Is Likely To Remain A Major Headwind For The Foreseeable Future
Drug development is incredibly difficult, with just one in 10,000 potential treatments making it to market and only after an arduous 10 to 15 year development process that on average costs about $850 million (including joint venture cost sharing). As a result, M&A activity is rampant in this industry because companies can save a lot of time and money by acquiring a rival's: existing medications, intellectual property (patents), and drug pipeline (including advanced drugs near final approval).
Gilead has a better than average track record on strategic acquisitions including 2011's $11 billion purchase of Pharmasset. Pharmasset gave Gilead the HCV drug Sovaldi, which it then combined with its in house HCV drug ledipasvir to create Harvoni.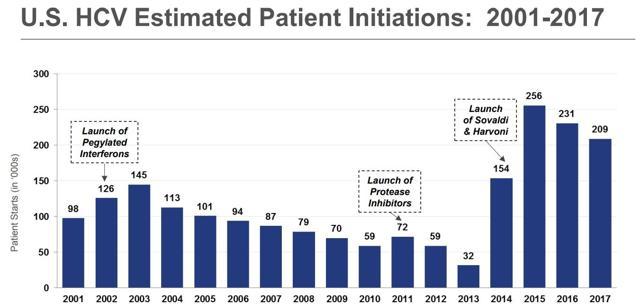 (Source: Gilead Sciences Investor Presentation)
Sovaldi and Harvoni became the company's smash hits, because they offered patients a permanent cure with shorter treatments and less side effects. However, the downside was that unlike Gilead's HIV drugs, HCV drugs are a "one and done" treatment that has drastically reduces the overall market size. Or to put another way, Gilead has cured so many patients that its HCV business is now in likely permanent decline.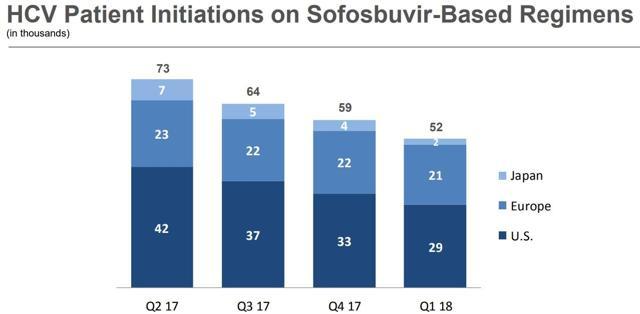 (Source: Gilead Sciences Investor Presentation)
In every key market HCV new patient starts continue a steady decline. This isn't just because Gilead has cured so many patients. It's also due to rival drug makers like AbbVie launching their own HCV drugs which are eating into Gilead's HCV market share. For example, AbbVie now competes with Gilead in with two key HCV drugs, Viekira and Mavyret. Both drugs are priced below Gilead's offerings and are able to cure patients more effectively with shorter treatment (just eight weeks instead of 12). As a result, Mavyret sales are up 250% in Q1 while Gilead's HCV sales continue to fall off a cliff (down 59% in the last year).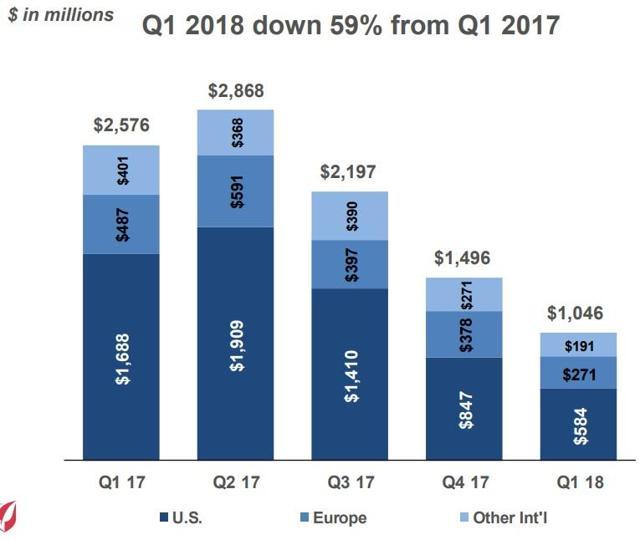 (Source: Gilead Sciences Investor Presentation)
And while HIV remains a very stable source of high margin revenue, the lack of growth in that market, combined with Gilead's enormous market share means that HIV can't offset the rapid pace of HCV's decline.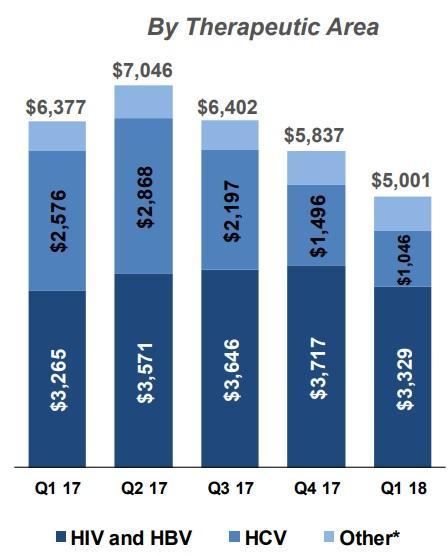 (Source: Gilead Sciences Investor Presentation)
And while its fixed costs are relatively low compared to most of its smaller rivals (better economies of scale), Gilead still faces high fixed costs in terms of R&D. This means falling revenue has translated into significant erosion to its margins.

(Source: Gilead Sciences Investor Presentation)
All told the continued collapse of its HCV franchise means that Gilead's top and bottom lines are moving very quickly in the wrong direction.
| | |
| --- | --- |
| Metric | Q1 2018 Results |
| Revenue | -21.8% |
| Operating Income | -42.8% |
| Net Income | -43.1% |
| Free Cash Flow | -26.7% |
| Adjusted EPS | -33.6% |
| FCF/Share | -26.7% |
| Dividend (YOY) | 9.6% |
| FCF Dividend Payout Ratio | 37% |
(Source: earnings release, Morningstar, Gurufocus)
For full year 2018 management's guidance offers little hope that things will turnaround anytime soon. For example, in Q1 2018, Gilead's sales fell 22%, and due to high fixed costs its profits and free cash flow fell even more. Free cash flow is what's left over after running the business and investing in future growth (such as R&D). It's what funds buybacks, dividends, and pays down debt.
For full year 2018, management is guiding for about $20.5 billion in sales which would be a 21% decline from 2017's levels. In other words Gilead expects terrible Q1 results to persist all year. However, given that Gilead has managed to survive and thrive for 31 years, the current troubles with HCV aren't likely to mean a never ending string of falling sales and earnings. Management has a comprehensive plan to restore it to growth.
Gilead's drug pipeline currently involves 35 current phase 1 through 3 trials, including existing drugs that it is seeking expanded indication approval for. Gilead's focus on the future is to diversify away from its core HIV and HCV franchises into three major areas.
The first is oncology, which is why Gilead bought Kite Pharmaceuticals in 2017 for $11.9 billion. The incidence of cancer is rising steadily due to the aging of the world's population. In addition cancer drugs are some of the most lucrative, especially the biological treatments that Gilead is working on.
Kite is an industry pioneer in what's called T-cell therapy. This means using a patient's own T-cells (immune cells that fight cancer) and modifying them with antigens against a patient's specific tumor. Or to put another way, T-cell therapy uses genetic engineering to fight cancer using a patient's own immune system. The human immune system is far more complex and sophisticated than anything medical science have yet managed to replicate. Best of all, because these treatments target a tumor with a scalpel instead of a sledgehammer (chemo or radiation), the side effects are far milder. In addition because T-cells are part of the long-term immune system once a cancer is beaten the patient will remain immune from that specific tumor. This is in contrast to current cancer treatments in which recurrence is common. Kite's drug axi-cell (now Yescarta) is projected to be potentially capable of generating up to $2.7 billion in peak annual sales by 2021. Gilead currently has five different Kite drug trials running representing 14% of its total pipeline.
Another big growth market for Gilead is immunology, specifically with its drug Filgotinib. This drug is designed to treat rheumatoid arthritis, ulcerative colitis, Crohn's disease, and several other inflammatory diseases. These kinds of drugs can be massive cash cows. For example, AbbVie's Humira is an immunology drug that treats these same conditions.
Filgotinib is in trials for five indications, four of which are now in phase three (final step to approval). Analysts expect this drug to eventually achieve about $3 billion in peak annual sales. The drug is currently under license from Galapagos (which Gilead owns 13% of), so to fully benefit from these sales the company would likely have to acquire the company.
The final big growth catalyst is non-alcoholic steatohepatitis or NASH. This is caused by fat building up in the liver damaging it. Because of the growing obesity epidemic NASH is expected to be the leading cause of liver failure in the US by 2020.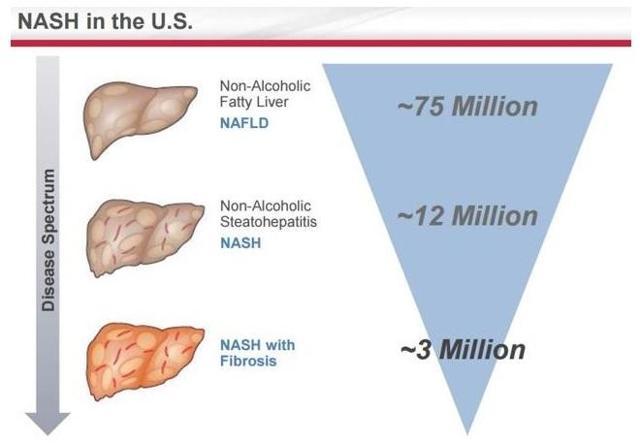 (Source: Gilead Sciences Investor Presentation)
Because there are currently no effective treatments the NASH market is wide open and estimated to be capable of generating $20 billion to $35 billion in annual sales. In February at the RBC Capital Markets Healthcare Conference Chief Scientific Officer Norbert Bischofberger says that Gilead's NASH efforts are going "extremely well". Gild's NASH efforts involve three key drugs.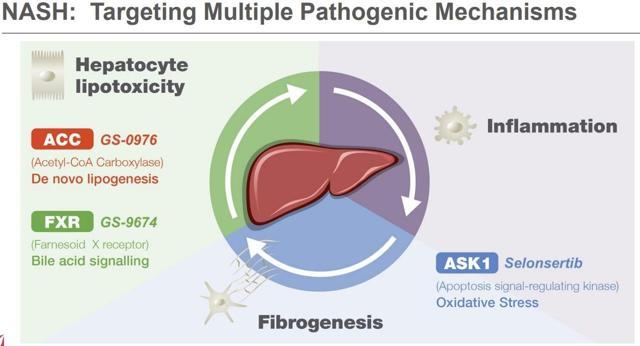 (Source: Gilead Sciences Investor Presentation)
Selonsertib is going to be the main driver here, acting in combination with two other molecules the company is working on. Trials on these three NASH drugs now number seven, with one in phase three and the rest in phase 2.
All told Gilead thinks its drug pipeline will be able to generate potentially $26 billion in peak annual sales. That would finally allow it to overcome its collapsing HCV sales and return to growth. At least in theory. In reality, peak potential sales are educated guesstimates that can always turn out to be wrong based on drug trial results, market share, and pricing power. All of which is largely or completely out of management's control.
For example, several of Gilead's key HIV patents, which make the backbone of its drug regimen, are now expiring in Europe. And by 2021 key rival drugs are expected to appear that might make it hard to maintain HIV sales, much less grow them (tough to increase on 75+% market share). Meanwhile Morningstar estimates that Gilead's HCV sales will decline another 25% from 2018's levels by 2021 and that's assuming 50% global market share. With AbbVie and Merck (MRK) pushing aggressively with their own HCV drugs this means that Gilead's HCV sales might end up declining below even these much smaller levels. And Yescarta sales estimates are similarly volatile ranging from $1 billion in peak sales to $2.7 billion.
All told analysts are not very optimistic about Gilead's long-term prospects. Even Morningstar's Damien Conover, the most bullish Gilead analyst I've found, thinks that beyond 2018 the company's top line sales will grow at 3% per year, even with the strong potential pipeline. The overall analyst consensus is for continued sales (and earnings) declines persisting for the foreseeable future. And while analysts can easily be wrong, especially in the hard to predict pharma industry, thus far Gilead's sales have only surprised to the downside. This doesn't bode well for its ability to continue growing its dividend sustainably at current rates.
In contrast AbbVie is the mirror image of Gilead, with booming sales that are only expected to continue.
2. AbbVie: Strong Growth Catalysts In The Short-Term...
AbbVie has some impressive bonafides having been spun off from future dividend king (46 straight years of dividend increases) Abbott Labs in 2013. The company is led by one of the industry's most experienced management teams, including CEO Rick Gonzalez and CFO Bill Chase, who have been with the company a combined 51 years.
AbbVie's claim to fame has been Humira, the world's best selling drug.
Global Humira Sales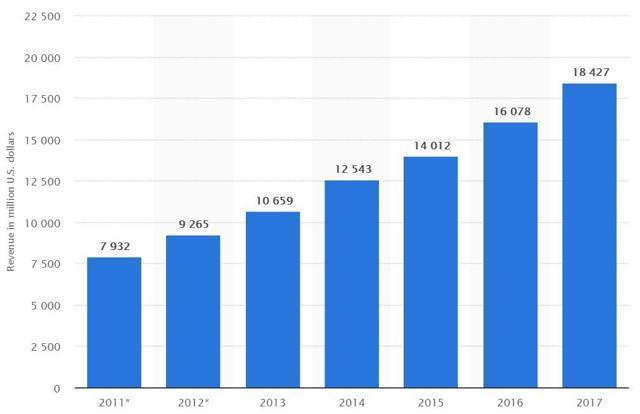 (Source: Statista)
This is because Humira is a highly effective, (and incredibly lucrative) treatment for immunological conditions (arthritis, psoriasis, ankylosing spondylitis, Crohn's disease, and ulcerative colitis) which are some of the most common on earth. Today Humira has about 25% market share for its indications, which the company continues to expand through new drug trials.
In recent months there was a major concern about Humira losing patent protection in Europe as well as biosimilar competition from the likes of Amgen (AMGN) and Samsung Bioepis. AbbVie has spent years in courts struggling to uphold its patents and stave off such threats. Its goal was to ensure no biosimilar competition in the US through 2022. In September of 2019 AbbVie struck a deal with Amgen over its version of Humira called Amjevita. Then in early 2018 AbbVie struck a licensing deal with Samsung that is similar to the one with Amgen. The deal states both companies can market their biosimilar drugs in Europe but not in the US until 2023. And in the Samsung deal AbbVie will be getting a royalty payment as well, which will help offset any market share declines starting in Q4 2018 (when major rivals hit the market in the EU).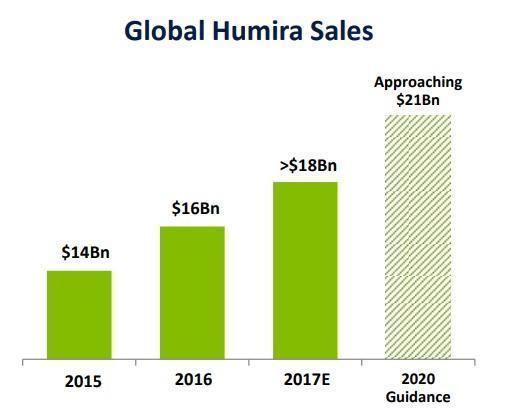 (Source: AbbVie Investor Presentation)
All told AbbVie now expects the lack of any competition in the US through 2023 to mean that Humira will enjoy continued steady growth. In fact, by 2020 management estimates that global Humira sales will surpass Gilead's entire 2018 revenue.
Of course as we saw with Gilead, relying too much on one or two blockbuster drugs can end up in years of crashing sales when patents finally do expire and competing drugs steal market share and reduce a company's pricing power. This is why AbbVie is working hard to diversify its revenue from Humira which accounts for 59% of its current sales.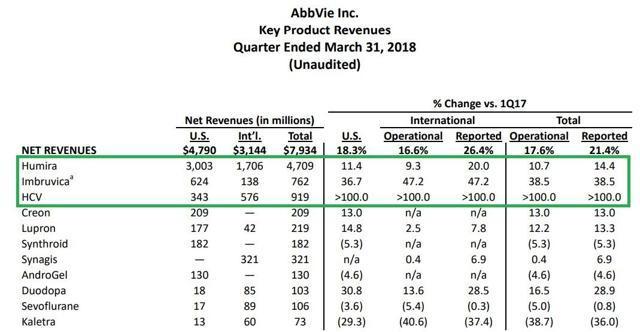 (Source: earnings release)
The good news is that unlike Gilead which doesn't have many relatively large drugs to offset its HCV sales declines, AbbVie isn't a one hit wonder. Rather it has three strong blockbusters including cancer drug Imbruvica and its fast growing HCV franchise. In fact, seven of the company's 11 drugs are showing sales growth, with six of those experiencing double digit increases in annual revenue.
| | |
| --- | --- |
| Metric | Q1 2018 Results |
| Revenue | 21.4% |
| Operating Income | 20.6% |
| Net Income | 62.7% |
| FCF | 34.6% |
| Adjusted EPS | 46.1% |
| FCF/Share | 35.2% |
| Dividend (YOY) | 50.0% |
| FCF Payout Ratio | 11.0% |
(Source: earnings release, Morningstar, Gurufocus)
This is why AbbVie's latest results were nearly the mirror opposite of Gilead. Instead of 22% sales declines we see 21% sales growth. Instead of a 35% decline in adjusted EPS we see nearly 50% growth. And most importantly of all the company's free cash flow per share is booming.
Management keeps raising its guidance (and yet beating it) with full year 2018 expected adjusted EPS growth of 38% (up from 32%). Thanks to this growth (56% of which has nothing to do with tax reform), AbbVie raised its dividend not once, but twice in the past 12 months, by a whopping 50%.
All told AbbVie has been one of the fastest growing drug companies since its spin off.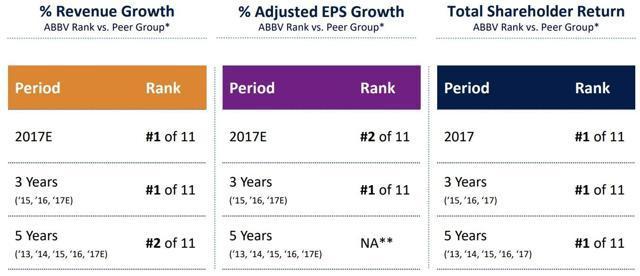 (Source: AbbVie Investor Presentation)
In fact, in the last three years it has literally been the fastest growing US drug maker in terms of revenue, adjusted EPS, and operating cash flows.
But past performance is no guarantee of future results and AbbVie's impressive growth in 2018 is hardly the cornerstone of its investment thesis. That would be the company's incredible long-term growth potential.
3...But Also In The Long-Term
The challenge for any drug maker, especially one steeped in a rich tradition of raising the dividend every year, is managing to steadily grow in an industry where patent cliffs and rival products hitting the market create a never ending cycle of boom and bust. In effect all drug makers are stuck on a hamster wheel in which they have to spend massively on R&D to bring drugs (which can fail in trials) to market and hope sales are high enough to generate just 1% to 2% annual sales growth over time.
Humira's long-term growth plans hinge on two things. First it wants to maximize the success of its current blockbusters most notably Humira (market share gains and new indication approvals), and Imbruvica. Imbruvica is a blockbuster cancer drug AbbVie co-developed with Johnson & Johnson (JNJ). Analyst firm EvaluatePharma estimates Imbruvica peak sales could hit $7.5 billion in 2022.
The second growth strategy is a massive drug development pipeline of no less than 74 promising medications/indications.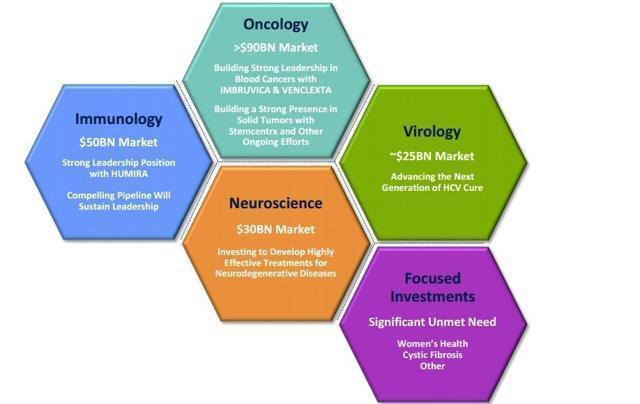 (Source: AbbVie Investor Presentation)
These are focused on four key markets that combine to create nearly $200 billion in global drug sales.
For example, in immunology, the Psoriasis drug risankizumab has shown to be far superior to JNJ's Stelara which is likely to hit $4 billion in 2018 sales. Specifically, recent trials showed that AbbVie's drug was 105% more effective in skin clearance rates than Stelara. This indicates that not just is the drug more likely to be approved but when it is risankizumab could become another strong blockbuster for AbbVie.
Further strengthening its immunology division is Upadacitinib. This is an oral arthritis drug which in recent trials was shown to be as effective as Humira. That's very impressive given that Humira is an injectable drug which are usually more effective than oral medications. The drug just scored a major win in a clinical trial by achieving a 50% or more improvement in symptoms at 12 weeks in 56% of patients. That's compared to the standard of care, Methotrexate, which showed improvement in 28% of patients. In addition AbbVie's drug achieved an overall 66% remission rate, double that of methotrexate (33%). This bodes well for the ultimate approval and wide indication expansion AbbVie has planned for Upadacitinib, which is projected to achieve $6.5 billion in peak sales.
The company also has powerful blockbuster potential in Elagolix, an endometriosis drug, ($1.2 billion in potential peak sales), and Venclexta, a Leukemia drug being co-developed with Roche (OTCQX:RHHBY). Venclexta just got full approval from the FDA. AbbVie will have full non-US rights to the drug and management plans to extend its indications with addition trials through 2022 on the way to achieving $2 billion in projected peak annual sales.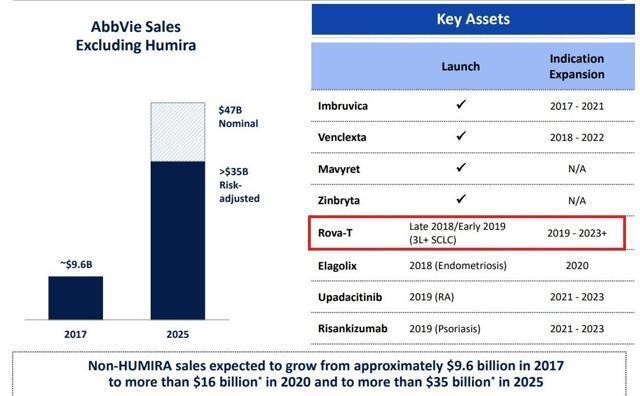 (Source: AbbVie Investor Presentation)
All told AbbVie expects its deep development pipeline to increase its non Humira revenue by about 250% over the next seven years. And that's adjusting for the risk of drug trial failures. Now it should be noted that AbbVie suffered a setback in one of its Rova-T cancer drug trials. Rova-T was the main reason that AbbVie paid $9.8 billion for Stemcentrx in 2016. The promising cancer drug was projected to have $5 billion in peak annual sales potential. However, a recent third-line small-cell lung cancer trial showed that just 16% of patients responded to the medication, instead of the expected 40%. This is why AbbVie decided against filing for an early approval with the FDA. Now it should be noted that third-line trials are not nearly as important as first or second line ones. Basically this trial was for Rova-T to be used if a patient failed to respond to two indications before trying Rova-T. Some analysts now worry that Rova-T will perform poorly in other trials. That includes a Rova-T/Opdivo (made by Bristol-Myers Squibb) combo trial whose results are expected in 2019.
However, management is far from ready to write off Rova-T entirely and expects it to achieve several approvals and considers the market's reaction to the trial setback to be wildly overblown. According to AbbVie's CEO:
We fundamentally believe that the market reaction to the Rova-T data was overdone by a magnitude of 4x or 5x, and therefore, the stock is very undervalued. And when we see situations like that, we're going to take advantage of that. We think that's the appropriate thing to do." - Rick Gonzalez, CEO
This is why AbbVie used the post Rova-T crash to announce a $7.5 billion tender offer to greatly accelerate its $10 billion buyback authorization. In late May the company announced that the tender offer was oversubscribed and allowed it to repurchase 71.4 million shares at $105 each, reducing its share count by 4.5%.
It should be noted that even assuming the worst case scenario for Rova-T, no successful trials and a full write off on the drug, AbbVie's total sales in 2025 would come in at around $42 billion and its Humira concentration would fall to 29%. In reality, even conservative analysts expect the drug to ultimately be worth at least $2 billion in peak annual sales (26% Humira concentration). In other words even with its recent Rova-T setback AbbVie is on track to achieve about 5.5% sales growth through 2025. Remember that in this industry 1% to 2% annual growth is considered a success.
Beyond 2025, AbbVie expects its neurological medications to start hitting the market. AbbVie's pipeline currently has six trials in place targeting: Alzheimer's disease, Parkinson's disease and multiple sclerosis.
And thanks to the company's large economies of scale (lean manufacturing and small but efficient sales force), AbbVie's bottom line should grow about three times as fast. That bodes very well for its long-term dividend growth and total return potential.
4. Dividend Profile: Hands Down AbbVie Is The Far Superior Income Growth Stock
| | | | | |
| --- | --- | --- | --- | --- |
| Company | Yield | TTM FCF Payout Ratio | 10 Year Projected EPS Growth | 10 Year Potential Total Return |
| Gilead Sciences | 3.3% | 27% | -4.5% to 5% | -1.2% to 8.8% |
| AbbVie | 3.9% | 42% | 10% to 15.3% | 13.9% to 19.2% |
| S&P 500 | 1.8% | 40% | 6.2% | 8.0% |
(Source: earnings release, Morningstar, Gurufocus, FastGraphs, Yardeni Research, Multpl)
The most important part of any income investment is the dividend profile which consists of three parts: yield, dividend safety, and long-term growth potential. In fast changing and complex industries such as pharma, the dividend profile becomes essential to minimizing your risk of a permanent loss of capital.
Both Gilead and AbbVie have nice juicy yields, especially compared to the S&P 500, and the industry average of 1.5%. However, AbbVie's yield is significantly higher which makes little sense given the company's industry leading growth rate and excellent fundamentals.
More importantly both dividends are very well covered by free cash flow. Most large biotechs usually keep their payout ratios in the 40% to 60% range to ensure a safety cushion against this industry's natural volatility. Gilead's low payout ratio is rising quickly however, both due to its fast falling FCF and its annual 10% dividend increases. Note that in Q1 Gilead's FCF payout ratio hit 37%. Assuming that management is right about the 21% decline in revenue this year, Gilead's FCF payout ratio will likely finish the year at about 40%.
This means that it will have at most one or two more 10% increase left in the tank before management is forced to grow the dividend in line with FCF/share. AbbVie meanwhile has a payout ratio right at the low end of the safe payout ratio range and has historically raised its dividend each year to match the growth in its bottom line.
Now the second part of dividend safety is the balance sheet. Too much debt not only can threaten the dividend but also limit a company's ability to grow. That's especially true in an industry where opportunistic acquisitions are a necessity.
| | | | | | |
| --- | --- | --- | --- | --- | --- |
| Company | Debt/EBITDA | Interest Coverage | Debt/Capital | S&P Credit Rating | Interest Cost |
| Gilead Sciences | 2.0 | 12.6 | 56% | A | 3.9% |
| AbbVie | 3.3 | 9.4 | 72% | A- | 3.2% |
| Industry Average | 1.8 | 12.5 | 41% | NA | NA |
(Source: Morningstar, Gurufocus, FastGraphs)
This is where Gilead has a clear advantage over AbbVie, at least at first glance. Remember that AbbVie's FCF is growing at about 20% ex of tax cut effects, meaning that it's leverage ratio is falling quickly over time. In contrast Gilead's cash flow is falling even faster meaning that its leverage is climbing very fast.
Retained FCF (FCF minus dividend) is very strong at AbbVie, $5.7 billion in the last 12 months. This means that as long as AbbVie maintains a constant and safe FCF payout ratio of around 40% to 50% (as it's been doing since the spin off) it should easily be able to pay down debt over time. In fact, assuming no FCF growth at all the current retained FCF could bring the leverage ratio down to industry average levels in 2.6 years. In reality, as it continues to grow, AbbVie should maintain good financial flexibility to pay down debt while continuing to buy back shares (which lowers the payout ratio). Management has said it has no immediate plans to go shopping for acquisitions because it's focused on executing on its strong development pipeline (organic growth focus).
Which brings us to the potential for dividend growth for both companies. Income investors love to see dividends rise over time because it means a higher yield on cost for us. However, over the long-term, studies show that dividend growth is a major determinant of long-term total returns. This is because, assuming a constant FCF payout ratio, (which both companies either have or soon will), dividends can only grow as fast as FCF/share which usually tracks earnings growth.
This means that over time long-term total returns can be modeled by yield + dividend growth (proxy for earnings and FCF/share growth). Over time valuation multiples tend to revert to a fixed mean canceling out. Of course accurately predicting long-term total returns in a highly volatile industry such as pharma is impossible and the best we can do is estimate based on the current data, management guidance, and the analyst growth consensus.
For Gilead analysts are very bearish assuming -4.5% annual EPS growth over the next decade. I tend to think that is a bit extreme. Yes HCV continues to fall far faster than management has expected in the past but it's not going to zero. Morningstar estimates Gilead's HCV sales might fall 25% more and I think a realistic worst case scenario is another 50% decline (to $2 billion in annual sales). That would mean roughly a 5% to 10% built in revenue decline between 2019 and 2021. Unfortunately Gilead's biggest potential blockbusters aren't likely to hit the market and scale up until 2020 which means that shareholders might be in for another negative growth year in 2019. And in 2021 the HIV franchise is likely to feel pressure which could offset the promising cancer and immunology drugs it has coming out. Ultimately I tend to think Gilead should be able to achieve 0% to 5% growth over the next decade which means the dividend should rise about that fast once management has achieved about a 50% payout ratio (one more 10% hike).
Unfortunately, that means that Gilead's long-term total return potential is about 6% or 7% off today's valuation. That's below even the weak 8% total return I expect the S&P 500 to generate over the next decade.
On the other hand, AbbVie is expected to grow its bottom line by 15.3% over the next decade. Here too I think analysts are being excessive. While AbbVie's drug pipeline is excellent, in my view that estimate assumes a best case scenario. I model a more conservative 10% FCF/share and dividend growth rate which still means that AbbVie should achieve total returns of almost 14%, or nearly double that of the broader market.
5. Valuation: AbbVie Is A Far Better Buy Today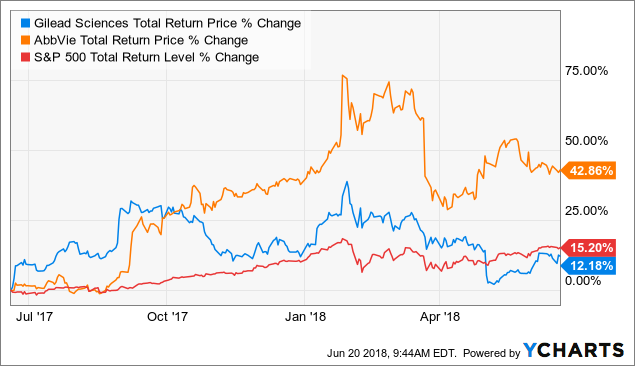 GILD Total Return Price data by YCharts
Given that Gilead has underperformed the S&P 500 over the past year while AbbVie has rocketed 43% many investors might assume that Gilead is more undervalued. However, I consider the opposite to be true.
Now there's no 100% objectively correct way to value a stock. Backwards looking metrics don't tell us about the future, and forward looking metrics are fraught with large error bars, especially in this industry.
This is why I use a combination of valuation techniques to build a more robust valuation model that minimizes the chances of overpaying for a company. Step one is the total return potential from the dividend profile.
I need a company to have a realistic chance of outperforming the market over the next decade to recommend it. And to own it myself I need a company's total return potential to clear my 10% hurdle rate. In this case AbbVie easily passes the first screen while Gilead falls short.
The second screen is looking at the forward PE ratio, comparing it to the historical norm, and estimating approximately what growth rate investors are baking into the current share price. I use this approach for two reasons. First knowing roughly what growth is baked in gives an approximate hurdle rate a company must exceed to beat the market. The second is because over time valuations are mean reverting so something like a 20 year average PE can provide a good proxy for fair value.
| | | | | | |
| --- | --- | --- | --- | --- | --- |
| Company | Forward PE | Implied Growth Rate | 20 Year Average PE | Yield | 13 Year Median Yield |
| Gilead Sciences | 11.0 | 1.3% | 27.9 | 3.3% | 2.4% |
| AbbVie | 12.6 | 2.1% | 21.5 | 3.9% | 2.9% |
(Source: earnings release, Morningstar, Gurufocus, FastGraphs, Benjamin Graham)
In the case of Gilead the forward PE of 11 looks dirt cheap, especially compared to the company's historical average. However, it also implies about 1.3% long-term EPS growth. That is far above what analysts think is coming. And while I think 2.5% or so growth is reasonable I usually want to see an implied growth rate that's far below what I expect to happen. This creates a larger margin of safety (in case the unexpected happens), as well as more upside potential.
In contrast AbbVie's forward PE, while also dirt cheap, implies just 2.1% long-term EPS growth. It would take the wheels falling off entirely for management to miss that rock bottom hurdle rate. This implies that AbbVie is immensely undervalued, and far more so than Gilead.
Next, being an income focused investor, I compare a stock's yield to its historical yield, both over a five year and 13 year period. This is to ensure that any periods of especially strong or weak growth don't skew my proxy for fair value.
In the case of Gilead the 13 year median yield is 2.4%, nearly the same as the 2.5% 5 year average. This seems to indicate that Gilead is 29% to 38% undervalued. That tracks roughly with what the historical multiple comparison is saying.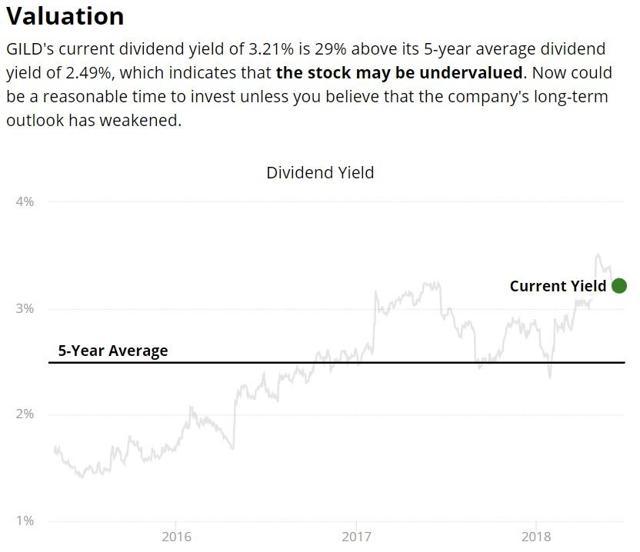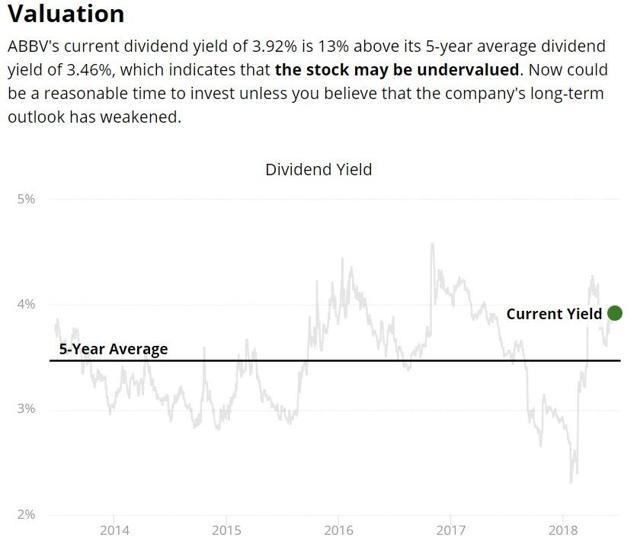 (Source: Simply Safe Dividends)
For AbbVie the 13 year median yield is 2.9% while the 5 year average is 3.5%. This implies AbbVie is 13% to 35% undervalued. Splitting the difference I feel comfortable calling AbbVie 24% undervalued, which is excellent for such a fast growing industry leading blue chip.
Finally I also take into account Morningstar's long-term dual stage discounted cash flow model.
| | | |
| --- | --- | --- |
| Company | Fair Value Estimate | Discount To Fair Value |
| Gilead Sciences | $82 | 13% |
| AbbVie | $99 | -1% |
(Source: Morningstar)
Again no single metric or figure should ever be taken as gospel. Each DCF fair value is based on a 10+ year growth model with assumptions that are educated guesstimates and change as data comes in. In this case Morningstar agrees that Gilead is undervalued but Damien Conover is more bearish than I am in terms of his growth expectations. On AbbVie we disagree entirely as Conover is firmly in the camp that Humira sales are going to fall off a cliff once US biosimilars hit the market.
Putting all five valuation techniques together I conclude that Gilead is likely trading beneath fair value but only under the best case scenario will it beat the market (and not by a lot). In contrast I estimate AbbVie is about 24% undervalued meaning that it is a strong buy at the current price. At least that's assuming you're comfortable with its risk profile.
Risks To Consider
The most important thing for any income investor to understand about drug stocks is that this is an industry marked by extreme uncertainties. For example, take the nature of drug development itself.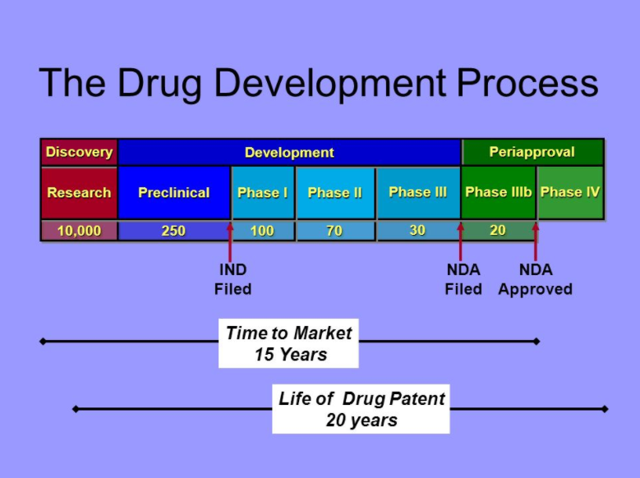 (Source: Douglas Goodman)
For every 10,000 potential molecules and treatment ideas about one will make it to market after an arduous development process that can last up to 15 years. A treatment can fail at any time and the development process is horrendously expensive.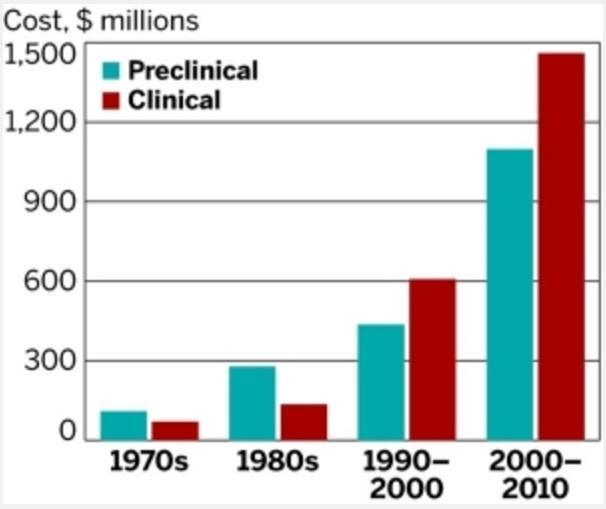 (Source: Tufts Center For The Study Of Drug Development, Scientific American)
By 2010 the cost of drug development, including all levels of patient trials and follow up safety monitoring, had risen to as much as $2.7 billion per treatment. This is why so many drug makers now spread the cost and risk of a drug failure via co-development agreements and joint ventures.
And since drug patents are usually for 20 years and granted at the start of the process, this means that a company has just a few years to enjoy a blockbuster's windfall profits before rivals start hitting the market.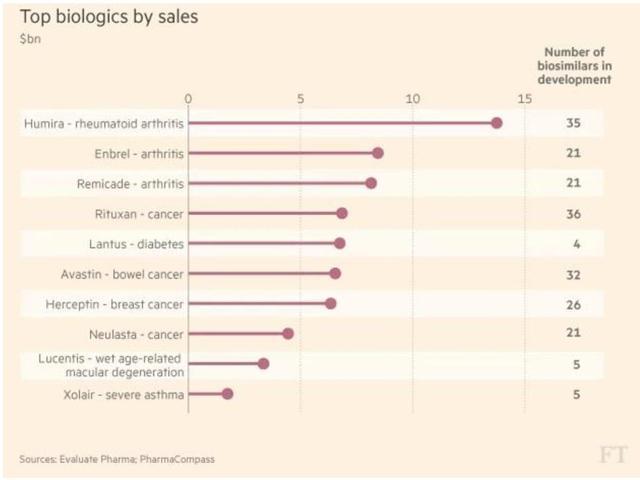 (Source: Financial Times)
Now this chart is a few years old but it highlights the point that the more successful a drug becomes the more rivals will rush to create biosimilars to steal its market share. Mega blockbusters like Humira can end up facing three dozen rivals. When those products start hitting the market there is no telling how well a drug's sales will hold up.
In fact, Credit Suisse analysts Vamil Divan and Michael Morabito recently downgraded AbbVie to underperform and cut their 12 month price target from $104 to $89. Now 12 month price targets are silly since in the short-term a stock's price is determined more by fickle sentiment than by fundamentals. However, the analysts defended their bearish view by citing biosimilar competition in the EU starting in Q4 2018. They believe this will cause "rapid erosion" in European Humira sales far larger than what management is expecting. Meanwhile in the US while there isn't any biosimilar competitors the analysts think that other immunology drugs that treat the same conditions will be hitting the market. This could limit AbbVie's pricing power and potentially blocking its ability to grow its sales to $21 billion as the company is guiding for.
Those concerns are certainly valid as are numerous other risks. That includes regulatory/political risk especially around the high cost of drug prices. For example, remember T-cell cancer therapy that Gilead is developing? Well while the treatment itself is a game changer in terms of effectiveness the cost is also stratospheric. When Novartis (NVS) received approval for the first T-cell therapy in the US (in 2017) the treatment cost $475,000 per patient. This explains why oncology is so lucrative but also makes drug makers easy targets for populist politicians (like President Trump) who rail against drug companies "getting away with murder".
Now, of course political grandstanding is common in America (and elsewhere). However, there is always risks that major government shifts in healthcare policy or outright price controls might at some point devastated drug maker profits.
The good news for shareholders is that the "The Trump Administration Blueprint to Lower Drug Prices and Reduce Out-of-Pocket Costs" is not a major threat to the drug industry. Theoretically the policy outline calls for greater generic competition, increased medicare bulk negotiations for drug prices, and increased transparency on pricing (requiring drug prices in TV commercials for example). However, in reality, most industry analysts think the proposal's bark is far worse than its bite. That's because it uses mainly minor tweaks in Medicare Part D such as requiring the formulary to include just one generic version of a drug. In addition it actually attacks lower drug prices in other countries because this then requires higher US prices to recoup R&D costs. All told Morningstar estimates that the proposal, assuming it's even implemented at all, would result in a 2% to 3% reduction in total drug spending in the US.
However, just because the industry dodged a bullet this time doesn't mean it always will. At the end of the day importing cheaper drugs from highly developed and safe markets (with FDA standard regulations) such as Canada or the EU, and or bulk purchases from Medicare/Medicaid (which cover about 50% of Americans), is the easiest short-term way to lower drug prices.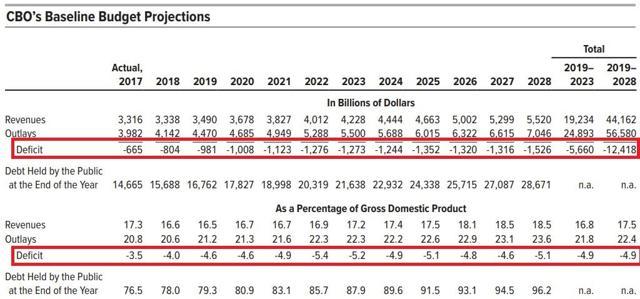 (Source: Congressional Budget Office)
As entitlement spending (such as Medicare/Medicaid) costs soar in the coming decade the Congressional Budget Office estimates that US deficits will rise to over $1.5 trillion per year by 2028. This means that it may be just a matter of time before far more aggressive policy changes are made at the Federal level which could have wide reaching and significant negative effects on drug maker margins.
This is why I advise all income investors to stick to only the largest blue chips in pharma, specifically those with at least five years of consecutive dividend growth or more. Such shareholder friendly policies indicate a conservative and disciplined management team which has proven itself well suited to navigating these challenging regulatory/drug approval/competitive waters.
Bottom Line: Gilead Sciences Has A Long Turnaround Ahead Of It While AbbVie's Growth Runway Is Strong And Clear
Don't get me wrong I'm not saying Gilead Sciences is a terrible drug stock to own. Its experienced management team is one of the industry's best capital allocators and its dominance in HIV provides a highly stable and immensely profitable stream of cash flow. That being said it's likely to take years before Gilead's big growth catalysts (immunology, oncology, NASH) kick in and finally stabilized its top and bottom lines. This means that Gilead's future dividend growth is likely to be severely limited.
In contrast AbbVie management has managed to negate most of the short to medium-term risks to Humira. In addition the company's drug pipeline is far more robust than Gilead's and it has numerous growth catalysts that will decrease its reliance on Humira over time. This likely means that AbbVie will be able to continue generating some of the industry's best sales, earnings, and dividend growth for many years to come.
And given the valuations of both stocks, I think it's clear that AbbVie is by far the superior long-term, high-yield income growth investment today.
Disclosure: I am/we are long ABBV. I wrote this article myself, and it expresses my own opinions. I am not receiving compensation for it (other than from Seeking Alpha). I have no business relationship with any company whose stock is mentioned in this article.