The first quarter results of the gold mining sector have been pouring in and it's time to chart the AISC numbers once again to see if there are any new trends emerging.
In my previous article I pointed out that the gold mining sector showed profitability in 2017 as costs went down. The gold mining sector didn't particularly do well in 2017 as the Gold Miner ETF (NYSEARCA:GDX) stayed flat. In 2018 we see a trend reversal taking place and I'll elaborate more on that in this article.
The price of gold was basically flatlined in 2018, trading at $1300/ounce (see chart below from Kitco).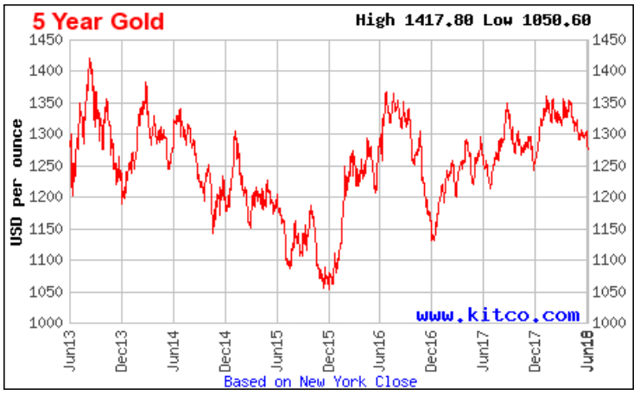 Gold demand saw a spike in interest towards the end of 2017 as reported by the World Gold Council (see chart below from WGC). Chinese gold demand trended slightly higher as shown in the SGE deliveries, while Indian gold demand weakened. At the same time, gold supply was very robust as new mine starts have filled the gap of declining gold production from China. However, the overall trend is lower mine production growth.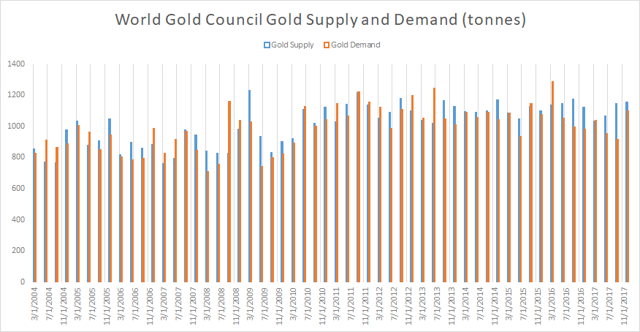 Even though gold mining production will be coming down in the following years, the chart above still indicates that there is more supply than demand. So I foresee that gold prices will trade in a tight range and don't expect any significant moves to the upside. That's why investors should be careful choosing gold miners as we are still not out of the woods yet. One of the ways to mitigate these risks is to look at the AISC.
In June 2013, the World Gold Council, an industry group, produced a detailed standard for what miners should include in all-in sustaining costs, or AISC. We will use that metric. The following table lists the most recent AISC numbers of several notable gold mining companies. These numbers can be found in the financial reports of the respective companies and over the Internet.


From this chart, we can find a very interesting trend reversal. Ever since 2013, the AISC has been going down because miners were in trouble due to the declining gold price. But since 2017, we see that the AISC has started to move up again as more and more mining companies restart development on new projects. The AISC rose 5% yoy on average. The reason for this is that mine production is declining, so they need to find more gold to compensate for this decline. For example: half of the GDX miners have posted declines in production. The average yoy decline was 9.6% in Q1 2018. Moreover, gold grades will only keep declining, putting even more pressure on these mining companies to stay profitable (see chart below from Giurco).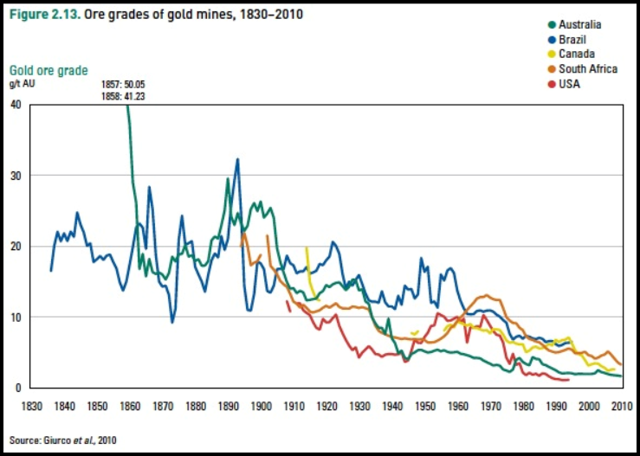 Even though the AISC moved up in Q1 2018, the gold price is still significantly higher than the AISC, so gold mining margins are very safe here for the time being. I would recommend to invest in those companies that do well on keeping AISC low. The company that stands out hand over fist is Yamana Gold (NYSE:AUY). This company has a rising production profile (10% production growth yoy) and a declining AISC profile ($750/ounce) due to its new low cost mine at Cerro Moro commissioned this year. Cerro Moro is going to ramp up production in the coming years while CAPEX costs will be much lower going forward.
On the other side of the spectrum we have Gold Fields (NYSE:GFI), which has the highest AISC of the list. The company is trying to reduce costs by disposing of high AISC mines. The latest production results of Q1 2018 weren't nice either as production fell due to production issues at the South Deep mine. This is a gold miner to avoid for the time being.
Disclosure: I/we have no positions in any stocks mentioned, and no plans to initiate any positions within the next 72 hours.
I wrote this article myself, and it expresses my own opinions. I am not receiving compensation for it (other than from Seeking Alpha). I have no business relationship with any company whose stock is mentioned in this article.