Over the past twelve months, the shares of Axcelis Technologies Inc. (NASDAQ:ACLS) are down about 12%, and I think the shares now represent good value. I'll go through my reasoning below by focusing in on the financial history here. I'll pay particular attention to the change in Valuation Allowance. I'll also speak about the stock briefly, specifically referencing what the market seems to be assuming about long term growth for the company. There seems to me to be a misalignment between the company's recent financial performance and the market's assumptions about long-term growth. I'll conclude with an appeal to authority. The fact that this company is simultaneously a massive beneficiary of a number of positive trends, while trading at a price to free cash flow just over 11, presents an enormous opportunity in my view.
Financial History
Although it's been volatile, the past five years have seen some decent growth. Revenue has grown at a CAGR of just shy of 16% since 2013, and net income has gone from negative $17 million that year to $47 million in 2017. Additionally, the growth seems to be continuing apace, with revenue up 41% over the same period a year ago, and net income is up 46%. In spite of the fact that share count has increased by about 21%, earnings per share have grown from -$.63 to $3.8 in 2017. Thus, it's fair to say that this is a "growth" company. There is some cyclicality, obviously, but over the medium term, this company has grown massively.
What I find particularly interesting is the change in the valuation allowance. For those who may not be aware, a valuation allowance is a contra asset, and it is a charge against deferred tax assets. The idea is that if a company believes that there's a chance the deferred tax asset won't be realized in future, a valuation allowance is applied against it. Deferred tax assets won't be realized if the company is less profitable. Thus, when valuation allowances go down, that's a very good sign. As per the financial statements, Axcelis' valuation allowance spiked in 2016 and is down nicely in 2017 as the company rebounded.
In regard to the rest of the capital structure, the level of cash on hand dwarfs the amount of debt on hand. The company has about $210 million in future obligations, 43% of which is due in 2018. In addition, fully 44% of the future obligations are due after 2023.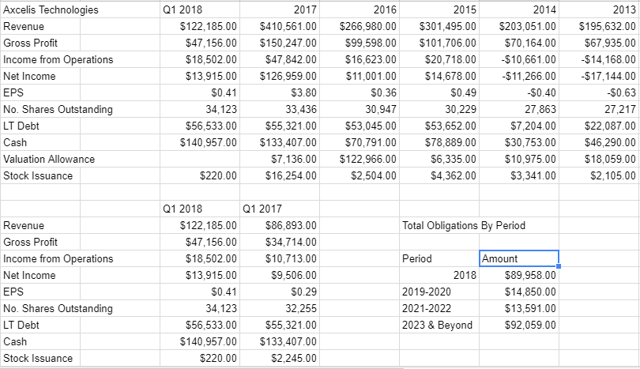 Source: Company filings, 10-K, 10-Q
The Stock
History demonstrates that the more you pay for a given asset, the lower will be your subsequent returns. It may be the case that the less you pay for something, the higher your subsequent returns will be. In my view, a cheap stock is a necessary but not sufficient reason to invest. As important is the idea that the stock must be cheap relative to the cash flows the company is generating. Thus, I'm looking for the combination of cheap price and decent returns. One of the ways I judge whether a company meets these criteria is to review the market's assumptions about long-term growth.
To do this, I employ the methodology outlined by Professor Stephen Penman in his excellent book "Accounting for Value." In this book, Penman outlines how an investor can use price itself as a means to determine the market's "thinking" at a given time. He uses a fairly standard finance formula and isolates the "g" variable to work out what the market must be thinking about future growth. This is a particularly powerful tool that helps investors avoid overpaying, but it can also be used to find bargains. At the moment, the market is assuming a long-term growth rate of about 4.5%. A perpetual growth rate of 4.5% may seem optimistic, but we must acknowledge that this is a company that will benefit from a host of economic tailwinds (IoT etc.). Thus, I think the market is being reasonably pessimistic about the name at these levels.
For those who are less interested in doing the algebra necessary to "isolate g" in a finance formula, I'd say that the fact that the shares are trading at 11 times free cash flow per share makes them inexpensive relative to the overall market.
Appeal To Authority
As I've said many times, not all investors are created equal. There are obvious outperformers over time, and it makes sense to try to emulate them when we can. At the very least, we owe it to ourselves to be aware of what they're doing. With that in mind, I would point out that Joel Greenblatt initiated a position in Axcelis last September. He subsequently sold some shares, but this past March filings indicated that he bought more Axcelis shares.
Conclusion
In my view, there's much to recommend shares of Axcelis Technologies Inc. at these levels. The shares are priced very inexpensively relative to their free cash flow per share. In addition, the market seems to be ascribing a long-term growth assumption to the shares that is far below current growth rates. The cash flows have been volatile for the past five years, but they've been massively positive. In my view, this is one of the reasons why super investor Joel Greenblatt has bought in. I think retail investors would be wise to do the same.
Disclosure: I/we have no positions in any stocks mentioned, but may initiate a long position in ACLS over the next 72 hours. I wrote this article myself, and it expresses my own opinions. I am not receiving compensation for it (other than from Seeking Alpha). I have no business relationship with any company whose stock is mentioned in this article.