REIT Rankings: Healthcare
In our REIT Rankings series, we analyze one of the fifteen real estate sectors. We rank REITs within the sectors based on both common and unique valuation metrics, presenting investors with numerous options that fit their own investing style and risk/return objectives. We update these rankings every quarter with new developments for existing readers.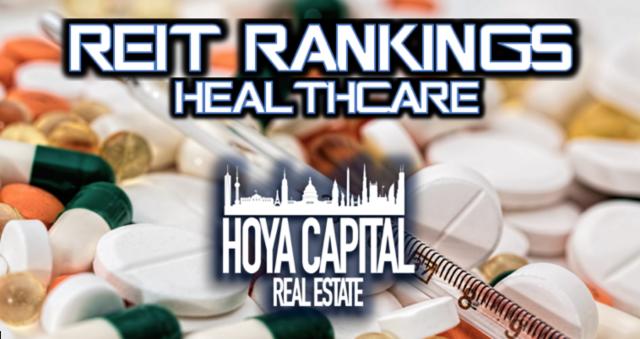 We encourage readers to follow our Seeking Alpha page (click "Follow" at the top) to continue to stay up to date on our REIT rankings, weekly recaps, and analysis on the REIT and broader real estate sector.
Healthcare Sector Overview
Within the Hoya Capital Healthcare REIT Index, we track 10 of the largest REITs, which account for roughly $80 billion in market value: HCP (HCP) Healthcare Realty (HR), Healthcare Trust (HTA), Omega Healthcare (OHI), Ventas (VTR), Welltower (WELL), Physicians Realty Trust (DOC), Medical Properties (MPW), National Health (NHI), and Sabra (SBRA).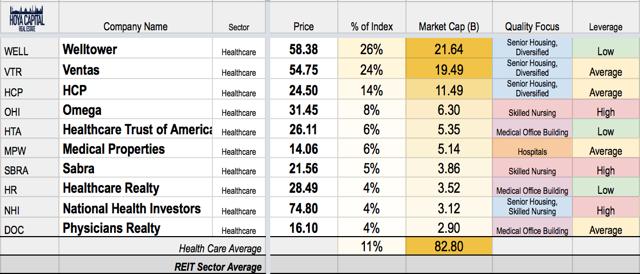 Healthcare REITs comprise roughly 10% of the REIT Indexes (VNQ and IYR) and own approximately one-tenth of the total $2 trillion worth of healthcare-related real estate assets in the United States. Healthcare REITs are classic Yield REITs, paying a high dividend yield and are used by many investors as effective "bond proxies."
These REITs tend to hold stable, long-term leases under a triple-net structure. This is largely a function of REIT regulations that limit the ability of these REITs to operate healthcare facilities in-house. For that reason, a unique feature of healthcare REITs is the critical importance and reliance on third-party operators, many of which have struggled to remain profitable in recent years amid rising costs and lower reimbursement rates.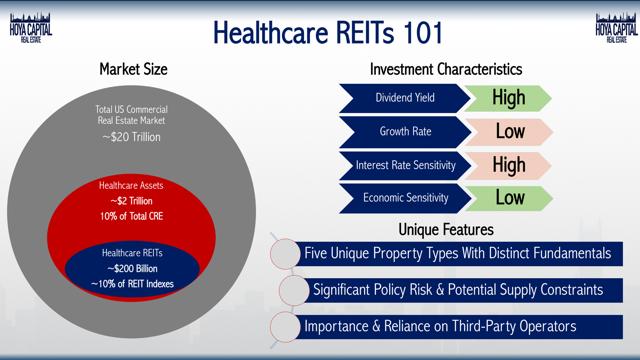 There are four distinct subsectors within the healthcare REIT category: senior housing, medical office building, skilled nursing, and hospitals. Each of these subsectors has separate risk/return characteristics. Skilled nursing and hospital REITs assume the most policy-related risk, followed by senior housing. Medical office building and life science REITs are generally the most predictable and stable. As we'll discuss in more detail shortly, the Affordable Care Act pushed more of the financial risk from payors (insurers and government) onto healthcare providers (doctors, hospitals, healthcare facilities), which has pressured the healthcare real estate sector, particularly at the higher-cost end of the spectrum.

Healthcare REITs tend to focus on a single property type, but the "big three" REITs (HCP, VTR, WELL) hold a fairly diversified portfolio across the healthcare spectrum. Relative to the total value of US healthcare real estate assets, REITs are overweight in the senior housing and skilled nursing sub-sectors, equal-weight in the medical office and life science sub-sectors, and underweight in the hospital sub-sector. Below we outline the property focus of these 10 REITs.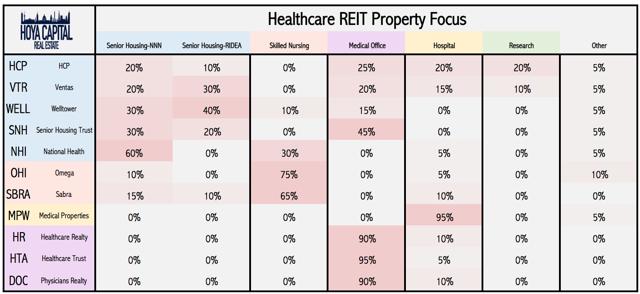 The Bull and Bear Thesis for Healthcare REITs
The "bull" thesis for healthcare REITs typically centers around the aging population and impending demographic wave of boomers, the long-term outperformance of the sector compared to the REIT average, and the healthy dividend yield. Below we outline the reasons to be bullish on healthcare REITs.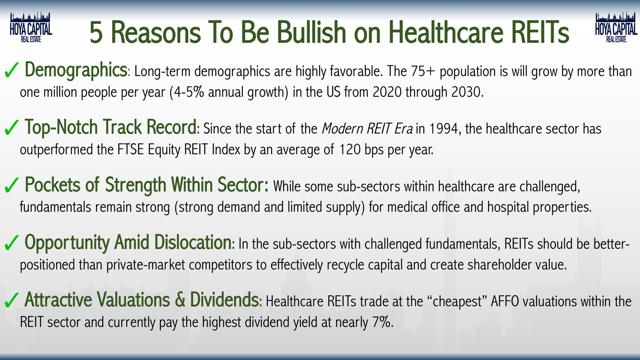 The "bear" thesis typically focuses on the secular headwinds of the ACA on public-pay REITs, the oversupply issues that encumber the senior housing REITs, and the interest rate sensitivity of the sector. Below we outline the reasons to be bearish on healthcare REITs.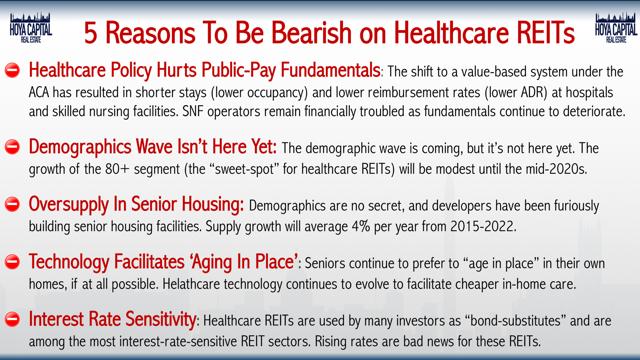 Recent Stock Performance
Amid fears of rising rates and deteriorating fundamentals, healthcare REITs were left for dead. The 10-Year yield surged following the passage of tax reform last December, creating a wave of destruction within the most yield-sensitive categories of the real estate market. In last quarter's report, we were constructive on the sector, particularly on the badly beaten-down SNF REITs.
While fundamentals will remain challenged for several more years, valuations appear attractive for long-term investors willing to assume the interest rate and policy-related risks.
Since early March, the sector has sprung back to life, jumping nearly 15% buoyed by stabilization in the interest rate market. Despite the recent jump, the sector remains lower by 5% YTD.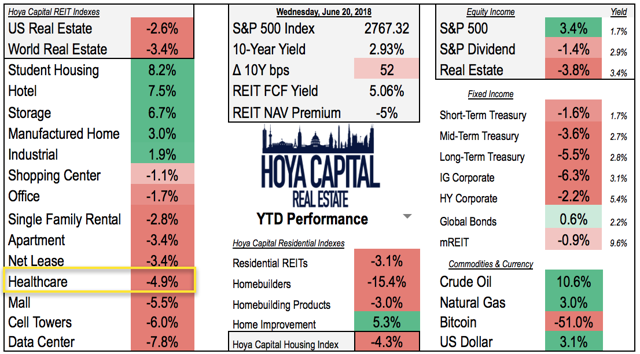 Healthcare REITs have underperformed the broader index in four of the past five years. Despite recent underperformance, Healthcare REITs have been one of the best-performing sectors of the Modern REIT Era (1994-Present), outperforming the broader index by roughly 1% per year during that time. Along with a strong track record of prudent capital allocation, the low cap-ex profile inherent with the triple-net lease model has been responsible for much of the long-term outperformance.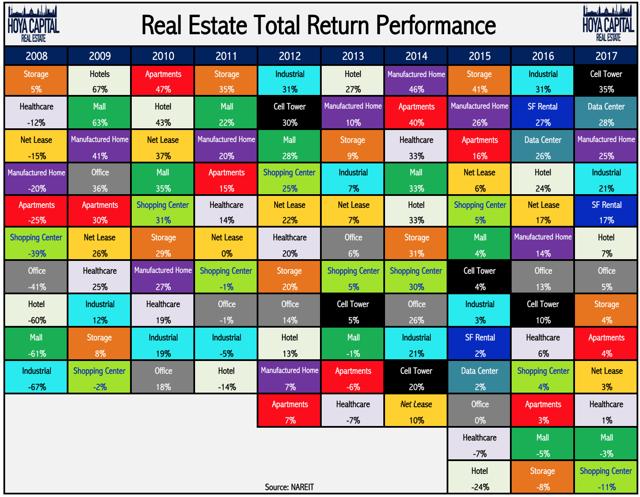 The previously beaten-down skilled nursing and hospital REIT sub-sectors have outperformed the broader index so far in 2018, led by a 14% jump in both Omega and Sabra and a 2% rise in Medical Properties. Medical Office REITs, the relative outperformers of 2017 within the sector, have disappointed so far in 2018.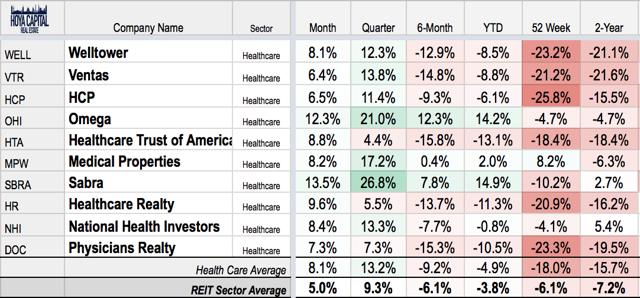 Recent Fundamental Performance
For healthcare investors, "no news is good news." 1Q18 earnings were not particularly strong, but investors were expecting worse. The operator struggles that plagued 2017 performance appear to be waning, aided by strong economic growth and a plateauing of negative reimbursement pressures. Of the 10 REITs we track, 4 beat FFO/NOI estimate (OHI, VTR, NHI, and HCP), 3 met estimates (WELL, MPW, SBRA), and 3 missed estimates (DOC, HTA, HR).
Sector-wide fundamentals continue to be soft, however. Per the NAREIT T-Tracker, same-store NOI ticked down to 1.5% in the quarter from 1.8% in 4Q17. SS-NOI for healthcare REITs has been below the REIT average since 2014 after outperforming the broader average for most of the prior decade.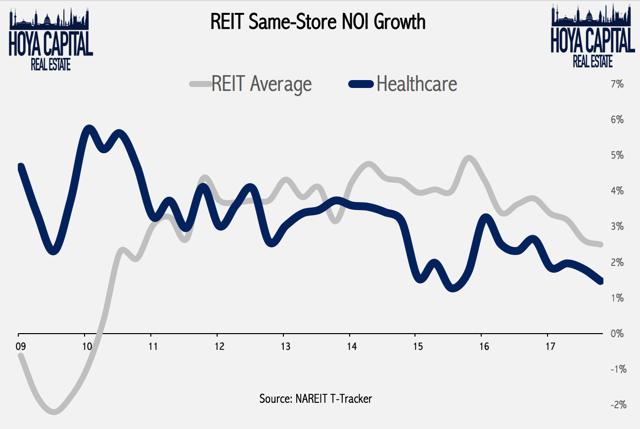 While demand has been predictably steady, relentless supply growth over the past several years (almost entirely within the senior housing and MOB sectors) has weakened fundamentals. The internal development pipeline from REITs themselves illustrates the boom in construction activity that began in 2014 and is expected to continue well into the next decade.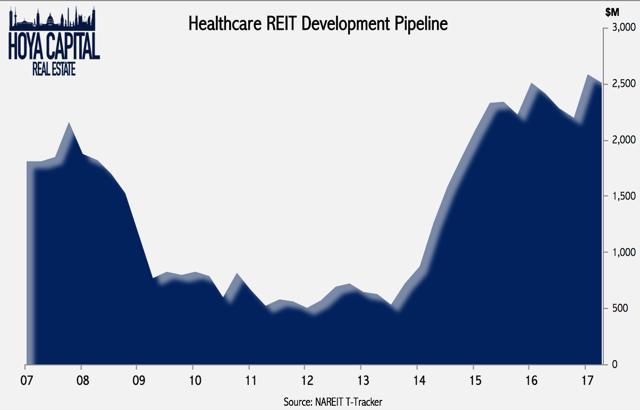 Development yields continue to be favorable as private market valuations have remained steady despite the significant selloff in the REIT markets. On the other hand, skilled nursing and hospital REITs are also dealing with oversupply issues, but for a different reason. These sectors have seen negative net supply growth over the past five years, but demand has declined by an even greater magnitude as policy shifts have discouraged the use of high-cost acute care facilities.
Healthcare REITs have historically been an acquisition-fuel sector, similar to traditional retail-based net lease REITs. These REITs have utilized their cost of capital advantage over private market competitors to accretively expand the size and scale of the business and drive FFO growth. As noted above, this prudent capital allocation has been responsible for much of the sector's outperformance. The sharp selloff in REIT valuations, along with the steady private market valuations, has erased much of their cost of capital advantage.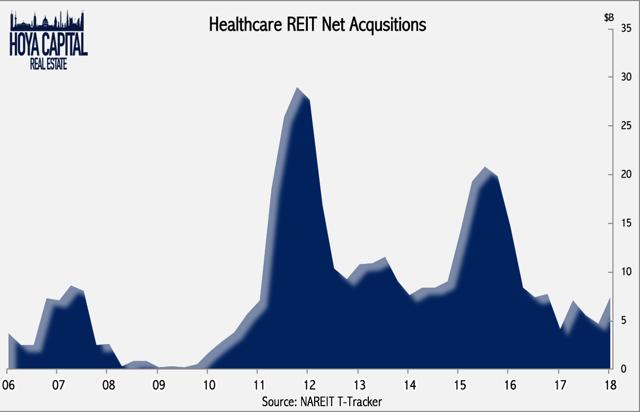 Only the skilled nursing sub-sector currently trades at a NAV premium, an indication that investors see an opportunity for these REITs to take advantage of the significant dislocation and near-term pain being felt by private owners and operators. The tide has receded, and these SNF REITs continue to be among the few wearing clothes. Capital recycling activity in recent quarters has been well received by SNF investors, and there are numerous anecdotal examples of these SNF REITs wielding strong negotiating power over operators and sellers.
Senior Housing
Within the senior housing category, note that senior housing fundamentals continue to weaken after several years of relentless supply growth. The "Big 3" healthcare REITs have shifted their portfolio in recent years to focus more exclusively on senior housing assets. Interestingly, Welltower has pivoted on this trend and made a significant move back into the SNF space with its $2 billion acquisition of Quality Care Properties (QCP). Before 2007, these senior housing assets were primarily leased to triple-net tenants under long-term leases whereby these REITs assumed a little operational risk. The REIT Reform Act in 2007 allowed these REITs to take advantage of more operational upside (and downside) through the RIDEA structure.

While RIDEA assets outperform when markets are tight, these assets similarly underperform when fundamentals are weak. We note the continued struggles of the operating assets (RIDEA), which saw same-store NOI dip -1.7% in the quarter as occupancy fell nearly 180 bps from last year. RIDEA performance is expected to be worse in 2018 with SS-NOI dipping into negative territory for the full-year. The triple-net-leased assets, however, continue to perform decently well with SS-NOI growth expected to rise roughly 2% in 2018.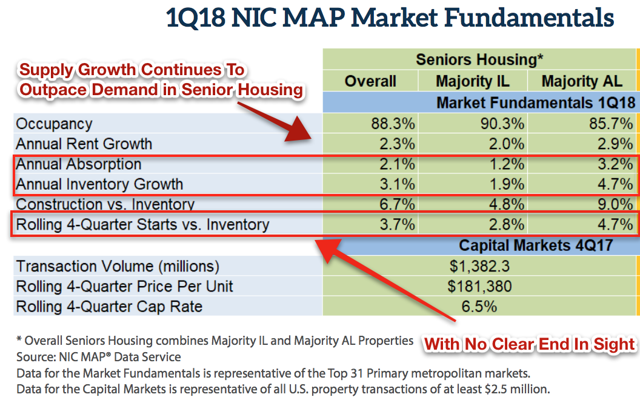 NIC data shows that senior housing construction as a percent of inventory has climbed since 4Q17 to 6.7% from 5.8% and is most acute in the assisted living category, which remains very elevated at 9% of existing inventory. Net absorption has been negative for 10 consecutive quarters. With new starts still averaging nearly 4% of existing inventory, there is no clear end in sight, yet.
Skilled Nursing & Hospitals
Operator struggles were the theme of 2017, highlighted by solvency issues at many of the top SNF tenants including Genesis, Signature, Orianna, and Preferred Care. After a downright dismal year in 2017, skilled nursing REITs actually delivered stronger-than-expected earnings in 1Q18. Rent coverage was fairly stable as EBITDARM remains above 1.7 for both REITs. Per NIC data, national SNF rent growth averaged 2.4%, continuing a steady linear downtrend since 2016 when rent growth was averaging nearly 4.5%.

There's blood in the water across the acute care healthcare sector, and investors are hopeful that these REITs can use their balance sheet strength to take advantage of the dislocation. Omega and Sabra continue to sell underperforming assets and look to opportunistically buy stronger assets at attractive valuations from distressed private market sellers. NIC data suggests that the SNF transaction markets have heated up and valuations look attractive with cap rates averaging 10.4%.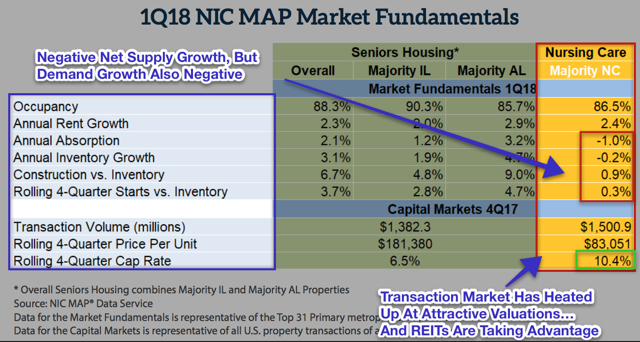 The two primary issues continue to be reimbursement methodology and payer mix. In an effort to "bend the cost curve," the transition to a value-based reimbursement system under the Affordable Care Act has resulted in shorter lengths of stay, lower reimbursement rates, and lower occupancy rates.

Omega and Sabra are actively trying to contain the damage from struggling operators by offering concessions and rent reductions to these tenants in an effort to keep them solvent. We believe that these REITs are far better positioned than smaller SNF owners to work out favorable deals with operators that may result in short-term pain but longer-term gain.
Medical Office & Life Science
The medical office building and lab space/life sciences sub-sectors were only places to hide within the healthcare sector in 2017. The MOB sector got off to a rocky start in 2018, however, as all three REITs came up short of estimates. Thought to be immune from the policy-related risks of the other sub-sectors, the supply/demand dynamics remain moderately favorable. SS-NOI slowed to 2.7% from 3.3% last quarter with occupancy roughly flat. As we'll note below, these higher-quality assets trade at a sizable premium in both the public and private markets.

Valuation of Healthcare REITs
Compared to the 12 other REIT sectors, Healthcare REITs appear cheap based on FCF (aka AFFO, FAD, CAD) metrics. The sector now trades at a 5-10% discount to Net Asset Value, which provides a floor for REIT valuations but also makes external growth more difficult.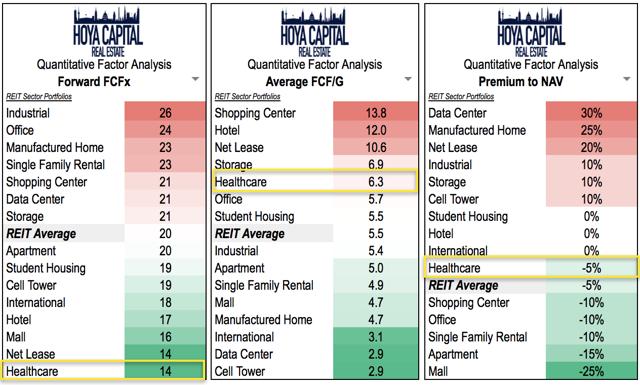 At the sector level, we note the deep discount applied to the skilled nursing-focused REITs, Omega Healthcare and Sabra. Healthcare Realty Trust and Healthcare Trust of America, which have a portfolio concentrated in medical office buildings, command the highest premiums within the sector.
In terms of healthcare policy, the worst-case-scenario for SNF appears to be largely priced into the stock valuations, in our view. Omega Healthcare and Sabra are some of the "cheapest" REITs we track based on cash flow metrics. We, therefore, like the SNF space at these valuations, but caution that significant risks remain.
Interest Rate and Equity Market Sensitivity
Healthcare REITs, along with net lease REITs, are two most "bond-like" REIT sectors, meaning that these REITs are heavily influenced by movements in interest rates. Interest rate sensitivity is a result of long lease terms, high dividend yields, and lower growth prospects.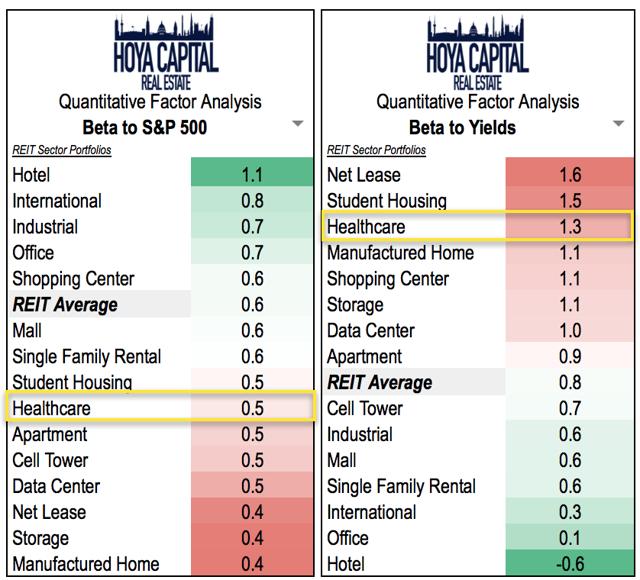 We separate REITs into three categories: Yield REITs, Growth REITs and Hybrid REITs.

As a sector, healthcare REITs are firmly in the Yield REIT category. All healthcare names we track are highly sensitive to interest rates, and VTR and HTA are two of the most sensitive names across all REIT sectors. Notably, the acute care REITs exhibit lower sensitivity to yields and more sensitivity to the equity markets than other healthcare REITs.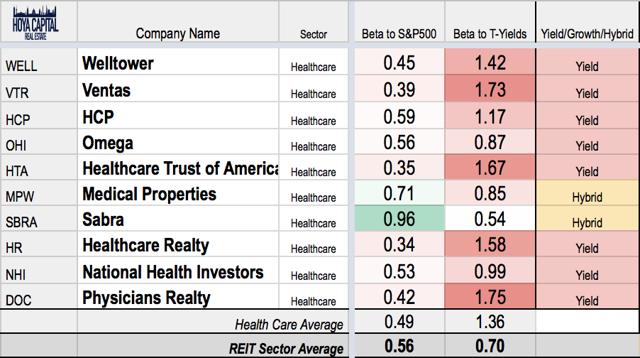 Dividend Yield and Payout Ratio
Based on dividend yield, healthcare REITs rank at the top, paying out an average yield of 6.2%. Healthcare REITs pay out roughly 91% of their available cash flow.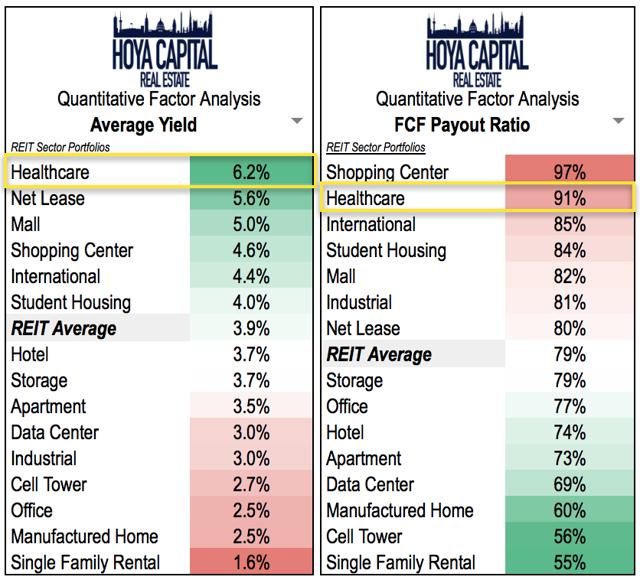 Investors looking for income and are willing to take on policy and operational risk should take a look at the skilled nursing REITs Omega and Sabra. Investors seeking more of a safe, predictable income stream would be better suited with the MOB or diversified healthcare REITs.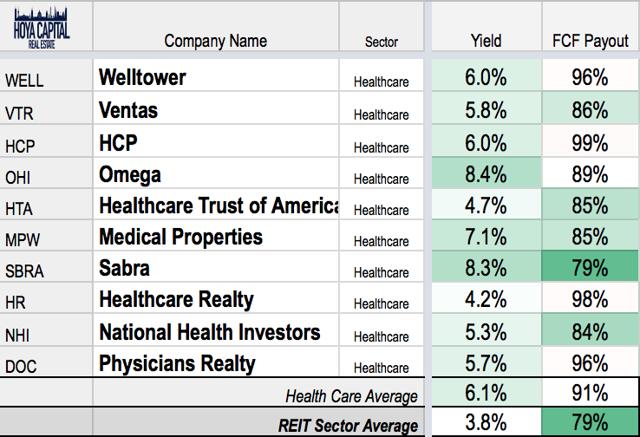 Bottom Line: Opportunity Amid Disruption?
Amid fears of rising rates and deteriorating fundamentals, healthcare REITs were left for dead. Since early March, however, the sector has sprung back to life, jumping nearly 15%. For healthcare investors, "no news is good news." 1Q18 earnings were not particularly strong, but investors were expecting worse. The operator struggles that plagued 2017 performance appear to be waning.
The healthcare industry is in a perpetual state of disruption as policy-makers attempt to rein in unsustainable spending. High-cost providers (including SNF and hospital REITs) continue to be at risk. Meanwhile, private-pay healthcare REITs are facing a different set of challenges. While longer-term demographics remain highly favorable, supply growth continues to outpace demand for senior housing facilities. There's blood in the water. Commanding a favorable cost of capital, solid balance sheet, and strengthening negotiating power with operators, healthcare REITs may be well positioned to benefit from this disruption.
We aggregate our rankings into a single metric below, the Hoya Capital REIT Rank. We assume that the investor is seeking to maximize total return (rather than income yield) and has a medium- to long-term time horizon. Secular industry trends, valuation, growth, NAV discounts/premiums, leverage, and long-term operating performance are all considered within the ranking.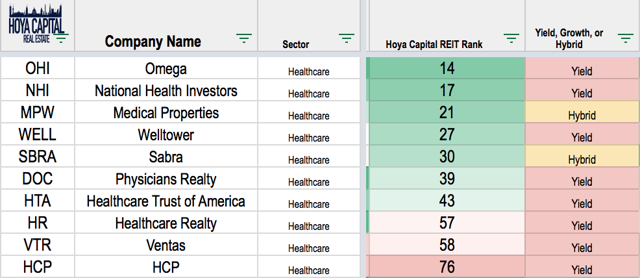 While fundamentals will remain challenged for several more years, valuations appear attractive for long-term investors willing to assume the interest rate and policy-related risks. We continue to view the acute care REITs including Omega, Medical Properties, and Sabra as the more compelling long-term opportunities in the sector for investors willing to assume a high degree of short-term risk. The tide has receded, and these SNF REITs continue to be among the few wearing clothes.
Be sure to check out all of our reports to see how each sector stacks up: Net Lease, Malls, Industrial, Data Center, Apartments, Shopping Center, Hotel, Office, Healthcare, Industrial, Cell Tower, Manufactured Housing, Storage, Homebuilders, and Student Housing.
Please add your comments if you have additional insight or opinions. Again, we encourage readers to follow our Seeking Alpha page (click "Follow" at the top) to continue to stay up to date on our REIT rankings, weekly recaps, and analysis on the REIT and broader real estate sector.
Disclosure: I am/we are long VNQ, SPY, SBRA, OHI.
I wrote this article myself, and it expresses my own opinions. I am not receiving compensation for it (other than from Seeking Alpha). I have no business relationship with any company whose stock is mentioned in this article.
Additional disclosure: All of our research is for educational purposes only, always provided free of charge exclusively on Seeking Alpha. Recommendations and commentary are purely theoretical and not intended as investment advice. Information presented is believed to be factual and up-to-date, but we do not guarantee its accuracy and it should not be regarded as a complete analysis of the subjects discussed. For investment advice, consult your financial advisor.