And in this corner, weighing a lot less than he used to. . .
But is he, can he be put, in fighting trim to contest once again?
Figure 1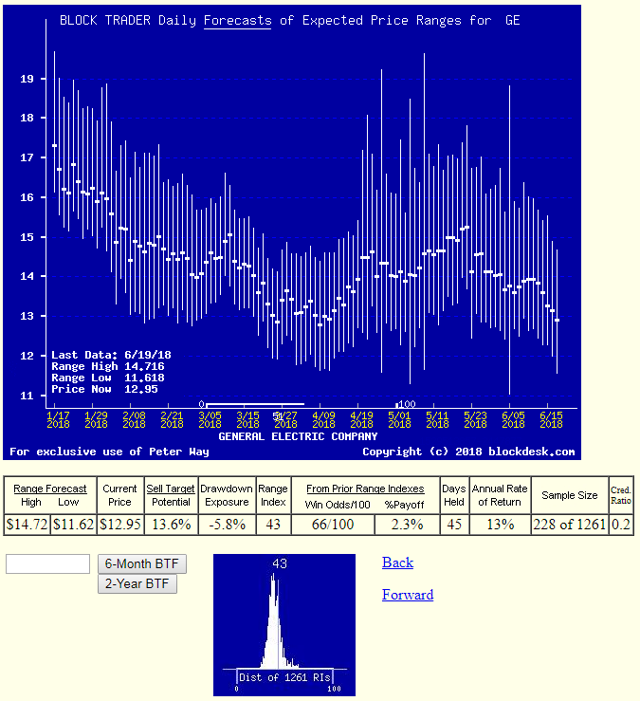 The recent 6 months daily appraisals for General Electric (NYSE:GE) are shown in vertical lines of price ranges evidenced by market-makers [MMs] hedging their firm capital. Capital involvements needed to facilitate completion of block trade orders by big-money institutional clients. The resulting forecasts do not have a real encouraging trend.
Worse yet, it takes bravery to look at the past two months' unsustained reversal of trend as being different from that of October-December of 2017, shown in Figure 2's picture of the same kind of Figure 1 forecasts, only shown once a week over the past two years.
Figure 2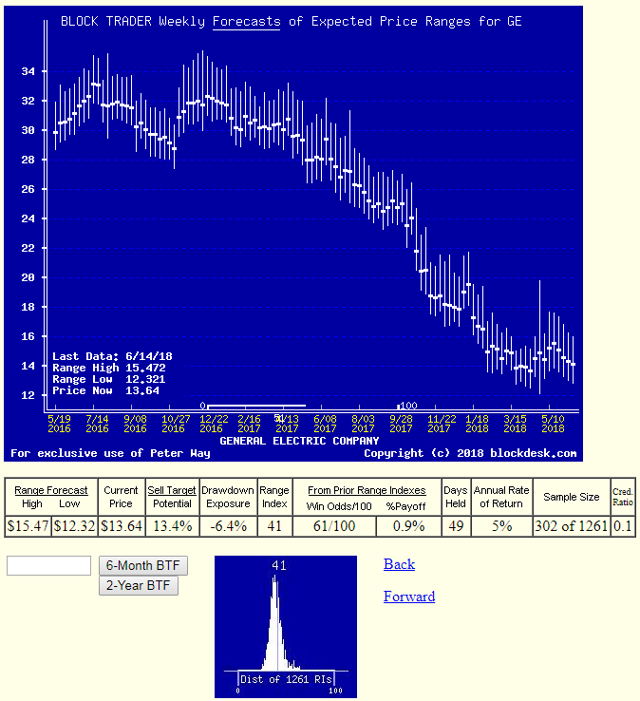 But go back to look at Figure 1's row of data between its two blue pictures. It shows an upside worth (to MMs) of spending some part of a trade commission spread on protecting against a +13.6% possible price rally, during the next 3 months, if they had to take a temporary short position. If that gain were achieved, the price gain would be a CAGR in excess of +66%. Much more if it happened in less time than 3 months.
How credible is that? Well, in 228 prior instances of similar forecasts (where 43% of the price range being forecast was believed to be downside from the current market quote), position holdings during the next 3 months were closed out at a profit 66 out of each 100 (2 out of 3) times.
Maybe that's not so great, since that third instance reduced the forecast upside to an average realization of only +2.3%. And it added to the average days held to be 45 market days out of a possible 63 maximum, given the portfolio management discipline [TERMD] used to measure market results. The added time spent getting the +2.3% brought the CAGR down to +13%.
Comparing the +2.3% to a current hoped-for (or feared of) upside of +13.6% is not what many might regard as high credibility for a forecasting capability.
But it could happen, or the market pros wouldn't have spent on protection what they could have shared at bonus time. So, how does that compare with the picture seen of Walgreen Boots Alliance (NASDAQ:WBA)? Please see Figure 3.
Figure 3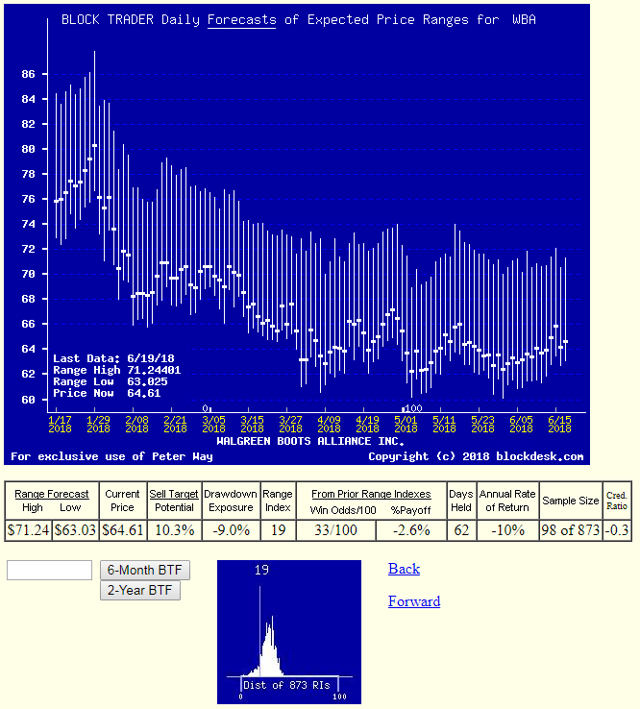 Here, we have an opponent in the ring with a history of only 98 rounds of comparable forecasts. Forecasts which had less than one-fifth of their range to the downside, and four-fifths to the upside. Forecasts producing a current prospect of +10.3% to the good, comparing with GE's +13.6%. But maybe WBA is more likely to bring better profits out of its forecast than GE has.
Guess again. The market pros' experience has been that forecasts for WBA at these (apparently attractive up-to-down prospects) actually produced gains only 33 out of 100 times, and the other 2 out of every 3 caused a net loss of -2.6%.
And the losses were so pervasive that the average holding periods of the 98 experiences were 62 out of possible 63 market days. Nearly all of the 98 had to be held full term under the TERMD discipline. That multiplied the period % payoffs of -2.6% to a CAGR of -10%.
A longer-look at WBA helps explain how its 3 ½ year (873 market days, 252 a year) experience has evolved. Figure 4 shows the past two years forecast report a week at a time.
Figure 4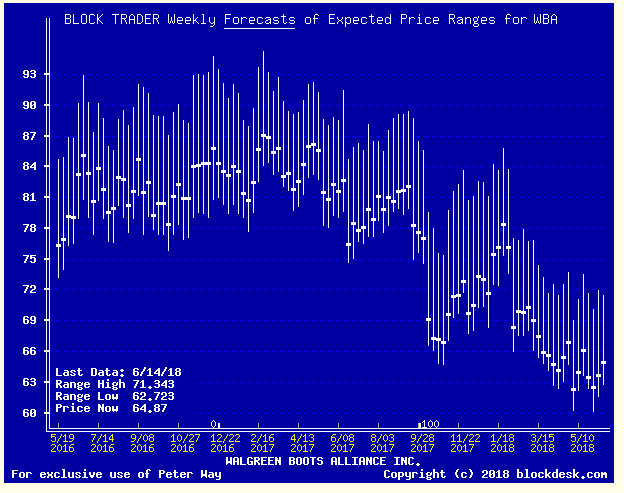 The longer picture has a distressingly similar downtrend in WBA's forecast experiences as in GE's. Yet it is without profitable outcomes, from presumably more productive forecasts.
Conclusion
What we can see from the MMs' perspective suggests that big-money has not quickly switched over from GE to the "chosen" alternative of WBA. It may not be any better a move on the part of individual investors.
There are many other strikingly more productive likely alternatives in the 20 best of our 2799 MM forecast population of prospects, however. Or of the better choices of Travelers Companies (NYSE:TRV) or UnitedHealth Group (NYSE:UNH) among other DJ30 Index stocks indicated in our just-published review article here.
Please remember this is a near-term evaluation, suggesting CAGR price gain opportunities sometimes far above multi-year trend line price growth street estimates for the group. What may appear as more attractive in a few months, providing future price-compounding capital growth opportunities may be very different from the then less attractively-priced current investment competitors. An updating follow-up visit to the group is advisable.
Additional disclosure: Peter Way and generations of the Way Family are long-term providers of perspective information, earlier helping professional investors and now individual investors, discriminate between wealth-building opportunities in individual stocks and ETFs. We do not manage money for others outside of the family but do provide pro bono consulting for a limited number of not-for-profit organizations.
We firmly believe investors need to maintain skin in their game by actively initiating commitment choices of capital and time investments in their personal portfolios. So, our information presents for D-I-Y investor guidance what the arguably best-informed professional investors are thinking. Their insights, revealed through their own self-protective hedging actions, tell what they believe is most likely to happen to the prices of specific issues in coming weeks and months. Evidences of how such prior forecasts have worked out are routinely provided.
Disclosure: I/we have no positions in any stocks mentioned, and no plans to initiate any positions within the next 72 hours.
I wrote this article myself, and it expresses my own opinions. I am not receiving compensation for it (other than from Seeking Alpha). I have no business relationship with any company whose stock is mentioned in this article.