I have not updated Eurocoin dynamics and euro area growth forecasts for some time now, so here is the latest, from May data:
Eurocoin, the leading growth indicator for the euro area, has fallen significantly from the local high of 0.96 in February (the highest growth forecast since June 2000) to 0.89 in March, followed by a continued decline to 0.76 for April and 0.55 in May.
The May reading is the lowest since December 2016.
Growth forecasts consistent with Eurocoin dynamics indicate that, assuming revised 1Q growth remains at 0.4 percent, 2Q 2018 growth is likely to come in somewhere in the range of 0.35-0.55 percent.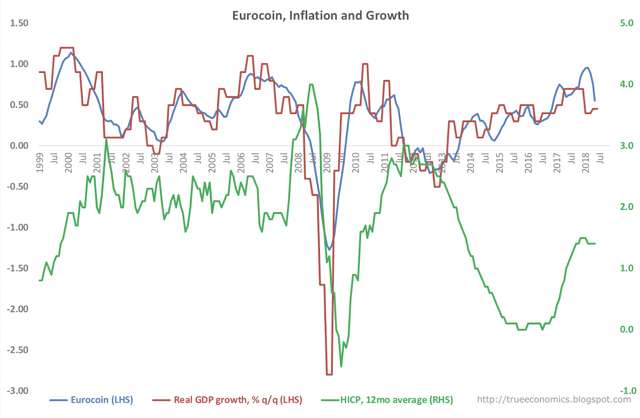 The chart below shows improving outlook for HICP (inflation) over the last 12 months through May 2018, just as the economy is beginning to slow down: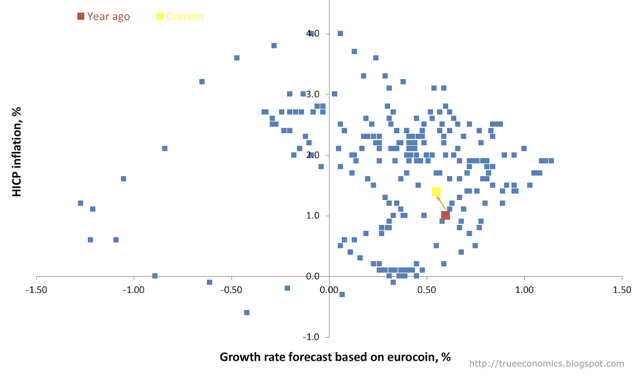 On balance, we now have three consecutive months of declining Eurocoin-implied forecasts for euro area growth. It will be interesting to see the Eurocoin print for June, coming up in about a week, as well as July (coming out prior to the Eurostat growth estimates for 2Q 2018).